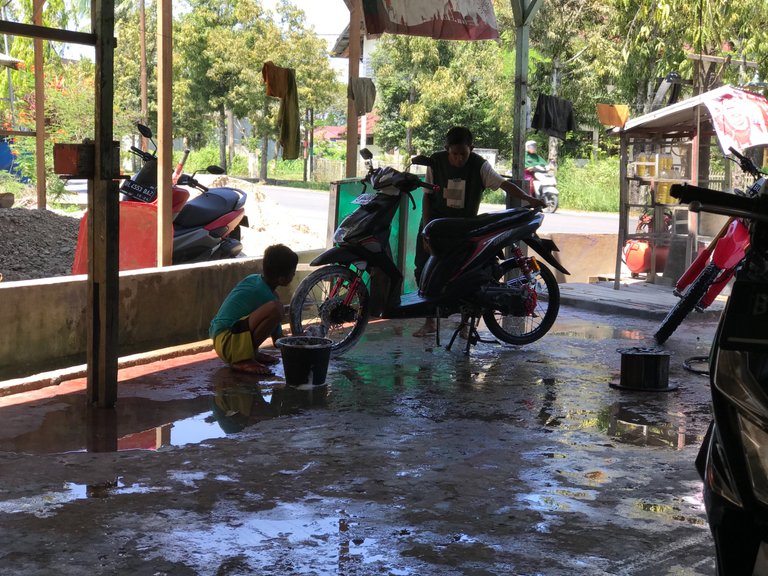 photo by me
Yooo yooo hello my fellow hivers and the whole community, Jodi Pamungkas here and welcome back to my daily activity post, happy Monday to all of you, looks like the price of HIVE is experiencing a pretty fast movement, bullish or bearish? Give your opinion. On this sunny Monday I decided to go to one of the motorbike and car washes near my house, I never change places, I always wash my favorite motorbike here. You can see the photo above, my motorbike is being washed by a kid who is around 8 years old, they should be able to have fun with their friends, maybe because their economy has to work hard like this.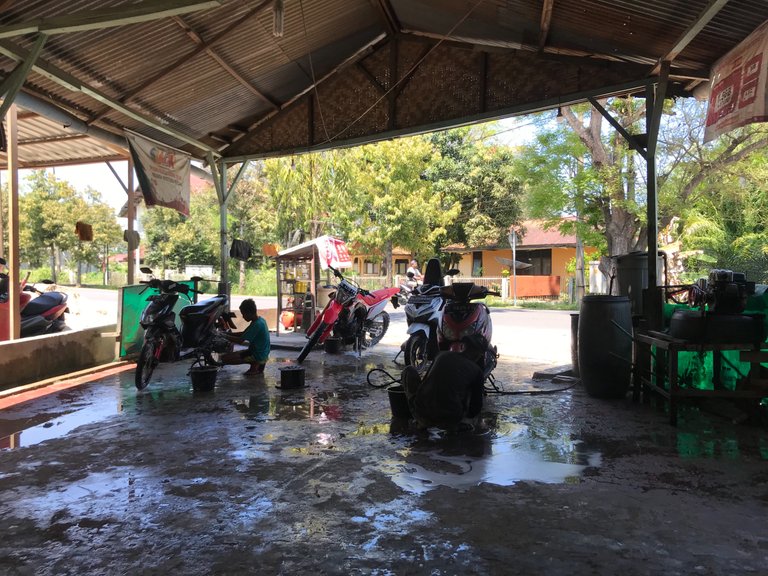 photo by me
Well, this is the place to wash motorbikes and cars, not too luxurious like other washing places, only using a regular roof, but this place is always crowded, sometimes I have to queue to get my turn, usually washing the motorbike takes 30 minutes at most, because everything is in do it manually, from brushing, washing and wiping the motorbike all done manually. Usually dozens of motorbikes are done quite fast and clean, the cost of washing the motorbikes is usually around 0.5 $ and usually I give more for their snacks, I am very sorry for children of that age working very hard.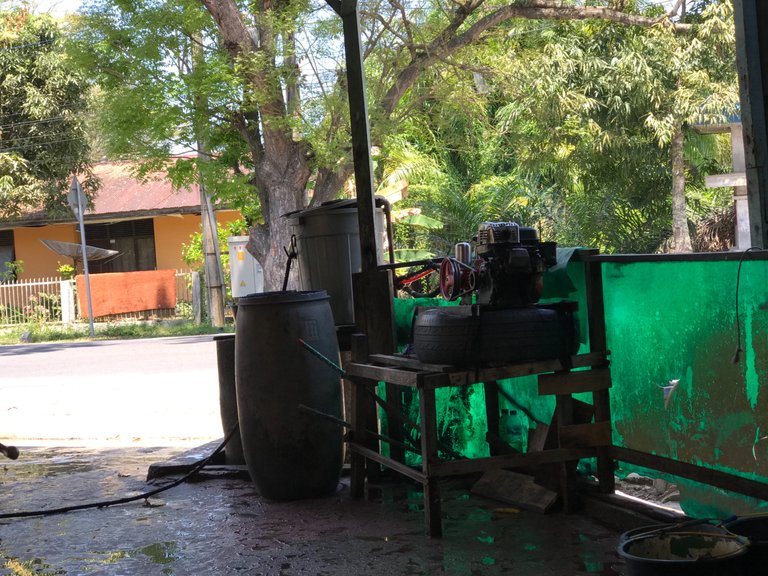 photo by me
Well, the photo above is a water machine for spraying cars and motorbikes, I don't really understand this water machine, what is clear is that the price of this machine is not too expensive, uses gasoline and has a spray that is strong enough to clean dirt in the car and motorbikes. They don't use this machine too often, only to clean the sidelines at the beginning of the motorbike that is difficult to reach by hand.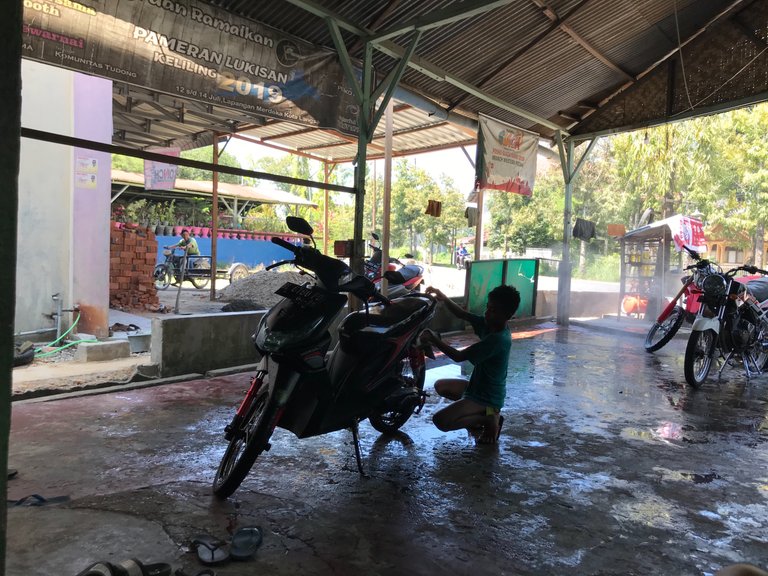 photo by me
When they have finished rinsing using soap, they immediately clean the wet ones using a chamois, usually this process takes a long time, about 10 minutes they have to clean all parts of the motorbike, such as the body, motorcycle rim, pots and other motorbike parts, I am very satisfied With the results they have done, not just anyone wants to do this work, I salute these children.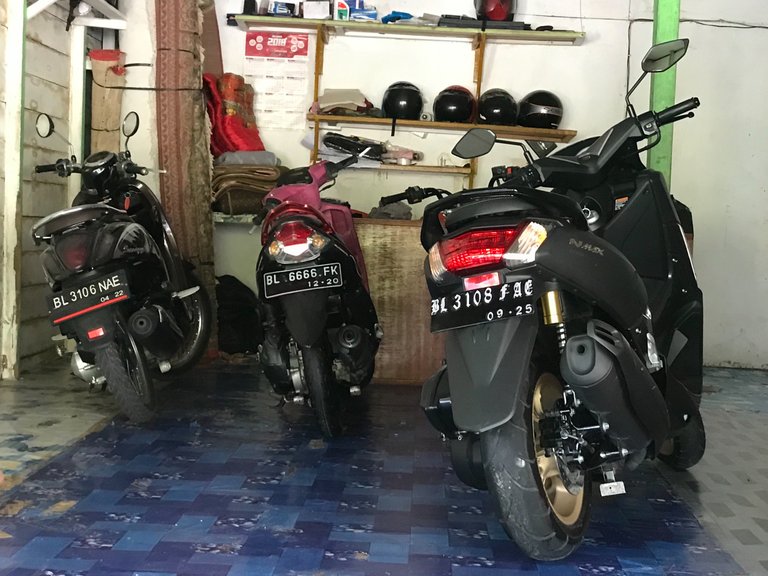 photo by me
Now, when the motorbike is finished, they will put the motorbike into the house that has been prepared, you can see that some of the motorbikes have not been taken by the owner, the place to wash the motorbike and car is quite safe, you can also tell them to deliver the motorbike or car to the house, usually they will charge more for it.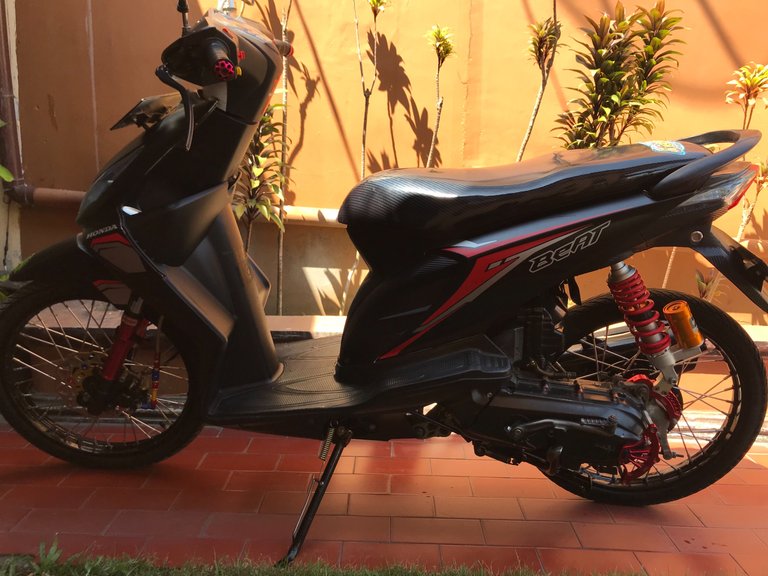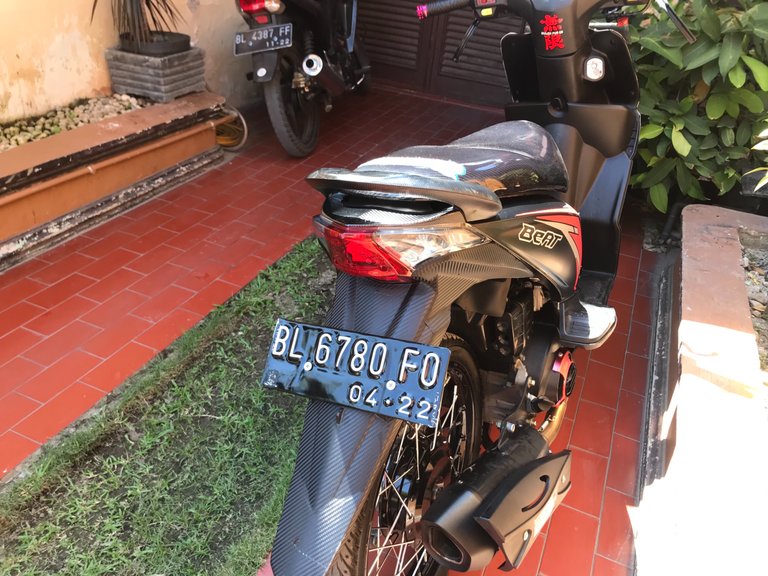 photo by me
Well, finally my motorbike was finished and I went straight home, the results looked quite satisfying, everything was very clean until there was no dirt stuck to it, the photo above is a photo of my house, hopefully it won't rain soon, because it's very harm me if I wash my motorbike. Thank you to those of you who have read and stopped in my post, do you often wash your car and motorbike? Give your opinion, advice and your support, see you in the next post.