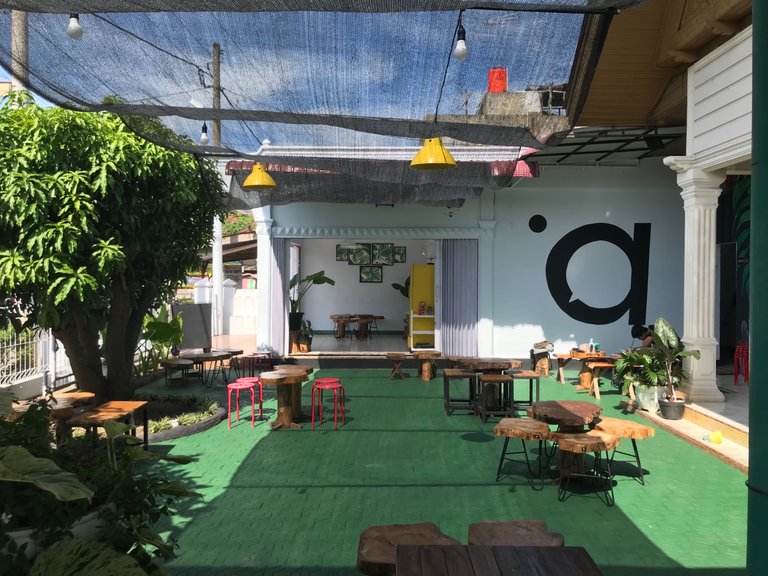 photo by me
Yooo hello my fellow hivers and the whole community, Jodi Pamungkas here and welcome to my daily activity post, happy weekend to all of you. On this Saturday, Ema and I were looking for a non-coffee shop with the concept of a coffee shop that was relaxed and certainly cool, around 2 in the afternoon I picked up Ema, I talked to Ema first, after Ema and I agreed, I headed straight to Lor'a coffee shop a not far from ema's house. You can see the picture above, the concept of this coffee shop looks very good and has lots of trees around this coffee shop, the tables and chairs in this coffee shop are quite unique, wearing big tree trunks and then varnished it looks a bit more luxurious.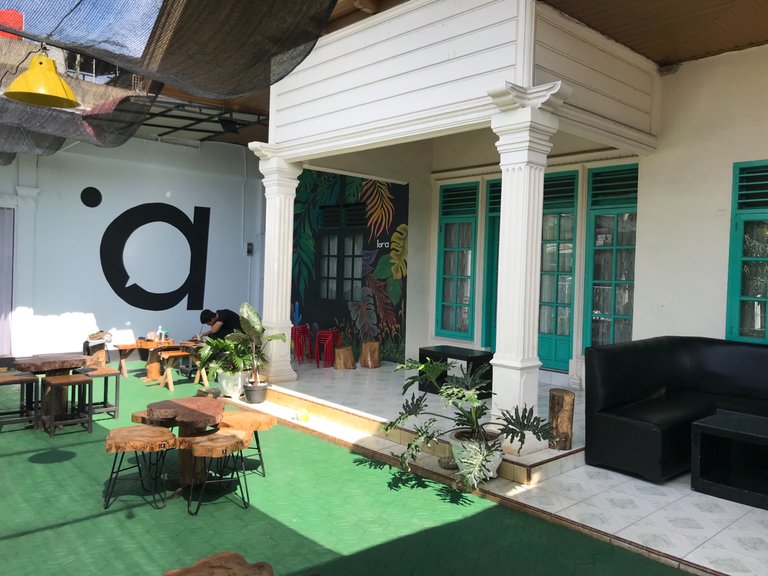 photo by me
This coffee shop is right on the porch of my friend's house, indeed it makes use of the spacious terrace of the house very well, like this coffee shop, the owner of this house is taking advantage of the terrace of the house which is large enough to be used as a very flexible hangout place by putting some furniture and living trees. As the title suggests, this place has the freshest non-coffee menu I've ever tried, the name of the menu is Kasturi Somboy.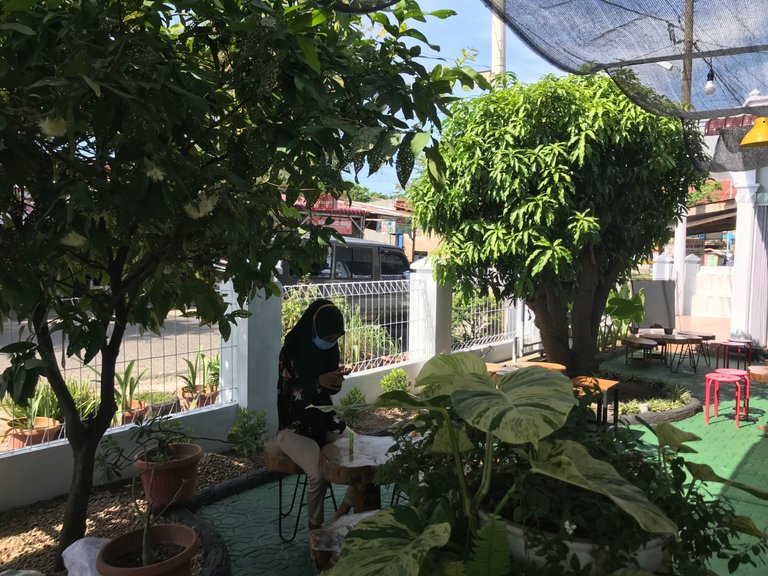 photo by me
I tried to ask permission from the owner of this coffee shop to take some pictures around this coffee shop, we can see the picture above, lots of shady trees to cover us from the very hot sun, without lingering we went straight to the place to order drink.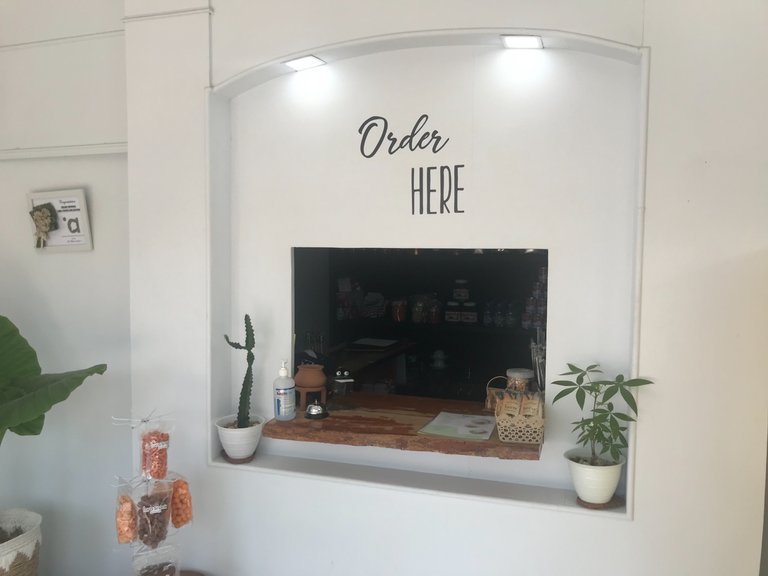 photo by me
all customers order drinks and food here, it looks like the place where the order is here is quite unique, putting some live flowers as decorations, as for the hand sanitizer for customers, on the left there are some snacks that can be eaten to accompany teenagers hanging out.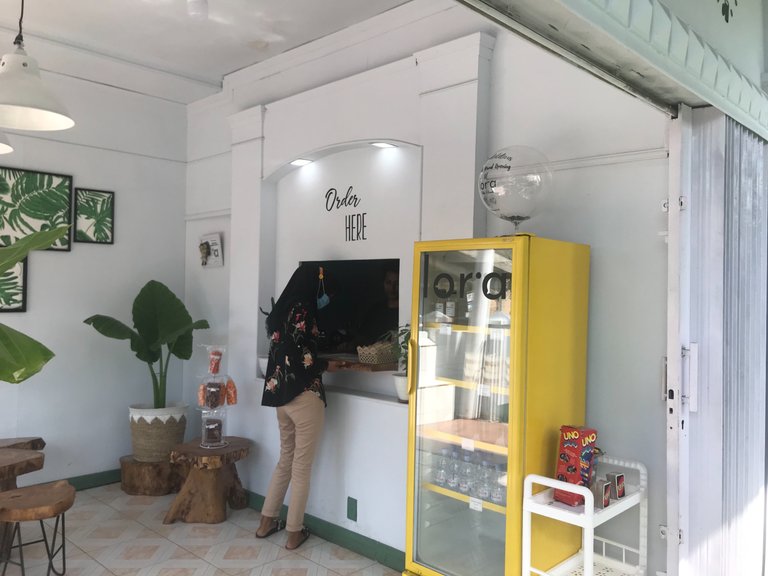 photo by me
Ema immediately ordered a drink which she thought was fresh and suitable for drinking during the day, I tried to recommend to Ema that Kasturi Somboy was the right choice, but Ema ordered another, Ema ordered cold hazelnut coffee and I ordered Kasturi somboy. The Lor'a coffee shop also provides UNO card and block games to accompany hanging out with friends, there is also a refrigerator filled with mineral water and other drinks.
photo by me
This coffee shop is located in an alleyway, but not too far from the city, because we were going too late and fast, so it seemed that no one was hanging around this coffee shop. When I came this place was under renovation adding to the living tree on the left of this photo.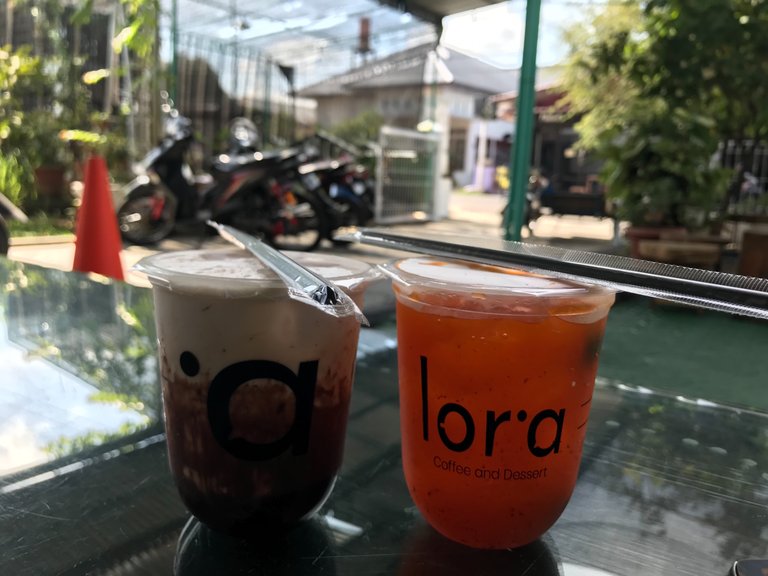 photo by me
After 8 minutes of waiting, finally the one I had been waiting for came, cold hazelnut coffee and my mainstay menu, Kasturi Somboy, as usual we were talking about this coffee shop and other interesting things, this menu is indeed my mainstay when thirsty at noon. very suitable for those of you who like sour taste, the combination of musk and somboy orange is very good for health too. Thank you for stopping by and reading the post on Saturday, giving your advice and support, happy weekend and see you hivers, HIVE ON.