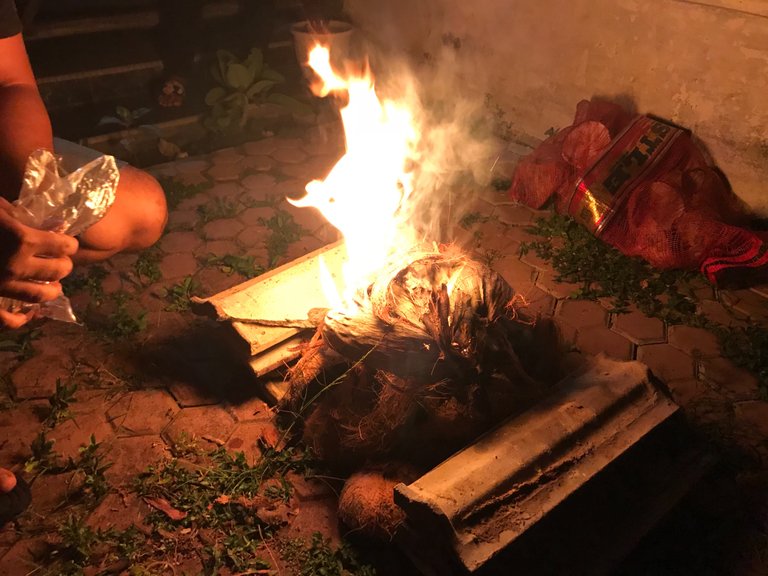 photo by me
Yooo hello my fellow hivers and the whole community, come back with me Jodi Pamungkas, it looks like the prediction of an
@nathanmars
is very correct, today the hive price touched 1 $ and can it still return to the price of 1 $? Comment below. Today I have a small party together with friends and I also invite Ema. Before entering the month of Ramadan, we planned for a reunion together with other friends. Just like the party I had previously made, we bought some chicken, crab and sausages.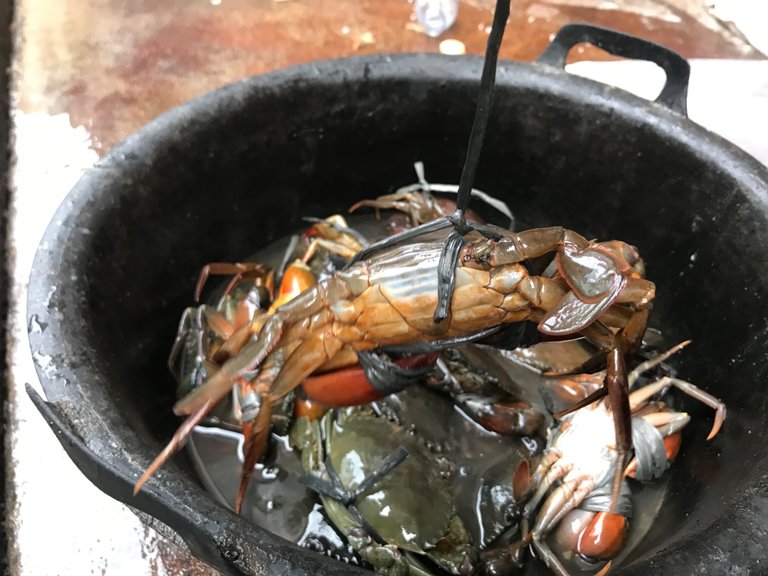 photo by me
Well, the crab that I bought was pond crab type, I got very good quality and dense crabs, only a few of them looked small, I bought 12 crabs for 8 $ at my friend's crab farm.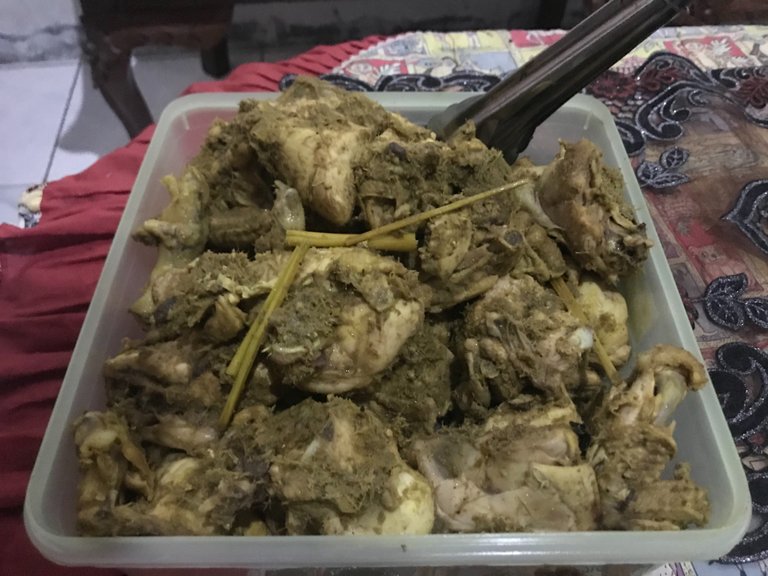 photo by me
After I bought crabs, I also bought 3 chickens, then each chicken was cut into 10 pieces, the total price of all the chickens I bought was around 10 $ and indeed the price of this chicken is expensive, because it is approaching the month of Ramadan. As usual, all the chicken is cleaned first, then given the roasted chicken seasoning so that it is more absorbent and tender when grilled.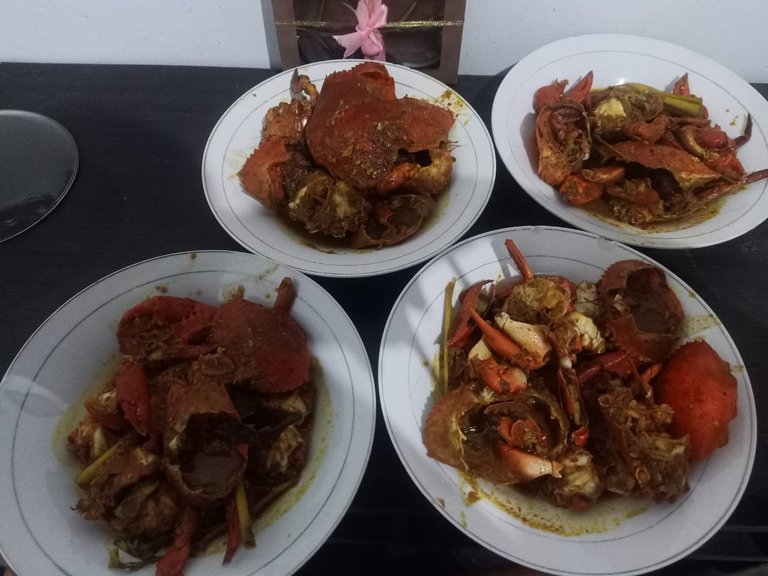 photo by me
After a few hours of waiting, finally our crab arrived, this crab was cooked by Ema's mother, indeed Ms. Ema is very famous in cooking and for the taste there is no doubt, this crab is made into very spicy chili sauce crab.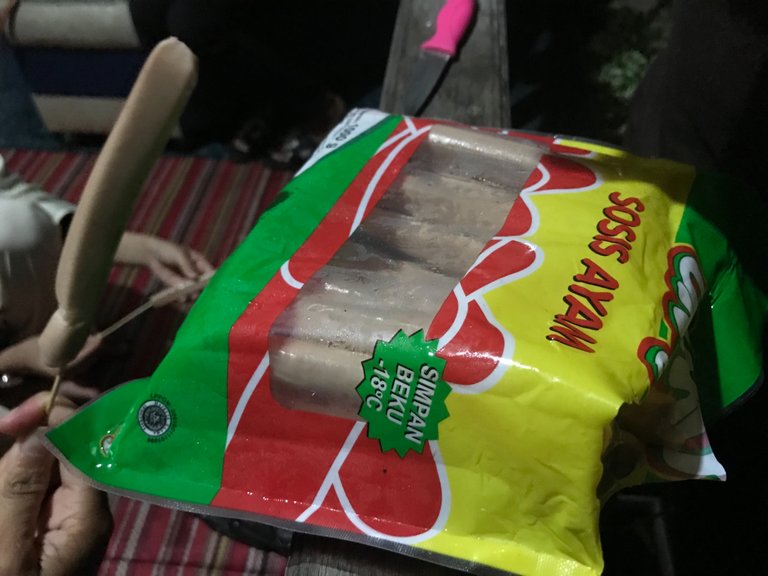 photo by me
Besides crab and chicken, I also bought 1 pack of chicken sausage for 4 $ and we will make grilled sausage mixed with spices by Ema's secret.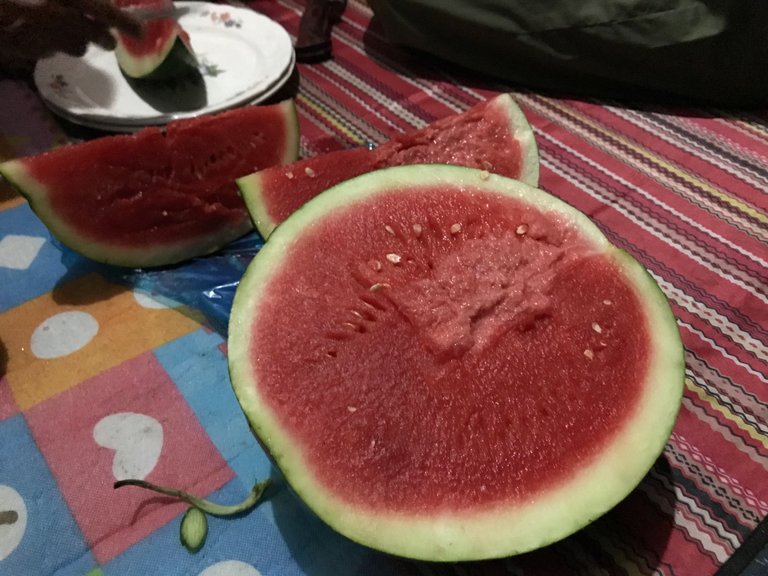 photo by me
for dessert fruit, me and ema also bought 2 of the best quality spirit fruit, there were almost no seeds after i tried it, i also turn this watermelon into a very fresh drink mixed with ice, what do you think? It's a fun party, right? Ha ha ha.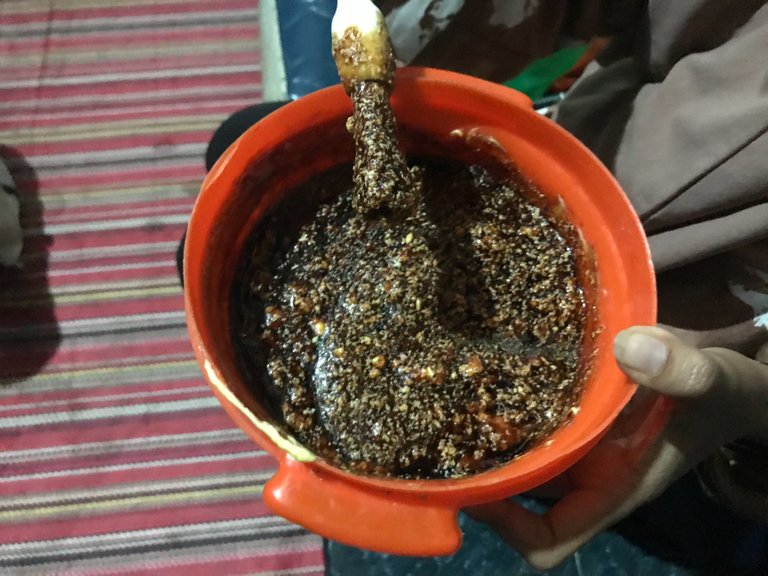 photo by me
Ema also mixes the topical spices that I said above, this topical spice mixture is very simple, only butter, sweet soy sauce, soy sauce and a little chili sauce so that it feels spicier and tastier.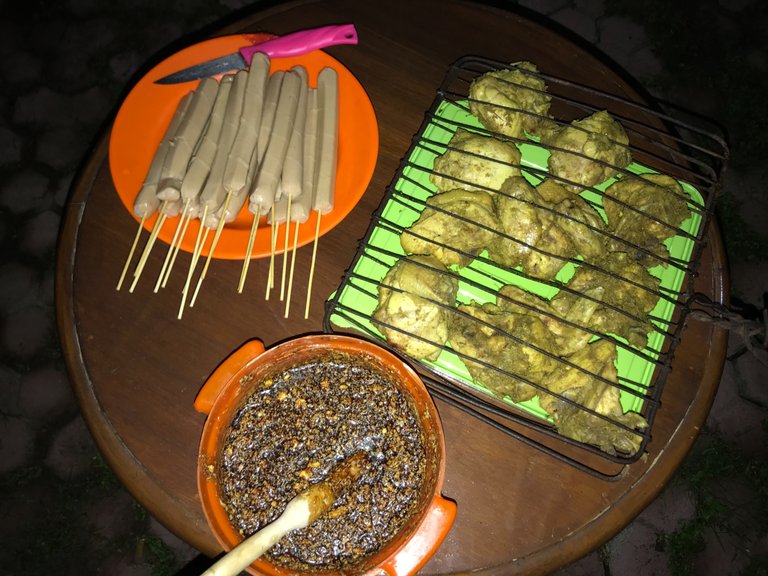 photo by me
Finally everything is ready to roast, first my friends and I will burn the chicken first, because the size of the sieve is bigger and more than a sausage.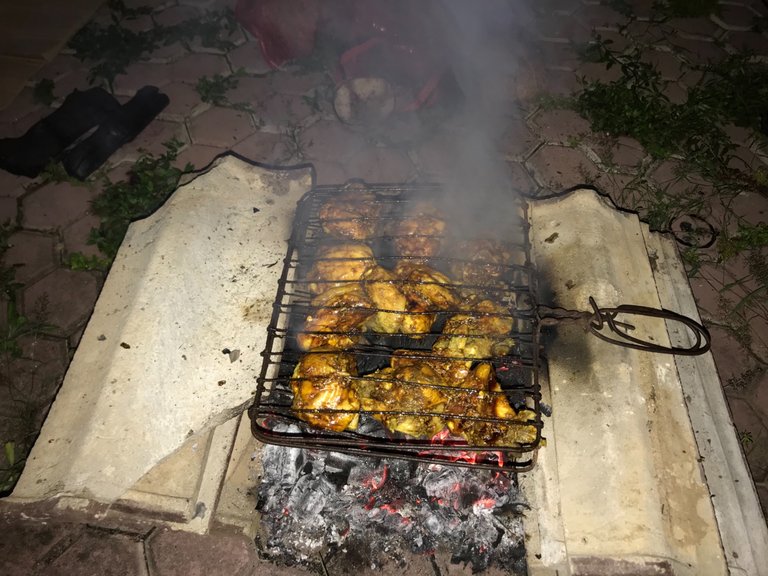 photo by me
So, while the chicken was being grilled, we also played some songs, because one of my friends brought a guitar, Ema's friends also prepared some ingredients to eat together after everything was ready. As usual, a few minutes the chicken will be dabbed again until blended and a few minutes will be turned and smeared again using the spices.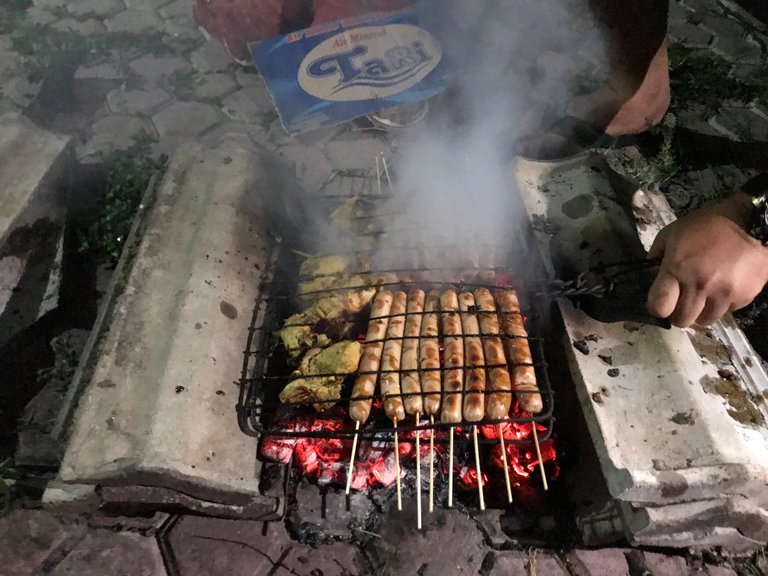 photo by me
After a few hours we burned all the chicken until cooked, finally came to the final stage, which was burning the sausages, we only grilled 20 sausages using the chicken spices earlier.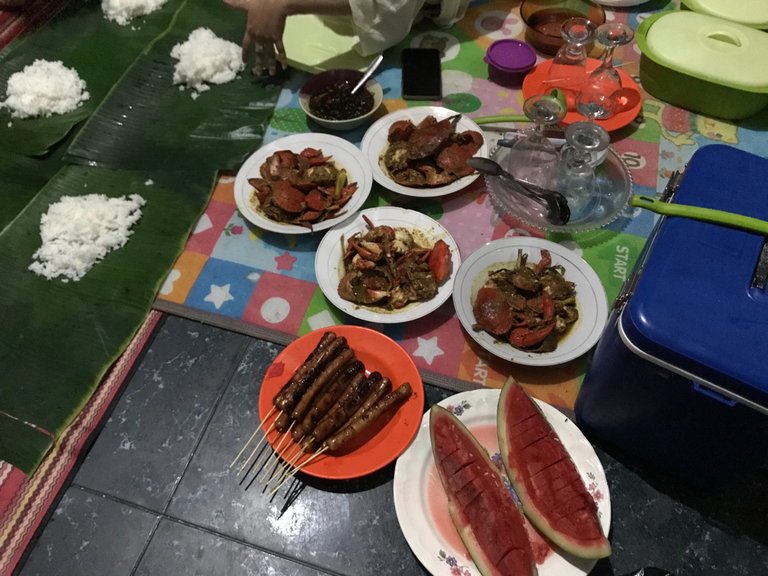 photo by me
So, finally everything is finished and ready to eat together, there are about 7 people and indeed the menu we provide is heavy food such as chili sauce crab, grilled sausage and grilled chicken.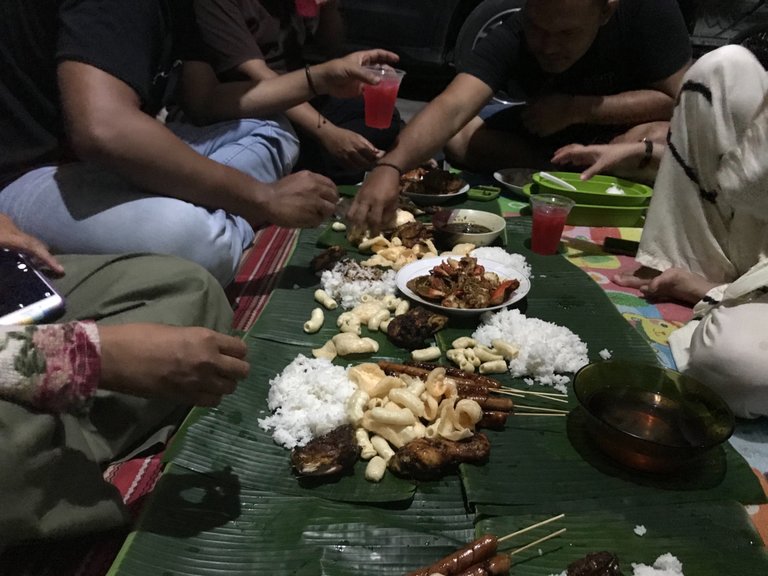 photo by me
We took the initiative to eat on banana leaves to feel more together, we put everything on banana leaves, as for other snacks to accompany our dinner, everyone gets the right portion of food.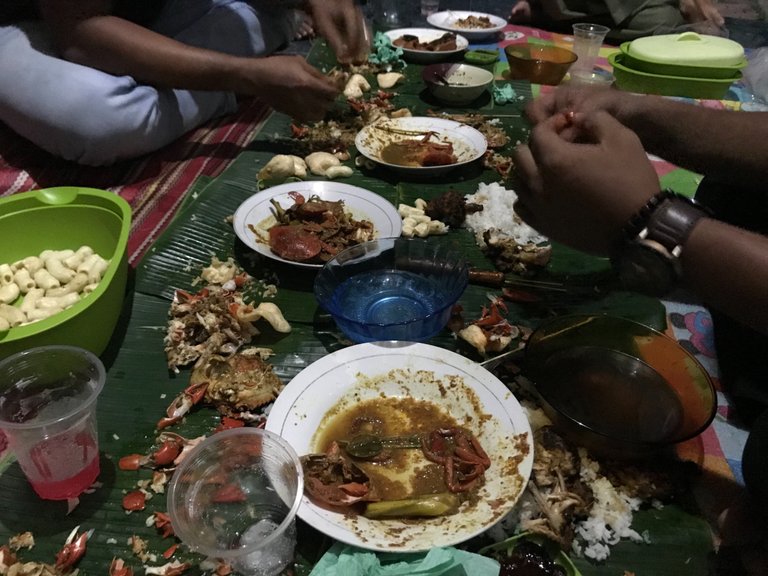 photo by me
Everyone looks very happy and satisfied, the crabs on each plate have been eaten by friends, I am very happy with our compactness, because we rarely see each other and when we make this small party we can gather together and eat together. Thank you to those of you who have read and stopped by my post today, give your suggestions and support, see you in my next daily post.