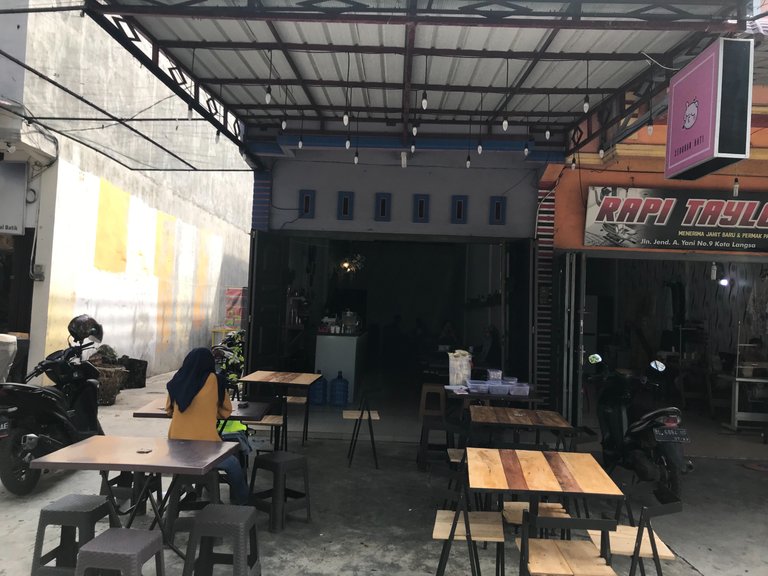 photo by me
Yoo yoo hello my fellow hivers and the whole community, come back with me Jodi Pamungkas, happy Monday to all of you? What activities are you doing? Playing games ? Farming ? Or just working as usual? Time flies so fast, use your time as best you can. In today's post, Ema and I received an invitation to visit one of the coffee shops that I have written on Hive, Seduhan Hati now has its own building and the time to open this coffee shop is early, around 8 o'clock Seduhan Hati is open and ready to make coffee for the visitors.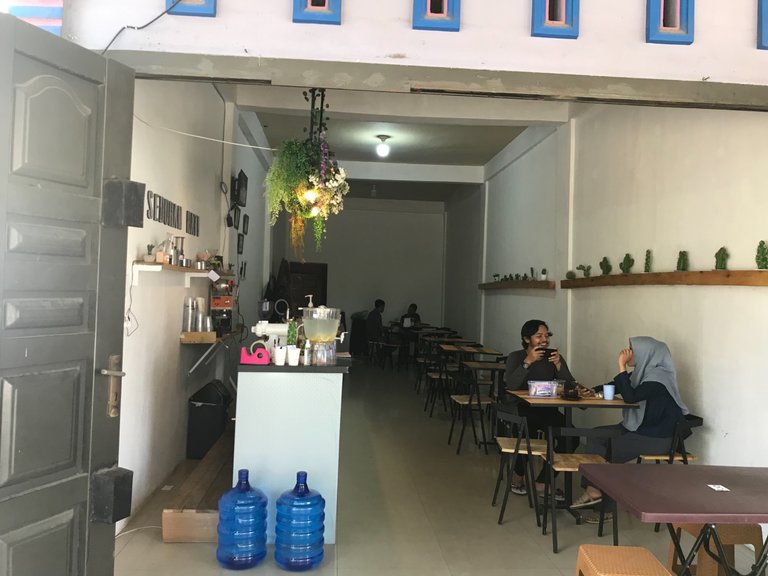 photo by me
Ema and I went to the Seduhan Hati coffee shop around 2 pm, didn't forget to also buy rice to eat at the coffee shop, when I arrived at this coffee shop, I immediately took some photos at this coffee shop. Seems simple enough right? Ema and I didn't have time to attend the grand opening event, so I planned to go 1 day after the grand opening of this coffee shop. I quite like the concept of this coffee shop, but I don't like the flower decoration on top of the barista bar, it seems very tacky, since the owner of this coffee shop is a woman, so I don't mind that.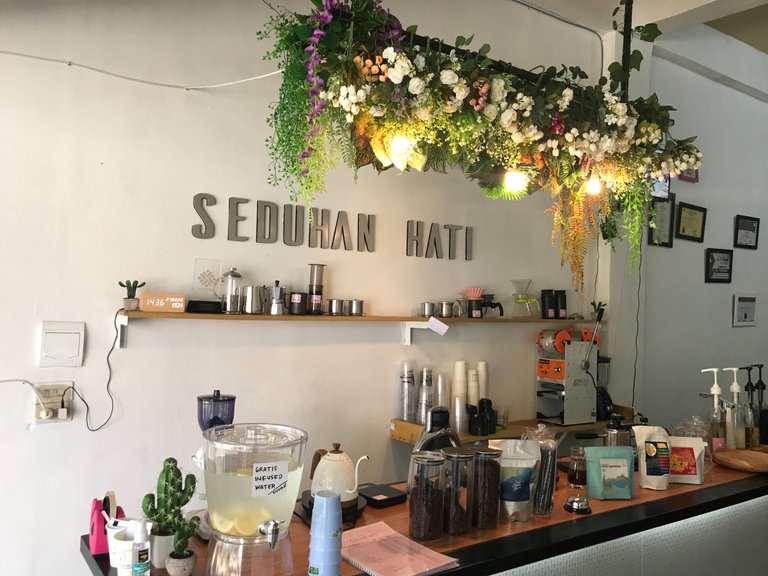 photo by me
Well, what do you think? You can see that the arrangement of items in the barista bar is very neat and not scattered, there are many coffee items, such as coffee beans, grinder machines, water heaters and several other items that are neatly arranged. The writing of Seduhan Hati also looks clear and good. Seduhan Hati has succeeded in moving from a zone which is a little dangerous, but it does not rule out the possibility now.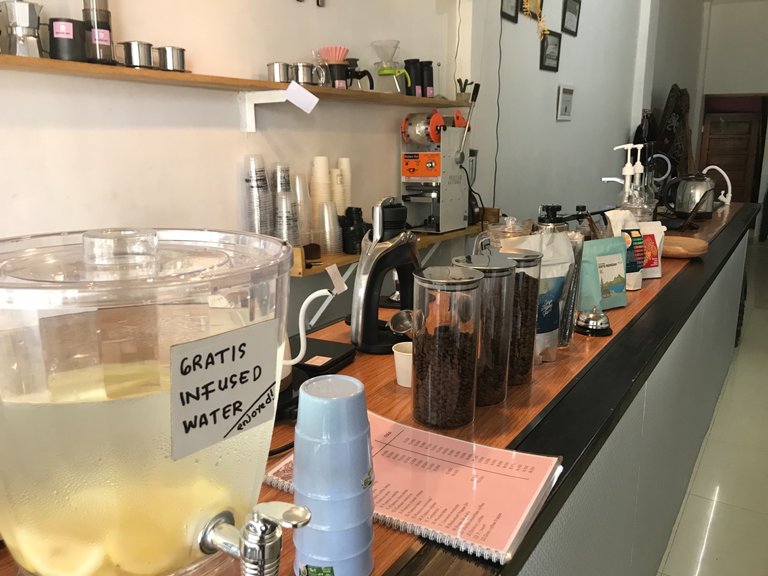 photo by me
Ema and I immediately ordered the menu at this coffee shop, our coffee orders did not change, namely cold Sanger Espresso with a little extra espresso. You can see the picture above, this coffee shop provides lemon water for free, if visitors want fresh drinks, visitors can freely take the lemon water. Just like before, this coffee shop provides coffee flavors with manual brew, unlike other coffee shops that already use quite sophisticated and expensive coffee machines.
photo by me
I also asked permission to take a picture behind the barista bar, there is a trash can and the floor is added with wood to make it taller, it looks quite neat and not scattered.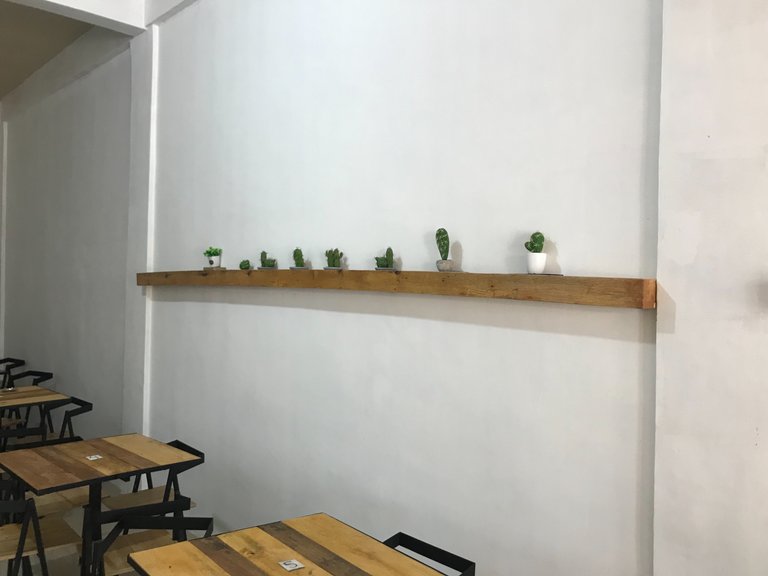 photo by me
For decoration in this coffee shop, you can see several small cacti stacked on wood, this decoration is very simple and doesn't seem tacky, I really like this little cactus decoration. Other decorations are also very synchronous, the combination of wooden tables and chairs makes this coffee shop look classic.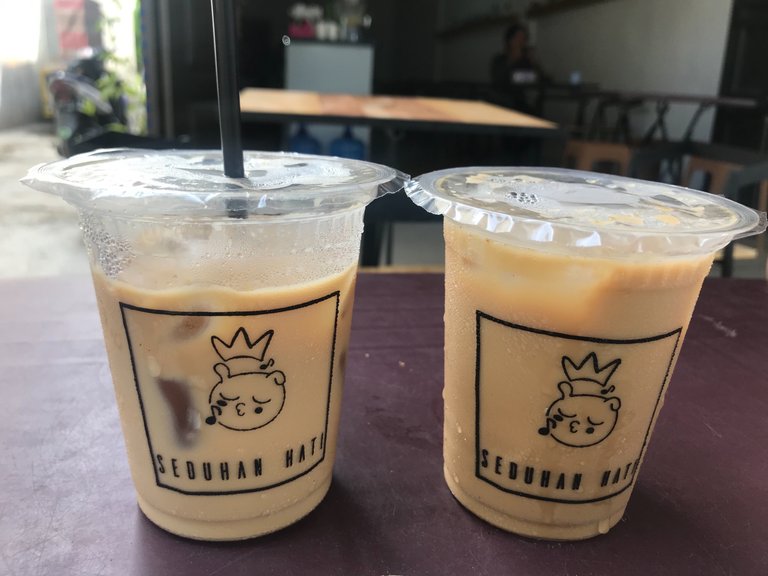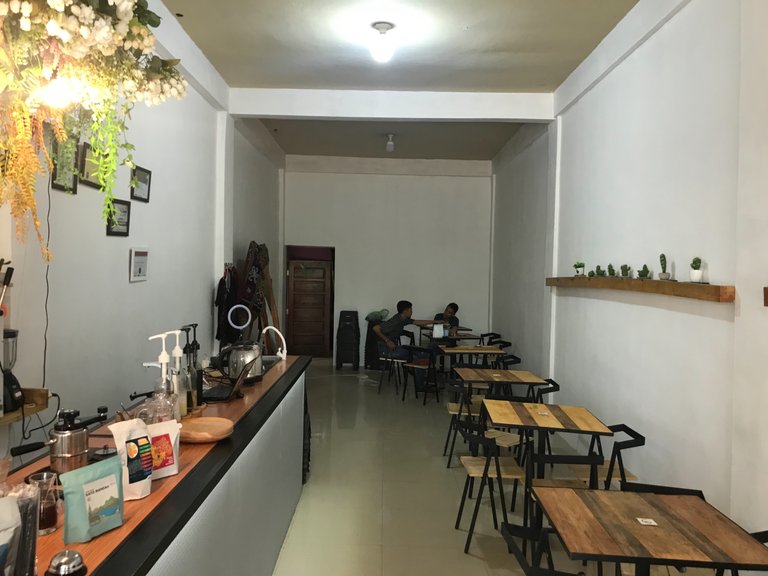 photo by me
After I chatted with Ema and the owner of this coffee shop, finally our menu arrived and was ready to drink. Seen some teenagers casually chatting while opening their laptops, this coffee shop also provides free WiFi for loyal customers, maybe in the future there are some more decorations that can improve this coffee shop. The Seduhan Hati coffee shop has only been open for a day and we will see whether it works or not. Thank you to those of you who have read and stopped by my post today, give your suggestions and support, see you in my next daily post.