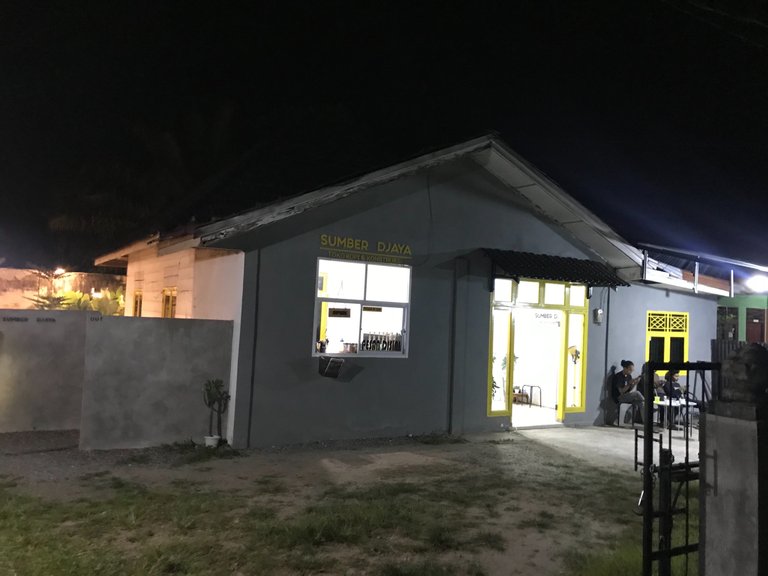 photo by me
Yoo yoo hello my fellow hivers and the whole community, come back with me Jodi Pamungkas and in today's post I visited another coffee shop in one of my cities, there are quite a lot of coffee shops that Ema and I haven't visited, I always invite ema to hunt for shops coffee, because we have one hobby, namely coffee hahahah. One of the coffee shops that is quite unique in my city is Sumber Djaya, what's so unique about this coffee shop? This coffee shop uses an old wooden house that is quite old as a coffee shop building, but the building is only a place for waiters or baristas to make coffee. I did not have time to enter the house, there was a room with AC facilities in it, I immediately ordered the menu at the Sumber Djaya coffee shop.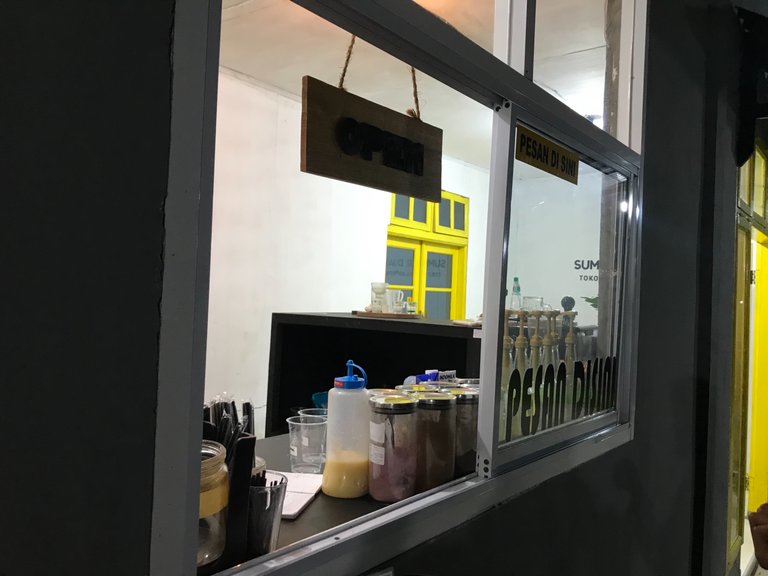 photo by me
I immediately took a picture in front of me ordering the menu, there were various jars filled with drink powder and milk, I asked the waiter a few questions, the signature menus in this coffee shop and what menus are best sellers, the waiter said there are some of the best seller menus and signatures in this coffee shop, the one that I ordered is cold chocolate coffee and Ema ordered chocolate, the price of both menus is around 2 $ and the waiter said wait at the table that has been provided.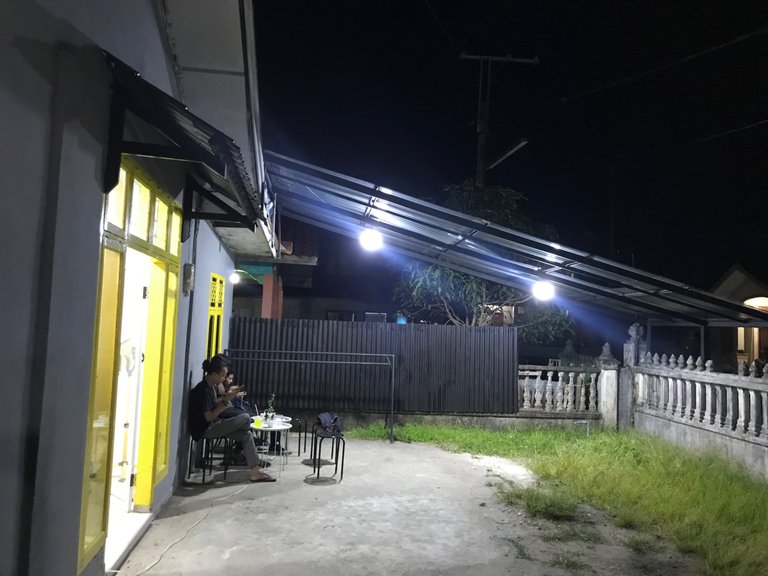 photo by me
While I was waiting for the order to arrive, I took some pictures around this coffee shop, you can see some teenagers playing games and enjoying the menu in this coffee shop, you can also ask for additional benches and tables to sit elsewhere too, terrace concept This coffee shop looks quite simple, only weeds are used as decoration and a black roof to prevent rain.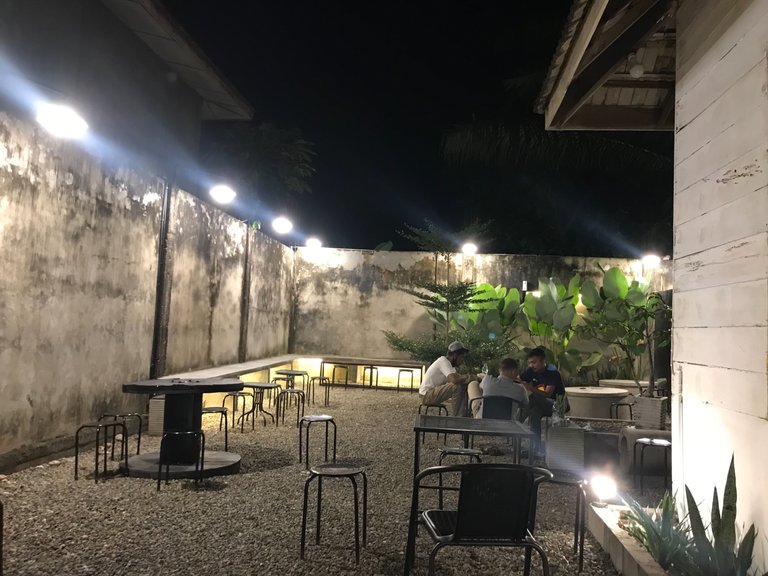 photo by me
Well, what's interesting about the Sumber Djaya coffee shop is the backyard of this building, the owner is very creative to make the atmosphere of the oudoor coffee shop more attractive, you can see that all the backyard floors are filled with small stones, there are several tables that are quite unique, made like anchor ships or the like, with mossy and old walls, decorated with several lights on top of it, a concept like you can take and an example, interesting isn't it?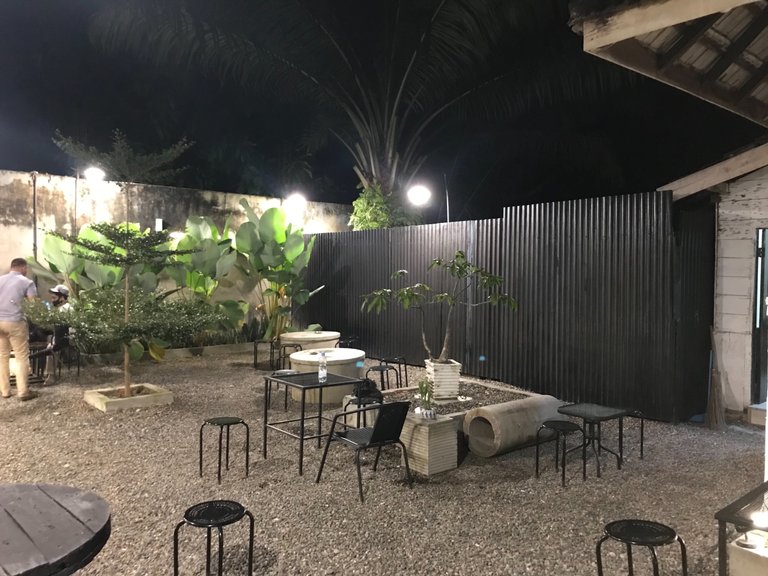 photo by me
Now I head to the right side of the Sumber Djaya coffee shop's backyard, there are so many living plants that adorn the backyard of this coffee shop, it is perfect for those of you who like serenity and peace, because this coffee shop is quite quiet and looks lonely, some walls are limited. with black zinc, as for the round concrete table, it is really very creative and I like the concept of the Sumber Djaya coffee shop. This section also has the entrance to the coffee shop building, leading to the toilet and the Sumber Djaya VIP room.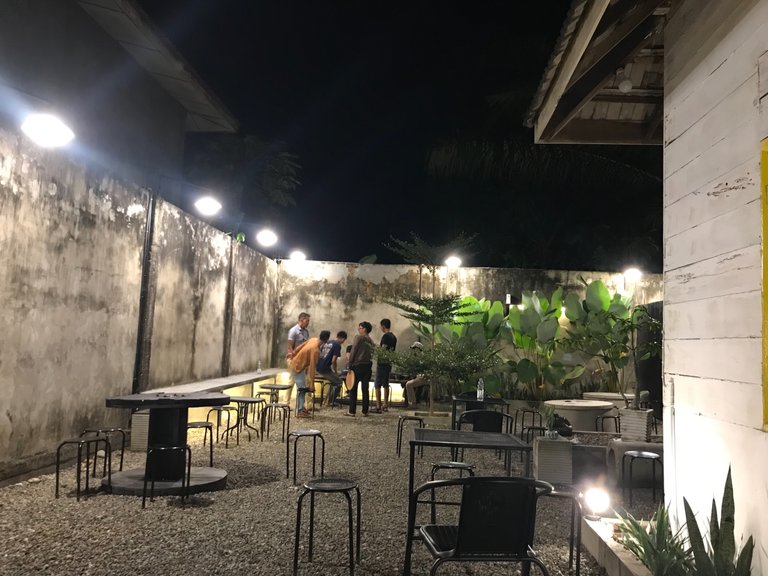 photo by me
I took another picture in the same angel, there are several young men who want to talk about business in this coffee shop.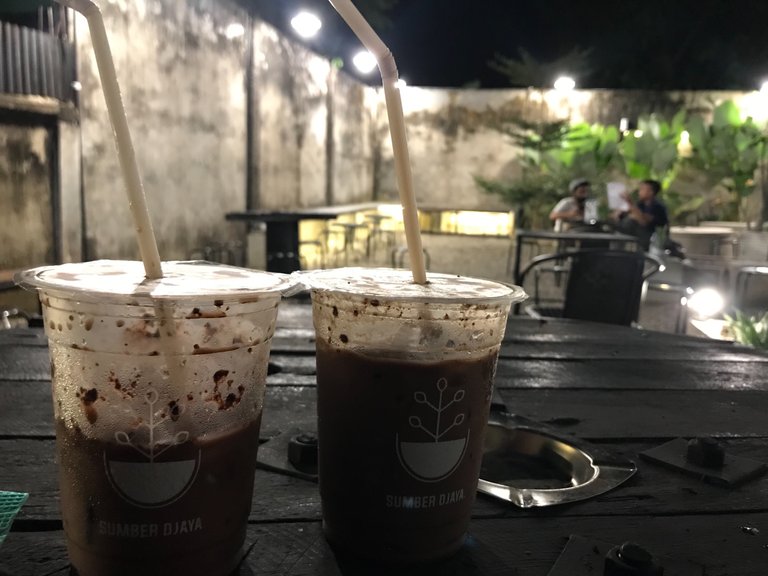 photo by me
About a few minutes I walked around the Sumber Djaya coffee shop, finally my menu arrived, I almost forgot to take a picture of the two menus, because we were drinking it hahahaha. I think the menu here is quite delicious and fresh, the combination of coffee and chocolate really spoils my tongue, we also talk about a lot of things, like HIVE and my work, do you agree if Ema also enters the world of Hive Blockchain? Give your suggestions in the comments.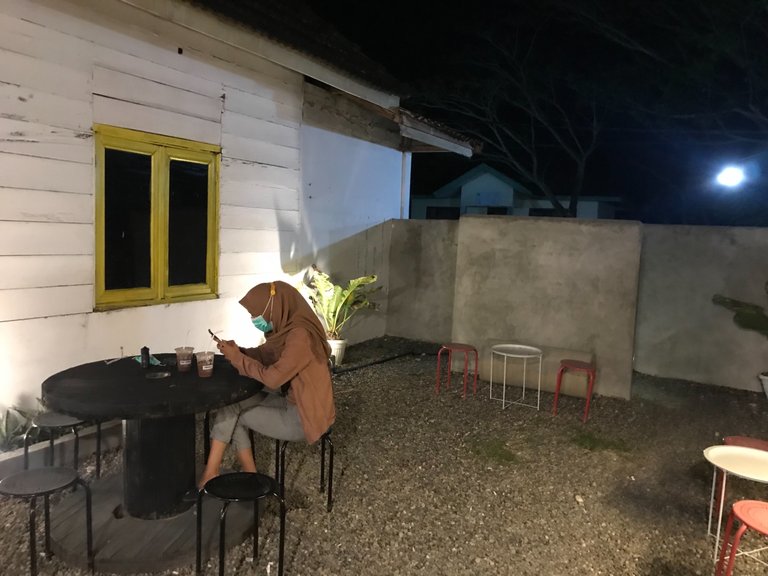 photo by me
I tried to take 1 more picture in my part sitting with Ema, it looks quite old wooden house, right? Ema is very relaxed enjoying drinks while playing gadgets, you can see the table concept in this coffee shop very clearly, very creative. Thank you to those of you who have read and stopped by my post today, give your suggestions and support regarding my post, see you in my daily post with the next ema.