photo by me
Yooo hello my fellow hivers and the whole community, come back with me Jodi Pamungkas on my daily blog. Thank you to those of you who have supported my blog before, I am very happy with this community that always supports my daily posts, all of you are amazing. Today I am not with Ema, I try Sate Matang which is in front of my store, according to my friend Andi, Sate Matang is already quite famous and for the taste there is no doubt, Andi buys Sate Matang very often and I am curious about the taste The Sate Matang. This place is open from 5pm to 1pm.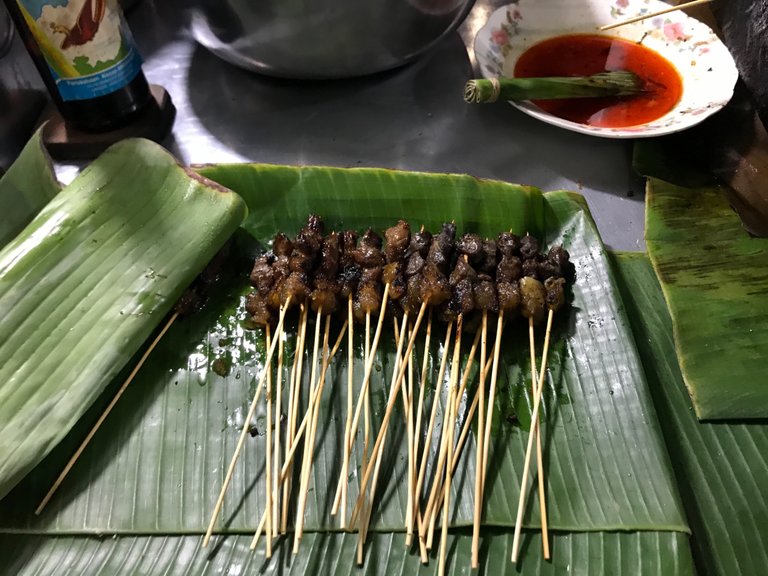 photo by me
Well, Sate Matang uses beef, usually what I know, Sate Matang uses goat meat, maybe because the meat of the goat is too expensive, maybe the seller has to turn to beef. The photo above is the satay that has not been grilled, usually the seller will start burning when a customer buys it, all the satay has been smeared with Sate Matang spices and is ready to be grilled to make it more tender and delicious.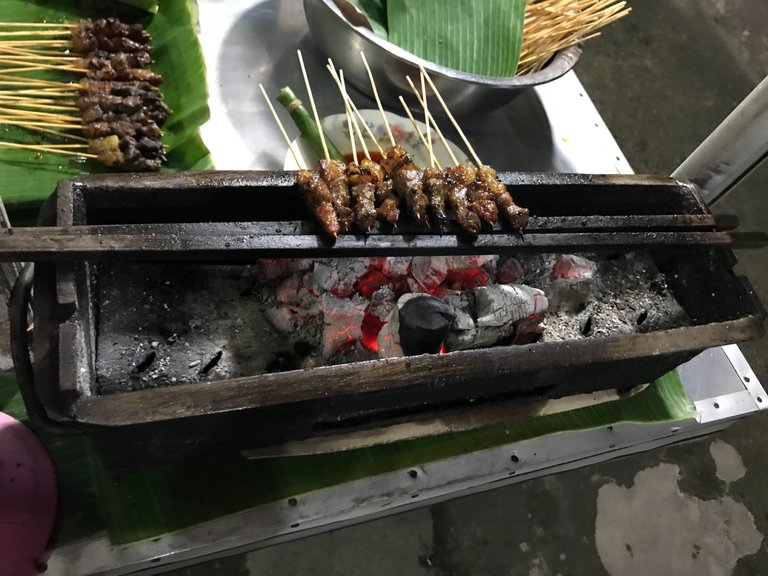 photo by me
My order was grilled Sate Matang, I asked the seller permission to take some photos of how this satay was grilled until it was finished. Usually Sate Matang is grilled with the charcoal heat that has been set, maybe only the seller knows about that, I ordered just one portion of Sate Matang to try how the taste of what my friend Andi said.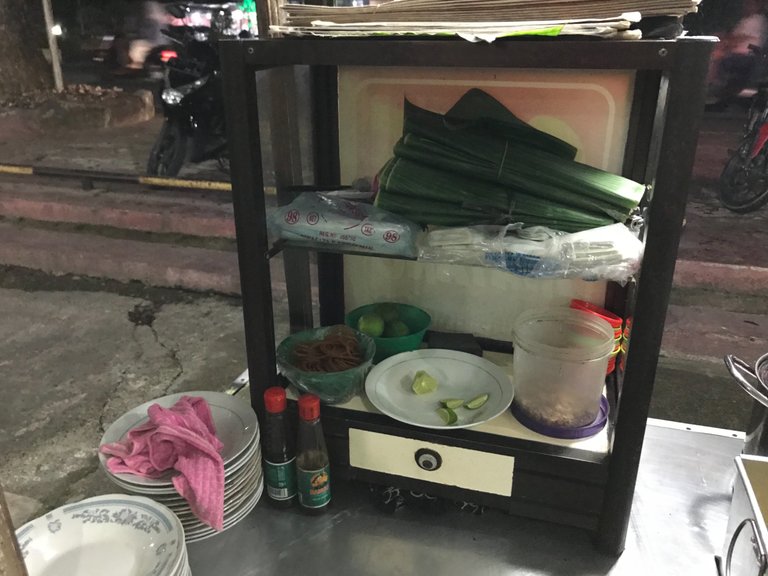 photo by me
The photo above is where the seller puts some important ingredients for Sate Matang, such as fried onions, lime, rubber, soy sauce, plastic and finally banana leaves. Most buyers prefer to take out food instead of eating directly at this place, because they may want to eat together with their family at home.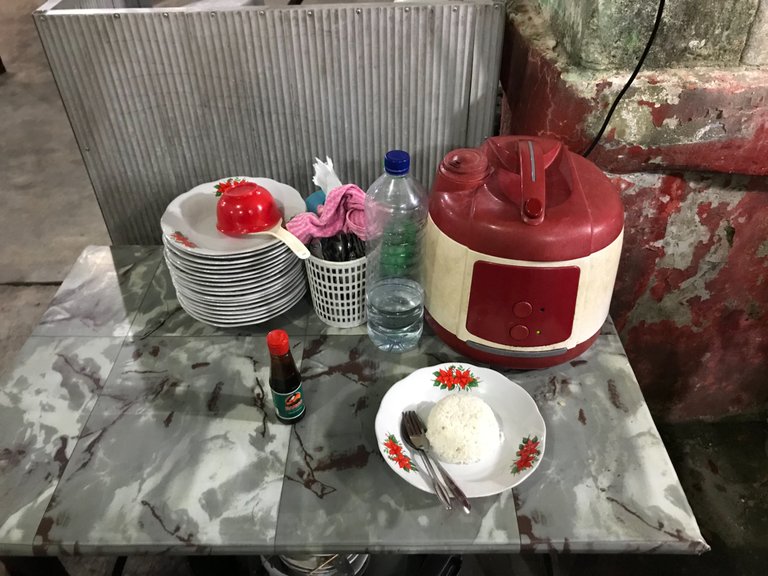 photo by me
On the left side is a place to cook rice so that the rice remains warm and delicious when eaten with Sate Matang. Visitors can also ask for more rice according to the portion, because usually the seller will give you not too much rice.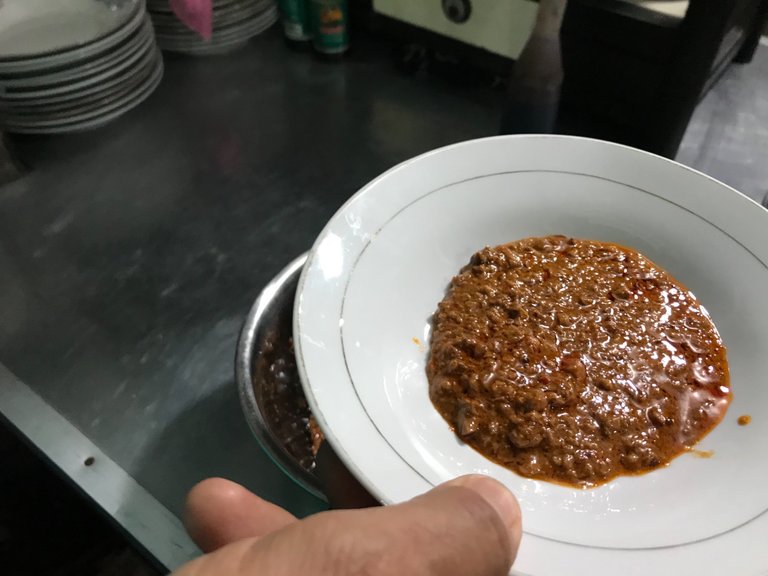 photo by me
Well, the photo above is the most important spice for Sate Matang, this spice is the spice for Sate Matang to make it sweeter, usually I will mix all of the Sate Matang into the peanut sauce, so the taste is even more perfect.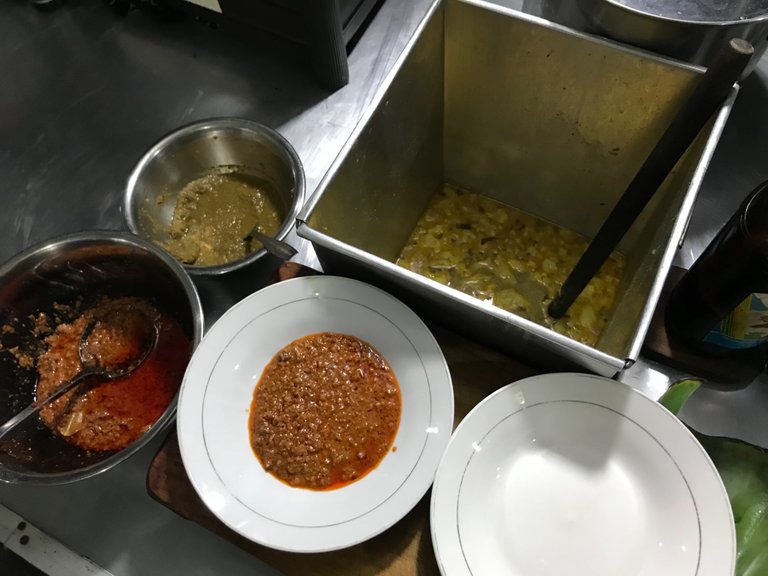 photo by me
I am also curious about the curry place that is usually given by the seller, the curry still has to be heated to a certain temperature using charcoal, this curry is mixed with white rice to make it more delicious to eat with the Sate Matang, usually this curry too can be mixed with 1 spoon of peanut sauce and green chilies.
photo by me
Finally, my order for 1 portion of Sate Matang has arrived, the most important thing is white rice, soy sauce to add sweetness to the peanut sauce, chili to add spiciness to the curry sauce and Sate Matang, tissue is the most important thing too hahaha.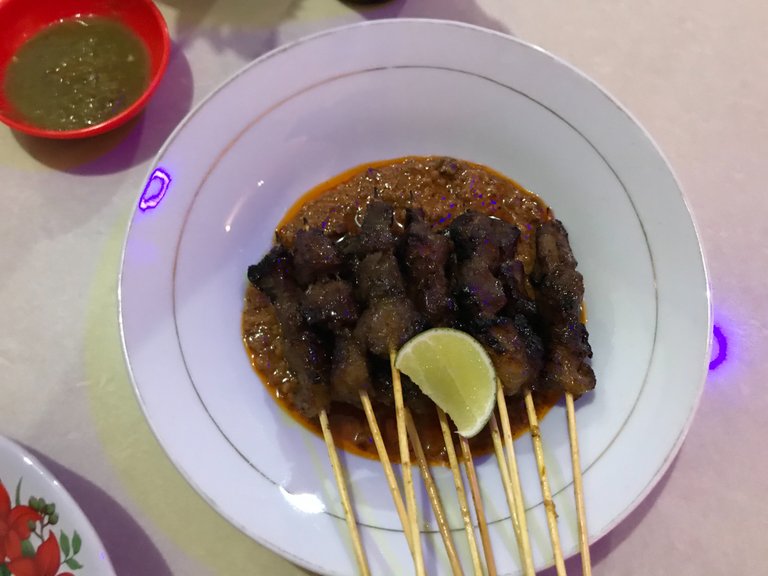 photo by me
Now we look closely at 1 portion of Sate Matang, the price for 1 portion of Sate Matang is around 5 $ and includes curry sauce, white rice and others. You can see the photo above, the peanut sauce that I mentioned above is the sauce for Sate Matang, you can remove all the cooked satay from the prick or you can eat it directly by rubbing the satay into the peanut sauce. 1 serving of Sate Matang is usually given 10 sticks of satay, each stick is given 4 pieces of beef that are ready to eat, what do you think?
photo by me
The most delicious curry is this Sate Matang curry, if you look at it like curry, but once it tastes so different, I don't know what kind of curry it is, I really enjoyed this evening, for 5 $ I think it's really worth the taste of this Sate Matang . Thank you to those of you who have read and stopped by my post today, give your support and suggestions, see you in my next daily post.