My todays' post is somehow the result of a lazy day and a hint of a friend.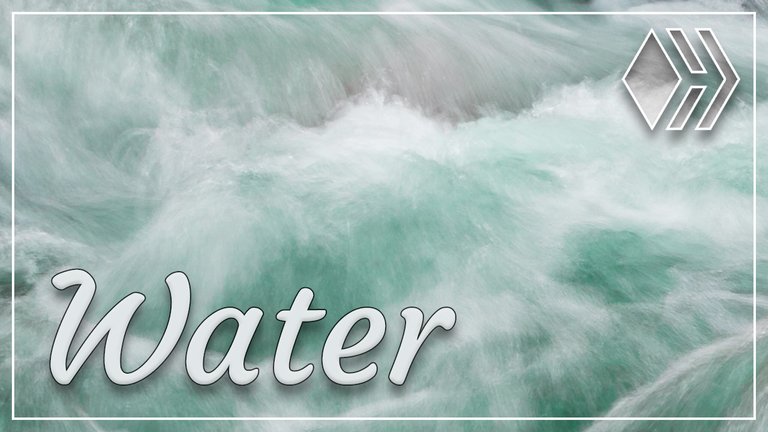 Water flow ... Water fall
As many of you might already know, waterfalls belong to my favourite photo motifs, but I haven't taken many photos in the past months, for reasons we've all suffered from for over a year and because of too much work and too little time to do all I would love to do.
However, after many almost too hot Summer days, today is nice and cool and foremost it's pouring down from the sky since last night. So I have decided to have a lazy day and only edit some photos for my NFT gallery on Foundation.
In between I have looked through the latest Hive posts and replied to some comments. My friend from Downunder, @kohsamui99, who provides us with photos of the most amazing sunrises and sunsets on beaches around the world, meant that such a lazy day would be a good excuse for going through my archives and make a post.
At first I thought "lazy day is lazy day and I'm doing something anyway", but then, whilst editing some waterfalls, I changed my mind and thought "why not?" 😁
So here they are, from small or better said almost no waterfalls at all, because there's only flowing emerald green water to see, to quite huge, the big waterfall in Šunikov vodni gaj, the Šunik water grove in Slovenia.
Let's begin in the year 2019: the emerald green Soča River is a beautiful river in the Soča Valley in Slovenia, about an hour drive away from my home, but two mountain passes are on the way inbetween. I have taken this photo in May 2019.
Šunikov vodni gaj aka Šunik Water Grove is a little area in the Lepena Valley in Slovenia. I love the small and the huge waterfalls there, the mossy rocks and boulders the water is flowing over, and the old grown beech forest around the gorge.
This photo of some small cascades was taken in September 2019 in an area which tourists usually don't find.
The next waterfall is a little bit bigger and it is in my home country Carinthia in Austria. There's a path through a gorge and a forest north of my home town, which is called "Abenteuer Wasser Weg" what means "Adventure Water Way".
You can walk through the gorge, mostly along the creek and will see lots of waterfalls and other interesting things, such as pieces of art in the middle of the forest. I have shown some of these in another post quite a while ago.
In August 2020 I came by this waterfall which reminded me on a bride's white wedding dress .
Then the pandemic has arrived and stopped most of my and also your activities. I have promised not to write about it and I try to keep to my promise by adding a nice little poem instead.
The Rivulet
Run, little rivulet, run!
Summer is fairly begun.
Bear to the meadow the hymn of the pines,
And the echo that rings where the waterfall shines;
Run, little rivulet, run!

Run, little rivulet, run!
Sing of the flowers, every one,-
Of the delicate harebell and the violet blue;
Of the red mountain rose-bud, all dripping with dew;
Run, little rivulet, run!

Run, little rivulet, run!
Stay not till summer is done!
Carry the city the mountain-birds' glee;
Carry the joy of the hills to the sea;
Run, little rivulet, run!
by Lucy Larcom
After months of not being able to leave the country, in June 2021 I could visit the Šunikov vodni gaj in the Lepena Valley again and was happy that nothing has changed there. This is the biggest waterfall in the water grove and it was as beautiful as ever.
Las but not least, I have visited the Šunikov vodni gaj again in July 2021 and besides a lot of other photos I have taken an image of a small cascading waterfall again.
Somehow, I do prefer these tiny waterfalls for two resaons: The big waterfalls look mighty and powerful, but these smaller ones have the beauty and foremost, you will not find many photos of them in the internet, while of the big waterfalls there are tons of photos. You just need to google Šunikov vodni gaj and count how many times you see the big waterfall above.
I am glad that @kohsamui99 has motivated me to make a post today and that I haven't been too lazy to edit some of the waterfall photos I have taken, but now my today's post has come to its end and all that's left are my best wishes for you to enjoy a wonderful weekend ... South Africa, my thoughts are with you, please take care.
---
Information
All photos were taken with the Canon EOS R and one of these lenses: Canon RF 24-105mm f/4 L IS USM, Canon EF 70-200mm f/4 L IS II USM, Canon EF 16-35mm 1:4 L IS USM, Canon EF 50mm 1:1.8 L STM, SIGMA 105mm 1:2,8 DG MACRO HSM, Sigma 100-400mm F5-6,3 DG OS HSM C.
If you are interested in the image data, I leave all EXIF and IPTC information stored in the pictures.
---
If you like my work I would appreciate an upvote, nice comment or maybe you want to share my post on your blog 😊 ... and maybe you would like to follow me, so that you never miss a post from me.
Thank you so much for visiting my blog
take care, stay safe and healthy,



Photos and Text: @johannpiber | Johann Piber | All rights reserved - do not use without my permission
> I am a creator at the Foundation Plattform
> My Photos are listed at the OpenSea NFT Marketplace
>>> See my posts on my Pinmapple Profile Map <<<
>>> Not got a Hive account yet? Sign up free here! or here <<<
2021-07-17
#hive5 from Austria 🖐️