Bitcoin is right where one would expect it to be at this point in its cycle
With bitcoin's block reward halving roughly ever 4 years, there have been some similar patterns that have played out within those 4 year cycles.
Bitcoin sees the rewards per block cut, then it sees the price eventually run way up over the course of the next 2 years or so, then it sees the price consolidate over the remaining 2 years as it sets up to repeat that cycle all over again after the next halving.
A bit simplified, but you get the picture.
A similar pattern to the above has played out 2.5 times thus far, and we are now on the downhill stretch of the 3rd time. So far everything is exactly as it should be.
One giant consolidation/re-accumulation zone
The last couple years may have seemed rough to those new to crypto but in reality it has all been one large consolidation of the previous bull market: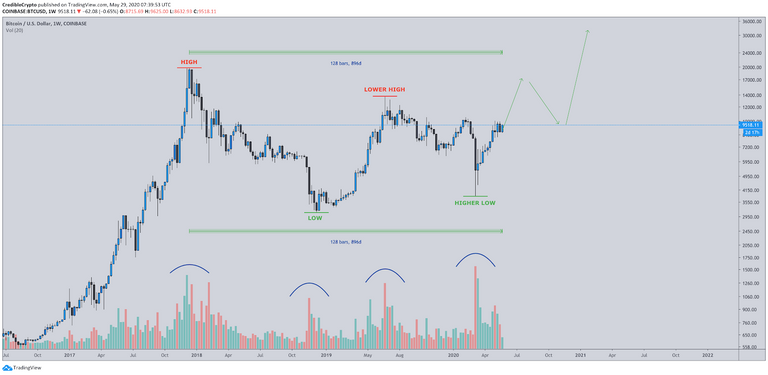 (source: https://cointelegraph.com/news/bitcoin-896-day-accumulation-will-now-spark-100k-bull-run-analyst)
It's been a consolidation/re-accumulation for the next bull market to come.
Which was kicked off with the 3rd halving taking place back in early May.
Bitcoin now has...
A price firmly above its 200 day moving average
A golden cross for only the 7th time
Exchanges holding less bitcoin than any other point in the last 12 months
Over 60% of the total BTC supply not moving in the last 12 months
Central banks around the world slashing rates and doling out stimulus
All of these things have historically been very good for the price of bitcoin with the majority of these things being seen at the beginning of the previous bull markets in bitcoin as well.
The more I talk about this the more I feel like I need to be buying more bitcoin. :)
Stay informed my friends.
-Doc