Another day another new Exchange listing for HIVE...
WazirX announced yesterday that they will be listing a HIVE/USDT trading pair. They also said they went ahead and airdropped HIVE tokens to all eligible STEEM holders.
The official announcement can be seen here: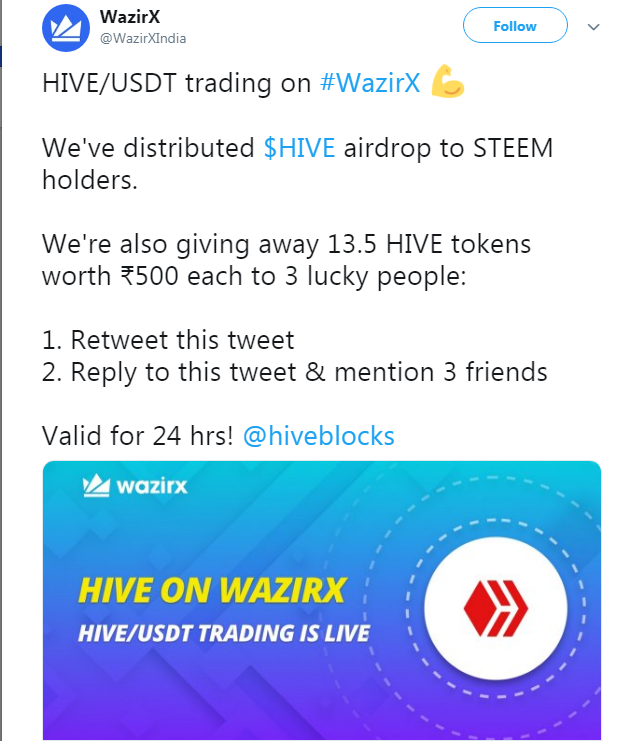 (Source:
1255025412482068482) twitter metadata:V2F6aXJYSW5kaWF8fGh0dHBzOi8vdHdpdHRlci5jb20vV2F6aXJYSW5kaWEvc3RhdHVzLzEyNTUwMjU0MTI0ODIwNjg0ODIpfA== ~~~
You know anything about WazirX?
Nope? Me neither...
Doing some digging, it appears they are a rather popular exchange located in India. THE most popular exchange in India to be precise.
They were taken out in November of last year by Binance for an undisclosed amount as a way for Binance to gain a foothold in the Indian market, which just so happens to have a population of more than a billion people.
More on that can be seen here:
https://cointelegraph.com/news/binance-buidls-bridge-with-india-acquiring-leading-bitcoin-exchange
Since Binance just announced a listing for HIVE, it probably also makes sense that WazirX would also list HIVE considering they are both owned by the same people now.
Trading for HIVE is already available but wallets are not...
It sounds like this listing is starting out similar to the one announced yesterday by HBTC in that deposits and withdrawals will not be available initially for customers.
The specifics were mentioned here: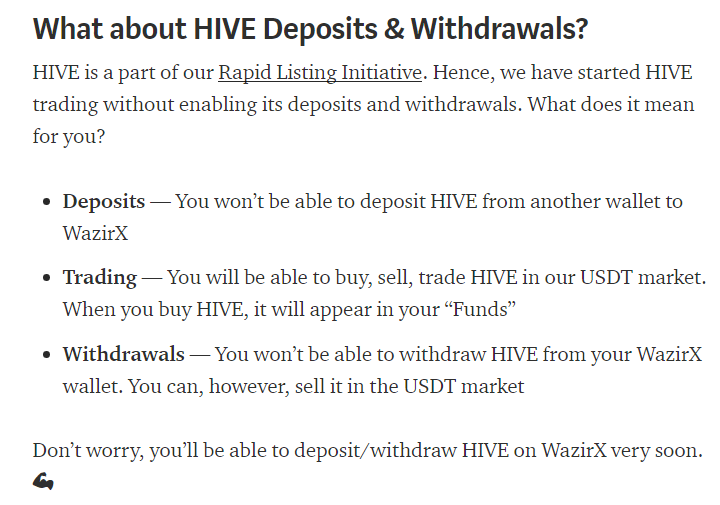 (Source: https://medium.com/wazirx/buy-sell-hive-on-wazirx-f9840ce2926a)
However, that nice little tidbit at the bottom there saying that wallets will be enabled soon was a bit more reassuring to hear than the information out of HBTC where they said they will only enable wallets if there is demand for it.
It sounds like wallets will be coming for WazirX in the near future regardless.
And judging by the fact they are owned by Binance and Binance is enabling HIVE wallets tomorrow, I'd say there is a good chance that it happens sooner rather than later on WazirX as well.
Either way, the more exchanges that HIVE has the more users HIVE is ultimately opened up to, and that is the most important thing.
India has a massive population and they are starting to get some regulatory clarity on crypto.
HIVE is lucky to find a home there.
Stay informed my friends.
-Doc