BTC sitting on exchanges is hitting one year lows...
There is something happening right now that happened the last time we saw bitcoin go on a major run.
Major exchanges are now sitting on 1.36 million BTC, which is the lowest amount in more than 12 months.
That may not sound like that big of a deal but the last time their holdings were at these levels was right before bitcoin ran from $4k to $14k...
Check it out:

(Source: https://cointelegraph.com/news/the-last-time-this-happened-bitcoin-surged-from-3-150-to-14-000)
The low levels of BTC sitting on exchanges likely means those holding BTC are not interested in selling at/near the current levels.
Last time, we saw the totals rise as the price peaked out in July of last year.
But wait there's more...
Not only are the BTC exchange inventory levels indicating that a major run is on the way, we also have a major technical pattern in our favor as well.
Bitcoin just recently saw yet another Golden Cross: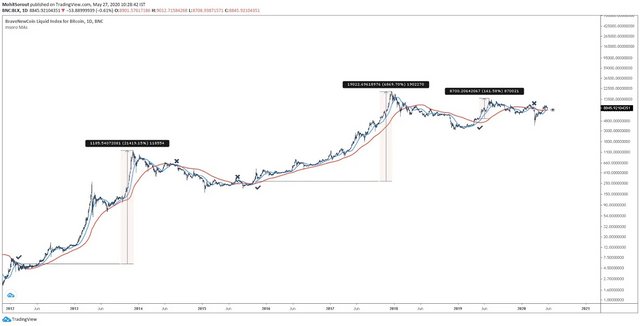 (Source: https://twitter.com/singhsoro/status/1265508071578664972)
This would be the 7th Golden Cross since bitcoin was created.
Three of the first 6 times preceded massive moves up...
Which time will this one be?
I have a guess...
Stay informed my friends.
-Doc