Heya Hivers,
Before you scroll down, STOP! and check the lyrics on this first image to see if you can guess the songs and let me know how many you got right 😁. The 3 videos on this post are your answers.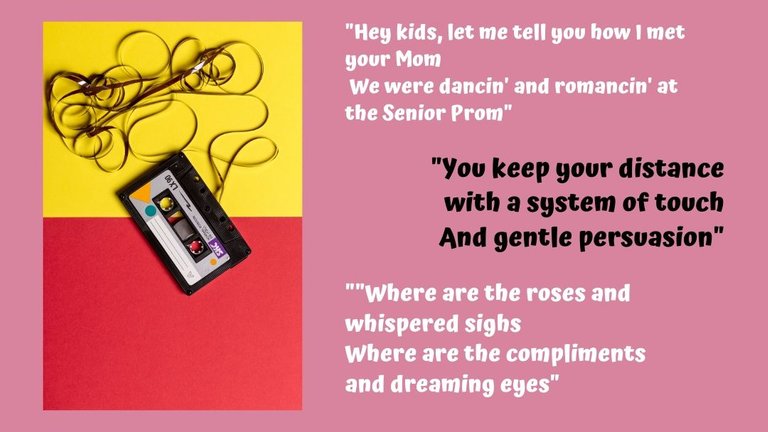 Once upon a time, I use to share my playlists through mixed tapes. Till today my friend and I joke that the "Fine" city of Singapore started it hahaha. Back then I would walk across the causeway to Woodlands, so I could get a couple of these mixtapes. They were sold in every other shop. It was not an easy task, I'd have enough money for maybe two but the songs I wanted would be spread over 5 cassettes. Heart pain!!
Don't Stop The Dance - Bryan Ferry
The other thing to do was to record from the radio. So, I'd hear a song ending, quickly place my finger on the record button and wait in case it was my favourite song next. Only thing was, the DJ would talk all over the intro of the song. I still recorded it anyways as soon as the DJ stopped. One cassette is an hour-long, 30 minutes on each side. When I was happy with my 12 to 15 songs, I would break off the tabs on the back, so no one including me could accidentally re-record over my precious collection. If I needed to re-use the cassette, I'd just stuff the grooves with paper and it'd be good to go.
Head Over Heels - Tears For Fears
The worse of it was when I overplay the cassette and the tape gets stuck. Many memes have been done of the 80's child, a cassette tape and a pencil. If this is alien to you, ask me 😉. Then there's this whole process of getting it untangled and winding it back in. Sometimes, it'd break and I'd just use cellophane tape and it worked like a charm ... well almost.
Don't Break My Heart - UB40
Of course, compiling your favourite love songs for your beau was a big hit. In fact, it was almost expected. It was as good as giving a "ship" ring or bracelet haha.
Music is meant to be shared. It gives me much pleasure to have these playing in the background and excited to include them in my post. Now, I am thinking how to share songs from my CD collection that isn't already on YT without copyright issues...Gotta take a look at those Fair Use terms... Any ideas?
Thank you for hanging out with me.
Till next time, Hive Five <33
Source of Image and Edited on Canva