It's time for happy #caturday so cat lovers can show off photos of their cats. My orange cats just love their walking exercise in the banana grove and field nearby. I did notice something different in their behaviour; they refused to go out there when the grass were taller than their height. I guessed they didn't feel easy as they could not see anything except tall grasses. They would just sit on the ground without moving at all. I could not persuade them to follow my footsteps. So, I had to ask my gardener to clear a walking path for me (actually it's for the cats!). My gardener much prefers dogs to cats, as she often had issues with unruly stray cats at the local temple. I told her my orange cats were well groomed and homeschooled.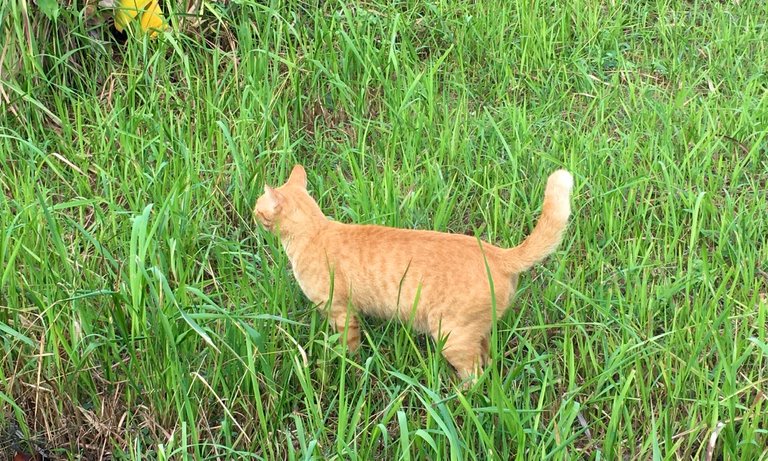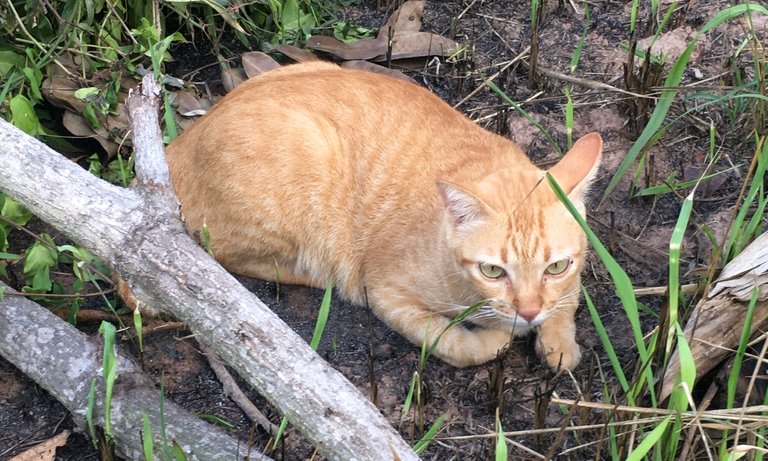 The following day I tried to call out 'Walkie' to my cats. To my surprise, both of them came running after me and were very glad to see that tall grasses were gone. They perked up their ears and head to concentrate on all moving objects far away. Now I realised that cats like to be able to see the surrounding clearly in case there were hidden snakes or stray dogs in their vicinity.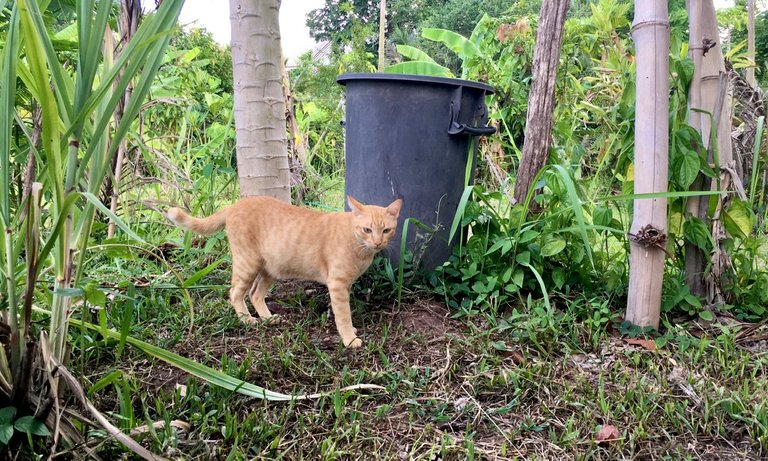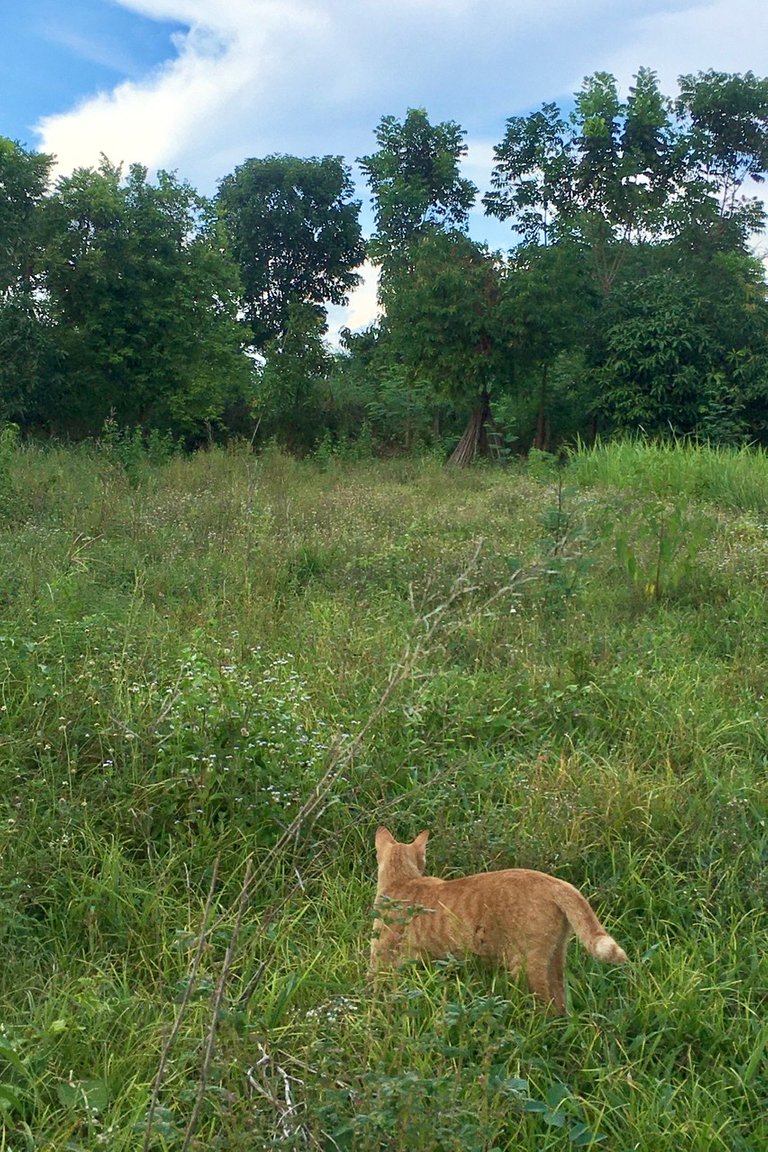 They would walk slowly at first and they also sniffed around a bit like dogs. After a while they would gather the courage to go further away from where I was standing. If they felt threatened in any way, they would run to be close to my feet. I found this behaviour quite amazing. Cats did express logical thinking and behaviour too!?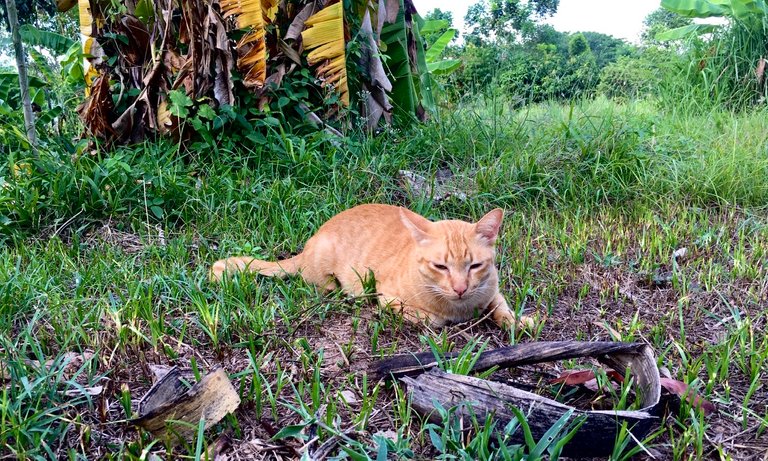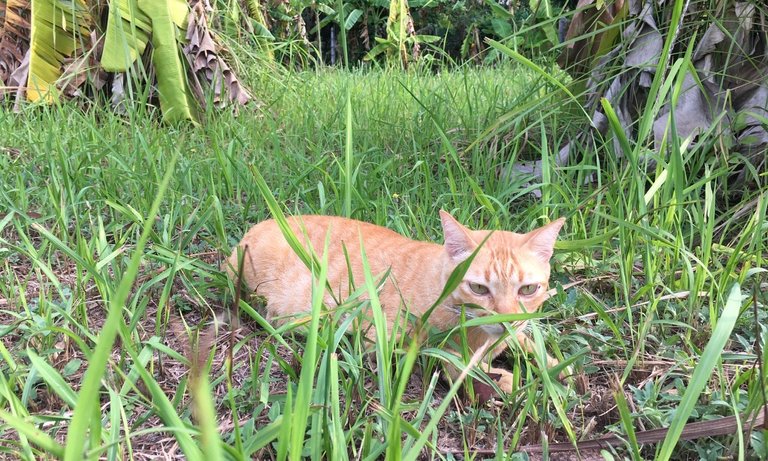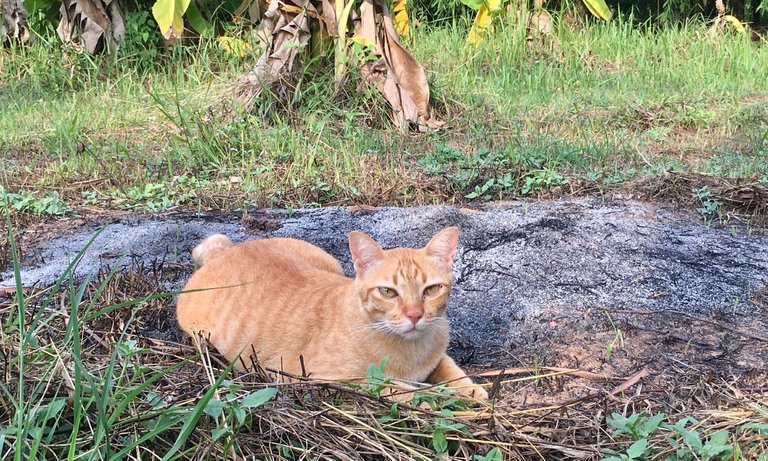 เราชอบพาแมวไปเดินเล่นในป่ากล้วยข้างบ้านมาก เพราะมันเป็นช่วงเวลาที่เราเองได้เดินสำรวจธรรมชาติรอบบ้าน ดูความเปลี่ยนแปลงของต้นไม้และท้องฟ้า และเราได้ศึกษานิสัยของแมวด้วย เราพึ่งรู้ว่าแมวไม่ชอบไปเดินเล่น เวลาที่มีหญ้าขึ้นสูงท่วมหัว ทำให้แมวไม่สามารถมองเห็นรอบๆได้ไกลนัก มันคงกลัวว่าอาจจะมีงูซ่อนอยู่ในพงหญ้า หรืออาจจะมีสุนัขจรจัดแอบซ่อนอยู่ได้ เราเรียกให้เดินตามเท่าไร แมวไม่ยอมเดินตามเราเลย พวกแมวพากันนั่งนิ่งอยู่กับพื้นดิน เราเลยต้องไป้ดินเล่นคนเดียว ส่วนแมวนั่งคอยอยู่ที่ต้นทาง เราต้องขอให้คนสวนตัดหญ้าทำทางเดินให้เราไปสำรวจต้นไม้ก่อน แล้วเราจึงลองพาแมวไปเดินเล่นวันต่อไป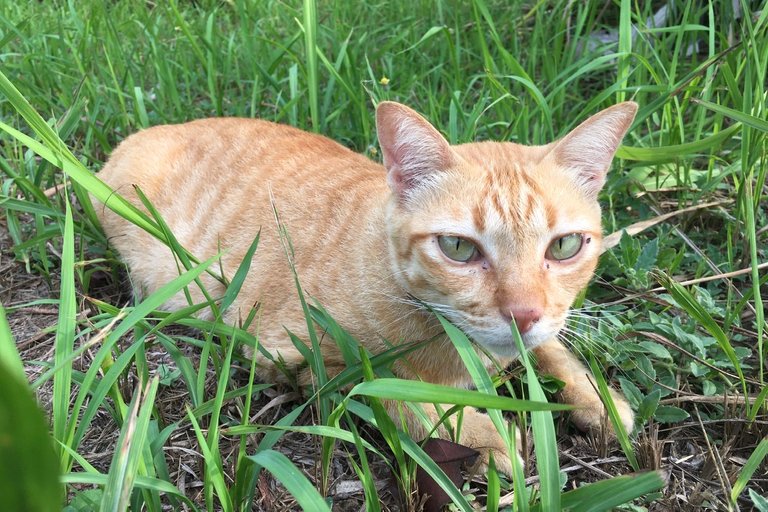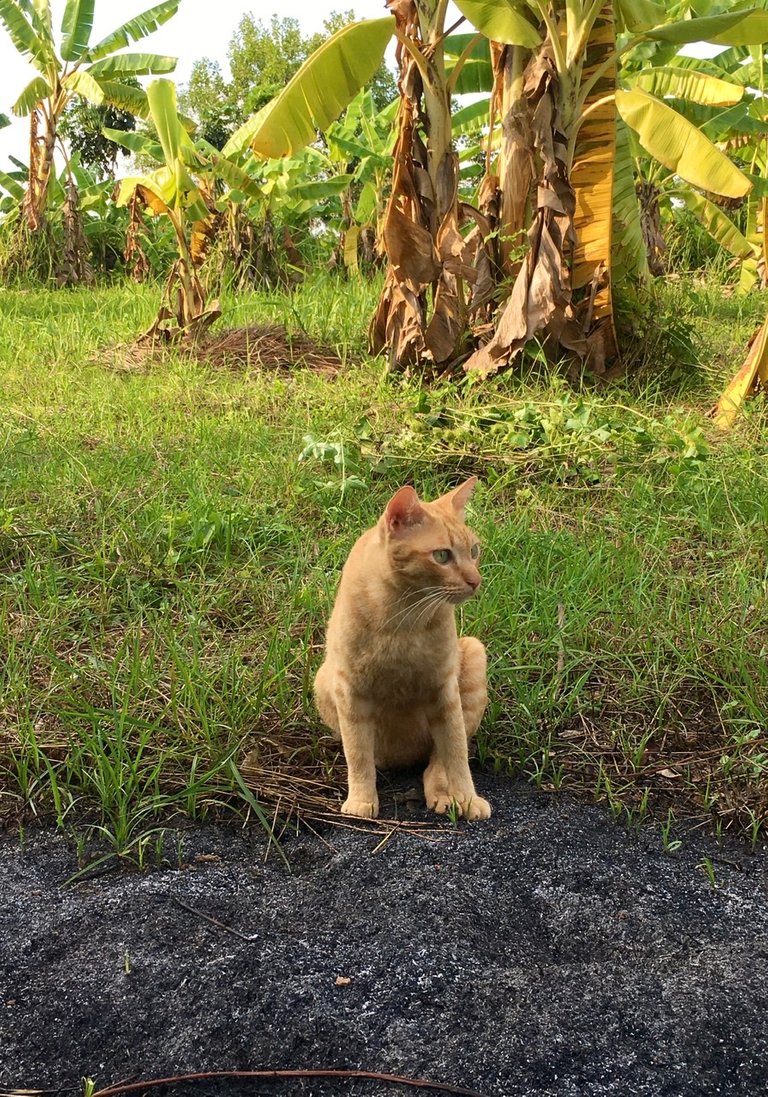 คราวนี้แมวตื่นเต้นดีใจมากที่ได้ออกไปเดินเล่น มันทำหูตั้ง และมองจ้องไปข้างหน้าไกลๆ เหมือนสอดส่องหาศัตรูหรือดูว่ามีผู้บุกรุกมาหรือเปล่า แมวสองตัวมีความระวังตัวสูงมาก คราวนี้พวกแมวก็ค่อยๆเดินสำรวจพื้นที่ และดมหากลิ่นแปลกปลอมไปด้วย พวกแมวทำตัวเหมือนสุนัขมากเลย พอพวกมันกลัวหรือตกใจ แมวจะวิ่งมาอยู่ที่ปลายเท้าของเรา แมวคงคิดว่าเราจะช่วยปกป้องพวกมันจากอันตรายได้. นี่แสดงว่าแมวคิดเป็นและ ใช้เหตุผลเป็นด้วย เราประทับใจมาก แมวบางตัวอาจจะฉลาดมากด้วย เราชอบศึกษานิสัยแมวในสิ่งแวดล้อมที่แตกต่างกัน แมวทำให้เราเรียนรู้สิ่งใหม่ๆตลอดเวลา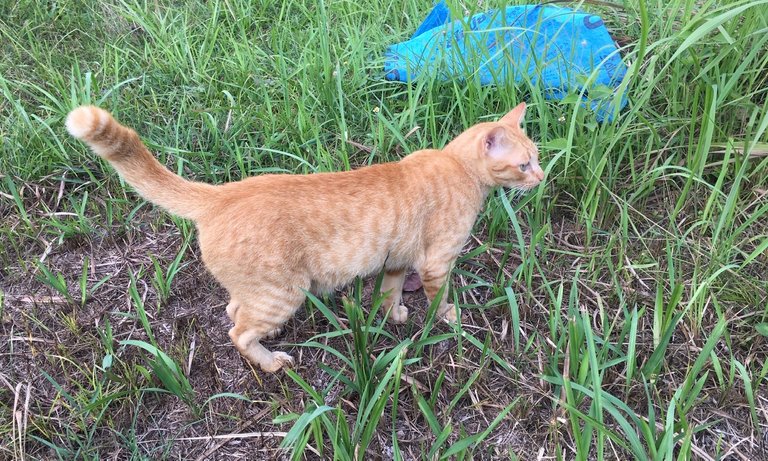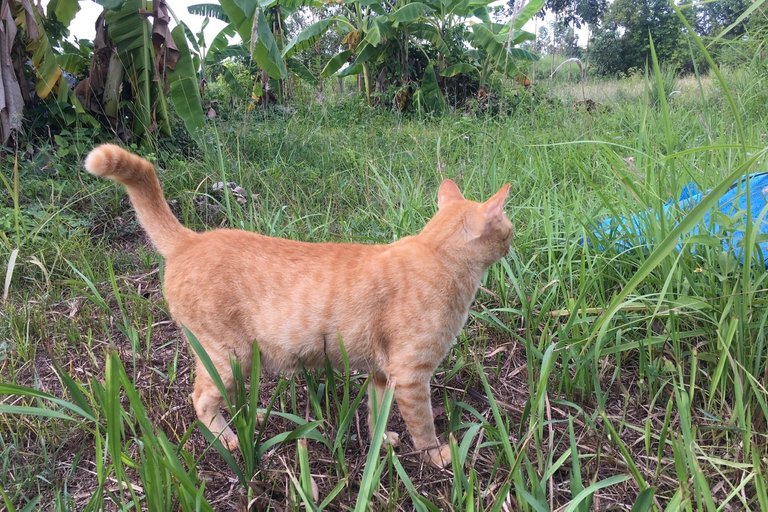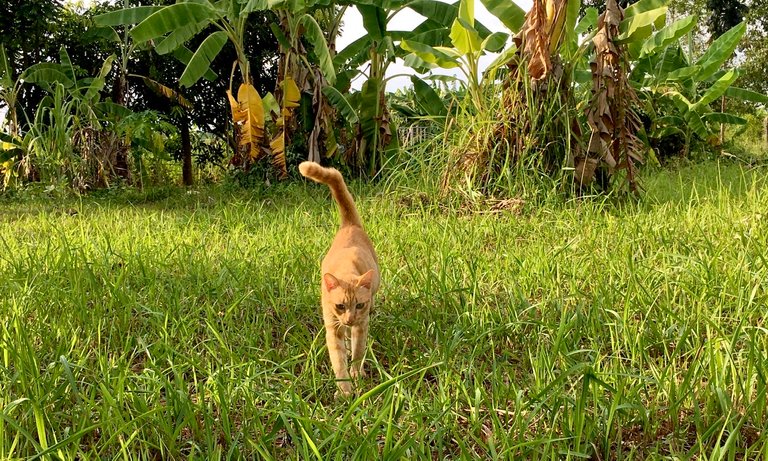 I enjoyed watching my cats' reactions in various situation as I could always learn something new about their behaviour. I am quite convinced that my cats could think logically and could reason quite well. I think they could become very clever and skillful if they could have a good trainer. Sometimes I think they could understand my words too. These orange cats are very good and interesting companions so I hope the Spirit of the land would continue to look after my cats for me.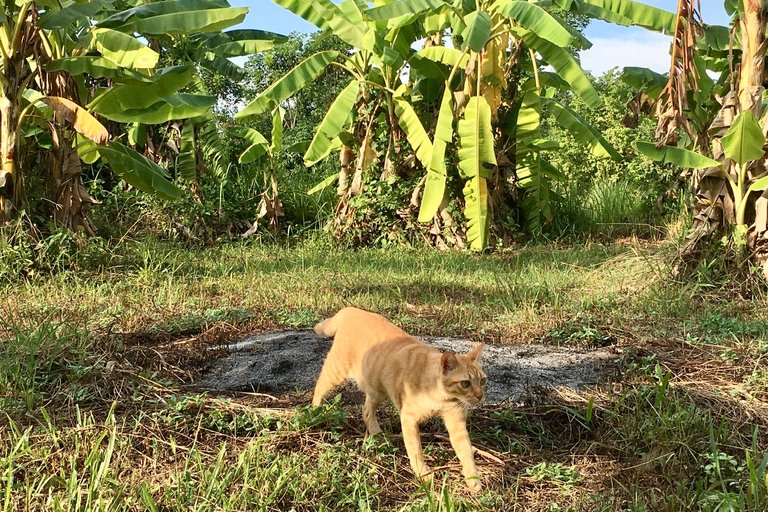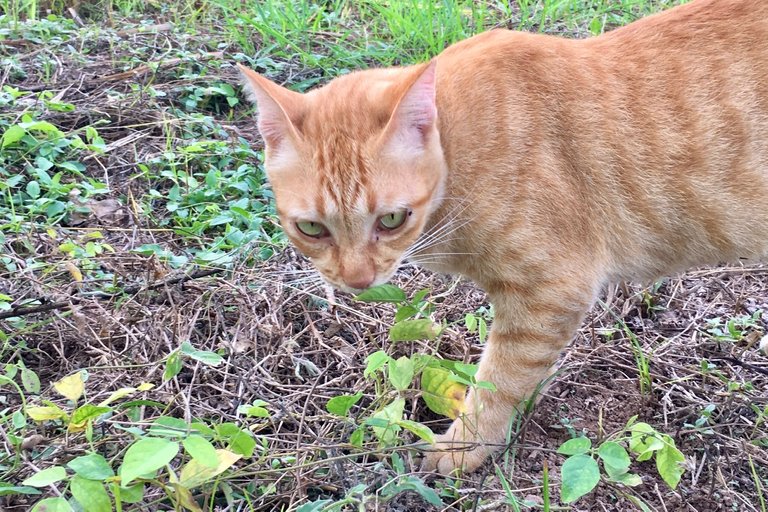 Wishing you peace, good health and prosperity.
Stay strong and cheerful.