Tag of the Series 📺
💕 Hello Hive Community! 💕
---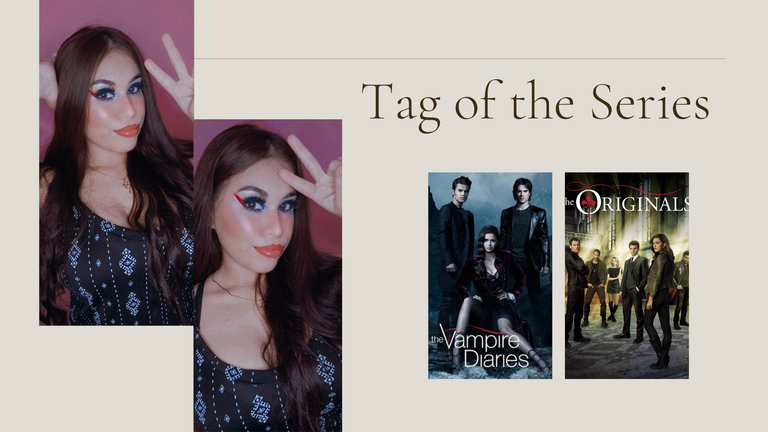 ---
Antes de hacer este Tag es importante destacar que no soy del tipo de persona que esta viendo series constantemente, en realidad me cuesta un poco encontrar una serie que me guste y me cuesta muchísimo más encontrar el tiempo para poder ver una serie, porque usualmente cuando algo me gusta paso horas pegada a la computadora sin hacer nada productivo y eso es algo que me puedo permitir en mi vida. Aún así he visto varias series, solo que no voy al par de las cosas en tendencia actualmente, así que con mi poco conocimiento en series voy a responder las preguntas de este Tag de @cami.rojas.
Before making this Tag it is important to note that I am not the type of person who is constantly watching series, actually it costs me a little to find a series that I like and it costs me much more to find the time to watch a series, because usually when I like something I spend hours glued to the computer without doing anything productive and that's something I can afford in my life. Still I've watched several series, I just don't keep up with what's trending at the moment, so with my little knowledge on series I'm going to answer the questions in this Tag by @cami.rojas.
---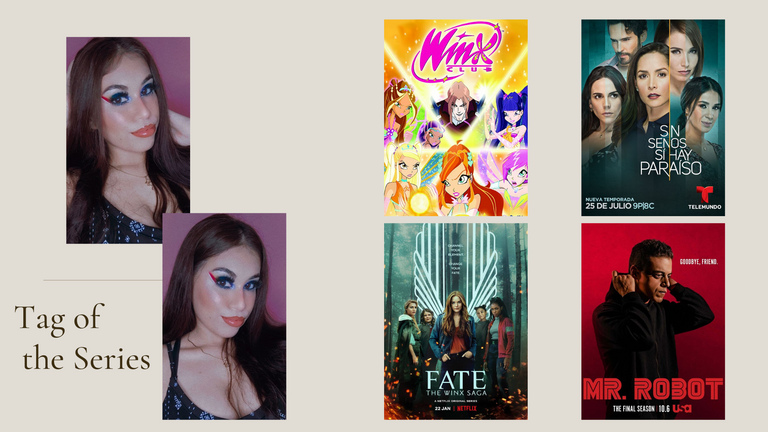 ---
1| Primera serie que recuerdas haber visto
Definitivamente mi primera Serie fue el Club Winx, dejando de lado que es una serie infantil, para mi siempre será la primera Serie que marco mi vida y también la que más me gustaba, tanto así que aún la sigo viendo.
Sin senos si hay paraíso fue una Serie que me consumió, cuando la vi pasaba horas en mi computadora durante varias semanas, me gustaba mucho hasta la segunda temporada y luego no le vi mucho sentido, fueron 4 temporadas en total, aún así la vi completa y fue mi serie más larga con un total de 240 capítulos.
No me gusta ver series cortas, me gustan las series que tienen muchos capítulos, mientras más largas mejor. Pero he visto dos series cortas que me han gustado mucho, estas son Fate: Winx Saga y Emily In Paris, ambas me gustaron por cosas distintas y me muero por ver su continuación.
Mi Serie Poderosa definitivamente tiene que ser Mr Robot, por su trama, las cosas que suceden y los personajes tan complejos, comenzando nada más por el personaje principal que tiene el poder de hacer muchas cosas con su talento en la informática pero su mente siempre lo domina y sucede de todo un poco.
No puedo escoger una serie favorita en mi vida, aunque por el primer lugar se están peleando The Vampire Diaries y The Originals, las amo en cantidades industriales. Por otro lado en mis favoritas puedo mencionar Mr Robot, Silicon Valley y el Club Winx obviamente.
1| First series you remember watching
Definitely my first series was Winx Club, leaving aside that it is a children's series, for me it will always be the first series that marked my life and also the one I liked the most, so much so that I still watch it.
Sin senos si hay paraíso was a series that consumed me, when I watched it I spent hours on my computer for several weeks, I liked it a lot until the second season and then I didn't see much sense in it, there were 4 seasons in total, even so I watched it completely and it was my longest series with a total of 240 chapters.
I don't like watching short series, I like series that have many chapters, the longer the better. But I have seen two short series that I really liked, these are Fate: Winx Saga and Emily In Paris, both of them I liked for different reasons and I can't wait to see their continuation.
My Power Series definitely has to be Mr Robot, because of its plot, the things that happen and the complex characters, starting with the main character who has the power to do many things with his talent in computers but his mind always dominates him and a little bit of everything happens.
I can't pick a favorite series in my life, although The Vampire Diaries and The Originals are fighting for the first place, I love them in industrial quantities. On the other hand in my favorites I can mention Mr Robot, Silicon Valley and Winx Club obviously.
---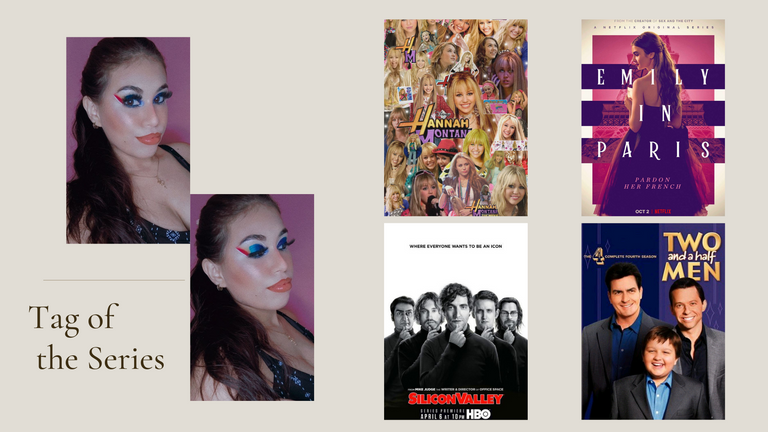 ---
6| La serie que más recuerdos te trae
Creo que casi todas las series que menciono aquí me traen recuerdos por igual, y las que más me gustaron lo hacen de una forma mucho más intensa porque forman más sentimientos.
7| Serie de Disney favorita
En mi infancia fui definitivamente una niña de Disney, amaba muchas de las series que pasaban en ese canal pero Hannah Montana fue mi favorita de todas, yo me aprendía hasta todas sus canciones y quería todo de Hannah Montana.
8| Serie Favorita de Netflix
La verdad es que no me gusta Netflix, así que no es como si haya visto mucho de lo que producen al respecto, en esta ocasión solo voy a mencionar Emily in Paris porque fue una serie totalmente diferente a lo que me suele gustar, así que considero mi favorita de lo que he visto de Netflix.
Cuando un amigo me dijo que debía ver Mr Robot porque la trama era excelente no se equivoco, la trama es demasiado buena, pero esta serie es muy compleja para mi cabeza, en unos capítulos incluso me engaño totalmente porque lo que pasaron en realidad nunca paso y solo era una ilusión de la cabeza de Elliot, esta es una serie que no he terminado pero es de mis favoritas y se merece una publicación cuando termine de verla.
Las series de comedia me gustan demasiado pero mis dos favoritas tienen que ser Two and a Half Men y Silicon Valley. La primera porque amo completamente a Charlie y su hermosa personalidad, cada episodio era un mar de risas. Y la segunda es una serie especial para mi, pero también muy divertida y todo el humor informático/tecnológico que pasan en cada capitulo es algo que puedo entender perfectamente.
6| The series that brings back the most memories for you
I think almost all the series I mention here bring me memories equally, and the ones I liked the most do it in a much more intense way because they form more feelings.
7| Favorite Disney series
In my childhood I was definitely a Disney girl, I loved a lot of the series that ran on that channel but Hannah Montana was my favorite of all, I would even learn all of her songs and loved everything about Hannah Montana.
8| Favorite Netflix Series
The truth is that I don't like Netflix, so it's not like I've seen a lot of what they produce about it, this time I'm only going to mention Emily in Paris because it was a totally different series than what I usually like, so I consider my favorite of what I've seen from Netflix.
9| The Most Complex Series
When a friend told me that I should watch Mr Robot because the plot was excellent he was not wrong, the plot is too good, but this series is too complex for my head, in some chapters it even totally fooled me because what happened in reality never happened and it was just an illusion of Elliot's head, this is a series that I have not finished but it is one of my favorites and it deserves a publication when I finish watching it.
I like comedy series too much but my two favorites have to be Two and a Half Men and Silicon Valley. The first one because I completely love Charlie and his beautiful personality, every episode was a sea of laughs. And the second one is a special show for me, but also very funny and all the computer/tech humor that happens in every episode is something I can totally relate to.
---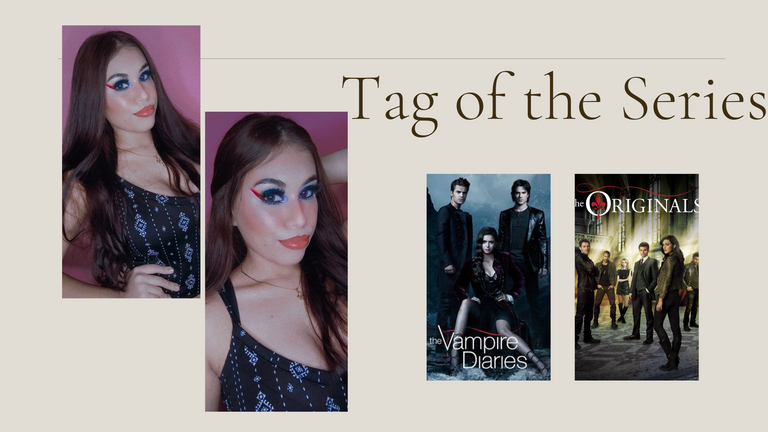 ---
Definitivamente son bastante pocas las series que he visto en mi vida, pero creo que he mencionado todas las series que son importantes para mi, aunque olvide hablar un poco sobre Legacies, pero no cumplía con ningún requisito siguiendo las preguntas de este Tag de las Series. En algún momento encontrare tiempo para retomar las series que he dejado en pausa porque el trabajo suele consumir mucho en la vida cotidiana. Espero que les haya gustado mi entrada a este Tag, no olviden unirse, nos vemos prono!
There are definitely quite few series that I have seen in my life, but I think I have mentioned all the series that are important to me, although I forgot to talk a bit about Legacies, but it didn't fulfill any requirements following the questions of this Series Tag. At some point I will find time to pick up the series that I have put on hiatus because work tends to consume a lot in everyday life. I hope you liked my entry to this Tag, don't forget to join, see you soon!
Pictures of my property.

Camera: CellPhone Xiaomi Redmi Note 10.









Si te gusta el maquillaje, el mundo de la belleza o hacer arte en tu piel te invito a la comunidad y al Telegram:




If you like makeup, the world of beauty or making art on your skin I invite you to the community and the Telegram:



---

---
---