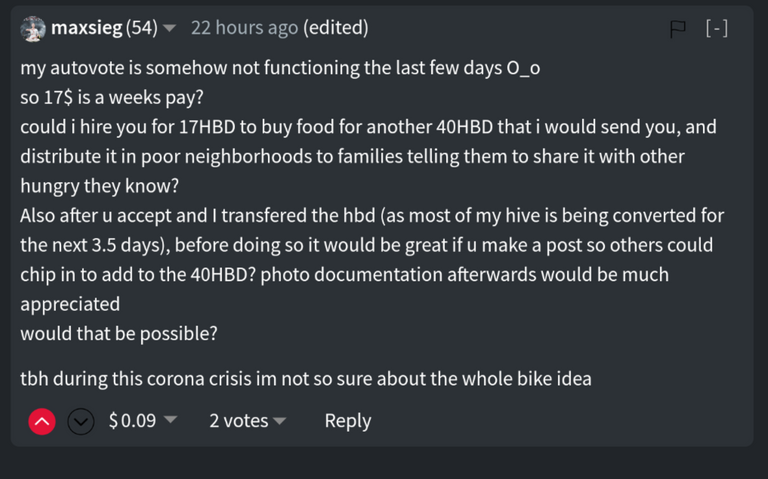 Many persons are not finding this period easy and many are staying indoors without food and the government is not doing anything about it. Yesterday it was reported that they have used N2b in sending sms in creating awareness and safety precautions. When the accountant General was asked to account for how the N2 trillion was shared to Nigerians during this period, the next day the office of the accountant General got burnt. Tales of a country, indeed there was a country.
Let's talk about the image above
I have set a target for myself that I will start up a business and so far I am working towards achieving that. Under the comment section I got a comment that reads (the above picture).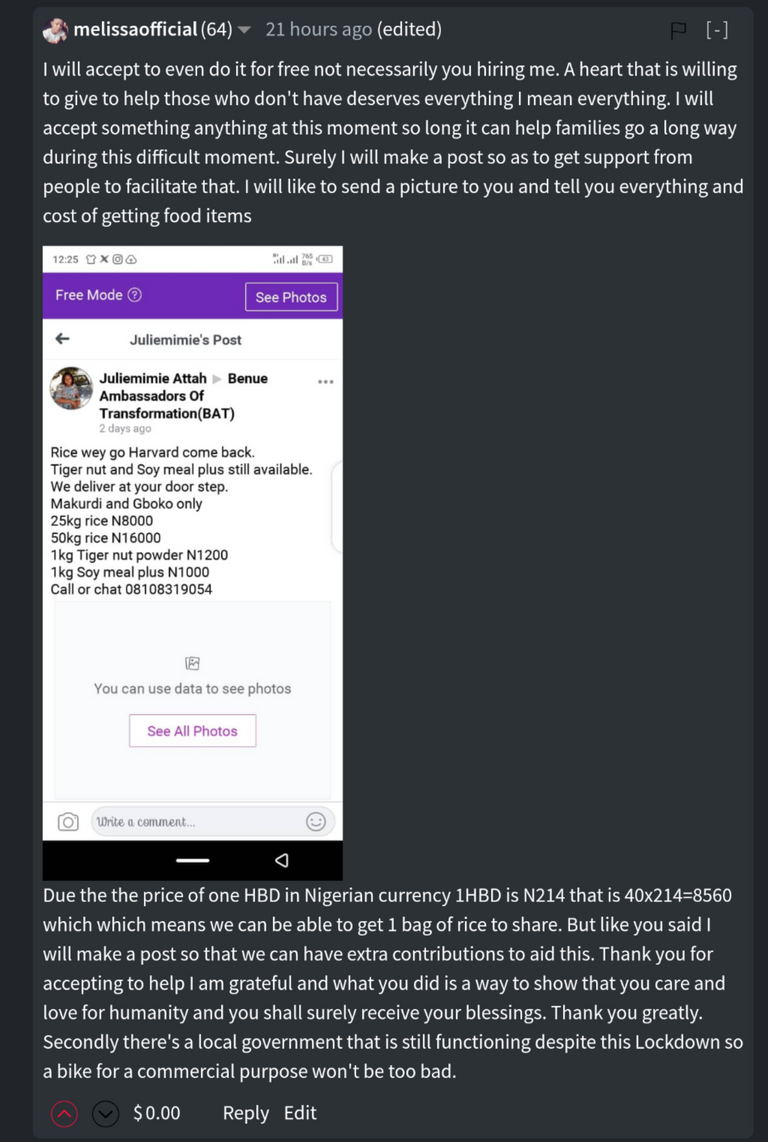 I told her about what I can get with what she has promised to donate.
It was a brief rundown of what we will do. Upon more inquiry I discovered we can buy less kg of rice so as to enable us reach more persons. I was made to understand that 5kg bag of rice goes for N2, 800 that's about $8 sometimes less when you are buying in buck.
She promised what she is about to send is still in conversation so it may take 2-3 days, before she sent and asked that I make a post about it maybe someone might be generous enough to add to what she has already contributed. So this post is made with the intention of asking for more donations so as to help those in need. I am in need and without food. We all have our problems but a little to help save a life is all I ask here.
All the donations made will be appreciated at the appropriate time and nothing is too little. Because of the Holy week supply of rice will be made during this Easter triduum and distributions will start latest on Tuesday. I will snap all those who will receive a bag of rice and post it here, in addition.
Possible items to buy
Bags of rice
Noodles
Milk
Nothing is too small to contribute at this moment.
To enable faster sales of crypto when you send it through the following
BTC: bc1q9uzjlzt9unkyezd4g66jfhaexns9e5qdva0l48
ETH: 0x7EdfcbC65fD882DA7188084f4A0D922762bC9AEa
Ripple : rGCz5bu47BzZvVVj2nm5QABLWCDoy5VcZ4
Dash: XxziWxKUxryzrxao1UuFL5Y9k8pD25xWH5
Or you can message me on discord
melissaofficail#8212
Thank you in anticipation