Hola apreciada comunidad de
@gems
Hello dear @gems community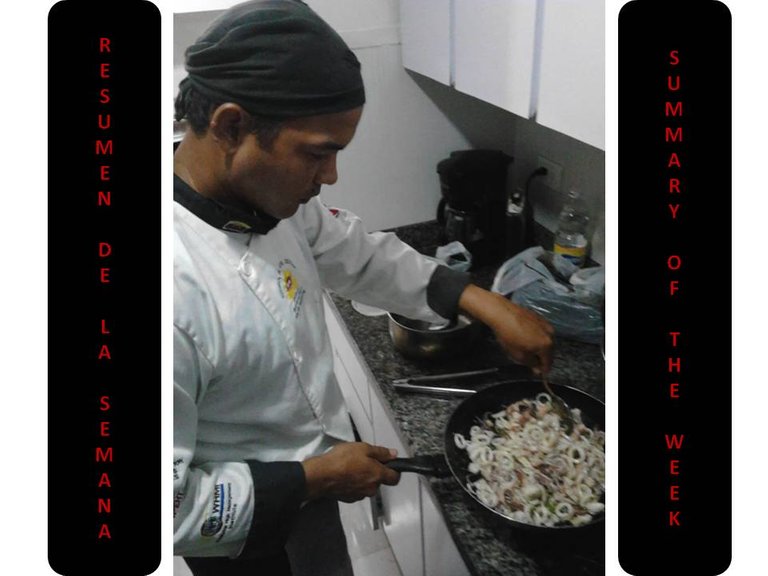 A continuación mi ya acostumbrado resumen de la semana para que revisen las recetas que traje esta semana que estuvo movida a nivel de cocina si lo hicieron antes, igual me pueden escribir por si tienen alguna duda y con muchísimo gusto los ayudaré
Here is my usual summary of the week so that you can review the recipes that I brought this week that was moved at the kitchen level if you did it before, you can write me in case you have any questions and I will gladly help you.
1.-DOMINGO: RECETA DE CARPACCIO DE PULPO
Este día se lo dediqué a una receta muy elegante, deliciosa y fácil de hacer, se trata del Carpaccio de Pulpo ya que estamos en temporada alta de este animal, nada mejor que trabajar con él.
1.-SUNDAY:OCTOPUS CARPACCIO RECIPE
This day I dedicated it to a very elegant, delicious and easy to make recipe, it is Octopus Carpaccio since we are in the high season of this animal, nothing better than working with it.

https://hive.blog/hive-120586/@miguelhenriquez/octopus-carpaccio-recipe-receta-de-carpaccio-de-pulpo
2.-LUNES: SALPICÓN DE FRUTOS DEL MAR
En esta zona, o está región de mi país comemos muchos frutos del mar en diferentes presentaciones así que quise hacer esta receta también muy fácil y demasiado rica.
2.-MONDAY: SEA FRUIT SPLASH
In this area, or this region of my country, we eat a lot of seafood in different presentations, so I wanted to make this recipe too easy and too rich.

https://hive.blog/hive-120586/@miguelhenriquez/receta-de-salpicon-de-frutos-del-mar-sea-fruit-splash-recipe
3.-MARTES: TRABAJO HONRADO Y DELICIOSO
Este día lo quise dedicar al placer que me da trabajar en cocina de forma honesta y servicial y eso me hace sentir feliz, me emociona y más si los comensales les gusta mi trabajo honesto.
3.-TUESDAY: HONORED AND DELICIOUS WORK
I wanted to dedicate this day to the pleasure that working in the kitchen gives me in an honest and helpful way and that makes me feel happy, it excites me and more if the diners like my honest work.

https://hive.blog/hive-148441/@miguelhenriquez/un-fin-de-semana-de-trabajo-honrado-y-delicioso-an-honest-and-delicious-work-weekend
4.-MIÉRCOLES: ENVOLTINIS MARINOS
Esta receta normalmente se hace horneada pero quise hacerla diferente, te dejo el link para que revises y te atrevas a prepararlo, igual quedaron divinos.
4.-WEDNESDAY: NAVY WRAPPING
This recipe is normally baked but I wanted to make it different, I leave the link for you to review and dare to prepare it, they were still divine.

https://hive.blog/hive-120586/@miguelhenriquez/receta-de-envoltinis-marinos-marine-envoltinis-recipe
5.-JUEVES: CONOCIENDO SOBRE EL PULPO
A veces cocinamos y no nos tomamos la molestia de conocer acerca de los alimentos que preparamos así que quise darle algunos datos del pulpo para que sepan además como tratarlo en sus cocinas.
5.-THURSDAY: KNOWING ABOUT THE OCTOPUS
Sometimes we cook and we don't bother to know about the food we prepare, so I wanted to give you some information about octopus so that you also know how to treat it in your kitchens.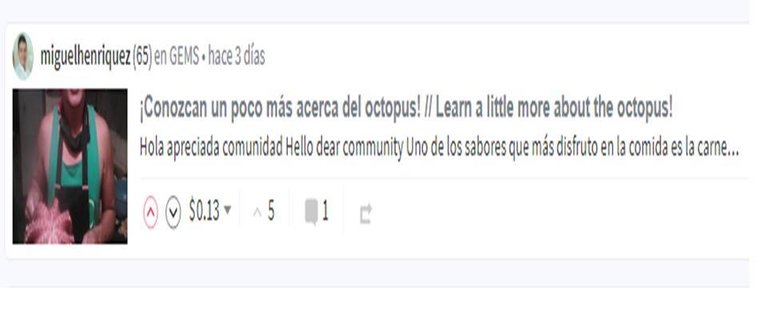 https://hive.blog/hive-148441/@miguelhenriquez/conozcan-un-poco-mas-acerca-del-octopus-learn-a-little-more-about-the-octopus
6.-VIERNES: PULPO A LA GALLEGA Y LOS LICORES QUE ME ACOMPAÑAN
El clásico español ahora en tus manos, esta receta es típica de reuniones entre amigos, no puede faltar sobre todo para compartir en las noches, chequéala es muy fácil. Además escribí para la comunidad de #Beer que para mi es muy apreciada además de esta y la de #foodiesbeehive por tratarse de dos elementos con los que trabajo.
6.-FRIDAY: OCTOPUS A LA GALLEGA AND THE LIQUORS THAT ACCOMPANY ME
The Spanish classic now in your hands, this recipe is typical of meetings between friends, it can not be missing especially to share at night, check it is very easy. I also wrote for the #Beer community that for me is very appreciated in addition to this and #foodiesbeehive because they are two elements with which I work.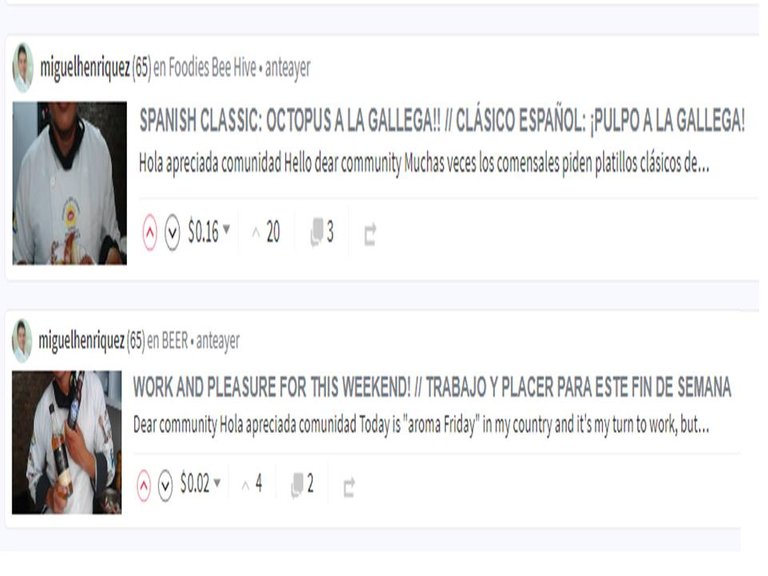 https://hive.blog/hive-187719/@miguelhenriquez/work-and-pleasure-for-this-weekend-trabajo-y-placer-para-este-fin-de-semana
https://hive.blog/hive-120586/@miguelhenriquez/spanish-classic-octopus-a-la-gallega-clasico-espanol-pulpo-a-la-gallega
7.-SÁBADO: TÉRMINOS IMPORTANTES EN COCINA
Es muy importante ir aprendiendo términos nuevos del área de la cocina para hablar y trabajar con más propiedad. La teoría es importante.
7.-SATURDAY: IMPORTANT TERMS IN KITCHEN
It is very important to learn new terms in the kitchen area in order to speak and work more properly. Theory is important.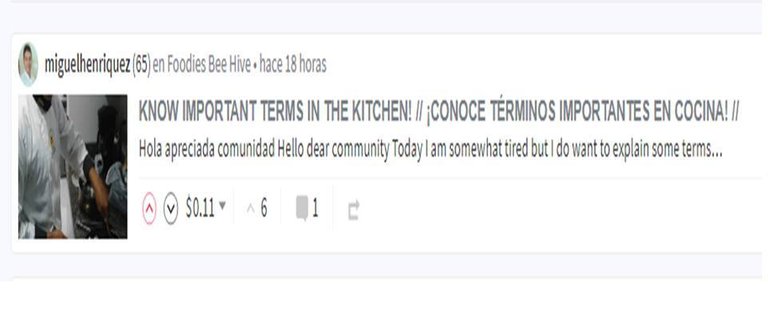 https://hive.blog/hive-120586/@miguelhenriquez/know-important-terms-in-the-kitchen-conoce-terminos-importantes-en-cocina

Como verán fue una semana de trabajo variado sobre todo de cocina del mar ya que estamos en temporada alta y debo decir que estoy agradecido con Dios por haberme dado esta semana de trabajo, eso me hizo feliz, ha sido una semana magnifica así que les deseo un domingo maravilloso y espero que la próxima semana sea muy productiva, buena y exitosa para todos.
As you can see, it was a varied work week, especially seafood cuisine since we are in high season and I must say that I am grateful to God for having given me this work week, that made me happy, it has been a magnificent week so I wish you all A wonderful Sunday and I hope that next week will be very productive, good and successful for everyone.
Les mando un abrazo en la distancia. Cuídense.
I send you a hug in the distance. Take care.