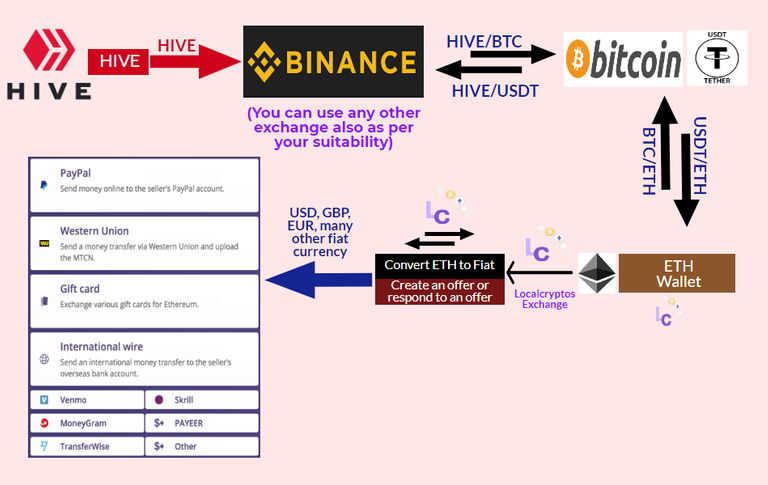 ---
Q- How do I exchange my HIVE for country specific fiat currencies across the globe?
---
HIVE is listed in various exchanges- Bittrex, Binance, Huobi, Probit, Blocktrades, Ionomy, Upbit, WazirX, MXC, CoinDCX, etc. HIVE/BTC, HIVE/USDT are very common pair in all of these exchanges. In Bittrex, you can also find the pair HIVE/USD.
So country-specific fiat currency you won't be able to trade directly. However, you can still exchange to country-specific fiat currencies if you first exchange your HIVE for BTC or ETH and then exchange your ETH or BTC in Localcryptos.
So I will explain in details how the two-fold exchange of HIVE via BTC or ETH can help you to exchange your HIVE for country-specific fiat currencies.
Let's divide this into two phases:
Phase-I: In the first phase, you need to exchange your HIVE for USDT or BTC, and then convert it to ETH. (I am suggesting here to exchange it for ETH instead of BTC, because in all exchanges the ETH withdrawal fee is much lower as compared to BTC)

Phase-II: In the second phase, you can exchange your ETH for a variety of country-specific fiat options across the globe.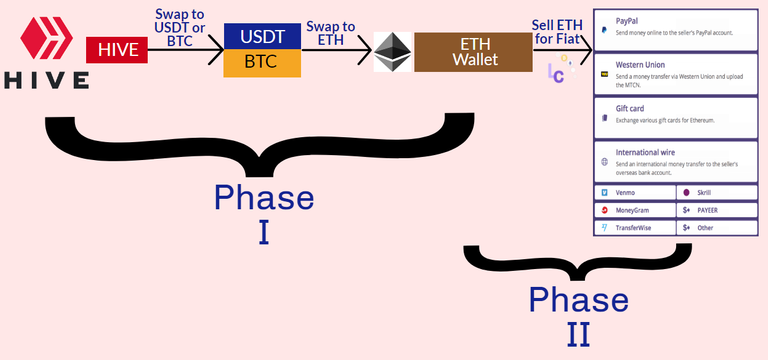 Phase-I
First exchange your HIVE for USDT or BTC and then convert it to ETH. The list of exchanges where you can exchange your HIVE are- Bittrex, Binance, Huobi, Probit, Blocktrades, Ionomy, Upbit, WazirX, MXC, CoinDCX, etc.
I would suggest using Blocktrades if you are exchanging a very small amount of HIVE. For higher amount, use Bittrex or Binance.
However, I would suggest Binance over Bittrex for cost-effective exchange, because the withdrawal fee of ETH in Binance is 0.003 ETH whereas it is 0.01 in Bittrex. However chose an exchange as per suitability.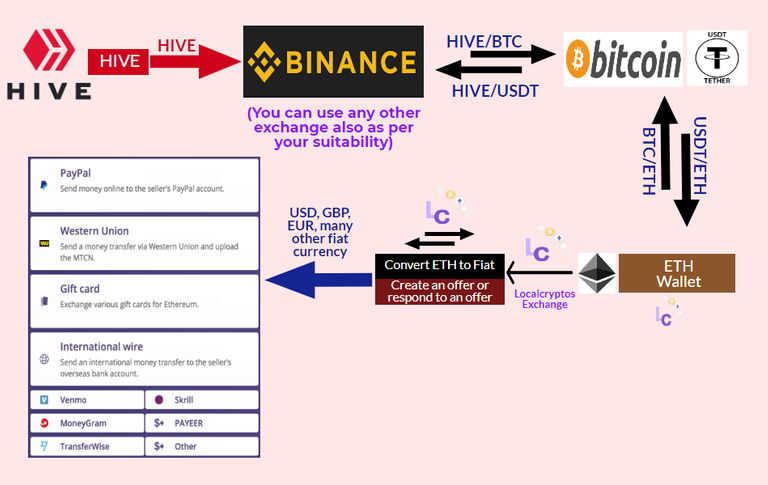 Phase-2
In this phase, you can sell your ETH for country-specific fiat currencies. Before that, you need to register and login to Localcryptos. You can either create a fresh account using your email id or you can log in directly with your ETH wallet like Ledger, Walletconnect, Fortmatric, Portis, Metamask, etc.
I am not going into the registration detail of Localcryptos. For that, you can go through this link: https://localcryptos.com/signup and signup with your Email ID.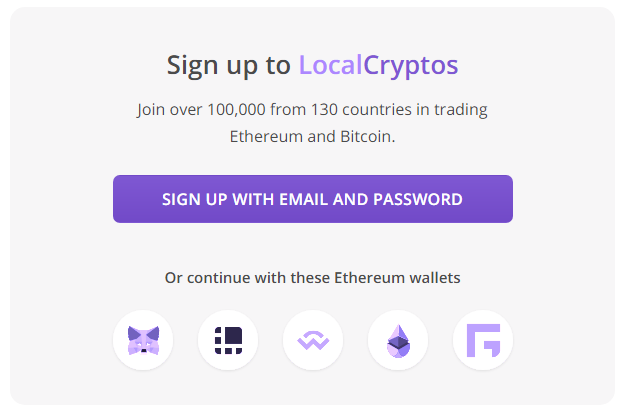 In case you have created an account using your email ID, the next step is to know your ETH wallet address and export your private key or back up your wallet. Click on "Wallet", then "Etherum".
You can now see the ETH address. Below that, you can notice the symbol ⤓, click on that to export the private key and save the key in a safe place offline, so that if the Localcryptos site goes down, you can still be able to recover & access your wallet. You can also back up your wallet by visiting your Account section.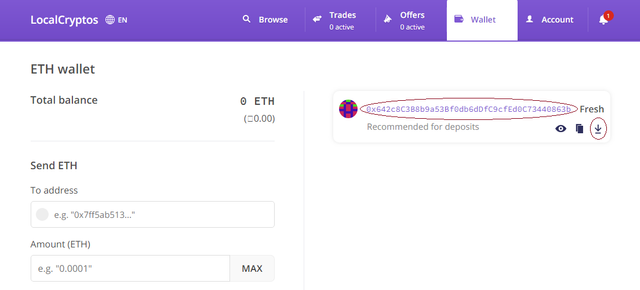 Now send the ETH(as converted in Phase I) to this wallet so that you can further sell your ETH for country-specific fiat currencies in Localcryptos.
The exchange process in Localcryptos is better as you can set your own rate(as a maker), you can respond to an existing rate and the number of available fiat options is more than any other exchange. The end to end chat encryption & message secrecy is simply best & unique in Localcryptos.
Here you can swap your ETH for various fiat options which include domestic as well as international options:
Domestic
Bank transfer, Cash (in person), Cash deposit, WeChat Pay, etc.
International
PayPal, Western Union, SEPA transfer, Skrill, Alipay, MoneyGram, International wire, TransferWise, PAYEER, Mercado Pago, Venmo, etc.
Country wise specific options
M-PESA (Kenya), UPI (India), Paytm (India), IMPS (India), Alfa cash-in (Russia), QIWI (Russia), Interac e-Transfer(Canada), Yandex.Money (Russia), WebMoney (Russia), AdvCash (Russia), Efecty (Colombia), Cardless cash (Australia), Swish (Sweden), PayNow (Singapore), Pingit (United Kingdom).
If you want to create your own offer to sell your ETH, then follow these steps:
Go to "offers" of Localcryptos(assuming that you are already logged in).
Click on "Create a new offer".
Fill in the form details: "Sell" "Etherum", Choose your "Location"- Click "Next".
Choose which payment method you want to accept: e.g. Bank Transfer, Cash Deposit, Internation Wire, Western Union, Cash(in person), or any other method as per your suitability etc.
Choose your currency: for example USD, EUR, GBP, INR, etc but that has to be relevant with the payment method you have chosen. Click "Next".
Set your rate: Dynamic market price is easy and better as it takes the reference price of an exchange that you would choose. So select that one. Click "Next".
Choose the market of reference & set your margin "above" or "below" that reference: e.g. I have chosen Binance exchange and set the margin as 1.5% above. Click "Review price" followed by "Confirm price".
Set your limit of "Maximum trade size" & "Minimum trade size". You can also skip this. Click on "Next" if you have set your limits.
Choose your Headline. Click "Next".
Outline the terms of the trade such as place, time restrictions, payment window, etc. Click "Next". You can also skip it.
You can choose to trade either with "Anybody" or with "Verified users only".
Finally click on "Confirm Details". Anytime you can modify, pause or delete your offer.
It will now display under "My offers".
When a buyer responds. you will be notified both in your email as well as in the notification bell of Localcryptos, then have a chat with the buyer, once mutually agreed, fund the escrow and share your bank details so that the buyer can send the payment, once the payment is sent, check your bank account, confirm it & release the escrow to the buyer.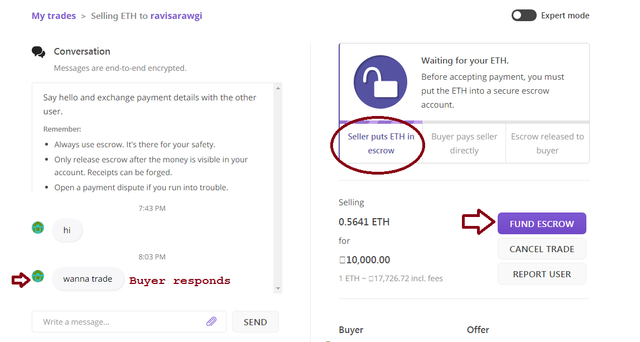 If you want to respond to an already existing offer to sell your ETH, then follow these steps:
Go to Localcryptos and click on "Browse".
Fill the details: Buy or Sell, Crypto, Payment method, Location.
Then it will display the list of offers based on your input.
Click on an offer you are interested in and then fill up trade amount you want to and type your message under "send a message" and then click on "Open trade".
The exchange of message with your counterpart is end to end encrypted, so it is secure.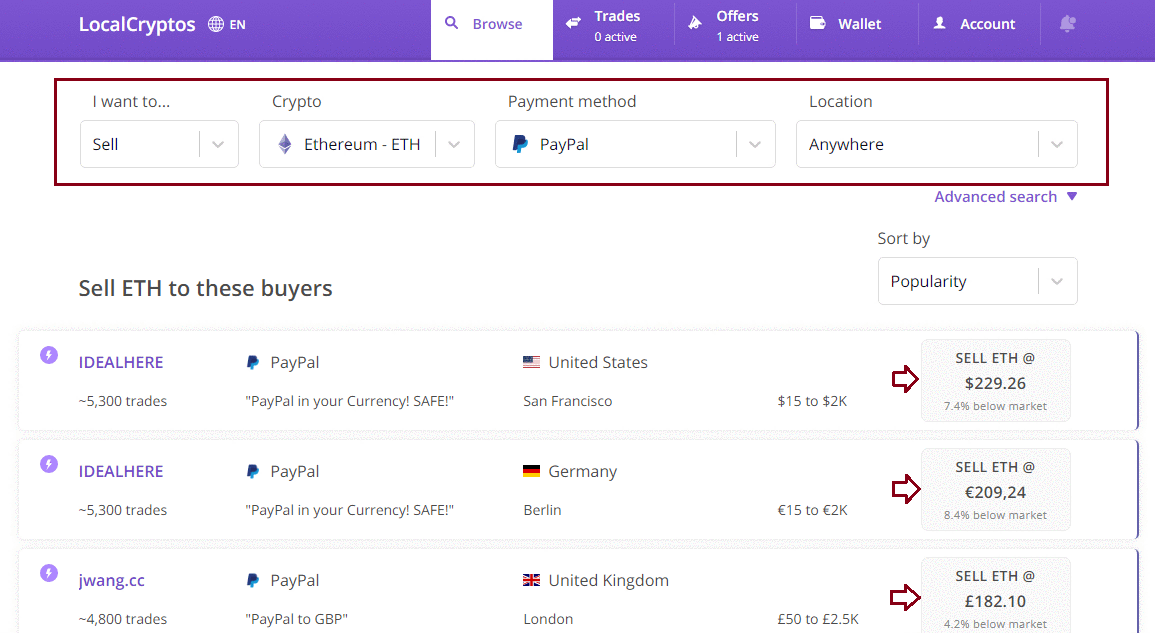 The maker fee is 0.25% and the taker fee is 0.75% in Localcryptos. The fees may be somewhat higher in the case of market-taker. But what I am trying to emphasize is not fees but the vast number of fiat options across the globe. So a user will be able to trade not just with a domestic counterpart but also with the international counterpart depending upon a payment method.
So while you can trade your ETH domestically in your local currency, you equally have the options to trade your ETH for fiat money like USD, EUR, GBP internationally.
So this is the most flexible option to convert your HIVE to ETH and then to sell it for a wide variety of country-specific fiat options like USD, EUR, GBP, or any other local currency of your country. This route of converting HIVE to fiat money is not just cost effective, but also very flexible as you can set your own terms of trade, you can reach out to 100,000 traders in 100+ countries.
In the entire P2P exchange process in Localcryptos you will be in absolute charge of trading your crypto for fiat currencies. The privacy also remains intact. You can trade with more than 40 fiat payment options and most importantly you can trade micro amounts with your own terms & suitability.
---
The infogrphics are my original works. The GIF & the screenshots are taken from Locacryptos.
---
More info on Hive
Hive Frontends
Join Hive Quora Space
---
Shared in other Social Media