Yesterday's walk in the park was fruitful and brought some unexpected results. What is a good thing with photography, you never know what you will meet. For the first time since, god knows how many months, I swept dust from my tripod and -- the idea was, to make a macro session with lichens, using tripod and natural sun light -- and I had in mind the focus stacking afterwards. The funny (or maybe sad?) part is: I didnt even unholstered the tripod, heh... The hand job I do like better..
In a shady part of the park, under the dry leaves, I discovered there appeared some fresh tiny little mushrooms (more then 3... I think there were two dozens, but I didnt count) -- same as in @bambuka's post. I didnt find them too foto-friendly, the light was poor, so I postponed them - and later found myself out of the film (i.e. room on my CF), so maybe I will portrait them next time. I was after lichens, after all.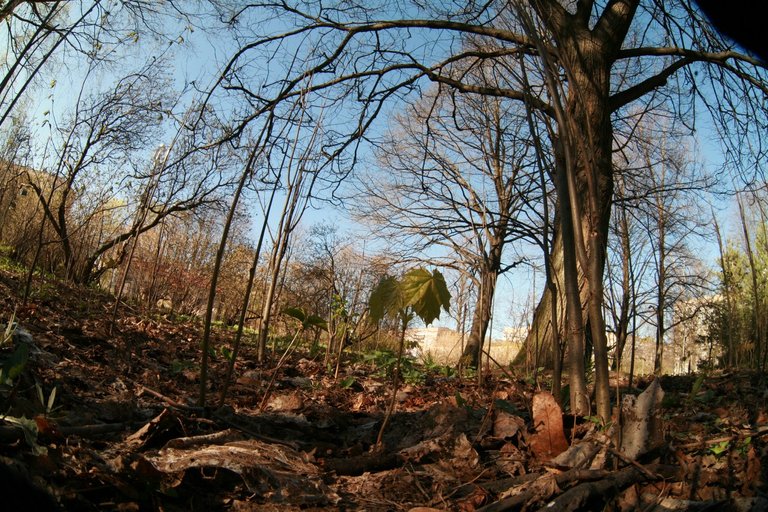 (You cant see their brown caps between the dead leaves, but they are there. I will take care of you the other day).
This park is not formally 'a park' (otherwise it would have been prohibited for entering, like my local Victory Park is). Just an empty lawn territory with a lot of trees with a huge pond in the middle of it, with a few alleys crossing location chaotically.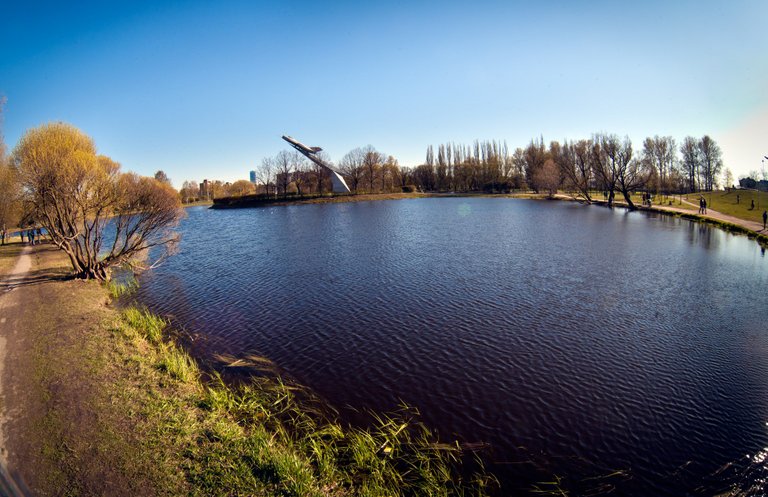 So, dozens of parents with children, jogging lovers, dogs masters, bird watchers, duck feeders, cyclists etc etc fill its alleys fearlessly (i.e. not scared being taking by the police forces for prohibiting municipal authorities orders -- keep off the parks, sporting places and playgrounds -- happily, this place formally is not one of them!).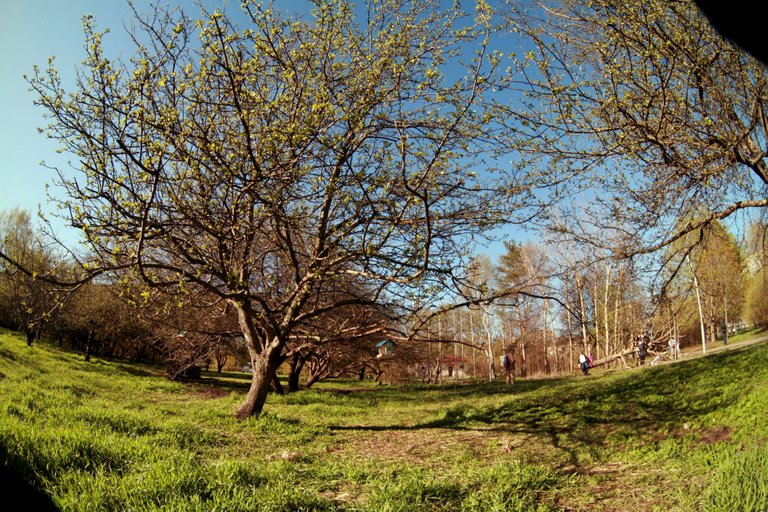 Sufficient part of this area has grown with apple trees that went wild -- probably once it was an orchard but now its not. It was exactly where I was heading, cause the apple trees' branches occure to be very lichen-friendly (and fungi-friendly too, tho I didnt witness it myself... yet).
But I didnt go there straightly, not before I walked around myself and took some landscape pics, to have a pleasure of sharing these spring impressions with you.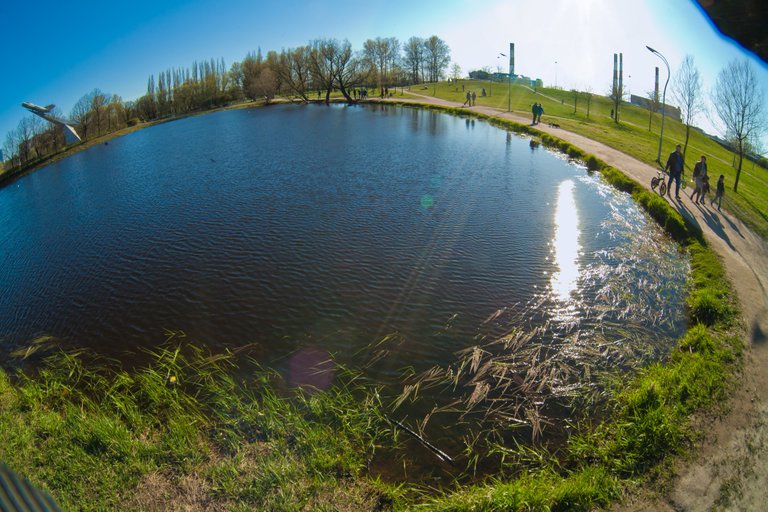 This contra-light photo, and all the rest landscape non-macros, were captured with Zenitar 16mm -- my cheap artsy wide-angle substitute. It is a soviet manual fish-eye lens, which is rather hard to operate, but I always getting so much fun out of it. (Probably it would be a good idea to use something more reliable / predictable for a pro, commercial photoshoot session). But, I should note, this lens doing the contra-light job very well, considering it is a fish-eye and has almost a symbolic blend.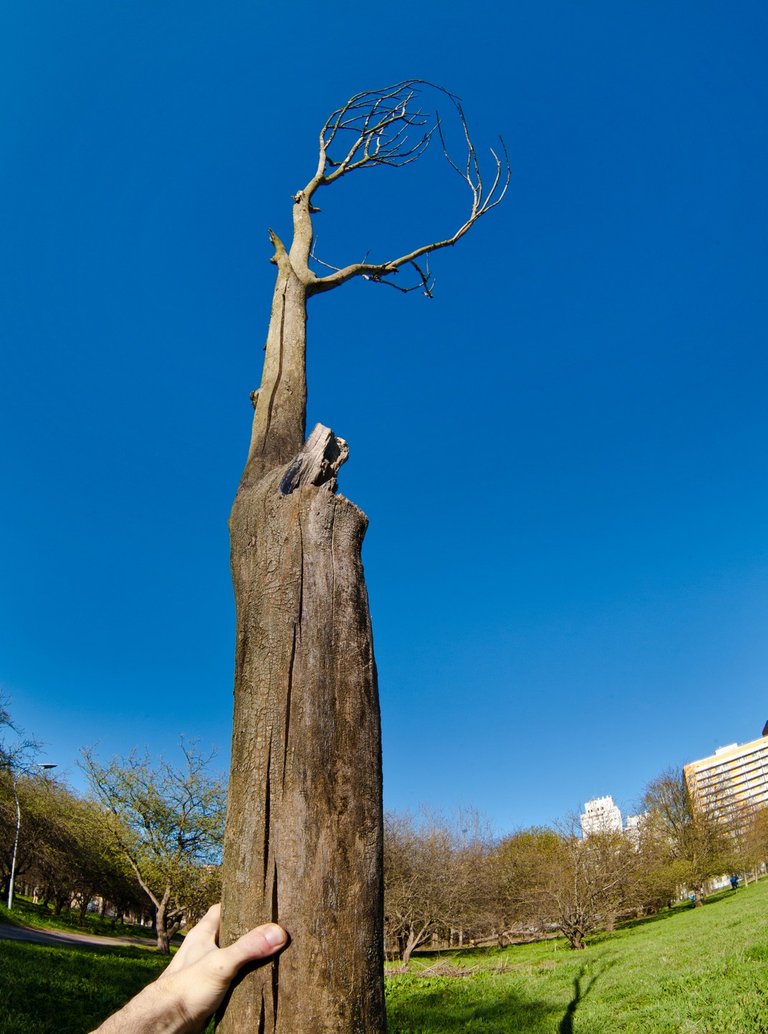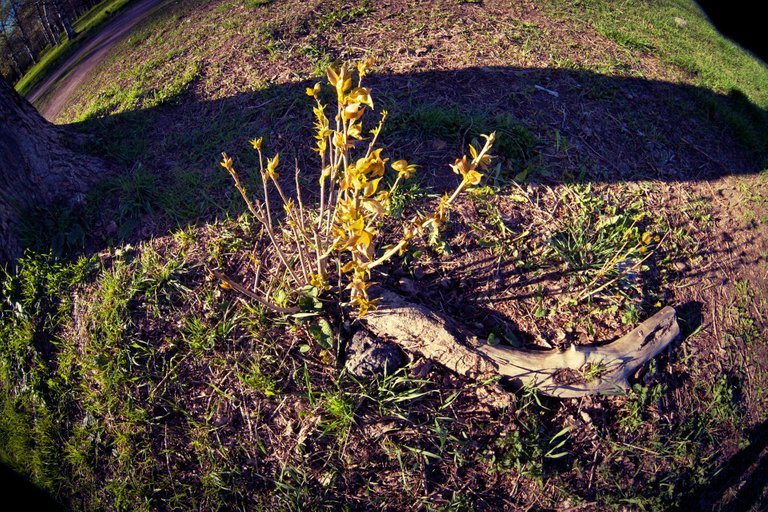 A young poplar growing from the roots of an old one -- with a punch of x-processing effect.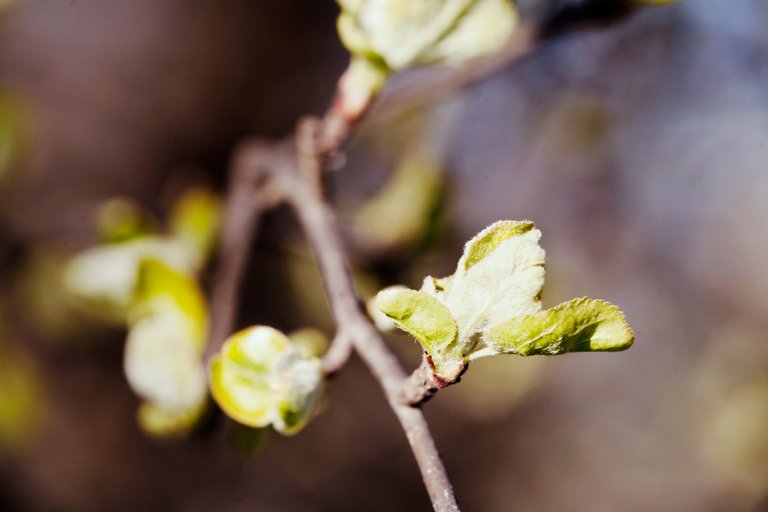 Very dull bokeh -- probably, Mr Helios would do this job better then my Sigma tele. Nevertheless, these are apple trees preparing to bloom, and they are charming, with or without bokeh.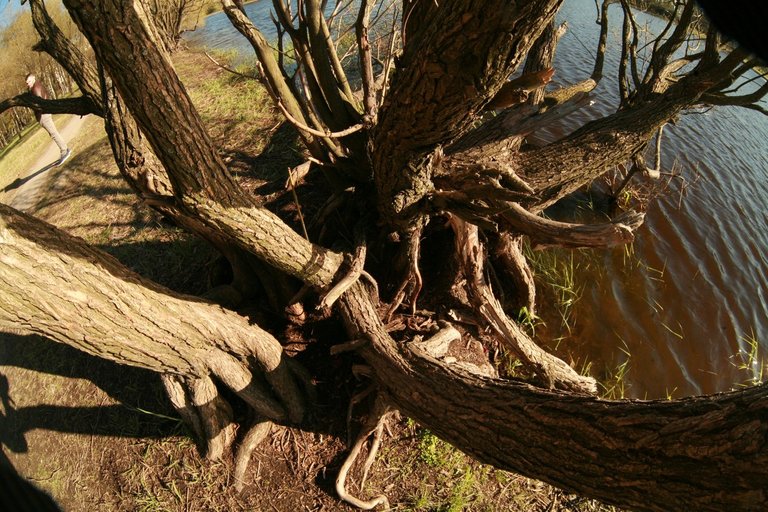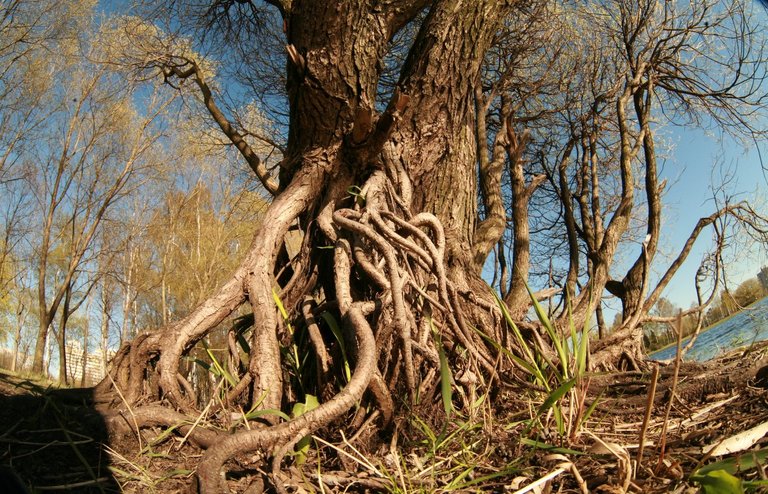 ---
Mushrooms
And on a broken apple tree trunk I discovered... fungi!
Intresting colony of a hairy Polypora mushrooms, crunchy woodened survivors (I guess they finished growing last autumn).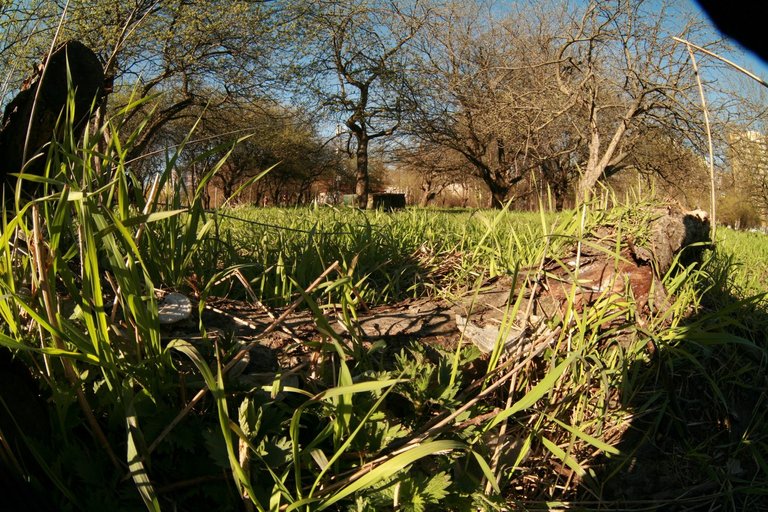 This is the said trunk. I took a few shots with fish-eye, and then swapped lenses to the macro. I also took one wilted mushroom home, to take a capture with more decent lighting.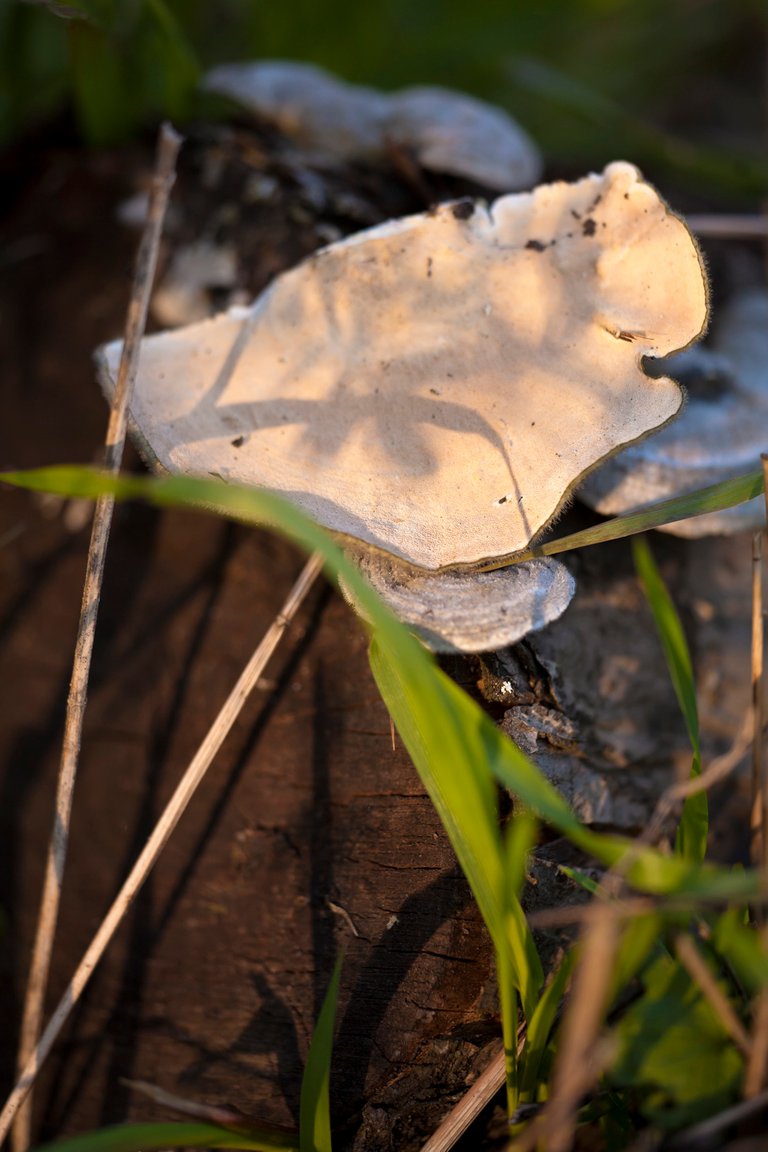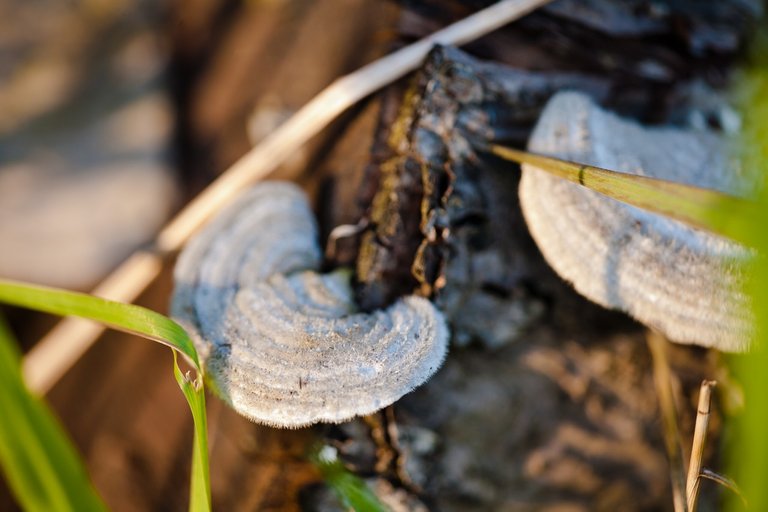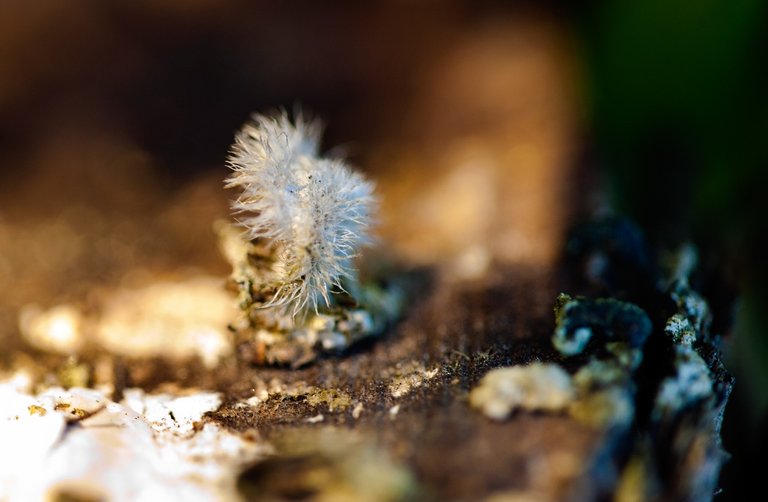 I think, I have to come back to that trunk, to make a series of pictures for a good focus-stacking job, I like this hairy little fella so much!
---
Lichens
Focus stacking of images will take enormous time, but let me share a few pictures in advance, without editing. After all, this is what I was after, this is what I lured you with, in the title :P