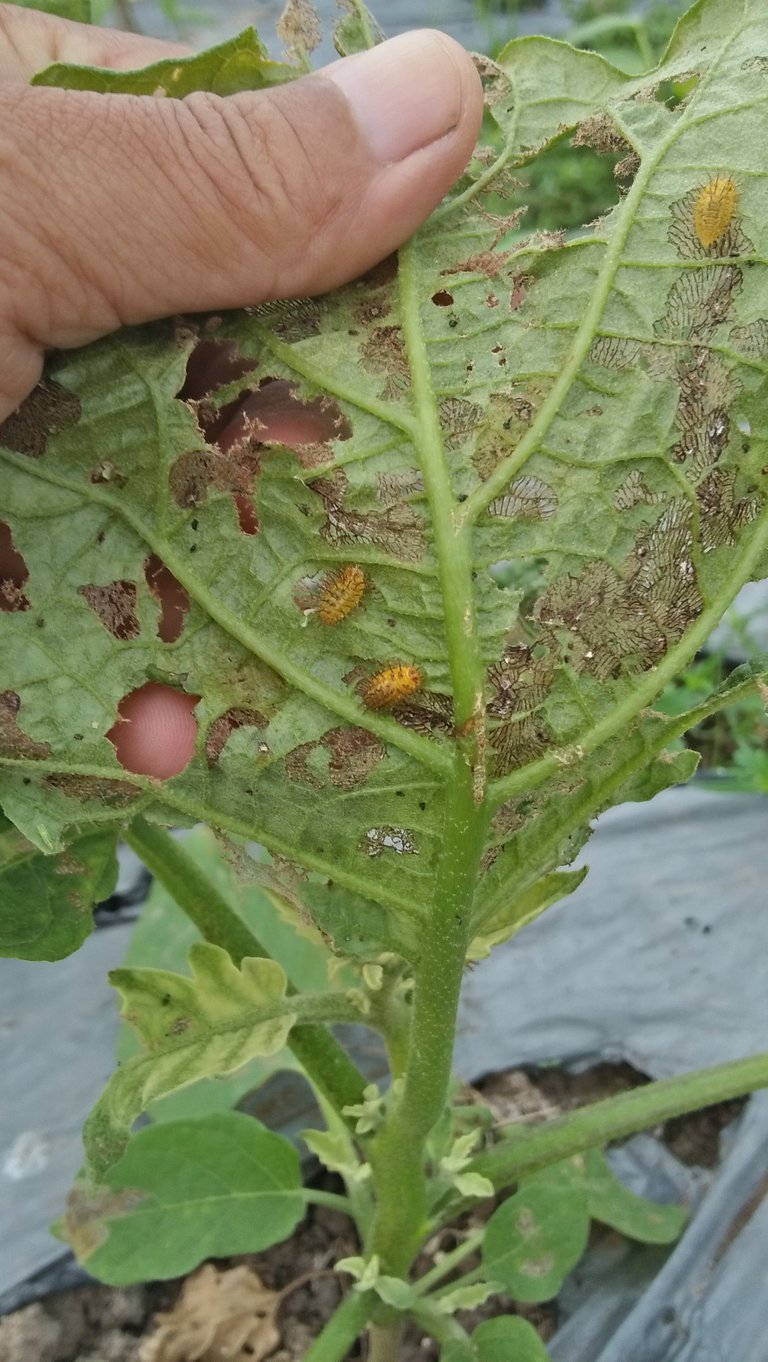 Hello lovely friends!
This morning I went to the rice field to see eggplants that had begun to grow. There was a sense of excitement when he saw the planted eggplant seeds begin to show green leaves. We hope that in eighty days we will be able to pick good eggplants.
Because have good hopes in the future that I need to take care of this eggplant. This type of vegetable is a plant that needs extra care. Plant species that cannot withstand heavy loads so we need to treat it with a little pampering. We also have to check the pests that are attacking him.
Ladybugs attack the leaves
When I see these hollow leaves it's a bad sign. Ladybugs attack eating leaves and will cause crop failure. Ladybugs that lay eggs on the leaves will hatch and become larvae. When becoming a larva we must pay attention to the state of the eggplant plants. Ladybug larvae will make eggplant leaves visible only bone leaves. This pest will make the eggplant leaves dry and die.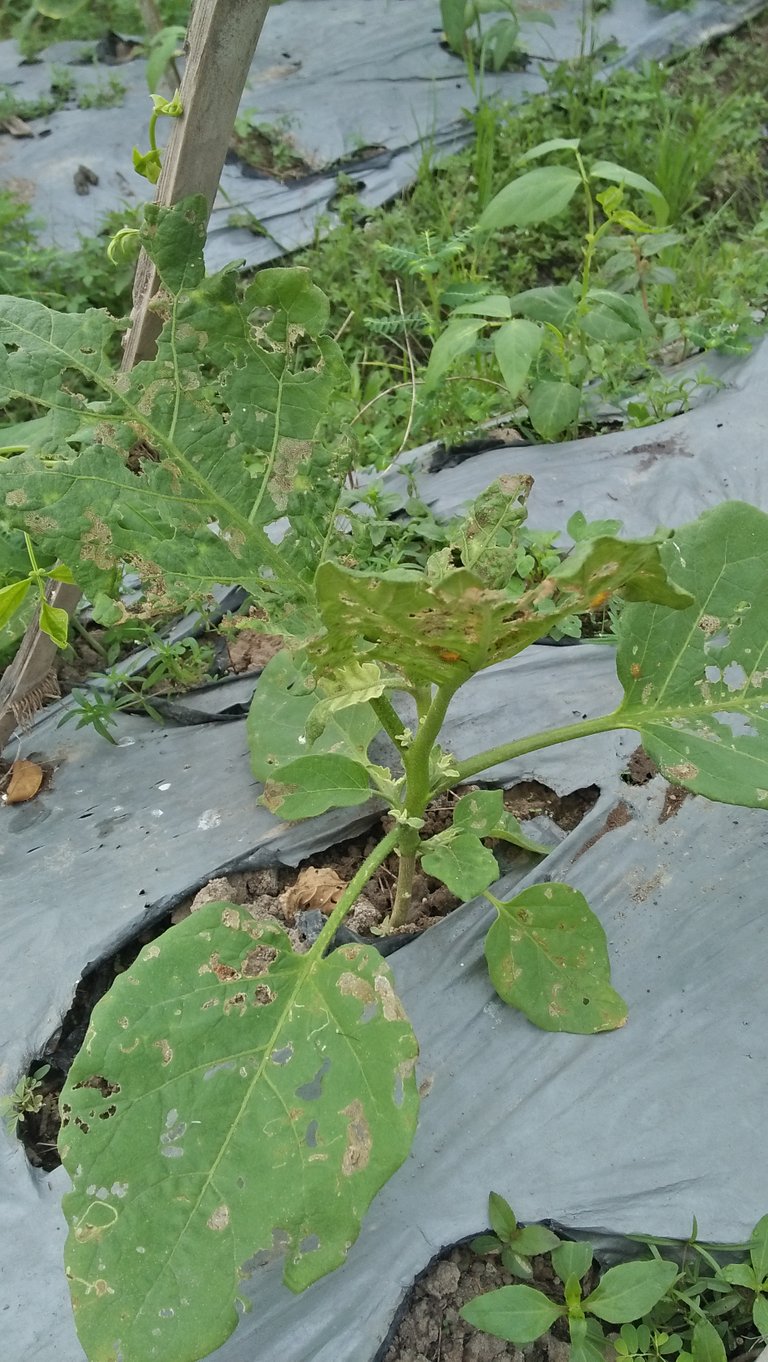 As shown in the photo above, the eggplant leaves will perforate and will dry out. All of that is the result of a larvae attack. if we don't overcome it we can be sure we won't get any results at all.
that's why I need to pay attention to this pest. Initially I wanted to spray with insecticide, but then I thought again. I chose to manually take and kill larvae.
Ladybug larvae prefer to be in a leaf with a position behind the leaf so we will not see if it does not flip the leaf.
We will only see dried leaves and only visible bone leaves. To be able to see and eradicate them we need to see the leaves at the bottom like the picture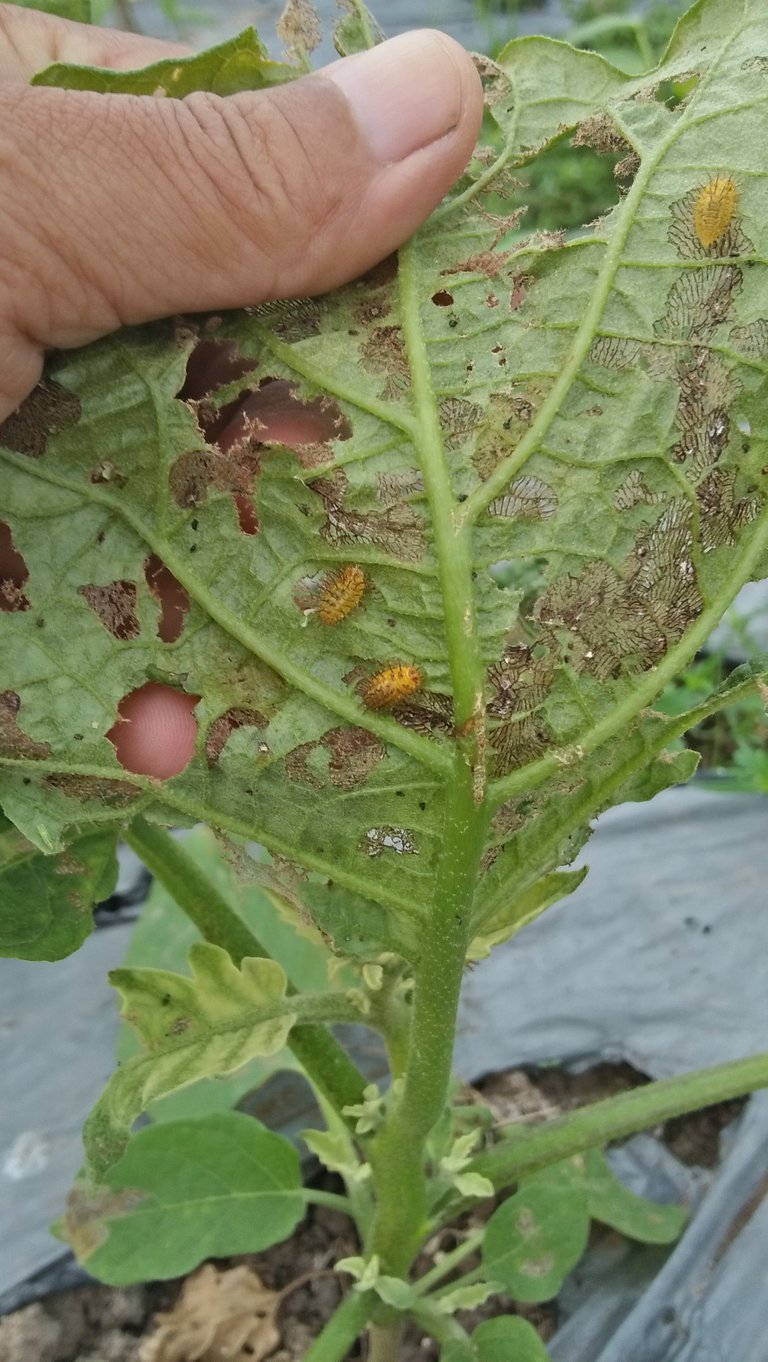 By turning it over we will find out how many larvae are on a leaf. Larvae - larvae that eat the leaves and make us unable to harvest eggplants.
If we want to eradicate we can use insecticides or manually like I did. Squeeze the larvae so that they will release their yellow stomach contents.
After the larvae die, the shoots will grow and the leaves will grow back well.
Thus all my writing this time may useful for all of us.

Thank you for reading my post. I hope you enjoy it.