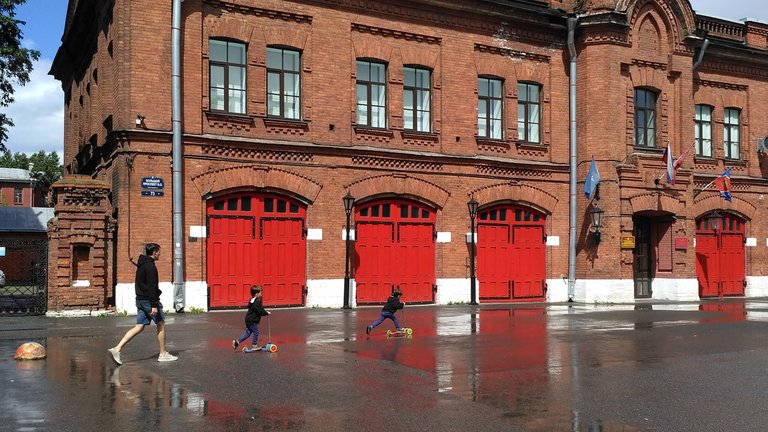 The title photo can only give the most superficial idea of the architecture of the building, but it is bright and sunny, and the scarlet gates shine brightly. To show the whole fire department building, I glued the panorama of three frames. There was no other solution. Big Vasilevsky Island Avenue is a very wide street, from the opposite side the picture was too small. The geometry of the photo turned out to be curved due to the panorama assembly process.
If you look closely, you can see that some objects are hung from the tower: now these objects are museum pieces, reminding about the work of firemen in the 19th and early 20th centuries. On the left there is a lantern, on the right there is a black ball. The black balls were hung on the fire brig during the day, the lanterns were hung at night if the officer on duty saw the fire.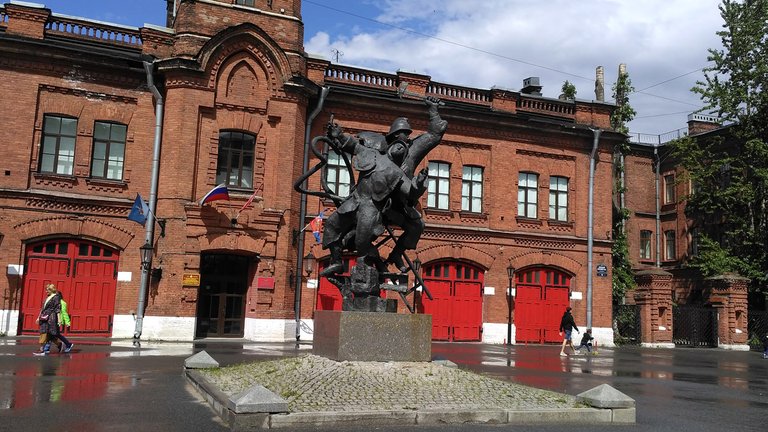 There is a monument to firemen in front of the building. This monument is new and was erected in 1995. The building of the fire department was built more than 100 years earlier, in 1884. The building has a permanent fire-technical exhibition, visits are free of charge, according to preliminary requests. The only problem is that it is necessary to gather a group of at least 10 people, so I still have not visited this museum, with two or three friends I would agree, but simultaneously 10 people - it is difficult.