Hello Hive community, I am with you again in my 4th post to tell you about my second work experience in Uruguay. It was on a farm picking apples, it's hard work and the only woman who was there was me, surely because of the weight to carry, you have to hang a sack on your shoulder and go to the field where the apple trees are and there select the apples that are not chopped or stained, it fills the bag and it is taken to the container where all the apples are released from the bag and everything is repeated again until the container is full.
.
Hola comunidad Hive, estoy con ustedes de nuevo en mi 4to post para contarles mi segunda experiencia laboral en Uruguay. Fue en una hacienda recolectando manzanas, es un trabajo duro y la única mujer que estaba allí era yo seguramente por el peso que hay que cargar, hay que colgarse un saco en el hombro e ir al campo donde están los arboles de manzana y allí seleccionar las manzanas que no estén picadas o manchadas, se llena el saco y se lleva al contenedor donde se sueltan todas las manzanas del saco y se repite todo de nuevo hasta que se llene el contenedor.
---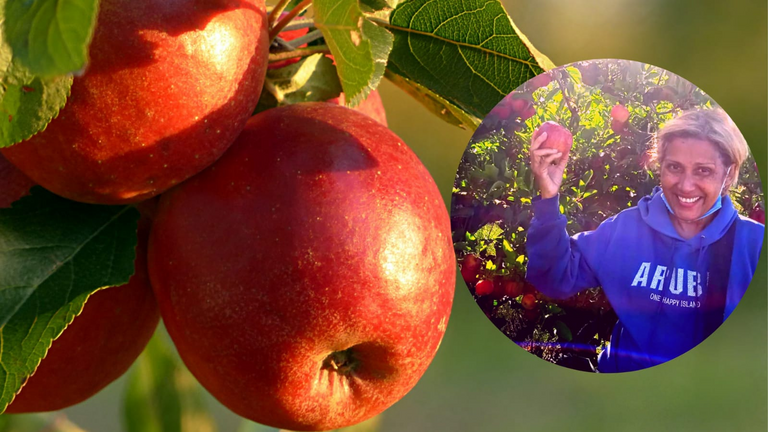 diseño en Canva.
---
You have to go from tree to tree until there are no apples, first all the big ones are selected and when they are They end up proceeding to the smallest ones that are stored separately and all this has to be done with the red apples and then do the same with the green apples, a part of those apples are taken to refrigerate to sell them when it is not in season. The working day in the apple picking is paid at 120 pesos (2.7 dollars) every hour.
.
Hay que ir de árbol en árbol hasta que quede sin manzanas, primero se seleccionan todas las grandes y cuando se terminan se procede a las mas pequeñas que se almacenan aparte y todo eso se tiene que hacer con las manzanas rojas para luego hacer lo mismo con las manzanas verdes, una parte de esas manzanas se llevan a refrigerar para venderlas cuando no sea temporada. La jornada laboral en la recolección de manzanas la pagan a 120 pesos (2.7 dolares) cada hora.
---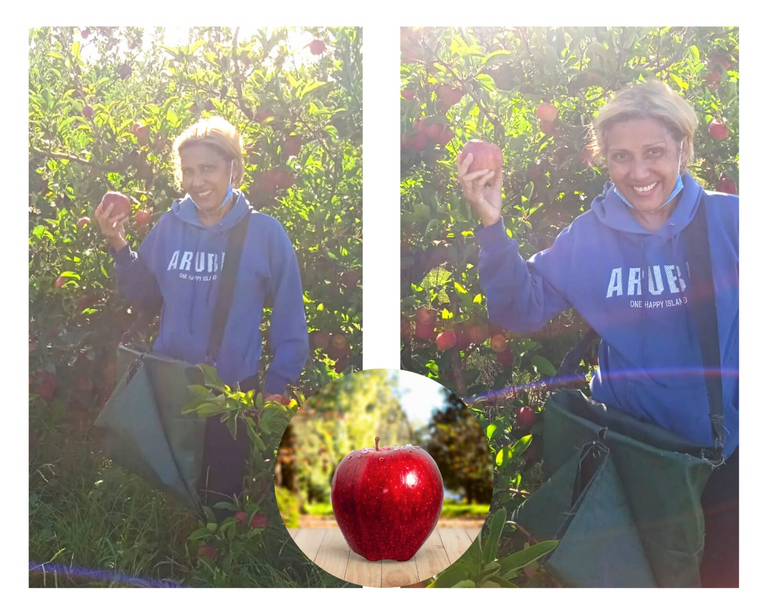 diseño en Canva.
---
The apples that were not picked or the one that was on the ground are left for later because they are used to make cider, there they called more personnel because there were many to collect and the work was quite heavy because they had to be crouched on the ground, go from knees to grab all those that were scattered on the ground but we did it! Sometimes we fell but eating apples every so often our strength recovered, there were all sizes and they were very sweet, that work was paid at 6 pesos ( 13 cents) per 30kg drawer.
Las manzanas que no se recogieron o la que estaba en la tierra se dejan para después porque se utilizan para hacer sidra, allí llamaron a mas personal porque eran muchas por recolectar y el trabajo era bastante pesado porque había estar agachado en la tierra, ir de rodillas para agarrar todas las que estaban regadas por el suelo pero ¡lo hicimos!, a veces caímos pero comiendo manzanas a cada rato se recuperaban las fuerzas, había de los todos los tamaños y eran muy dulces, esa labor se pagaba a 6 pesos (13 centavos de dolar) por cajón de 30kg.
---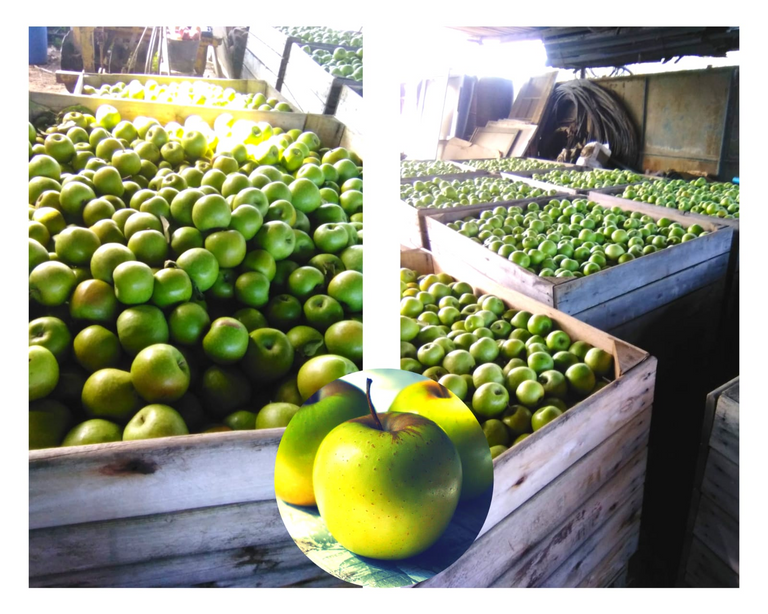 diseño en Canva.
---
Ya cuando terminamos nos dijeron que las manzanas que quedaban en los cajones nos las podíamos llevar, Tome muchas y las estoy usando junto a mi hijo y a mi yerna para (a parte de merendar todos los días) preparar recetas con manzanas.
De verdad fue una experiencia fuerte por lo que exigía físicamente sobre todo porque yo sufro de la columna pero lo logre y conocí nuevas personas, pero así soy yo siempre hacia adelante llenando mi currículo de nuevos conocimientos y vivencias y aventuras.
Con las fotos verán mas ilustrado el trabajo.
---
---