I am about the be pretty busy with work this evening and all day tomorrow, so I decided to go ahead and do the second giveaway now (instead of waiting until Monday). I'm sure you won't mind. I will not always be able to do a post every couple of days, but it was nice to be able to do a couple this week to kick things off. So without further ado, on with the show!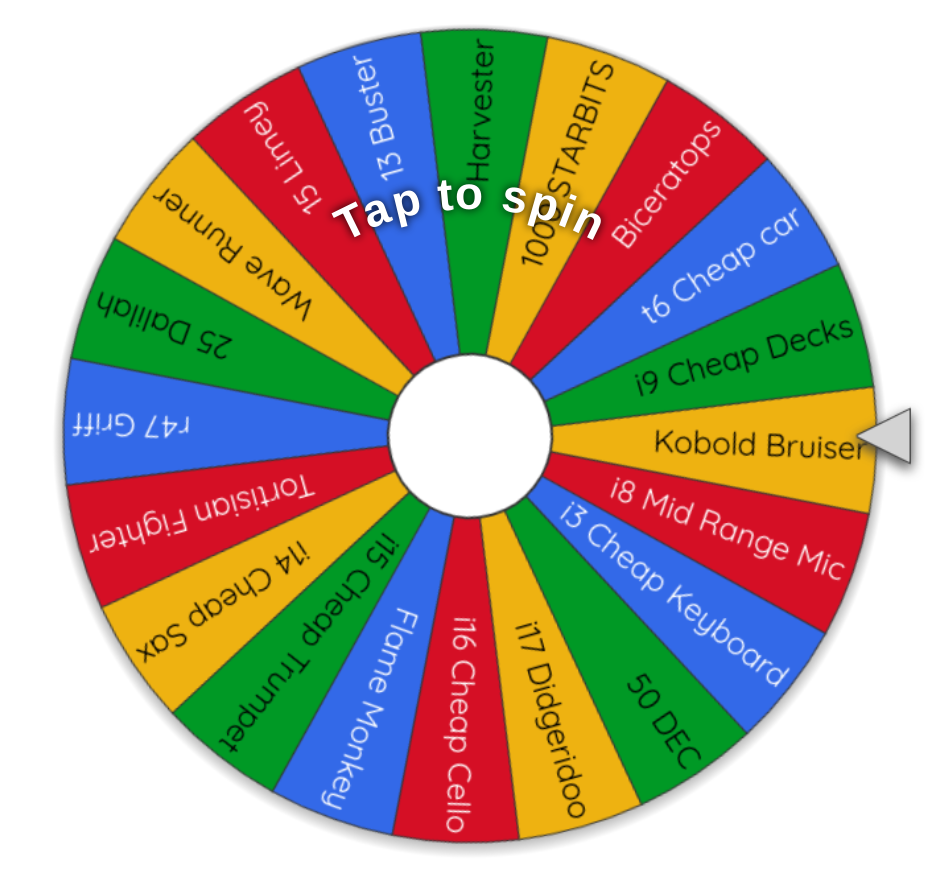 This was what the prize wheel looked like in the first giveaway and it is what it looks like again today. Since the first prize was 1000 STARBITS, no cards changed hands, so there was no need to change the prizes for this wheel spin.
But before we do that, I have decided to be a little tricky for this post an add the rules for the next giveaway interspersed throughout the text (I won't always do this, but, since I am not cut and pasting the same information from one post to the next, I want to make sure everyone is actually reading this post.
Rule #1:
I think requiring each person tag someone new is getting old, so we will drop that requirement for this giveaway. However, I would like to continue to spread the news about this ongoing giveaway. Therefore, each person that reposts this post and lets me know in their comment, will get an extra space on the wheel for the next drawing. This is not a requirement, just a bonus.
OK...Now back to our regularly scheduled giveaway...
This time we will actually be giving away a card...and today's prize is:

So today we have a card from Rising Star, which, if you are not currently playing (here is where I incert a shameless plug), you can join by clicking here. It's free to play. You can earn lots of new cards just like i17 Didgeridoo. Plus you can earn multiple types of REAL CRYPTO just for playing.
---
Before I go any further, let's throw in another rule for the next giveaway...
Rule #2: This will be an easy one. Just include the words "I want to win" in your comment.
I am really pleased that in less than a week, the number of qualified entries for the previous post rose to fourteen. Unfortunately, the number of unqualified entries also rose (to six). I have to send a SHOUT OUT to @risingstargame for including this post in their daily list of Rising Star giveaways. I'm sure a lot of our growth has come from there. Also, we did have one person who was tagged in the previous post that made a comment. Unfortunately, that person did not qualify for the giveaway (see rule #4 from the previous post). Therefore, no extra space on the wheel could be awarded for the person who tagged them. Regardless, thank you for getting the word out. I am hoping the people who did not qualify for this past giveaway will be able to do so for this one, because:
Rule #3:
This one is really not a rule, but another bonus. IF, we have 25 or more qualified participants in this giveaway, I will spin for TWO PRIZES!
I want to remind everyone that you can find all of the nitty gritty about this giveaway in the original post. If you would like to be reminded of the reasons for this post or the general rules, you can find them there. Also that any new participants can find that information and get up to speed on the entire process.
---
Rule #4
If your Rising Star and/or Splinterland username is different from the one you commented with, include them in your comment. If you want to give your winnings to someone else, enter their username instead and indicate that you want your prize to go to them. However, there can only be ONE entry for each account [for example, if my username is @moonthumb and I want to give my winnings to @theroad2freedom, I can add that name to my entry, but @theroad2freedom cannot submit another entry with their own name]. Also, in the interest of fairness, please only include one entry per person. I try to give everyone an equal chance to win. If I find out someone is using more than one account, I will ban those account from the giveaway.
Now, I know everyone is waiting for the winner of the giveaway, but I wanted to publish the list of items to be included in the next giveaway. Since there were more Rising Star prizes in the giveaway than there were Splinterlands, I was not surprised that the last two prizes were from Rising Star. Therefore, I have added a few more Splinterlands cards for this next giveaway. Here is the list of prizes you will be in the running for when you qualify for this current giveaway.
RISING STAR:
13 Buster
15 Limey
25 Dalilah
r47 Griff (rare)
i15 Cheap Trumpet
i16 Cheap Cello
i3 Cheap Keyboard
i9 Cheap Decks
t6 Cheap car
1000 STARBITS
SPLINTERLANDS:
Kobold Bruiser
Flame Monkey
Tortisian Fighter
Wave Runner
Biceratops
Harvester
Barking Spider
Cursed Slimeball
Warrior of Peace
50 DEC
--
One last thing before I spin for the winner...
Rule #5:
The minimum number of qualified participants for this giveaway is, once again, ten.
And now, for what you really wanted to see. The winner of the second Moonthumb's Mysterious Wheel of Random Prizes Giveaway...the wheel has decided to bestow the prize of i17 Didgeridoo to...
Congratulations to @irisworld!
---
Finally, here is the list of past participants. As usual, if you do not want to receive these notifications, leave me a comment and I will remove your name from the list.
@bitandi, @chuckrick, @gregory-f, @guurry123, @imfarhad, @irisworld, @javiss, @jfang003, @johnsdowie, @m0rt0nmattd, @manukass, @mcparravicini, @mimismartypants, @minimining, @obeliscocoin, @polessins, @rarej, @shogo-takuan, @tlundy47, @tokutaro22, @yankosoito, and @yeckingo1
---
---
Posted via proofofbrain.io
---
Posted via proofofbrain.io