Sublime Sunday in The Hells Kitchen - Introvert out on Weekend
Hello to all bee's,
Another contribution of mine to
#beautifulSunday
which is initiated by
@c0ff33a
and
#SublimeSunday
which is initiated by
@ace108
.

Those moments are quite rare in an introvert person life when they spend weekend in a different way or place other than home like at bar, maybe cafe or park. I decided to try some junk food at cafe after ages.
To be fair honest, I have found some role model on Hive who share how we can spend weekend in a better way breaking the loop and making little things as happiness of our life.
---
As usual I woke up late which is only possible on weekends. My To do list was to prepare assignment, doing some study for exam which is starting from tomorrow and than a bit fun on internet.
When it was time for doom scrolling on internet unfortunately our Government decided to ruin Sunday by shutting off internet services for political protest.
Escaping from Madness or frustration
I was so frustrated at that time when this happened like restricting civilians from using internet doesn't make sense and democracy nowadays is just an illusion to gain control.
To escape from madness or frustration I went outside for a walk and saw construction in the middle of road causing traffic, more trouble for people but no one cares.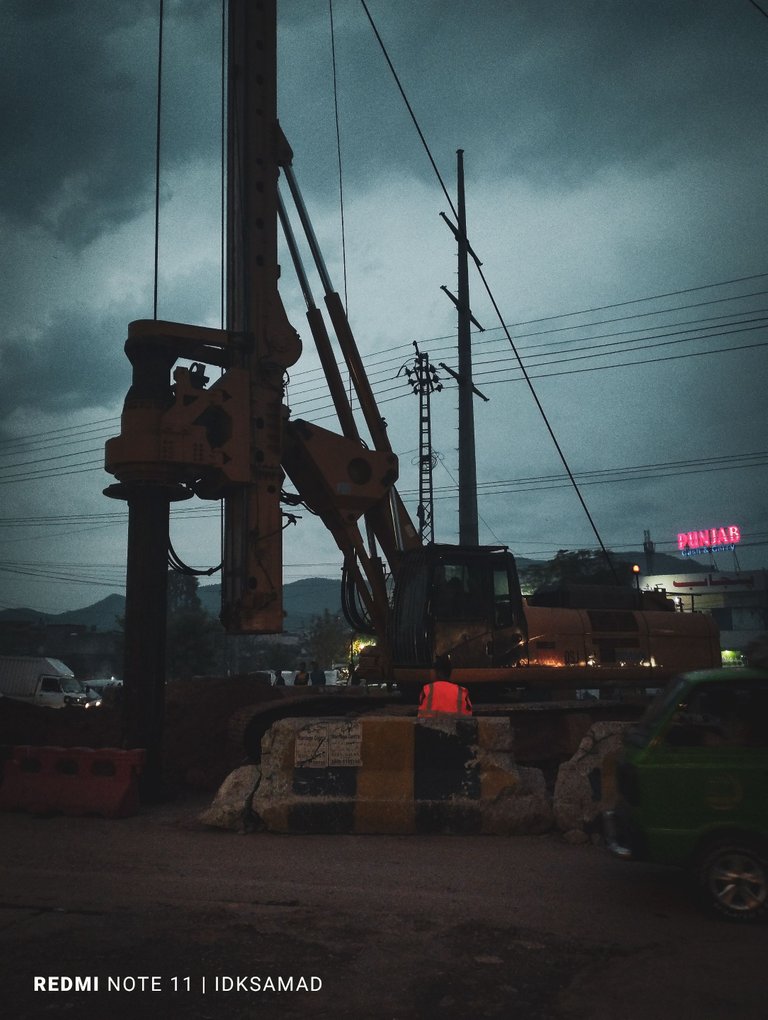 Perks of living in urban site is it won't disappoint with unfortunate events to make the whole environment look bad but well it is for our own betterment.
Walked inside The Hells Kitchen
I came out with the intention of finding network and doing walk but had wallet in pocket and didn't realized when I silently sneaked inside the Hells kitchen.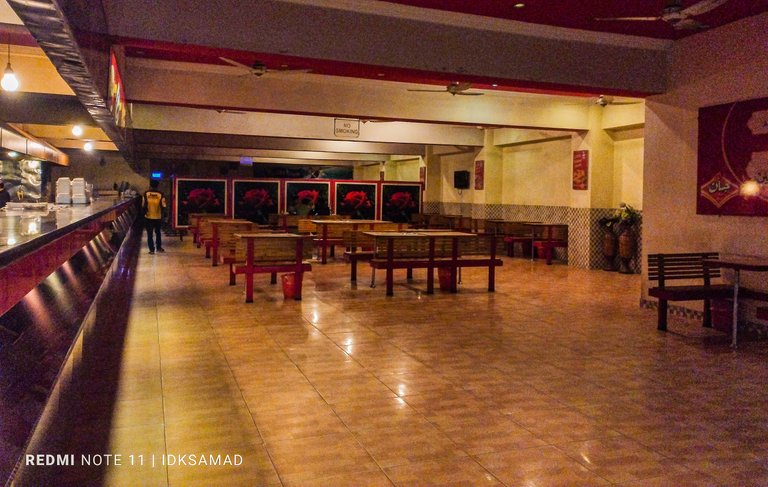 When cafe's or restaurant are empty on weekends it does tell how inflation impacting here.
Only one table was served where two or three friends were enjoying meal and that moment started feeling bad like being alone there.
Was about to walk out of cafe but waiter asked me what do you want and that introvert personality couldn't resist or say no, so I said; can I see the menu.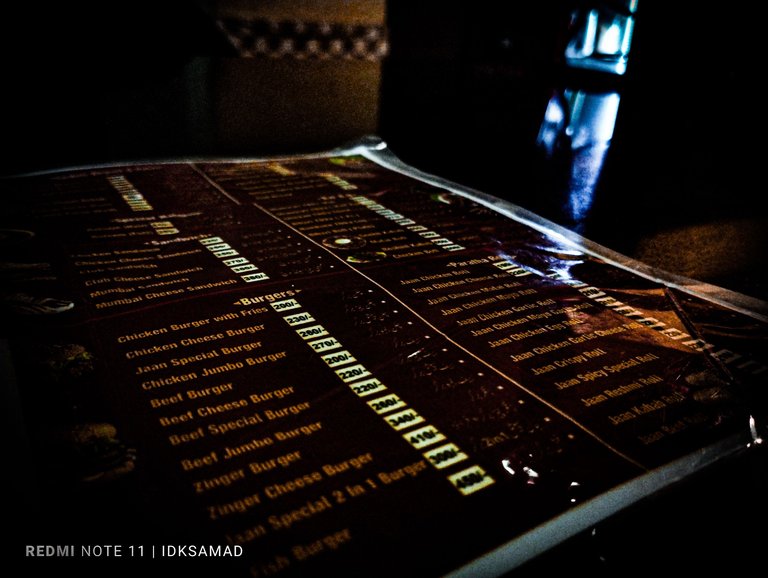 Before calling for me menu Haven't checked what's inside wallet and ordered Zinger Burger cuz been a long time since I tried last.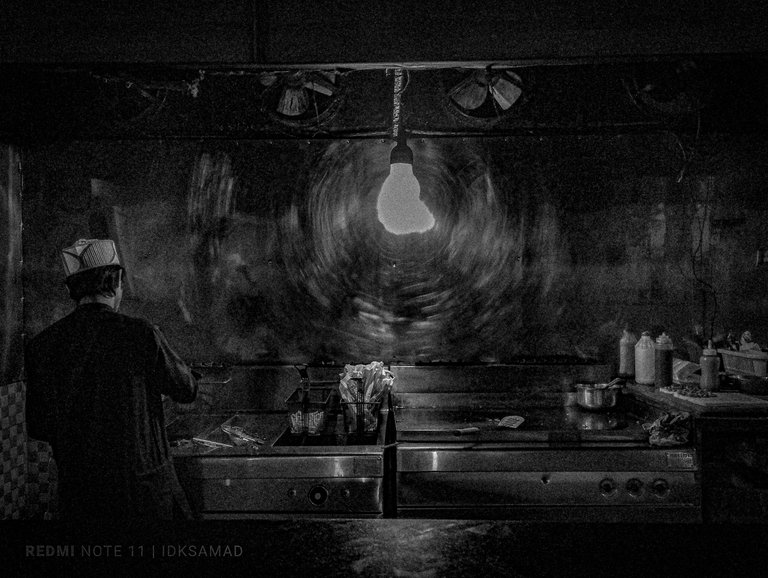 The cook was busy preparing my happy meal in hell kitchen. so I took out camera and captured him.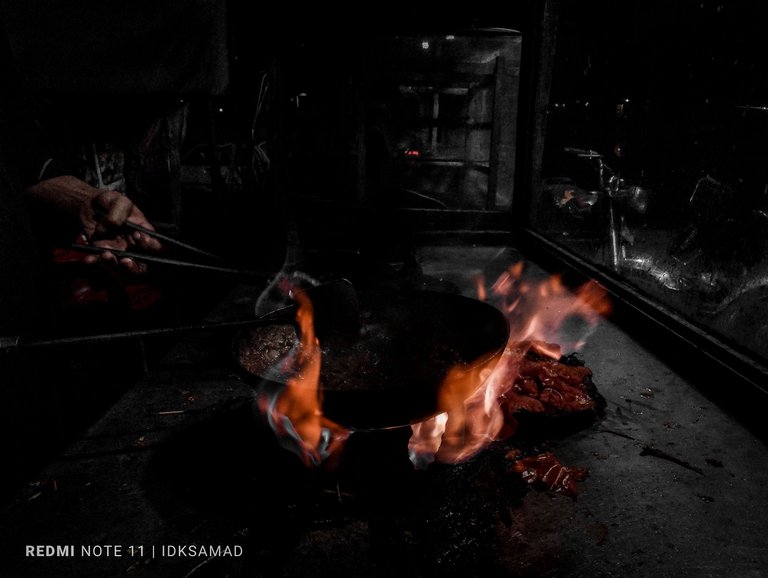 Another cook was playing with flames outside and he gave me a perfect time picture which he liked too.
We had a little Convo about prices of meals on their menu, profit or business and job etc.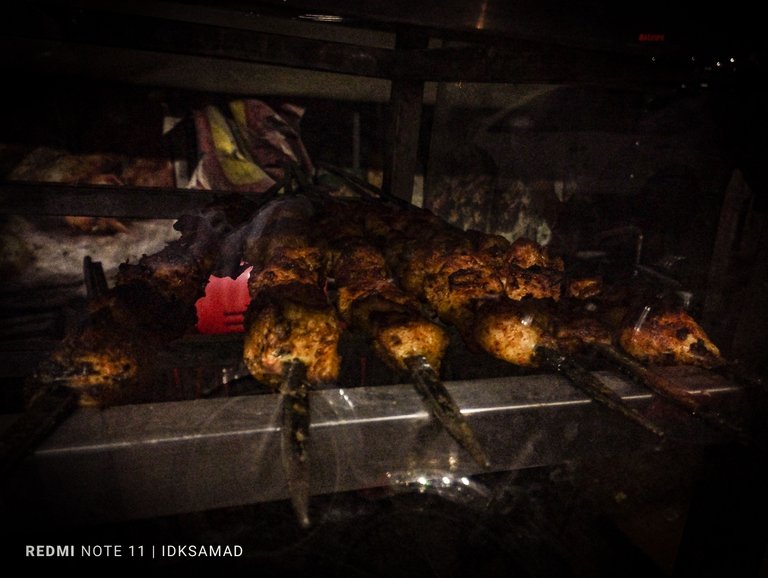 Barbeque grill was in next to where he was busy with his meal. A bit of mess around the kitchen and that's what I didn't liked about even can be noticed in picture.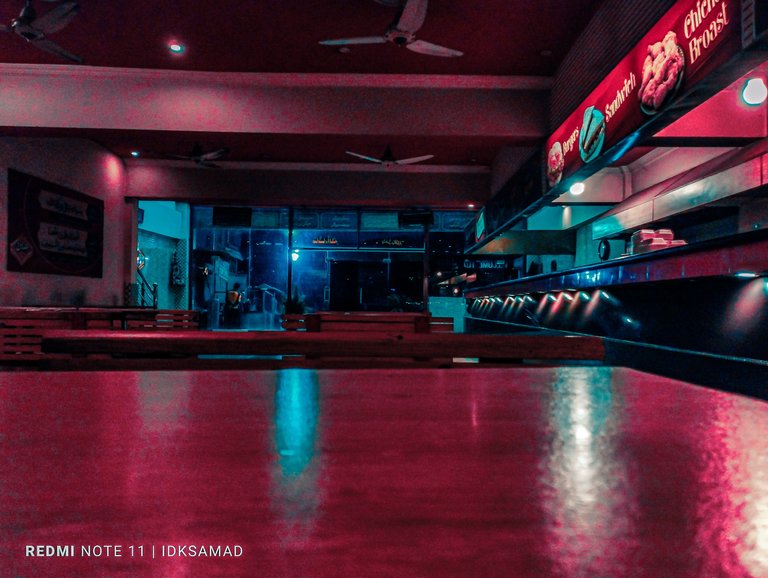 Back to the spot from where Got it all started and than finally meal was on the table but than I told to pack it cuz I'm taking home.
Instead of feeling bad eating all alone there in cafe it is way more better and Good to ask for parcel. So, in home where I felt happy bringing one for mom and me and had our Sunday meal which was 9/10.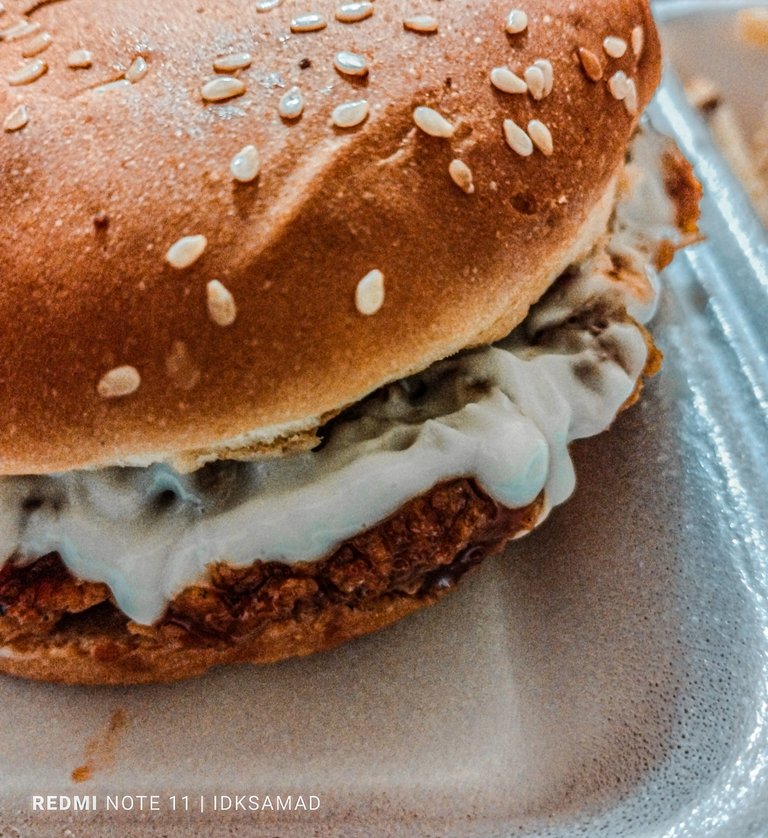 Photos are mine taken from smartphone Redmi Note 11
---
fin.
I realized it's all on us how we want to spend our weekend by limiting ourselves to one room and saying I am introvert or by creating own little happiness around the town.
I Hope that you liked these Photos I took with passion and enjoyed reading this experience of mine as much as I did while writing this.
Do not Forget to hit Upvote, Comment and Re-blog.
Thanks for reading.
Greetings.
---

---
---