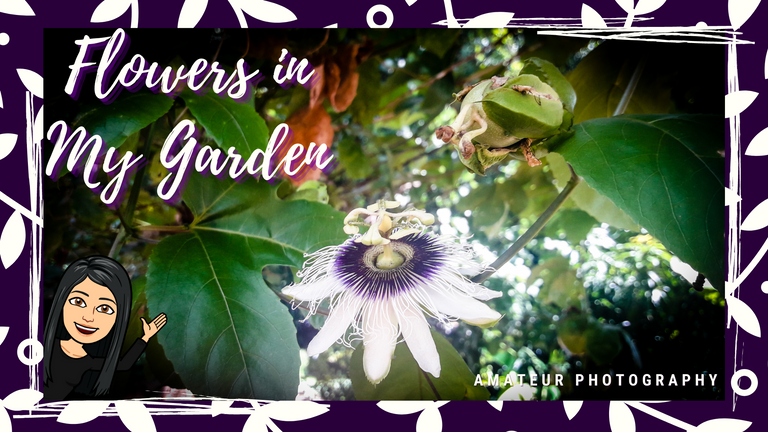 ---
Amateur Photography
---
Hi again Photofeed Community!
I haven't had time to actually take much pictures these days cause I'm always busy with the baby and well a jumping up and down kid doesn't help to make the picture not blurry lol.
But here I was today without electrical power (I live in Venezuela) and we were in our backyard trying to survive the heat. So, there I was melting away in my chair when I looked up and saw for the first time the flower of the passion fruit plant, I mean this plant has been in my house for maybe 3 years now and yes, i just now notice it.
This plant has given us so many passion fruits, we call them "Parchitas" here but they are really called Maracuya. Is a really long and tall one that intertwines with our avocado tree all the way up. That is why I try to take a picture the flower is actually above grown and even standing up I couldn't reach it so that meant my kid couldn't mess with my photography taking time lol.
Please remember, I am not a photographer, I am not a professional nor do I want to be, I just enjoy taking pictures of pretty flowers with my phone and I'm trying to learn a little bit about photography/editing to make them more pretty.
Editing
The thing is since the flower was so up and I was melting away in the heat I didn't try hard enough to take a good one, but since I have discovered Photoshop Express, I fear not! Lol I love to use it to make my pictures more pretty, I tried to use Snapseed but to be honest I like the filters on photoshop more. And yes, I haven't still figure out how to edit a picture without the help of filters.
I love the vibrant filter and the magic tool but this time I tried the charm filter with one and it made it look so good I think I will try in a couple more pictures next time.
Please do let me know what you guys think of them, any advice for improvement ar always welcome!
---
| Filter: Vibrant | Raw Version |
| --- | --- |
| | |
| | |
| Filter: Charm 3 | Raw Version |
| --- | --- |
| | |
---
| | | | | |
| --- | --- | --- | --- | --- |
| Camera: | Samsung SM-J701M | | Focal Lenght: | 3.70mm |
| | | | | |
| Aperture: | F1.9 | | Flash: | No |
Remember if you're reading this on peakd (why wouldnt you?!) you can always click on the image and they will show up bigger to you!
Filter just make everything much prettier not if only we could go outside with filters on too... LOL
---
As always, thank you very much for reading me and
I hope to read your comments!
---
Picture Credit: All images are of my property unless said otherwise and the emojis are made with Bitmoji.com!
---
Proud Member and Supporter of The Minnow Support Project, If You Are Not Yet on The Community What Are You Waiting For?? CLICK below!!!

---
---
😗 Follow me on my Other Social Media...❗️⬇️⬇️⬇️⬇️

You can find this post shared on Twitter Here
please give the tweet a like and retweet!
---