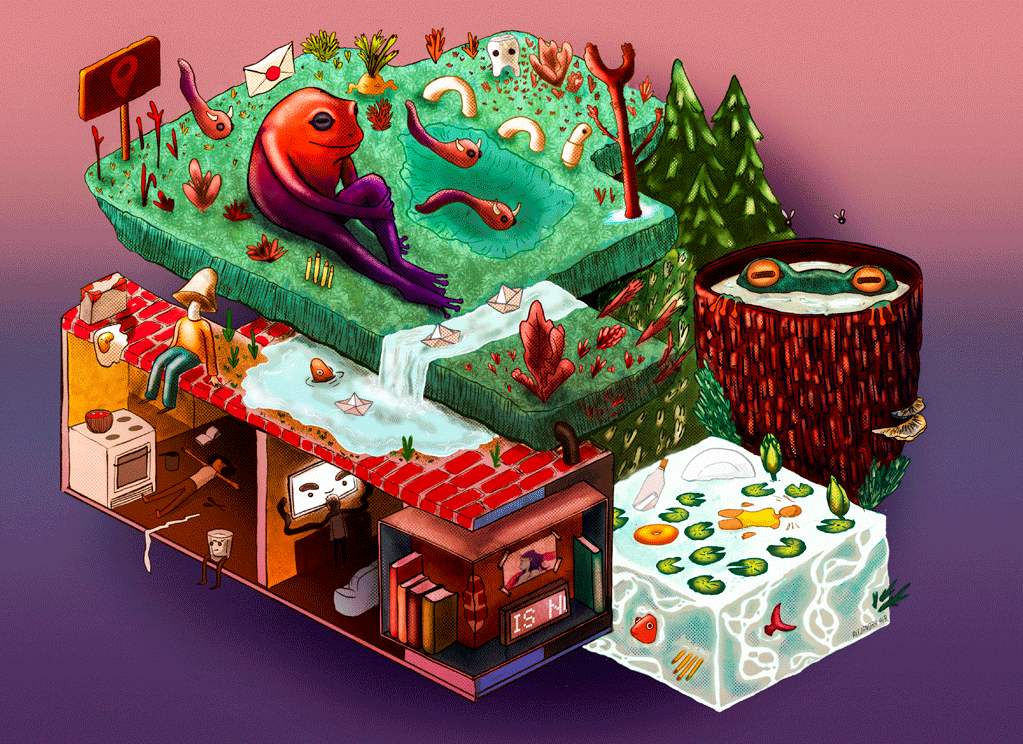 "About the chaos" or "Story #3"
NFT. Digital painting. 5 editions.
Alejandra Her
2021
"This is not a dream" or "Story #3"
"Una rana emergió del pecho desnudo y recién muerto
de mi abuelo, Don Calixto Varas."
José Watanabe
This day I was born or resurrected. I'm not really sure how or when it all started, but I know I've been at this for a while and I know I'll have to do it for a while longer.
I hear her voice in the distance, which is a snort, like a snake warning me; or like water falling from a stream. I am confused and it is not my fault, because here things have another name and another aspect.
No, this is not a fantasy; it is another reality or just a dream, or another life. Here, I will stay a while longer, contemplating you being born from the earth.
---
I was inspired by a poem by José Watanabe, and created my own universe around that phrase.
This is the 3rd Story of my collection, already sold out.
I'm really happy for all the love I have recieved by the crypto community with these artworks. Not only those who purchase my art, but with those who write a comment, who share a post o retweet a post. Thank you so much, everyone!!!
This is my second week as a full time cryptoartist and I have to admit that I couldn't be happier (professionally speaking). It's wonderfull to have the time to do what you love, and been economically rewarded for that.
Tomorrow I'll be posting Story # 4, so, stay tuned.
---
Follow me at
Illustrations and review By ©Alejandra Her