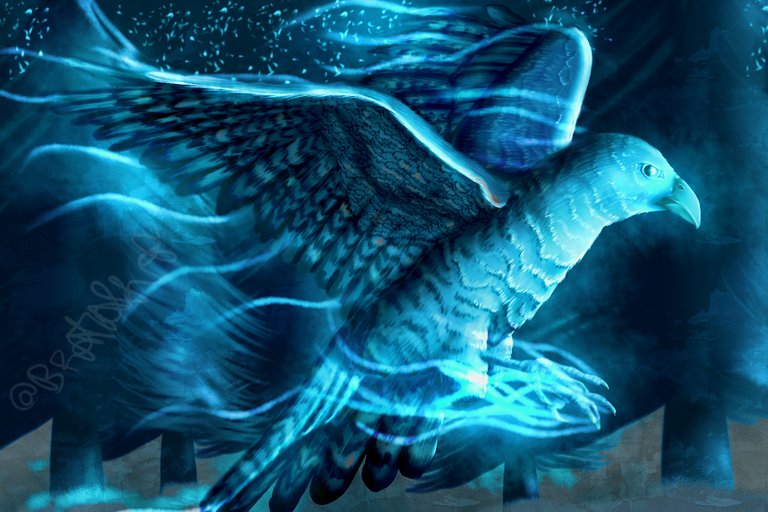 What's up fellows, how are you? Welcome to a new drawing about a character, which I call Soul Hunter, a month or less ago I made the first versions of this one, but since some weeks ago I have a tablet in my possession, so I wanted to make one with the tablet to see the difference and I'm really quite happy with the result, because this kind of drawings of birds are quite entertaining to make due to the large amount of detail they have in their feathers.
Que pasa compañeros, como están? Sean bienvenidos a un nuevo dibujo sobre un personaje, el cual llamo cazador de almas, hace un mes o menos hice las primeras versiones de este, pero desde hace algunas semanas tengo un tableta en mi poder, así que quise realizar uno con la tableta para ver la diferencia y realmente estoy bastante contento con el resultado, pues este tipo de dibujos de aves son bastante entretenidos de realizar debido a la gran cantidad de detalles que poseen en sus plumas.
Process / Proceso
Sketch / Boceto
As always, I start the sketches with geometric figures and then place the lineart, in this way we can get a good result of anything we are drawing.
Como siempre los bocetos los comienzo con figuras geométricas para luego colocar el lineart, de esta manera logramos obtener un buen resultado de cualquier cosa que estemos dibujando.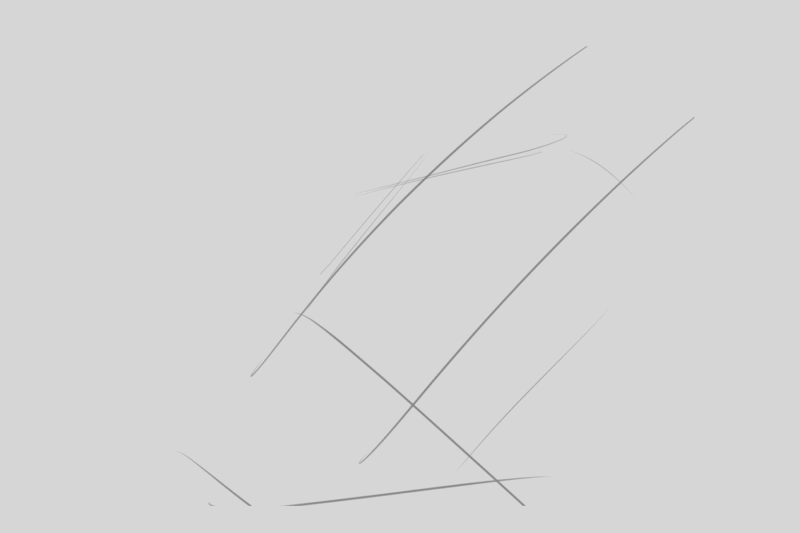 Painted / Pintado
I always start with gray colors and then start to paint the shadows with a layer to multiply, in fact there are several layers in this mode because it has different and small details in the plumage, also due to the dark patterns in the whole body of the falcon, after finishing the shadows we put the color we are going to choose for the character, in this case I used blue, although my first option was red, I ended up deciding on blue and then add some white details.
Los pintado de plumaje, siempre los comienzo con colores grises para luego comenzar a pintar las sombras con una capa en multiplicar, de hecho son varias capas en esta modalidad pues tiene diferentes y pequeños detalles en el plumaje, también se debe a los patrones oscuros en todo el cuerpo del halcón, después de terminar las sombras colocamos el color que vamos a elegir para el personaje, en este caso utilice el azul, aunque mi primera opción era el rojo, me termine decidiendo por el azul para luego añadir algunos detalles blancos.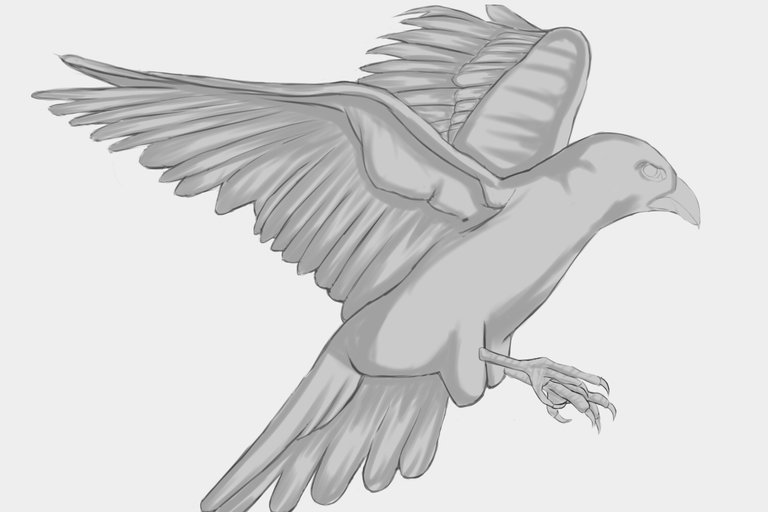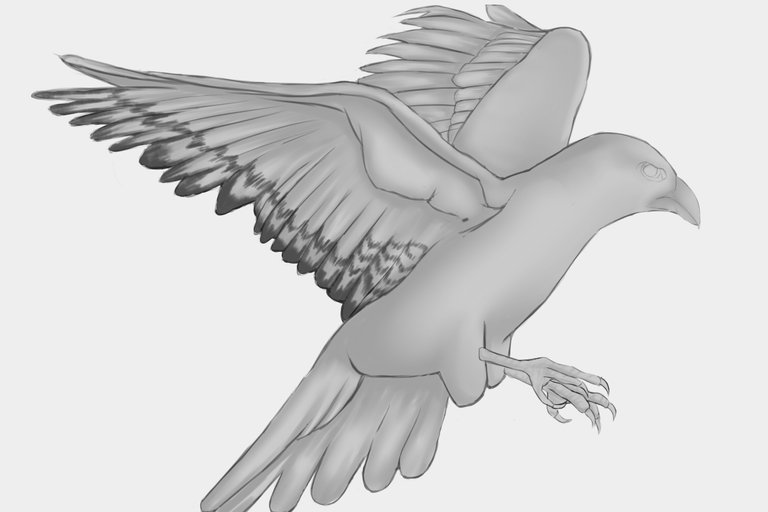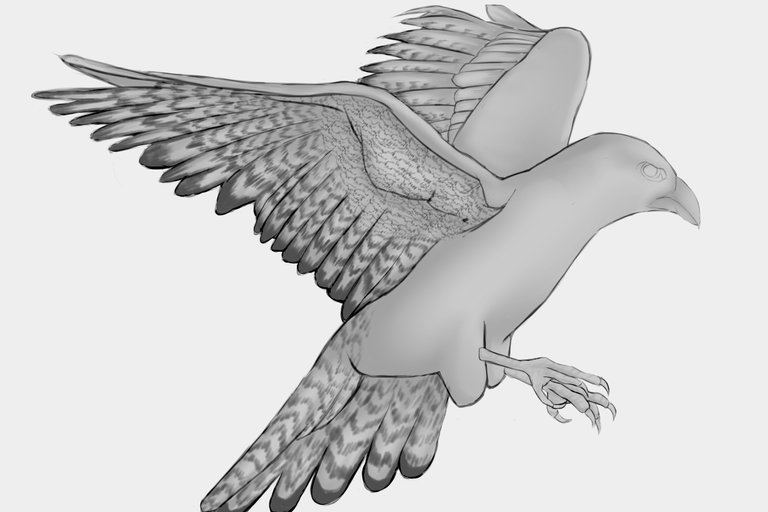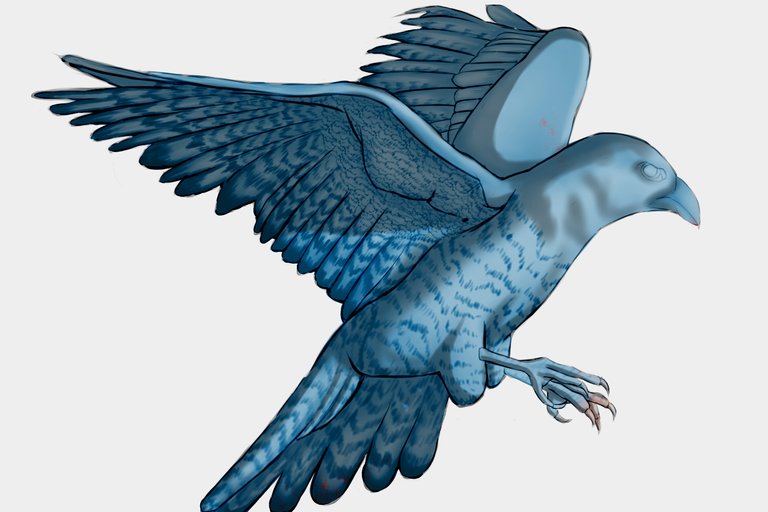 After finishing the base of the coat I started with the shadows all over the body and each one of the feathers, and then I drew the shadows on top of them, so we can achieve a good final result in the finishing of the drawing.
Después de terminar la base del pelaje comencé con las sombras por todo el cuerpo y por cada una de las plumas, para luego dibujar los brillos encima de estos, así podremos lograr un buen resultado final en el acabado del dibujo.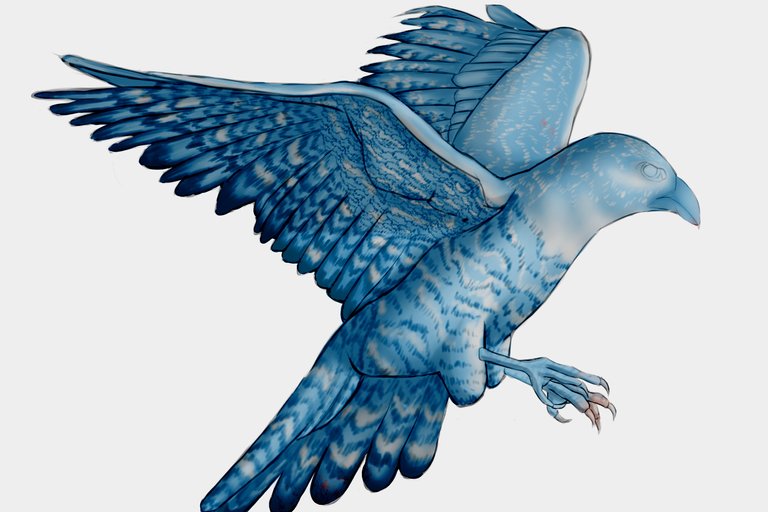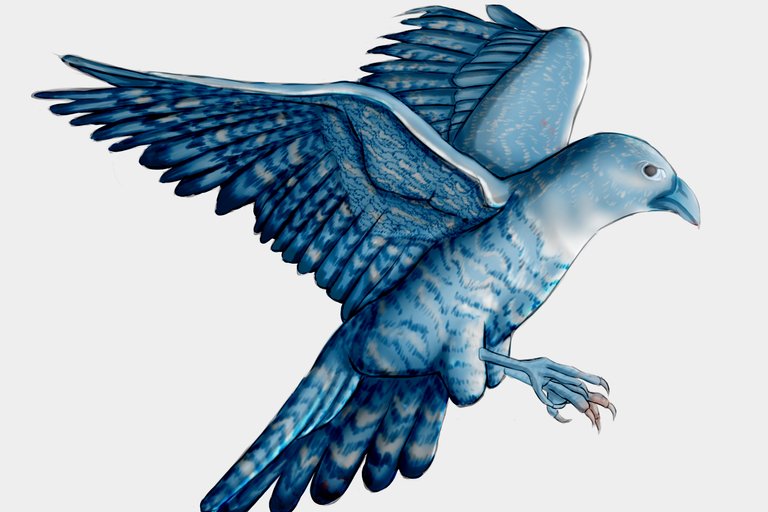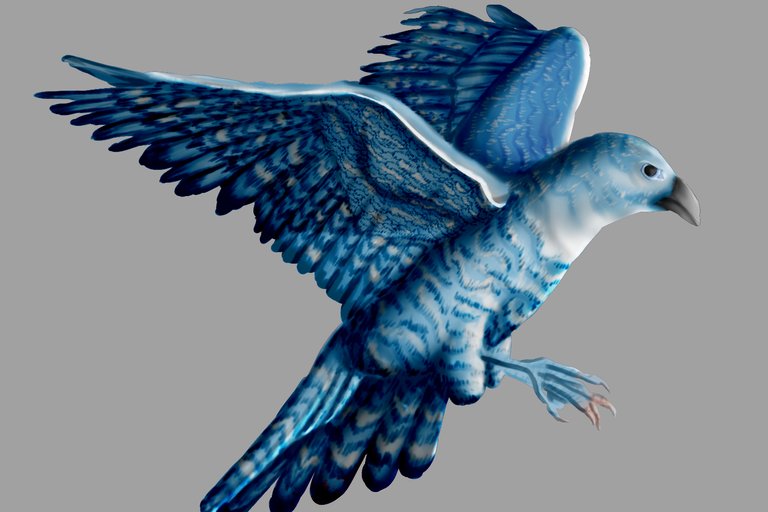 Then we started with the background, in this case I chose a snowy landscape so I painted some pines in the back and some stars in the sky, after this I painted some shines in the claws of the hawk and also in the wings, representing the power of the animal and also the air gusts that it expels because it is flying.
Luego comenzamos con el fondo, en este caso elegí un paisaje de nieve por lo que pinte algunos pinos en la parte trasera y algunas estrellas en el cielo, luego de esto pinte algunos brillos en las garras del halcón y ademas en las alas, representando el poder del animal y ademas las ráfagas de aire que expulsa debido a que esta volando.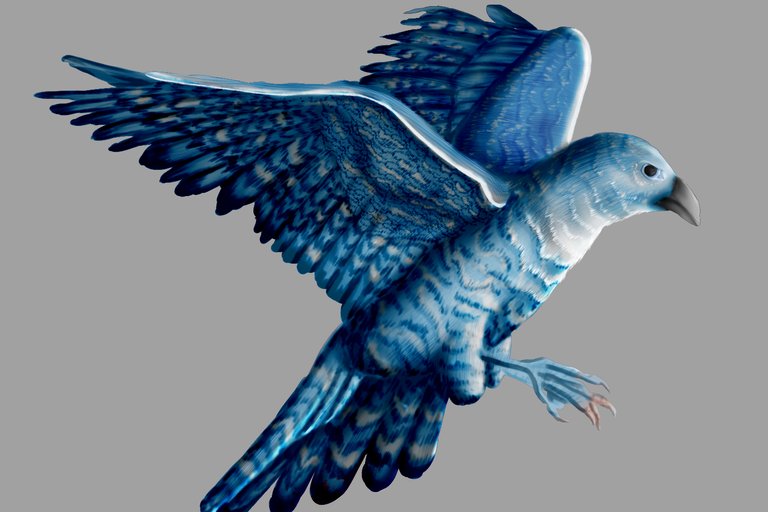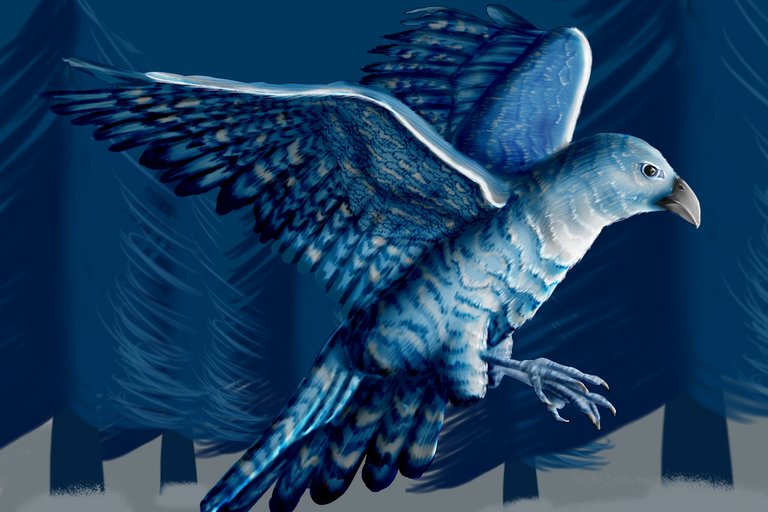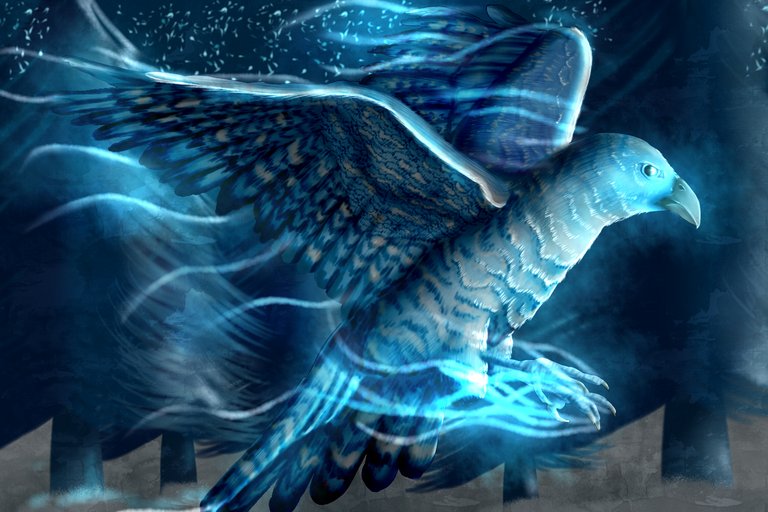 Final
That's all for today, I hope you liked it, kind regards @Brataka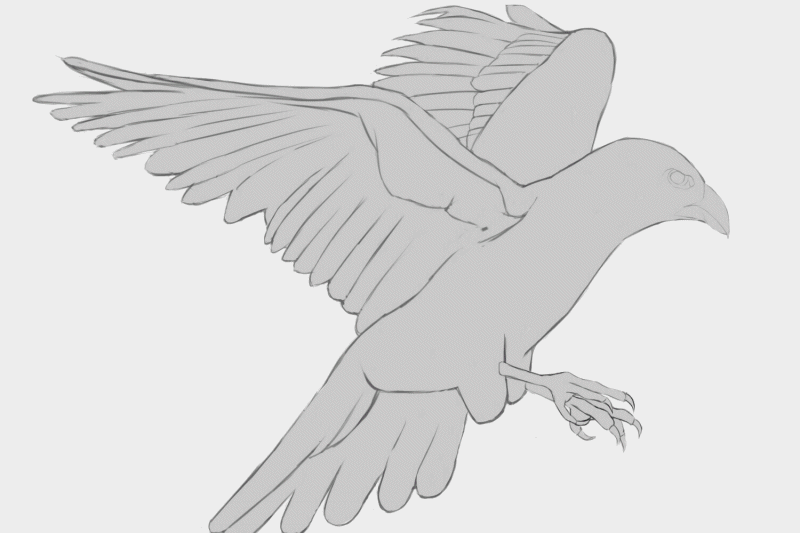 Eso fue todo por hoy, espero les haya gustado, atentamente @Brataka