English
I'll be honest, recently I haven't had much energy to write. I don't know why the words aren't flowing as easily from my head as they used to, but despite the lack of creativity to write, another kind of creativity has emerged: the visual one. Ideas for photos or how to edit the ones I already have jump into my head, so I put myself in that because I feel that it is flowing and that somehow my mind demands it, because even when I'm meditating images jump into my head.
I know I could show up here and talk to you about music and try to make some kind of valuable content to teach you something but, honestly, I'm not in the mood to teach anything, on the contrary, I am thirsty to learn, reading and being inspired by other people's knowledge.
Since a few weeks ago I have been excited reading Mark Manson's blog, watching his videos and more, he is an American writer author of the books: The Subtle Art of Not Giving a Fck and Everything Is Fcked: A Book About Hope. Something I really like about Mark is the sincerity and brutally with which he expresses his ideas, he doesn't embellish them but says them straight, so I was able to connect with several of his arguments and I recommend you to read it.
Español
Les voy a ser honesta, últimamente no he tenido muchas ganas de escribir. No sé porque las palabras no están brotando tan fácilmente de mi cabeza como antes, pero a pesar de la falta de creatividad para escribir si ha surgido otro tipo de creatividad: la visual. Saltan a mi cabeza ideas para fotos o como editar las que ya tengo, así que me puesto en eso pues siento que me está fluyendo y que de alguna forma mi mente me lo pide, pues hasta cuando estoy meditando me saltan imágenes a la cabeza.
Sé que podría aparecer por acá y hablarles de música e intentar hacer algún tipo de contenido de valor que les enseñe algo pero, honestamente, no estoy en el mood de querer enseñar nada, por el contrario, estoy sedienta por aprender, leyendo en inspirándome con el conocimiento de otras personas.
Desde hace unas semanas he estado entusiasmada leyendo el blog de Mark Manson, viendo sus videos y demás, él es un escritor estadounidense autor de los libros: El sutil arte de que te importe un caraj* y Todo esta jodid*, un libro de esperanza. Algo que me gusta mucho de Mark es la sinceridad y brutalidad con la que expresa sus ideas, no las adorna sino que las dice directo, por lo que he logrado conectar con varios de sus argumentos y les recomiendo leerlo.
---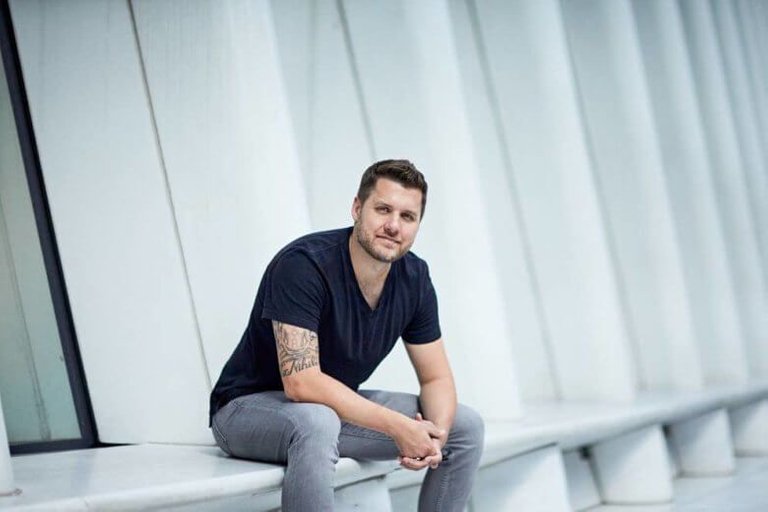 Mark Manson
Source
---
El amor no es suficiente | Love is not enough
One of the ideas that caught my attention I found in his article Love is not enough, where he says that love is beautiful and necessary but it's neither unique nor is it enough, as relationships need more than just love.
We can find it in a wide range of people; it doesn't even matter if they are good or bad for us because love is not synonymous of compatibility. We can fall in love with a person with whom we fight all the time, as well as not fall in love with someone we get along very well. It's paradoxical, but ironically I've been in both cases so I understand.
Another of Mark's ideas is that love requires sacrifice but we cannot sacrifice everything. He says that sacrificing part of our pleasures and time for our partner is ok, for example, don't waste all day playing videogames to instead devote quality time with your partner. But we shouldn't sacrifice our vocation for our partner, or even less our respect and dignity.
In my short years of life I have had several toxic and dependent relationships in which I have sacrificed a lot of me, so while reading Mark's words, memories and thoughts of that time came to my mind, where for a long time I didn't care how much I was hurt as long as I could be with the person I had fall in love with.
Una de las ideas que llamó mi atención la encontré en su artículo El amor no es suficiente, donde plantea que el amor es hermoso y necesario, pero no es único ni es suficiente, ya que las relaciones necesitan más que solo amor.
Podemos encontrar el amor con una amplia gama de personas, incluso sin importar si estas son buenas o malas para nosotros ya que el amor no es sinónimo de compatibilidad. Podemos enamorarnos de una persona con la que discutimos todo el tiempo, así como no enamorarnos de alguien con quien que nos llevemos muy bien. Es paradójico, pero irónicamente he estado en ambos casos así que lo comprendo.
Otra de las ideas de Mark es que el amor requiere sacrificio pero no podemos sacrificarlo todo. Dice que sacrificar parte de nuestros placeres y tiempo por nuestra pareja está bien, por ejemplo, no pasar todo el día jugando videojuegos para en su lugar dedicar tiempo de calidad a tu pareja. Pero no debemos sacrificar nuestra vocación por nuestra pareja, ni mucho menos nuestro respeto y dignidad.
En mis cortos años de vida he tenido varias relaciones toxicas y dependientes donde he sacrificado mucho de mí, así que mientras leía las palabras de Mark vinieron a mi mente recuerdos y pensamientos de aquel entonces, donde por mucho tiempo no me importaba cuanto me lastimaran con tal de estar con esa persona de la cual me había enamorado.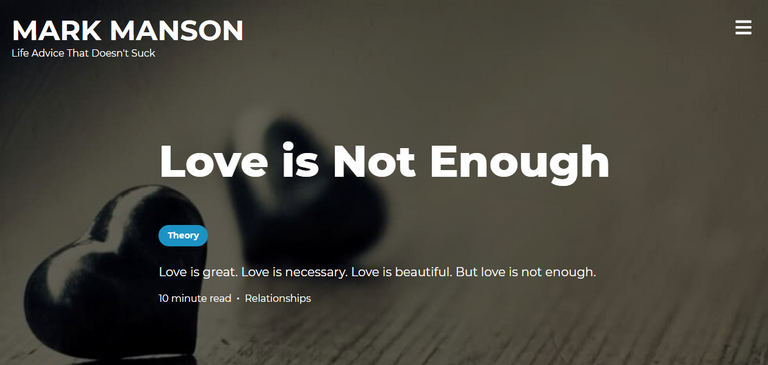 ---
Interpretación creativa | Creative interpretation
Como ejercicio creativo (y catarsis) quise mesclar parte de las ideas de Mark con mis pensamientos en una imagen, en ella se juntan los pensamientos de miedo y calumnia con la conciencia de nuestro poder de decisión, creando un contraste entre la parte que se aferra a la relación con la parte que constantemente te recuerda que no debes sacrificarlo todo porque el amor no es suficiente.
Para hacerla tomé una fotografía vieja de mi ex novio y yo, en Photoshop la corté y me puse creativa con las siluetas del texto y los colores. Elegí una fotografía real para crear a partir de la experiencia y no solo rememorar esa relación sino otras más también.
As a creative exercises (and catharsis) I wanted to mix part of Mark's ideas with my thoughts in an image, in it the thoughts of fear and column come together with the awareness of our power of decision, creating a contrast between the part that clings to the relationship with the part that constantly reminds that you shouldn't sacrifice everything because love is not enough.
To make it I took an old photo of my ex boyfriend and me, I cut it in Photoshop and I got creative with the text silhouette and colors. I chose a real photograph to create from the experience and not only recall that relationship but others as well.
---
Process
---
Original photo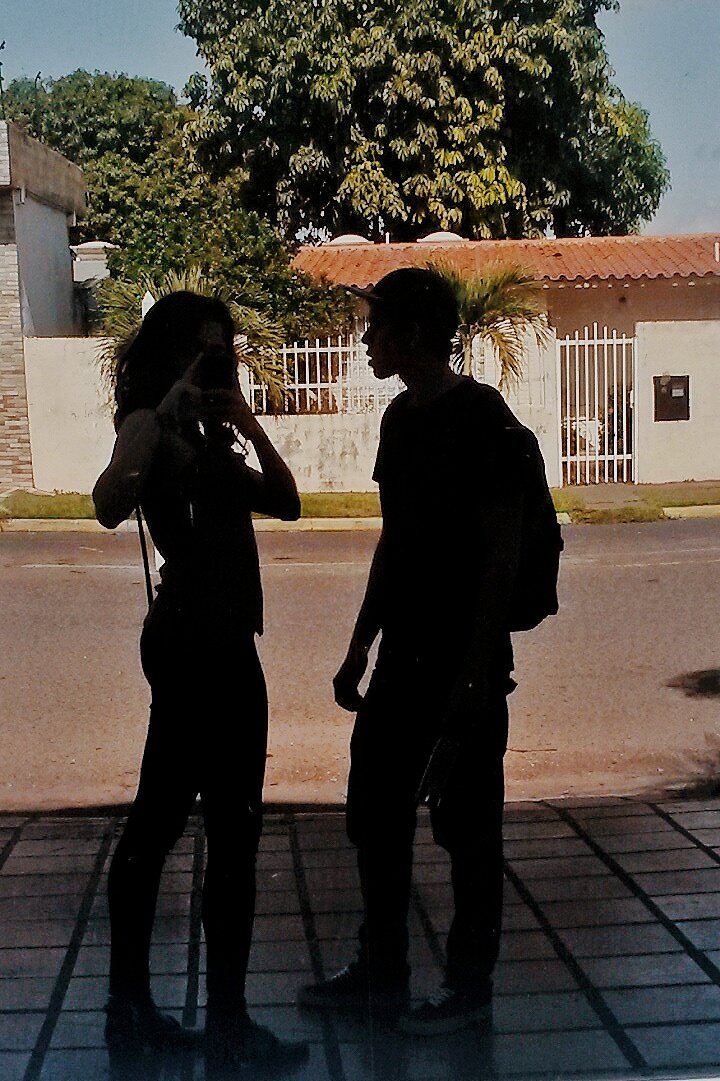 Step 2: Text
Step one: Cut shapes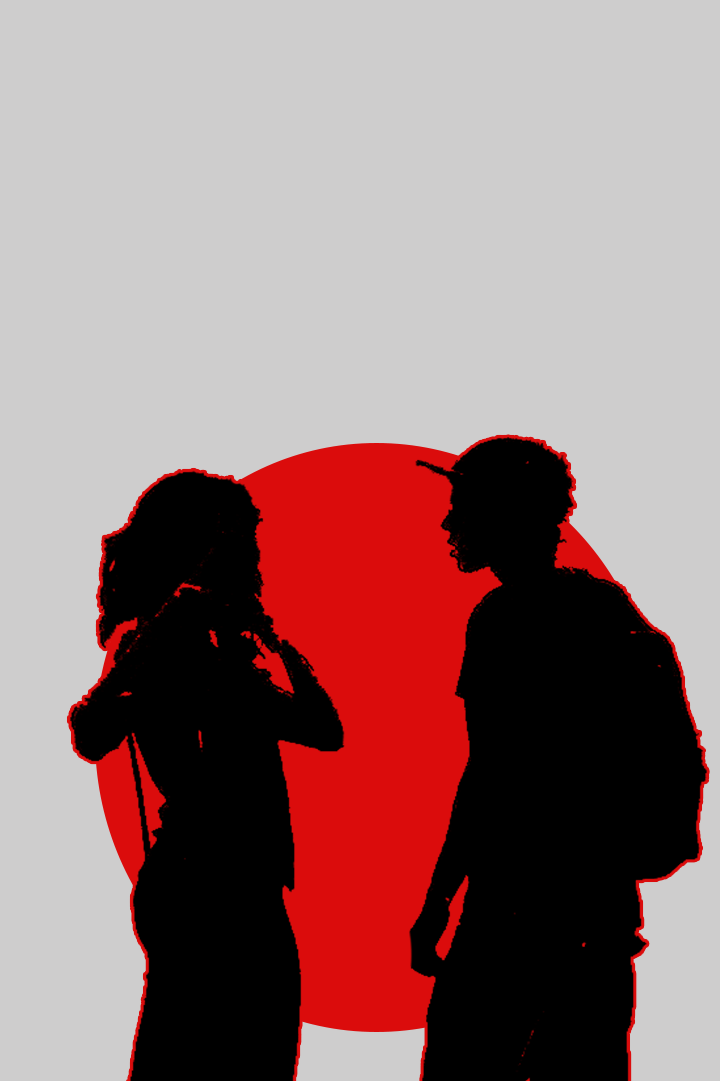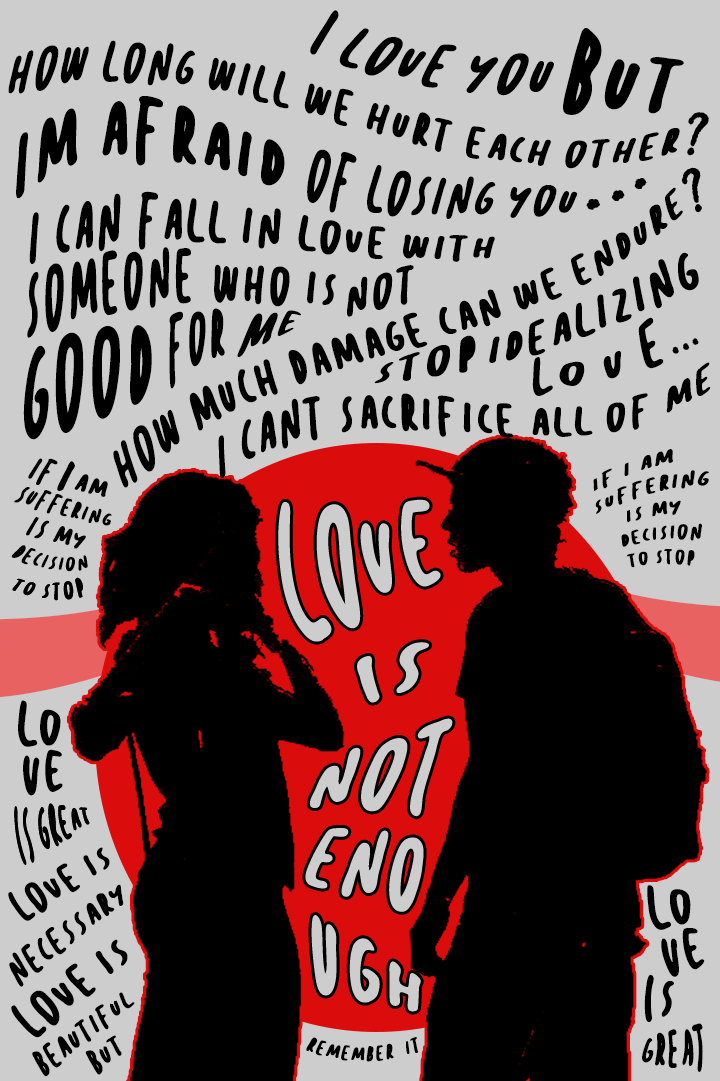 Step 3: Full text and more color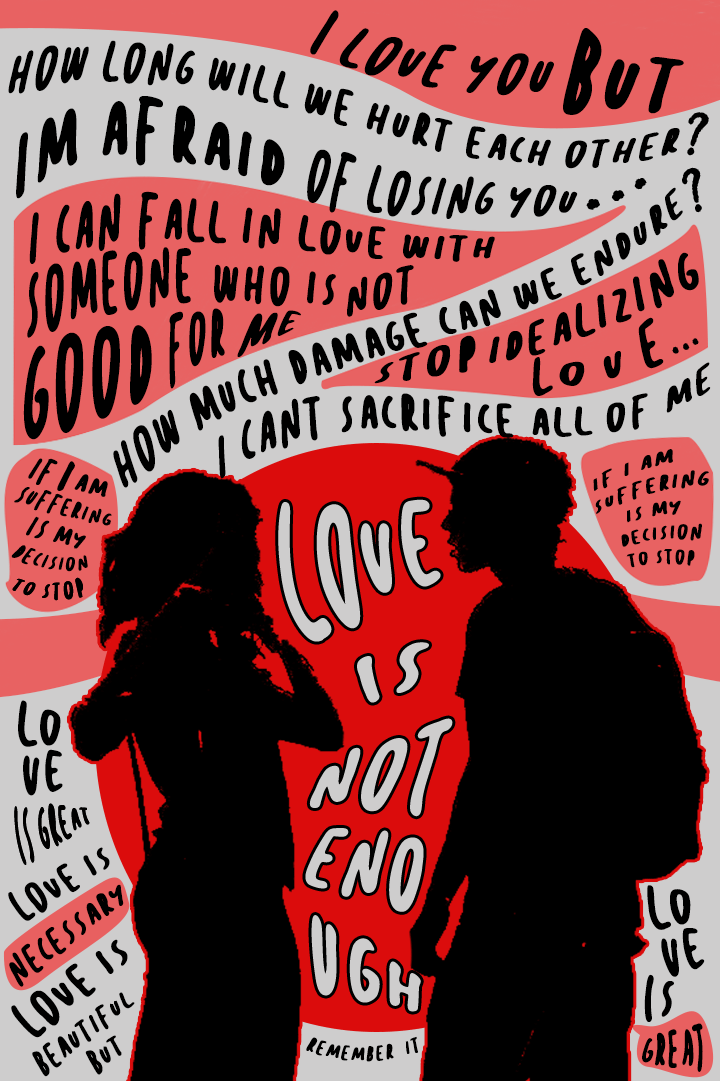 Final result
---
¿Ustedes que opinan? ¿El amor es o no es suficiente? Los animo a leer completo el artículo de Mark ya que está muy interesante, yo lo he compartido con algunos amigos y a todos les ha parecido sensato así que échenle un ojito, aquí apenas les di un pequeño esbozo de los temas pero es más profundo que esto.
Me gustaría saber si este tipo de contenido les gusta, esto de generar imágenes a partir de cosas que vaya leyendo, creo que de alguna forma me ayuda a repasar e internalizar lo que leo. Como no estoy acostumbrada a hacerlo me vendría bien algo de feedback en la cajita de comentarios ¿Qué les parece?
✨ Un abrazo a todos and good vibes! ✨
What do you think? Love is enough or not? I encourage you to read the Mark's article in full as it is very interesting, I've shared it with some friend and they have all found it wise so check it out, here I just gave you a small outline off the theme but it's deeper than this.
I would like to know if you like this type of content, this generating images from things I read, I think it somehow helps me to review and internalize what I read. Since I'm not used to doing this it would be great to get some feedback in the comment box. What do you think?
✨ A hug to everyone and good vibes! ✨
---

⚡️ Hey ⚡️
También puedes seguirme en mis redes
⚡️ Hey ⚡️
You can also follow me on my social media

Iconos cortesía de Plus Math icon icon by Icons8
Collages y separadores hechos por mi @cronosclocks