Wow, what a time for one, this work came from a contest I decided to participate in during my early days entering the market. I didn't have much experience of what I could do, which moved me to decide to enter these competitions.
Wow, que tiempos de uno, este trabajo provino de un concurso al que decidí participar durante mis inicios entrando al mercado. No tenía mucha experiencia de lo que podría hacer, lo que me movió a decidir entrar en estas competencias.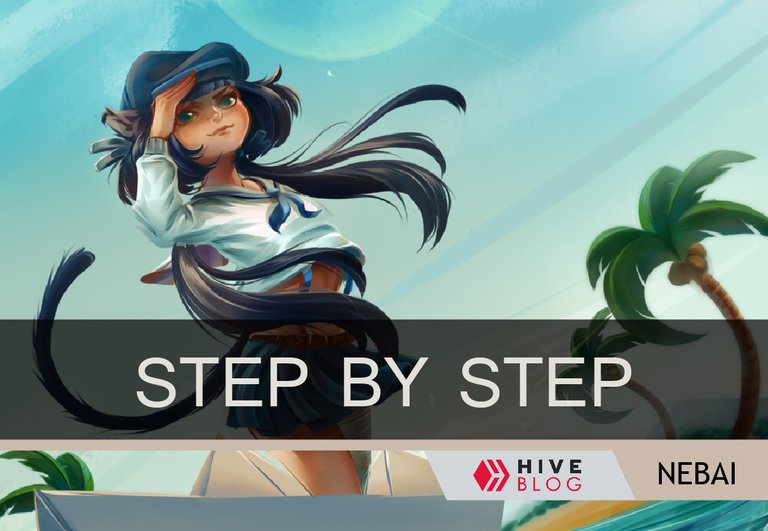 The design caught my attention, among the other options I found her to be a sweet and adorable character. Every time I participate in a contest, it is important for me that I am interested in drawing it, that I get several ideas and poses.
El diseño me llamó mucho la atención, entre las otras opcione ella me pareció un personaje dulce y adorable. Cada vez que participo en algun concurso para mi es importante que me interese hacer el dibujo, que me de varias ideas y poses.

Proceso/Process:
---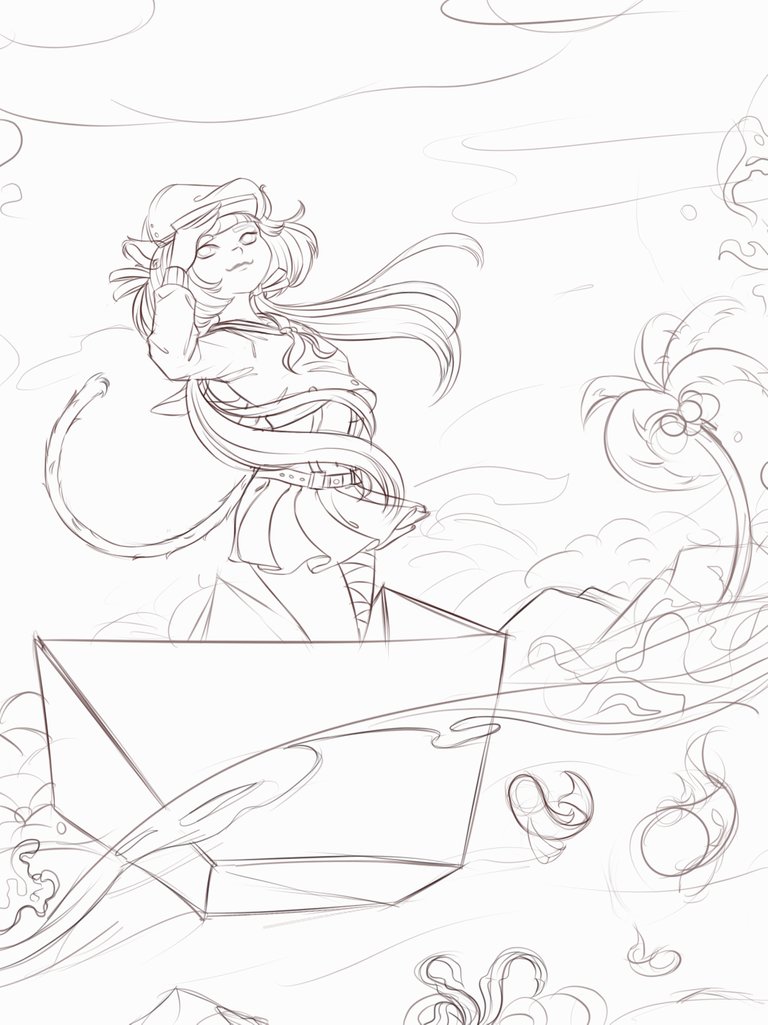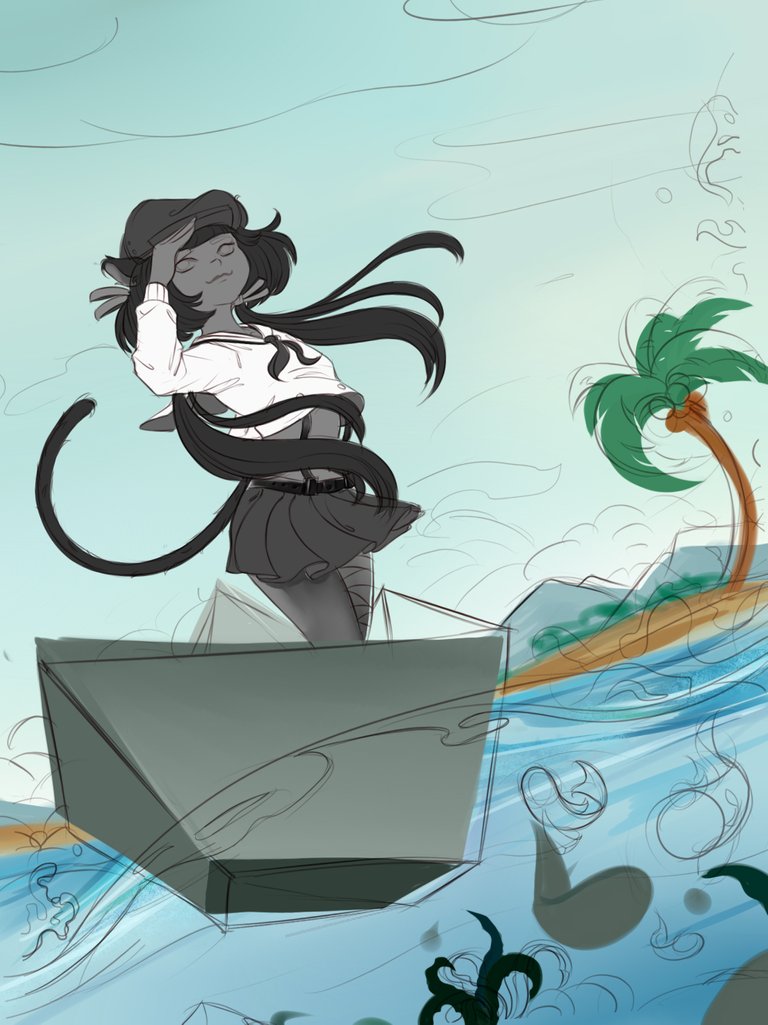 I was expecting an innocent, playful and dynamic scenario, so neko sailor in a wild paper boat appears... Why a paper boat? well, Why not? I was hoping to give a more perspective view, the more dynamic, the better.
Esperaba un escenario inocente, juguetón y dinámico, así que neko barquera en barquito de papel salvaje aparece... ¿Por qué un barco de papel? ¿pues por que no?. Esperaba dar una vista más en perspectiva, cuanto más dinámico mejor.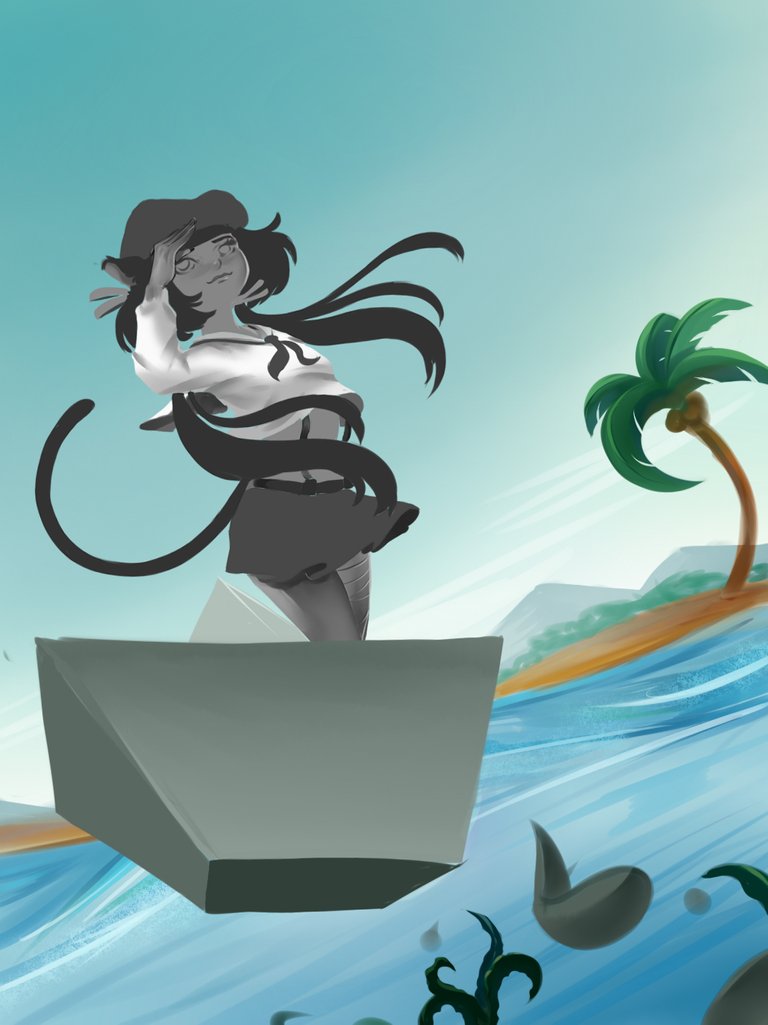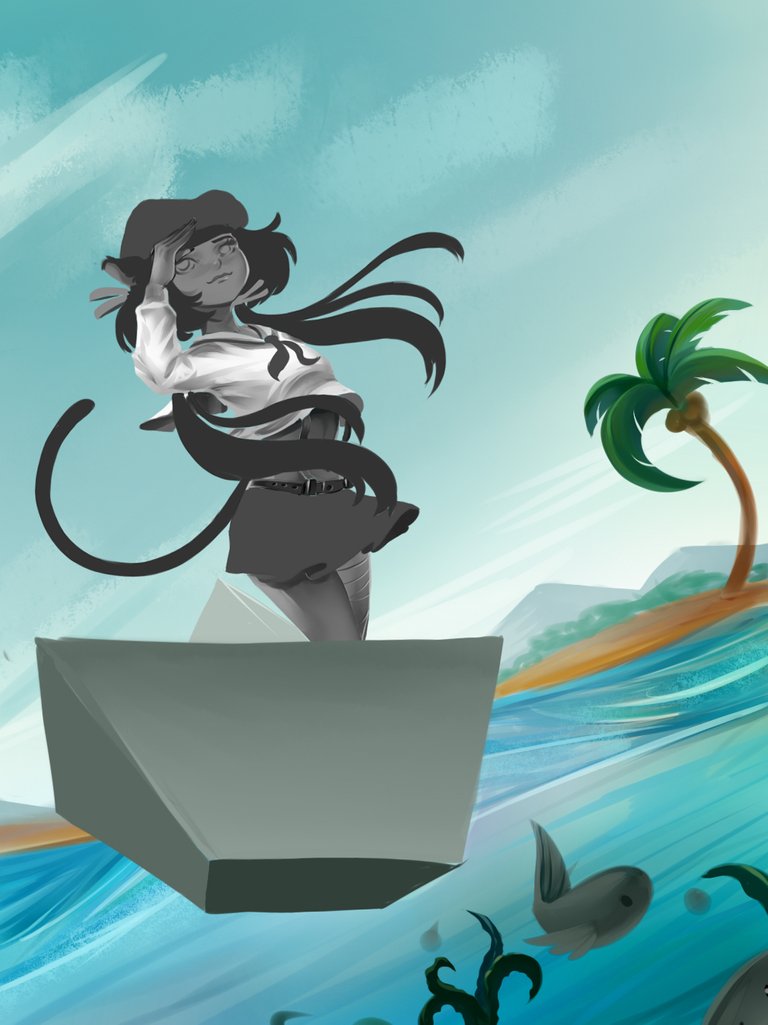 To speed up part of the process, I made the character in black and white, together with some fishes. A method that helps me to achieve the depth effect without so much effort; what works in values works in colors.
Para acelerar parte del proceso, hice el personaje en blanco y negro, junto a unos peces. Un método que me sirve para poder lograr el efecto de profundidad sin tanto esfuerzo; lo que funciona en valores funciona con colores.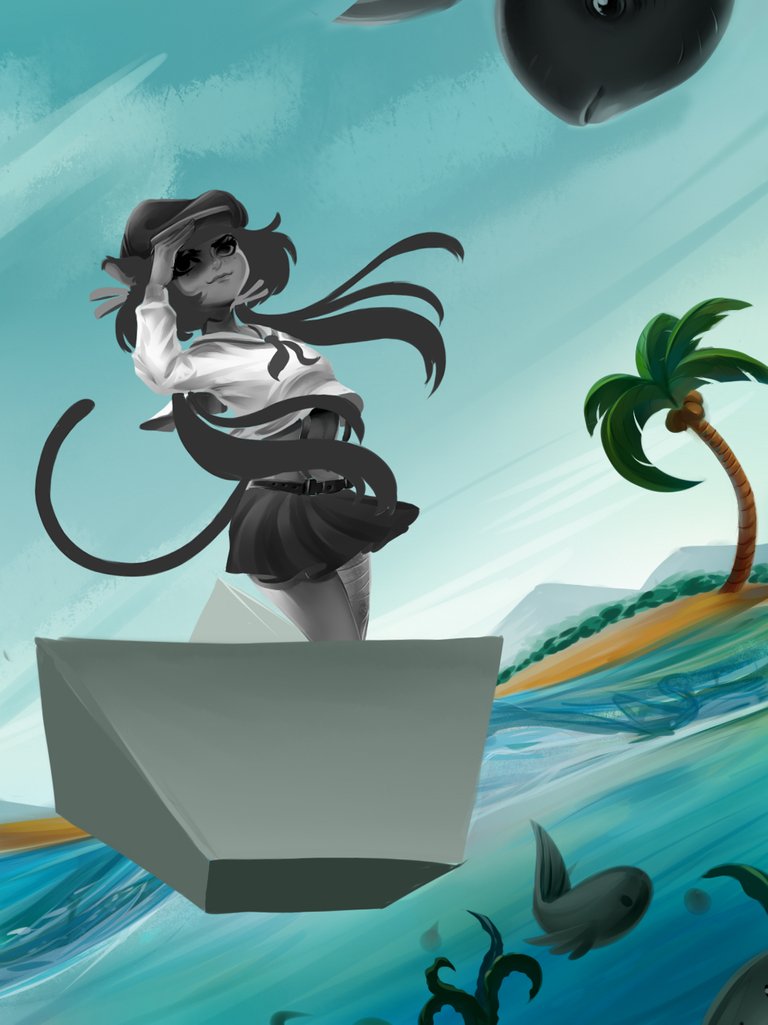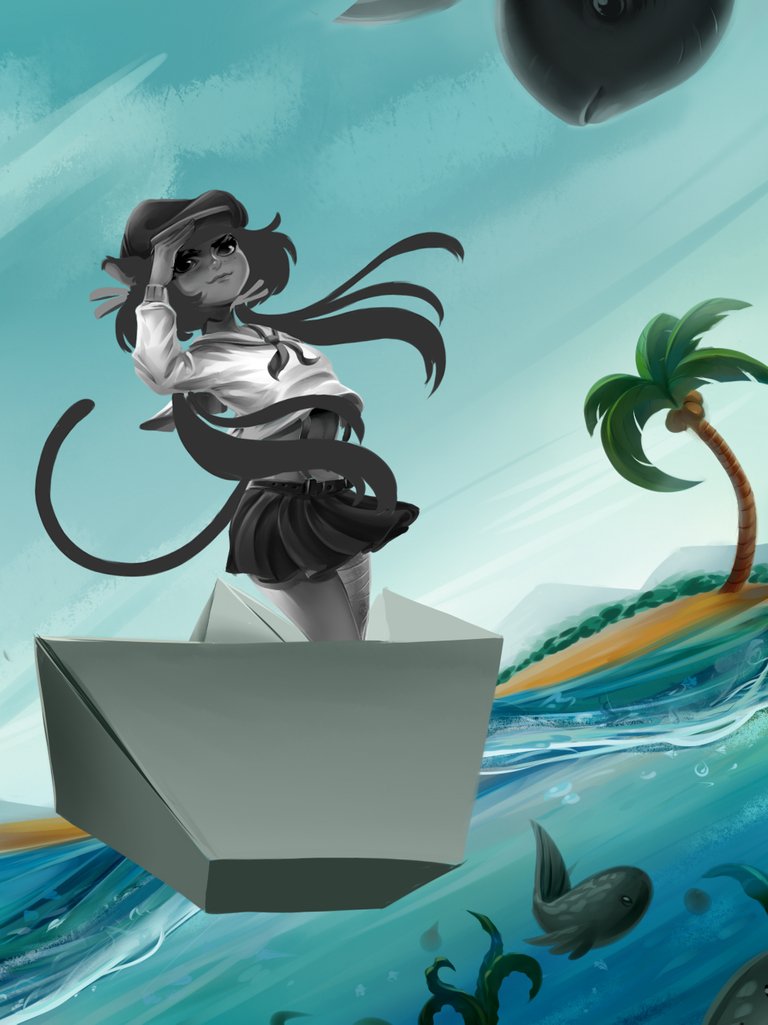 Personally, achieving the effect of the water was the hardest thing of all, I have personally worked very rarely with this type of material.
Personalmente lograr el efecto del agua fue lo que más me costó de todo,personalmente he trabajado muy pocas veces con este tipo de material.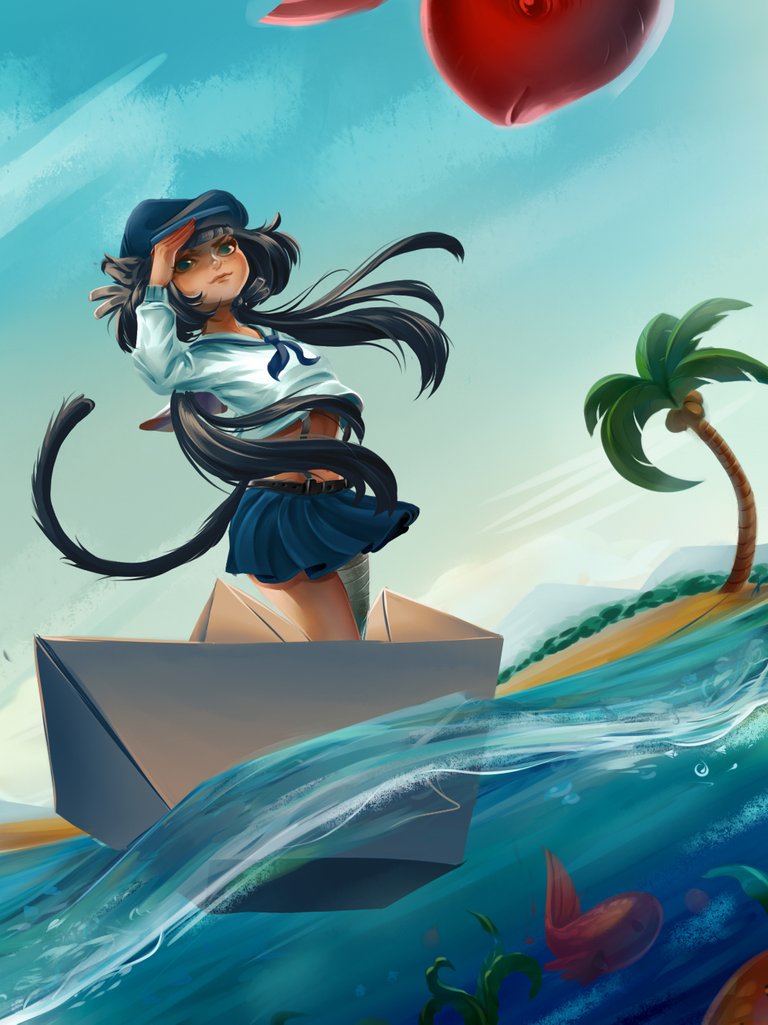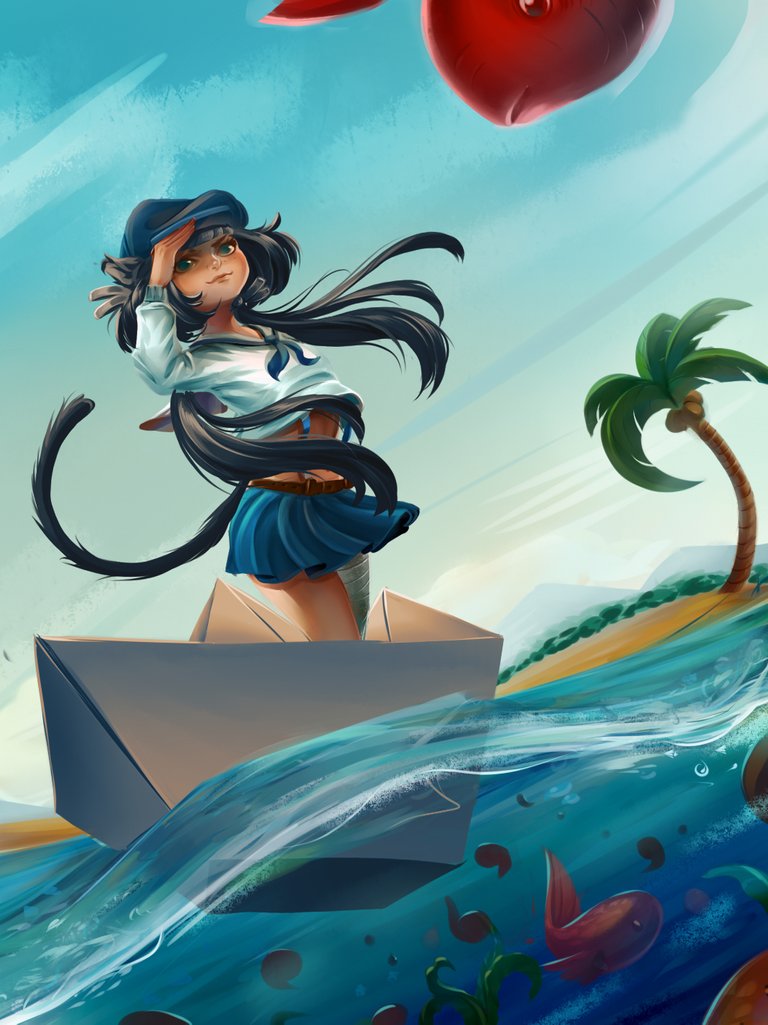 Once the shadows are completed, the rest would be the addition of the colors, in this part is not only to use a color layer but also to give it more life with overlays, more personalized strokes or use of other filters.
Una vez completado las sombras lo demás sería el agregar los colores, de esta parte no es solo usar una capa de color y listo, si no también darle más vida con capas de sobreponer, trazos más personalizados o uso de otros filtros.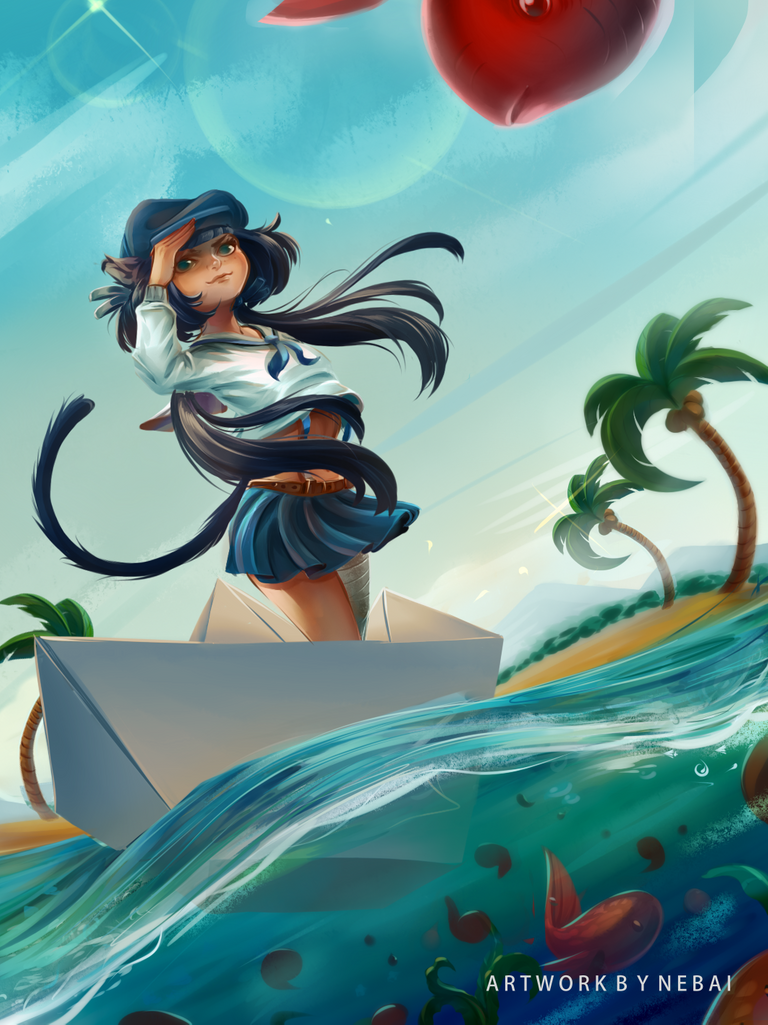 Even though i didn't win, it was a good training at the time; I think I should practice more with the fishes hehe.
Let's not forget the gif gift :D
Aunque no resulte como ganadora, fue un buen entrenamiento a su tiempo, creo que debo practicar mas con los peces hehe.
No olvidemos el gif regalo :D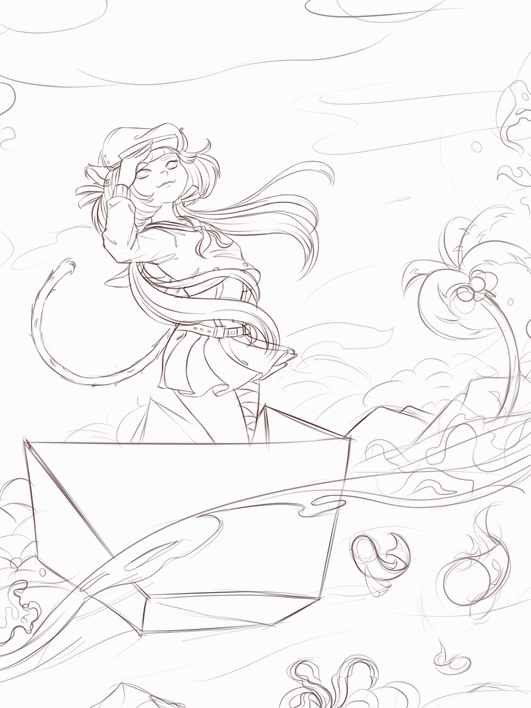 Herramientas / Tools:
Paint Tool Sai
Photoshop
20 x 15 cm / 300 ppi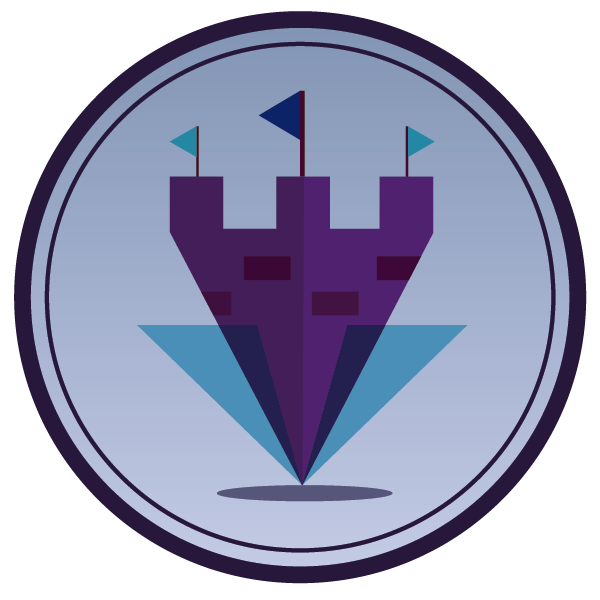 También estamos compartiendo un Grupo de Artistas para todas las plataformas. / We are sharing as well an Art Group for all platforms.
https://discord.gg/HYy6fkD

Si les gusta mis trabajos, su apoyo significaría mucho / If you like my work, your support would mean a lot.