Alright! I'm on another part of the blogging challenge that I really like! Good evening! I'm on the 29th, second to the last, blogging challenge initiated by @tegoshei. However, I am not sure if I would still be doing the 30th because it's about a room tour and my room is a mess with nothing interesting to write about. 😂
This might be my last entry for the blogging challenge and so I would just like to thank tegoshei for creating this challenge. It was fun, I was able to write about various topics. ❤️
If you wish to do the challenge, check this post for the list of challenges. Let's Do A 30-Day Blogging Challenge!!!

The 29th blogging challenge is about...
MY TOP 5 ANIME
Before I begin, I'd just like to remind you that the last time I was updated with the new anime releases was still back in 2017 so you'll obviously not see recent anime shows on my list.
#1 Attack On Titan
---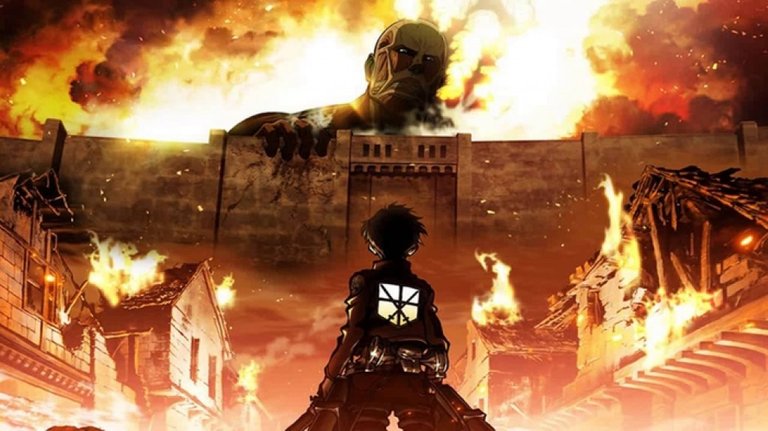 Image source: Kodansha


If you watch Attack on Titan or "Shingeki no Kyojin" then you know why I am ranking this on the 1st spot. Attack on Titan, for me, has a very interesting plot and filled with action, mystery, gore, and interesting characters. It is about a boy named Eren Jaeger whose family was eaten by the titans when the titans attacked and destroyed Wall Maria. Together with Armin and Mikasa, he joined the Survey Corps to avenge the death of his family, to save humanity, and fulfill his dream of seeing the sea. Little did he know, this is just the tip of a complicated and awful happening in history he is yet to find out.
The anime is definitely not for kids because of too much gore content. Aside from the entertainment it provides, it also subtly mirrors the dirty politics we are in. You know, the corrupt and greedy for power. I must not forget the awesome animation of this show. The slow motions and camera angles when they swing in their 3d maneuver gear is superb!
I must also not forget to mention that the songs and soundtracks of Attack on Titan are soooo great!!! It adds awesomeness to the anime. I remember when the first episode was aired, the song "Guren no Yumiya" was so popular. Listening to the song gives you energy like you can actually kill a titan when you hear it. Lol. Meanwhile, here's the ost from the 1st season. My favorites are the first, second, eighth, and tenth song on the track.
Isayama Hajime, the creator of Attack on Titan mentioned that the comics almost never got serialized but thanks to one publishing company that have seen the gem in his work. Thank you, Kodansha!
Attack on Titan will soon begin the 4th and final season. I am happy and sad at the same time. I still haven't seen the 3rd season though I read the manga until around 2017.
I still remember how I was blown away after seeing the very 1st episode of this anime. I know it will be among my favorites. I was even dreaming of having that green survey corps cape, to even cosplaying a character. Hahaha!! It would be nice if there will be a survey corps rain coat sold in the market. I would purchase it! 😂
This anime is so intricate and so great in many ways. I get goosebumps on some scenes and gives me nightmares sometimes. Lol. Thank you Isayama Hajime for bringing Attack on Titan to the world!
If you still haven't watch this anime, WHY? Lol. This is getting long, I shall proceed to the next.
#2 Fate/Zero and Fate Series
---
Second to Straykat's top anime list is the Fate/Zero and Fate Series. Fate/Zero was my ultimate favorite though I also like the Fate Series with the Unlimited Blade Works season as my favorite. The story is about certain people becoming masters by obtaining a servant through a ritual. They make a contract or pact that the servant shall obey and protect the master with all his or her life. The resurrected servants are heroes from the past. The masters, together with their servants, fight for the holy grail.
This anime also stands out for me because of its interesting story and super cool animation. The animation on the action scenes is so good, you know the animation team have really put in some generous time and energy to make it very nice and smooth. Ufotable really does a good job on its anime. When you see Ufotable on the credits, expect the animation to be topnotch!
Anyway, the Fate/Zero and Fate Series also has very awesome songs and osts which I love listening to before. This is where I started becoming a fan of LiSA, when I heard her song "Oath Sign" on Fate/Zero. This is also where I discovered Kalafina and Aimer. In my opinion, Kalafina is the best artist to sing songs for Fate Series. Too bad they already disbanded. :(
I was so obsessed with this anime before that I also dreamed of cosplaying the main character, Saber. I even bought two of her swords just in case I'll have the chance to cosplay the character. LOL!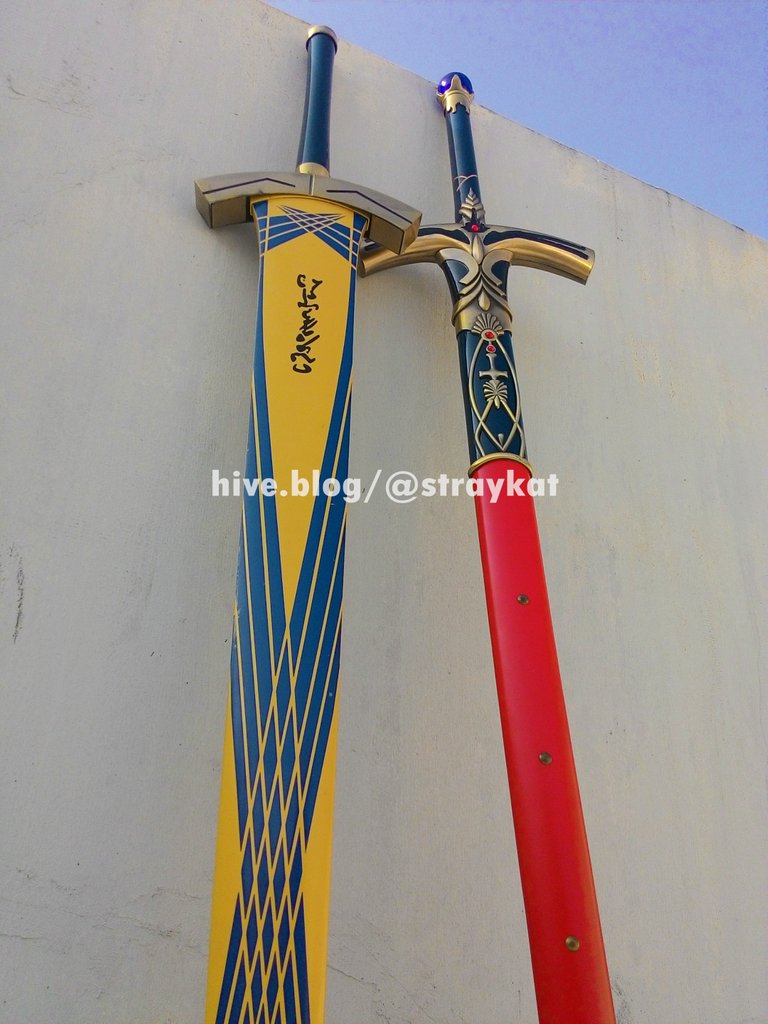 But I know it will no longer happen so they'll just be ornaments in the house when I find the right spot for it. The swords were expensive, if I could talk to my younger self I would slap her for spending so much for a sword but also tell her not to regret it and she is awesome. Hahaha! 😂
#3 Haikyuu
---
Third on my list is the sporty anime, Haikyuu! This anime is a volleyball anime about a short boy named Hinata Shouyo, who dreams to be next little giant. He went to the Karasuno High where he became part of the school's volleyball team. He then became teammates with a boy he despise but become friends later on, because they have no choice. Lol!
I used to be part of the volleyball team in elementary and high school and so Haikyuu really gets my interest. The character I resonate most is Yamaguchi, no assurance whether the ball would make it pass the net or not. Lol. I could very much relate to some of his serves where the ball would touch the net, hang on a bit and drop on the opponent's side. I remember someone shouting "ace" because the other team could hardly catch my serves because the ball falls just right after the net. 😂 I only knew the meaning of ace after watching Haikyuu. Lol. (Oh, so much story about me!)
Aside from being a sports anime, Haikyuu is also filled comedy and lots of moments that will inspire you. Animation is very good, especially when Oikawa was saving the team from losing to Karasuno. Haikyuu makes the volleyball sport very cool, I must say. Watching them play seems like you're part of the team and you could feel their grit to win the game or their frustrations when they make mistakes. I will never forget the time when Tsukishima had successfully blocked the very strong serve of Ushijima of Shiratorizawa. I was so proud of him. 😂
There are lots of awesome and hilarious characters on this anime. Outside Karasuno, I really find Bokuto hilarious. Hey, hey, hey!!! 😂😂😂
#4 Death Note
---
On the fourth spot is Death Note. This is about a boy who accidentally found a black notebook where he can kill someone by writing their names on it. I was mind blown by the tactics of Light Yagami and how he manages to escape when he is cornered by L. This is among the first anime shows I've watched and Death Note made me realize that there are anime shows out there beyond the usual adventure, comedy, and action. The story is unique and so Death Note is still remembered and appreciated by many people until today.
I found Ryuk, the death god in the anime, dancing to PPAP song. Lol. I'll just share it here.
#5 Naruto, One Piece, Bleach
---
Well, I'm having a difficult time to decide which to put on the 5th spot. I don't want to drop any so I'll just squeeze them all here. 😂 The first one I've watched is Naruto, an anime about ninjas and Naruto achieving his dream of becoming a Hokage. Next I've seen Bleach next, an anime about a boy named Kurosaki Ichigo who became a part-time shinigami (death god) and ended up being the savior of Soul Society, the world where the death gods reside. The last I've watched is One Piece, about a boy named Luffy who dreams to become the pirate king. All these three mainstream anime are awesome in their own way. Each of the show is filled with action, adventure, and comedy. ❤️
Naruto's story has ended a few years ago and is now focused on the story of his son, Boruto. One Piece had recently announced that the story will get to the final arc soon and so One Piece will be over in a few years. Meanwhile, Bleach had long been finished but it was announced this year that the Bleach anime will resume. The anime for Bleach ended at the arc where they defeated Aizen, which is just around half of the whole Bleach story.



I honestly didn't have interest watching One Piece before because the first couple episodes and animation bores me but I tried watching it again in 2017 and got hooked with it after watching the Alabasta arc. Now I know why so many people like this anime. It's so good! It will make you laugh and will make you cry.


I can't find a Naruto anime trailer so I chose a fan-made video instead. It's nice anyway.
---


Ah, there you go! My fingers felt numb from typing all these. (Almost 2000 words) Lol. I took time to write this post because these anime shows are special for me (and probably because it's my last entry for the challenge). They have been my source of entertainment for several years. Anime helped me widen my imagination, improve my creativity, discover music, and have interest learning the Japanese language. Most of all, it opened me to the Japanese culture. It motivated me to visit Japan one day!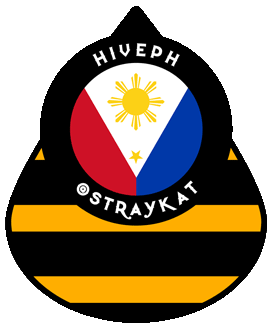 Hive PH badge by @bearone. :)


---
I AM ON INSTAGRAM and YOUTUBE!



Related posts:
30-Day Blogging Challenge Day 1: The Story Behind Straykat
30-Day Blogging Challenge Day 2: 10 THINGS ABOUT STRAYKAT
30-Day Blogging Challenge Day 4: ALONE BUT NOT LONELY
30-Day Blogging Challenge Day 5: STRAYKAT, THE SCAREDY-CAT
30-Day Blogging Challenge Day 6: 4 THINGS THAT MAKE ME SAY "UGH"
30-Day Blogging Challenge Day 7: 5 CURRENT FAVORITE SONGS
30-Day Blogging Challenge Day 8: TOP 3 DREAM DESTINATIONS
30-Day Blogging Challenge Day 10: THE BEST HIGH SCHOOL MEMORY
30-Day Blogging Challenge Day 11: IF I COULD HAVE A SUPERPOWER
30-Day Blogging Challenge Day 12: WHAT I DO TO RECHARGE
30-Day Blogging Challenge Day 13: FIVE MOST USED SMARTPHONE APP
30-Day Blogging Challenge Day 15: AN EMBARRASSING STORY
30-Day Blogging Challenge Day 18: FAVORITE CHILDHOOD MEMORY
30-Day Blogging Challenge Day 20: LIHAM PARA SA IYO (LETTER FOR YOU)
30-Day Blogging Challenge Day 22: THANK YOU
30-Day Blogging Challenge Day 23: BIGGEST REGRET
30-Day Blogging Challenge Day 24: ONE HOBBY I'D LIKE TO START
30-Day Blogging Challenge Day 25: FIVE FAVORITE FOODS
30-Day Blogging Challenge Day 26: FIVE FAVORITE ANIME MOVIES
30-Day Blogging Challenge Day 27: WHAT MAKES ME HAPPY
30-Day Blogging Challenge Day 28: WHAT MAKES ME SAD