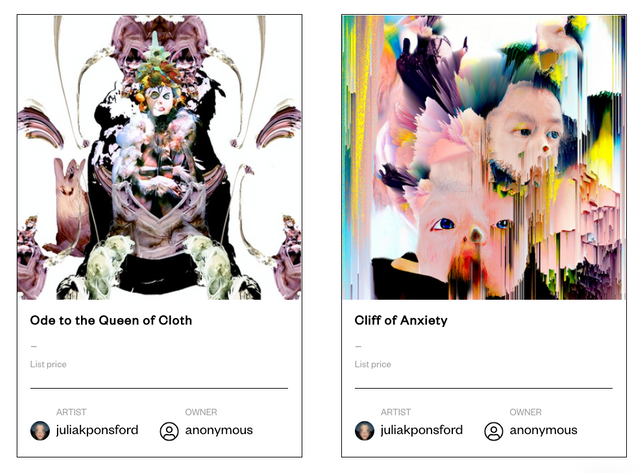 Since I have joined the crypto art space and started tokenizing my work on SuperRare I've been overwhelmed with the support of my work. M○C△ (Museum of Crypto Art) has collected quite a few of my pieces and I was thrilled when they contacted me about creating an exhibit in Somnium Space.
Somnium Space is a virtual world that can be viewed in VR and one can create and build, quite a few crypto artists have been creating galleries in these spaces and I am totally blown away by what's happening!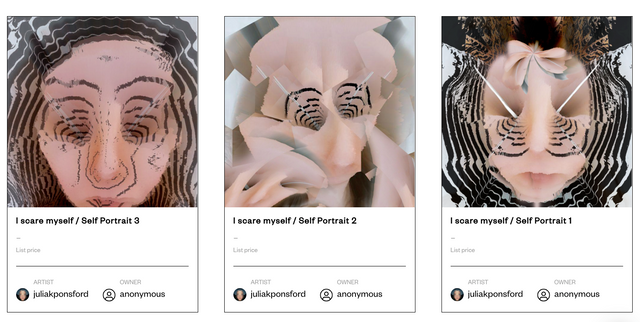 The exhibit titled 👁 "the inner eye of jupiter" 👁 was released this week and they even made a video presentation!


Here is the announcement tweet!
M○C△ has deployed its second exhibition entitled:

👁️ "the inner eye of jupiter" 👁️

a surrealist dreamscape designed to complement the evocative and haunting elements of @juliakponsford's art

located @SomniumSpace parcel 2098

preview our collaboration below pic.twitter.com/ARJgr6nzzA

— Museum of Crypto Art (M○C△) (@MuseumofCrypto) May 10, 2020
I've reuploaded the video so it is viewable in this post:
Many thanks again to M○C△ for making this exhibit and I suggest following them on twitter for cool stuff! ❤️
>>>>>>>>>>>>>₳ⱠłɆ₦ ⱧØ₦ɆɎ<<<<<<<<<<<<<
Join the Alien Art Hive community and come get some Alien Honey!

To follow on twitter, personal account, Alien Community account <3