The art of tagging on NFT Showroom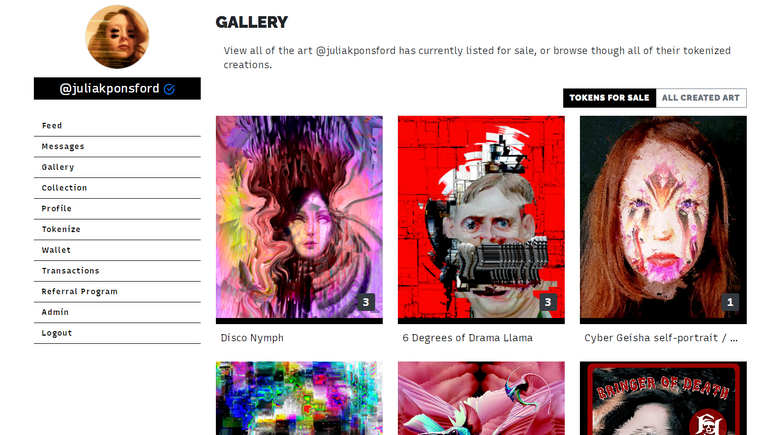 As we continue developments for NFT Showroom, one of our most important goals is to improve artist discovery by giving collectors and curators different ways to browse. Currently the main avenues are through the Gallery, the Activity feed, and the Personal feed but all of these have some dependancy on recency. Either the item was recently tokenized, updated in price or recently bought which leaves older art harder to find.
As we implement this relying on tagging to create browsable categories could become much more important. Many artists are using quite generic tags like, art, rareart, nft, cryptoart. Those are good for outside search engines, but what are the odds someone will be on NFT Showroom and search art?
At the moment we have the discover page: https://nftshowroom.com/discover
Using this search looks at titles, description, tags and username (username of the artist is automatically added to tags upon tokenizing!
While browsing I have noticed that many artists are not taking full advantage of tags and although this may seem like a small detail it is something worth thinking about to maximize your potential visibility!
Types of possible tags
While the tagging possibility is quite infinite I think there are 3 main categories to draw inspiration from:
This could include tags like drawing, painting, watercolour, illustration, collage etc. also relevant could be if it is an animation, gif, mp4 -
Tags for indicating style could include pop-art, cubism, surrealism, comic, trashart, abstract, minimalism, realism etc.
In this context means: what is it about, what is the content of the image?
If it's an animal include, animals, nature, (type of animal) etc.
The idea is to make sure that anyone searching for your specific type of art has the best chance of finding it!
---
I am going to use a few examples I found browsing, I don't want to pick on anyone, just give some suggestions to improve your visibility: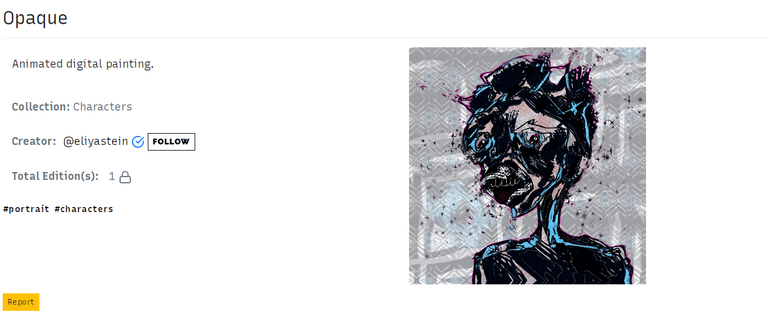 This one only uses two tags: portrait, character, while these tags are good I would also suggest the medium (illustration? collage?). This piece is an animated gif, Animated is already in the description, but gif would be another good tag to add.
---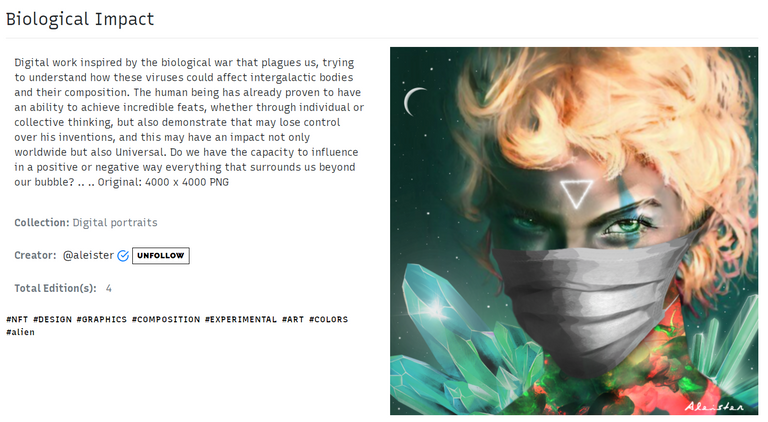 These tags are already pretty good but I would also suggest adding medium descriptors, and possibly more content descriptors such as sci-fi, space, futuristic, cyberpunk?, crystals etc.
---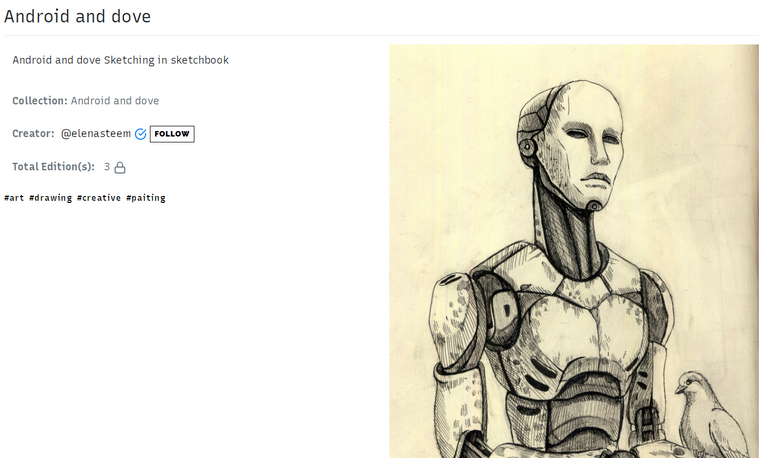 This one uses art, drawing, painting, these are good but could also include, robot, bird, illustration -
---
Clearly there are many different approaches to tagging and we can never know what types of search terms a buyer will use, being as descriptive as possible in both tags/title/description will improve the visibility of your art now, and probably even more when we finish development of the artist discovery page!
>>>>>>>>>>>>>₳ⱠłɆ₦ ⱧØ₦ɆɎ<<<<<<<<<<<<<
Join the Alien Art Hive community and come get some Alien Honey!

To follow on twitter, personal account, Alien Community account <3
---
---