Happiness Only Last Short Time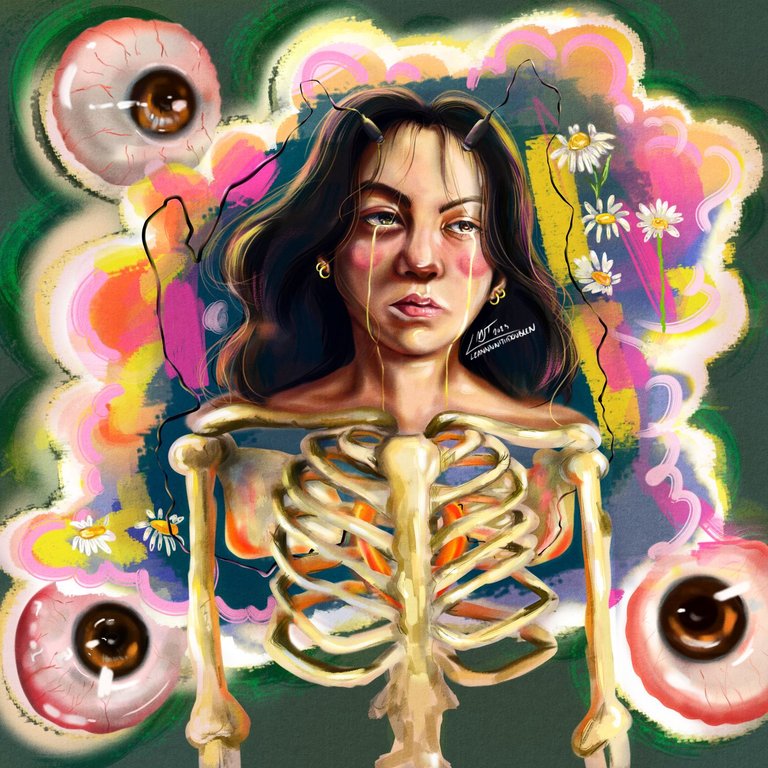 ---
Hello! It's been a long time! What's up? Do you still know me? LOL. So this past month I have been busy with life again, attempting to be back, but life is good, so I need to enjoy every bit of it without any social media involvement. I'm not sure if I'm becoming more introverted or if I'm just addicted to my own company because it's so peaceful.

So yeah, I've been focusing on positive thoughts and the environment these past months, and I'm not gonna lie, it worked, so here I am back. Before I get busy again, let me share with you the art I made. I am in the mood to do digital art, so here it is.

The idea behind this piece is that when I get emotionally tired, I use that as my inspiration for my art, which is good. I draw to get away with that frustration and make it art.

My first attempt failed, so I stopped rendering it and then returned to render it again, and I like the result. I still have a lot of art I didn't finish because I don't know how to finish it anymore. hehe. Maybe if I go back to the first layer, I can save that art from being abandoned.

Enjoy reading!

The Process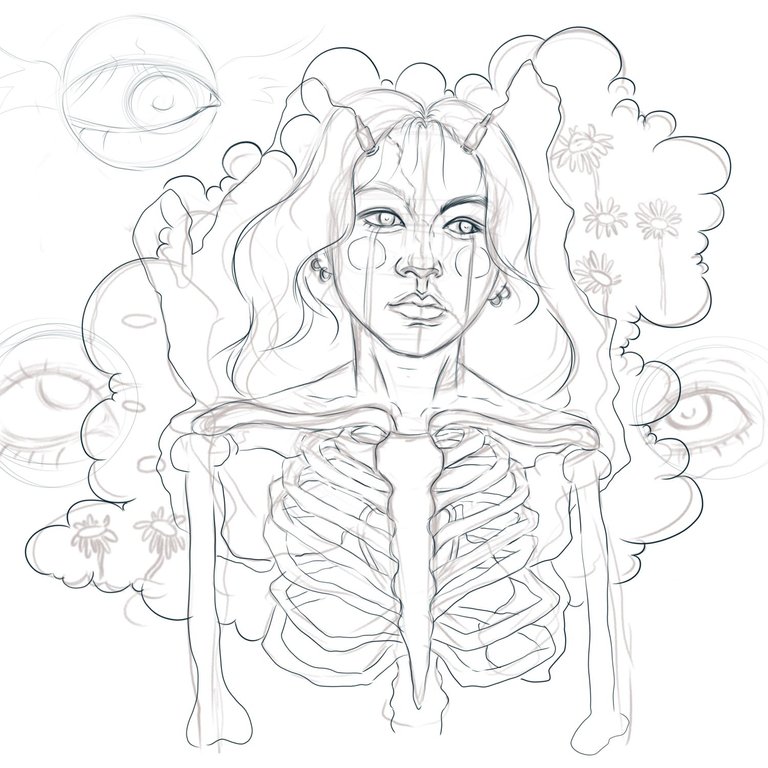 The one thing I observe is that my sketch is getting cleaner every time, which is good news. As you can see I just did a little change what the result of the art compare to the sketch I made it is not a bad thing sometimes more ideas come out of my mind a little bit of change is okay. LOL

---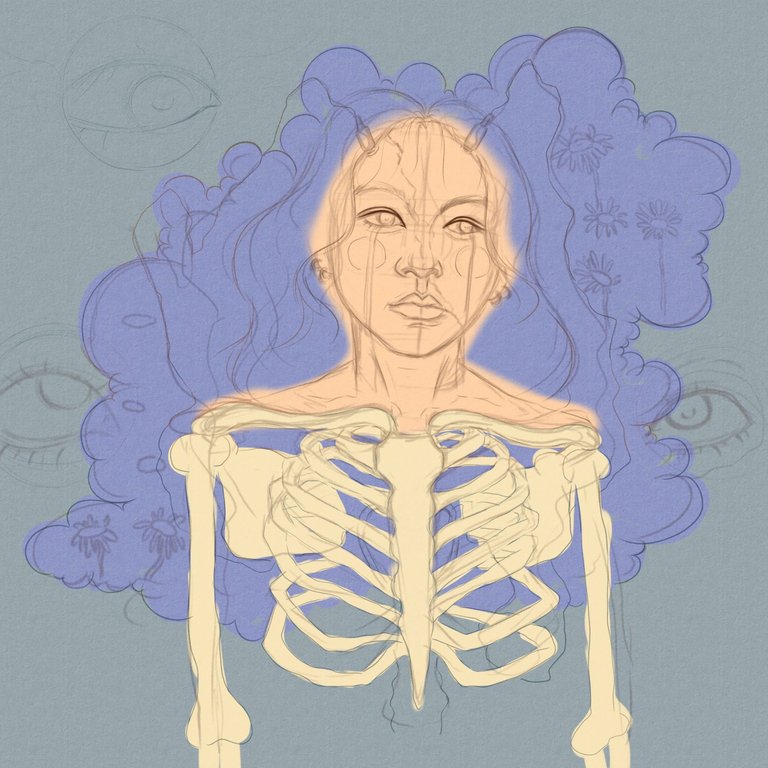 My first plan is to make it simple like simple as in but as I enjoy rendering it, "why make it colorful" What I mean is the clouds behind her. So I did the body skeletally which I love to do. What it means to me is that we are all the same inside if you see it like that nothing to judge.

---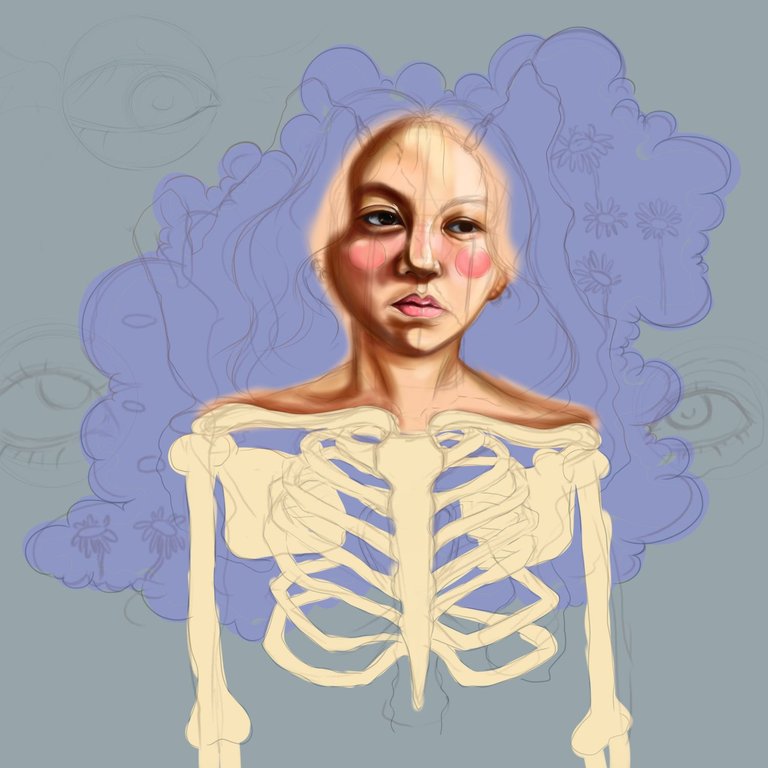 I like the way I did the blush it is like Pikachu style but more neutral not so red. Having strong shadows makes the portrait look more realistic from now on I will only use a reference with strong shadows.

---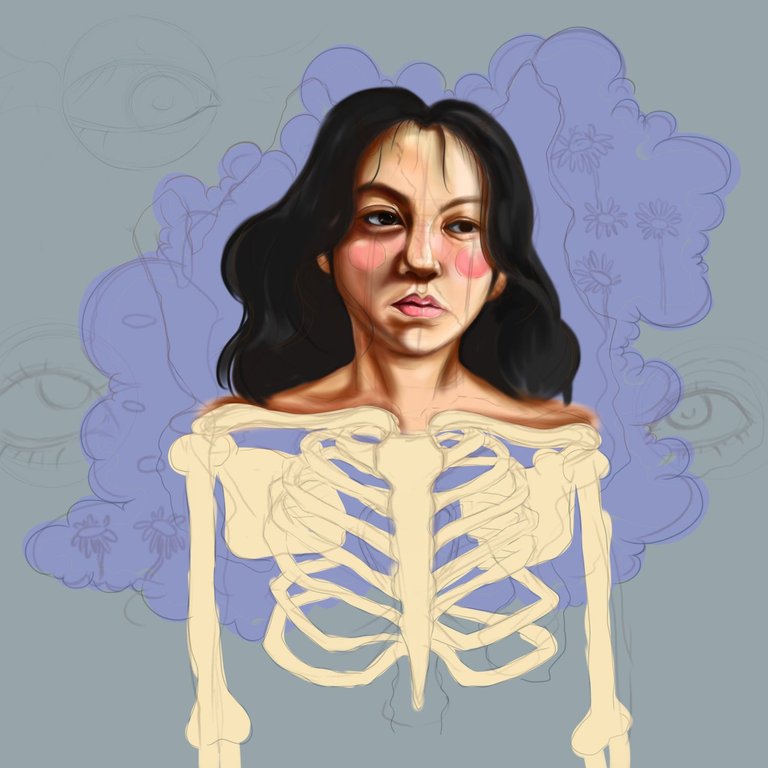 The first render I did is she had red hair but I'll just stick with black, I'm relieved that I stick with black.

---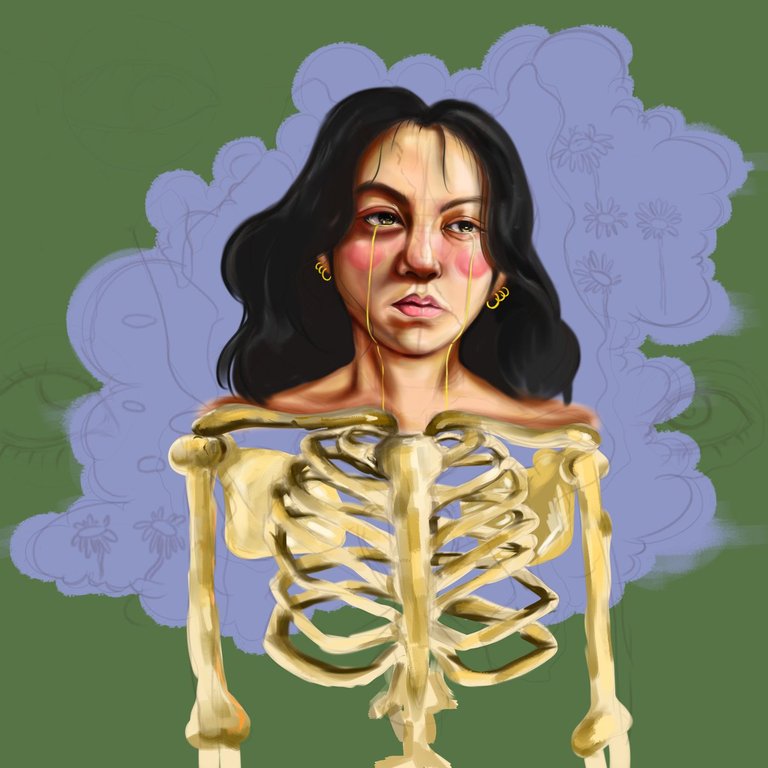 Tears are as expensive as gold in this context. It sounds like tears are intended for those who deserve them if you translate those words into something more deep. Understand what I mean? LOL

---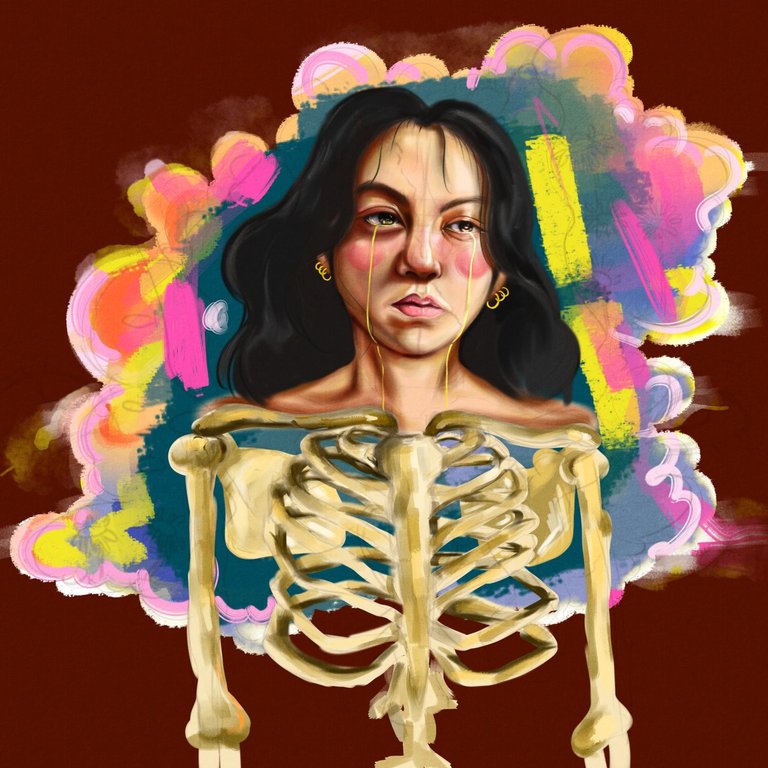 Base on my research about clouds meaning in life is clouds bring negative emotion and feelings to your life because you know when the weather is bad something like that but some people like it when the weather is gloomy makes the calm. So what i did it is colorful is more dominant than the darker. Lets take it into life perspective sometimes life is happy sometimes not and that is the nature of that.

---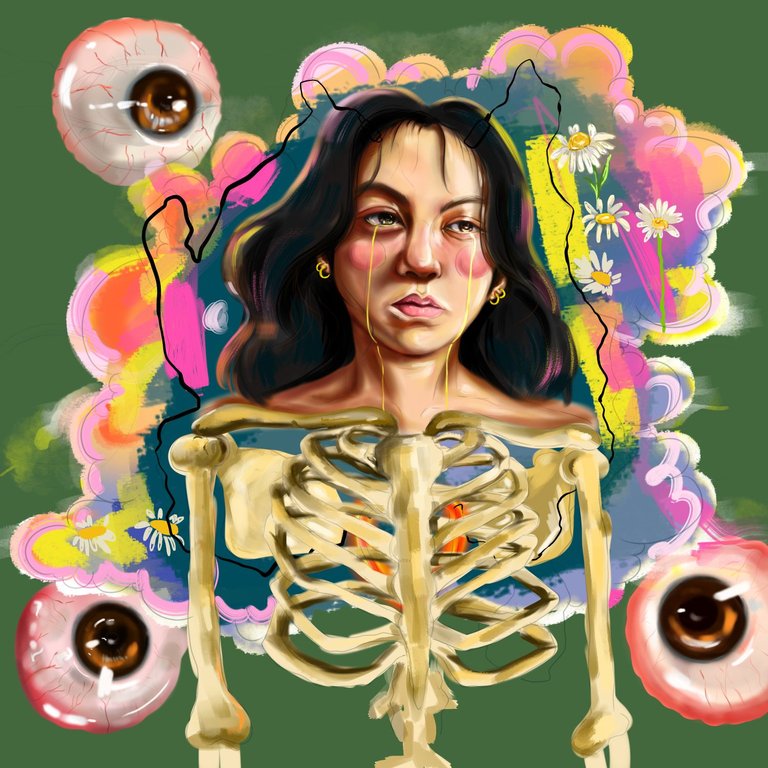 For me, the floating eyes indicate that making eye contact is equivalent to trusting someone. When you are comfortable with someone, you have the courage to do so, but sometimes means that people are judging you with their eyes.

---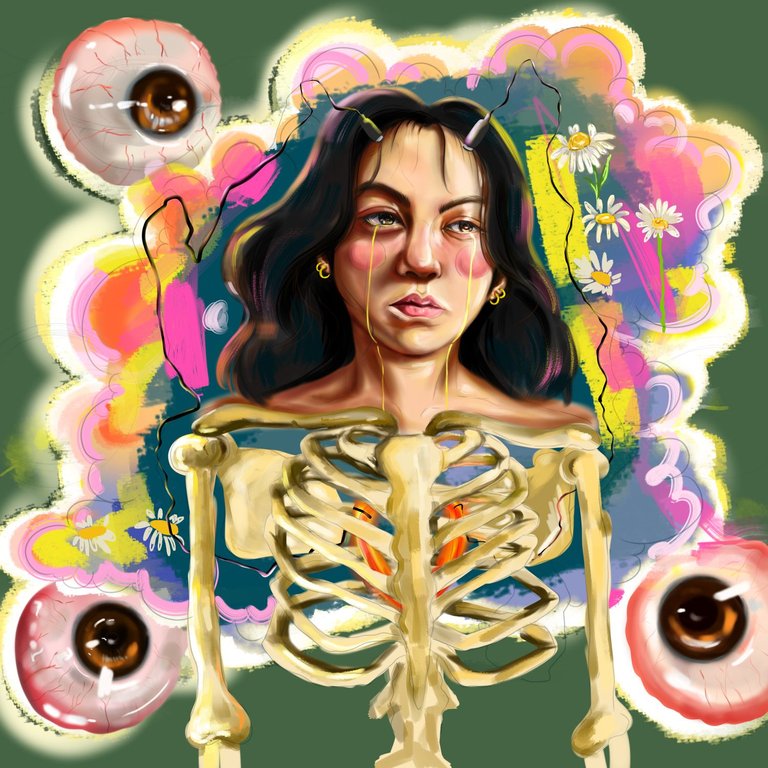 This part is one of my favorite this idea I saw from Pinterest. I saw a led heart light, I told myself "maybe this will look good on the art". And yes it worked for me. The idea behind it is to follow what your heart desire.

---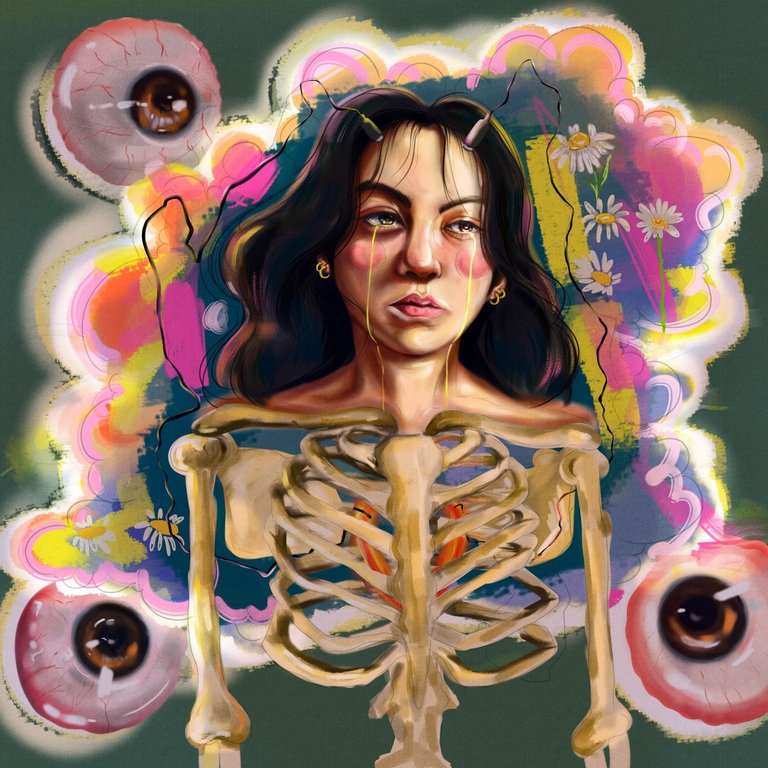 This part I did is I darken the canvas and then erase the part where the highlight is. I did this to make the highlights to pop out more.

---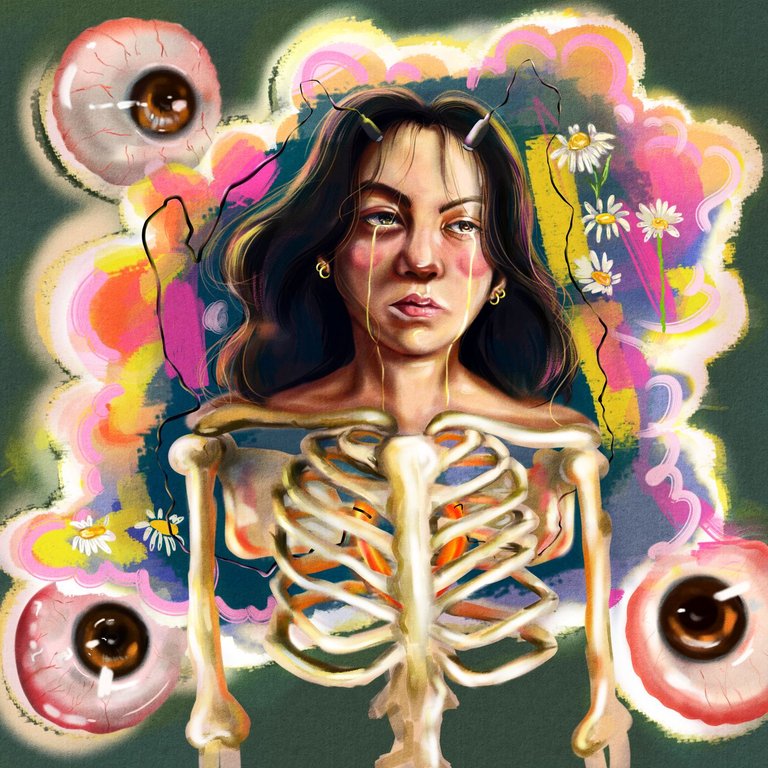 For the final touch up I tone down some of the highlights to make it more natural to look.

---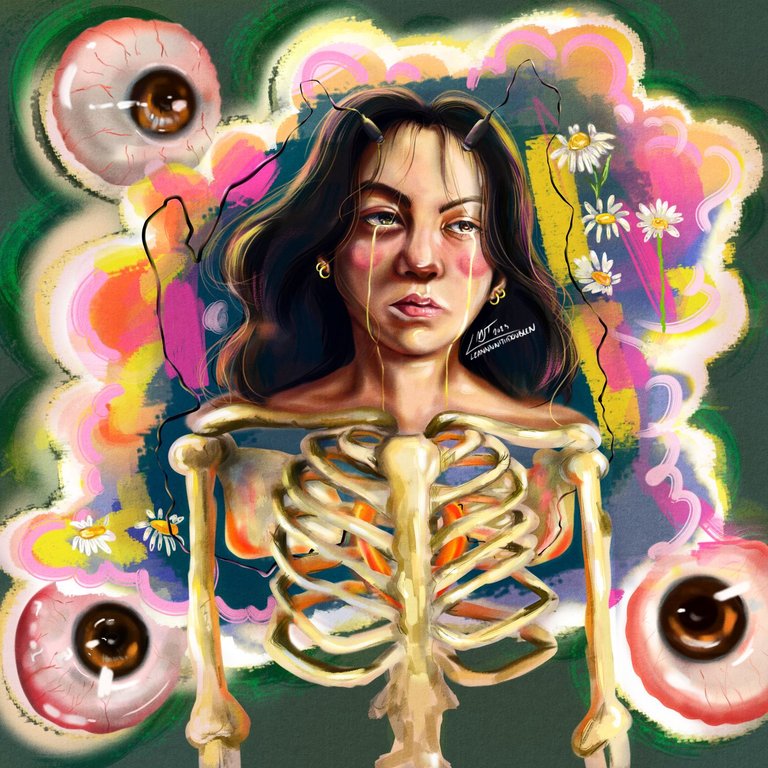 What inspire you to still draw no matter what happen?? Let me know!
As conclusion to all you do what makes you happy because we don't know what will happen to us in the next second or days of our life. Keep practicing!! believe in yourself follow what your heart desire and always always keep thinking positive! :)
---
Thank You!!
---

Speed Drawing Timelapse




https://youtube.com/shorts/M7_CQx81kxE?feature=share
---
---
Materials:
XP-Pen Deco 1 v2
Krita
Duration: 7 hours 21 minutes
---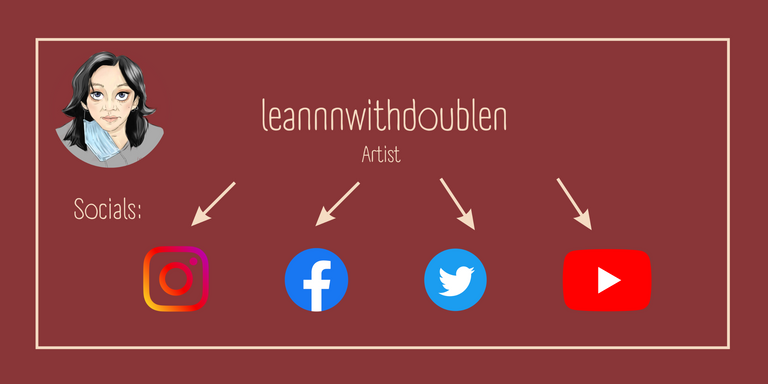 ---
---