NFT Showroom Artist Spotlight: @mattbrown.art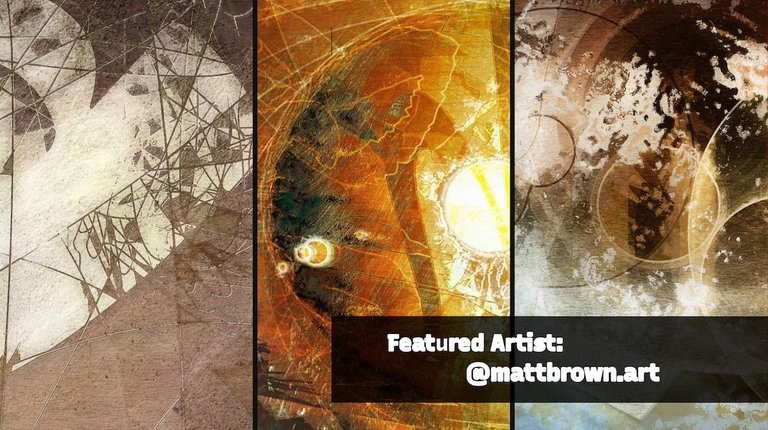 ---
---
Q: Tell us a bit about yourself!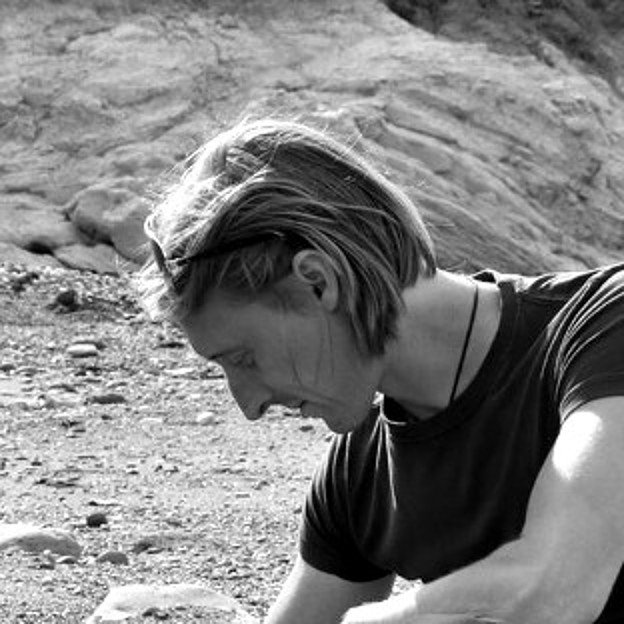 I'm Matt Brown and I'm an artist living in the Isle of Man – a beautiful island in the Irish Sea.
I live in a small fishing village with winding streets and a close-knit community. It is steeped in Viking and Celtic history - something I feel deeply connected with. For example, through my window, I can see a 1000-year-old Viking castle, perched on the rocks and overlooking the sea.
I have a wonderful wife who is my best friend and two incredible, dynamic daughters. My girls keep my days busy and continually invite me to see the world afresh – as a place of possibility and adventure. No matter what I do, I know that their smiles are my greatest achievement.
Beyond art, music is an important part of my life. I love to play my violin, whether in an orchestra or with my wife or daughters. There are few things closer to magic in this world than music's ability to induce emotion and uplift the soul.
Whereas art is my subjective exploration of the universe, I also love to explore quantum physics, relativity, and models of the subatomic world in a more formal way too. Spending a few hours in deep thought, trying to understand the nature of reality is one of my absolute favourite things to do. I guess it's my own form of meditation.
We have an allotment and spend many hours sinking our hands into the dirt and trying to encourage food to grow. It doesn't always work.
We also like to explore the hills, valleys, and beaches of our island. With every passing season, our favourite haunts shift and change, and our sense of self becomes ever entwined with the land and sea and sky of our island home.
Q: What is your art background?
I've been creating art for more years than I'd care to count - in an animation studio, or as a graphic designer, or creating websites and games - but my main passion is abstract digital art. Art is where the real meaning and joy lies for me.
With art, I like to explore light, texture, and complex forms that can draw the viewer in and give them an experience that is both alien and beautiful.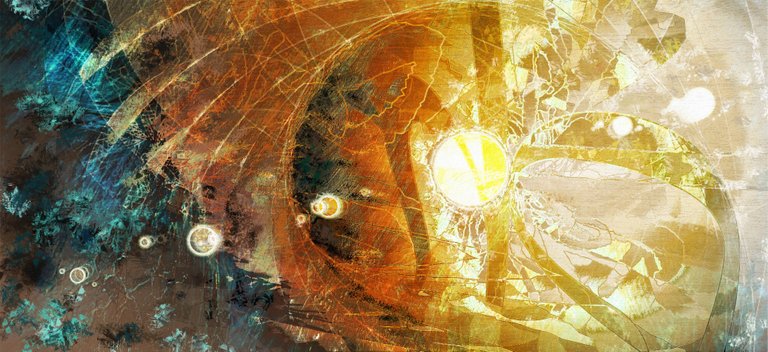 I use my artwork to explore the inner worlds of the mind. What abstract art means to each of us is personal and unique, and in that sense, it is a reflection of our own inner workings. The more we bring of ourselves to an abstract piece, the more we discover our intrinsic nature. Because of this, abstract art is a powerful tool for self-exploration.
I also use art to explore the underlying complexities of the universe – the intricate recurring patterns that are echoed again and again, from the subatomic scale to the wider cosmos – from the smallest eddy in your mug of coffee, to the largest galaxy.
I name my works using the Manx language of my island – a form of Gaelic, and an important part of my heritage. I generally use GIMP (GNU Image Manipulation Program) to produce my work (although I've recently acquired Photoshop too), and when things are going well, a piece will slowly begin to emerge from the blank screen. Most of the time, the less I think about it the better the results.


---
---
Q: How long have you been in cryptoart/ NFTs, how did you discover them and what has been your experience so far?
I've only recently entered the world of cryptoart - only in the last two months or so. I took a break from serious art while my girls were little so I could dedicate my time to them, and in the interim, the world of digital art had progressed massively. Previously, I used to earn a living from selling large canvas prints of my work. I would create my own frames and ship the finished works around the world.
Digital art was always my strongest medium but I was continually disappointed that it wasn't recognized alongside more traditional media since it was impossible to sell them as original works. I can't tell you how thrilled I was when I found out this problem had been solved. I had come across cryptoart by chance whilst browsing Twitter one night.
My experience so far has been amazing. Finding an outlet for my art has been like a part of my soul waking up again after a long time. It's so easy to convince yourself that you can live happily without a certain thing, but if it's an integral part of your DNA, then you're never going to be truly complete until finding a way to incorporate it into your life.
Being able to chat and interact with other amazing artists is something I've always enjoyed, and the NFT community is great for this. I also love connecting with collectors, discovering their stories, and seeing where my art has ended up.
I can't wait to get to know more amazing artists and collectors and to continue my cryptoart adventure. I'm pretty relaxed about the future. I'm not looking to be an overnight success, but to simply strive to be the best artist I can and enjoy the journey.
---
---
Q: Any new art or upcoming projects you would like to tease?
I've been chugging along with a very lightweight netbook so far, but this last week I was gifted a refurbished PC which is many times more powerful. I'm SO excited to get to grips with it and find out what it can do.
I would like to incorporate 3D modeling and real-world sketching and bring them both together with my existing technique. I love trying to evolve my style, so this should be quite exciting for me.
I'm also thinking about creating a collection of pieces that are all linked, or that follow on from each other in a sort of abstract narrative or progression. I'm not certain yet how this will look but it's a seed that's been slowly taking root at the back of my mind.
---
---
Q: What are your top three favorite pieces of art you have tokenized on NFT Showroom?
"Londeyr" - This is my wife's favorite. We have a print of it at home. She thinks it reminds her of dappled sunlight through leaves, which in turn reminds me of some of our first dates, where we would find a quiet spot on the island and wile away hot afternoons lying beneath the whispering beech trees.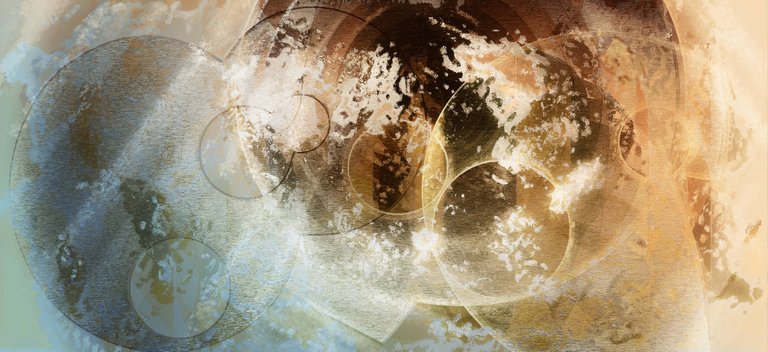 ---
"Corys ny Greiney" - This, because it takes my mind to a place far away in the cosmos. It reminds me that there are things out there far greater than us - like infant solar systems or globular clusters, just getting on with their existence without the slightest care about my worries or successes. Somehow life's everyday troubles seem far less significant when placed next to colossal cosmic events.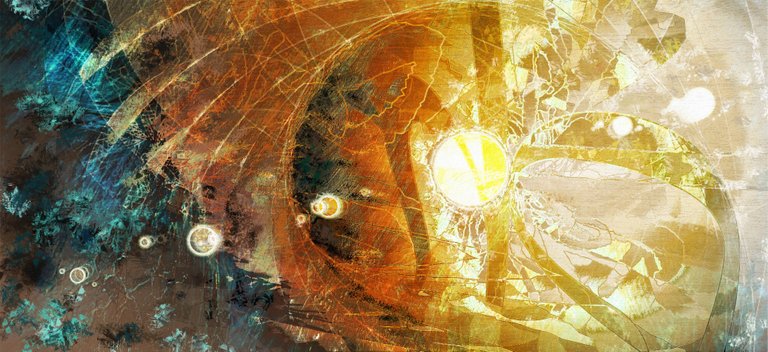 ---
"Mynvrisht" - I like the complexity and mystery of it. It is a mystery even to me. It's not necessarily the most balanced or beautiful piece but it has a certain fragile chaos that is pleasing and it seems to hint at something significant that's just out of reach. It is always the questions in life that give me the impetus to keep exploring - to use the process of creating to find meaning and truth.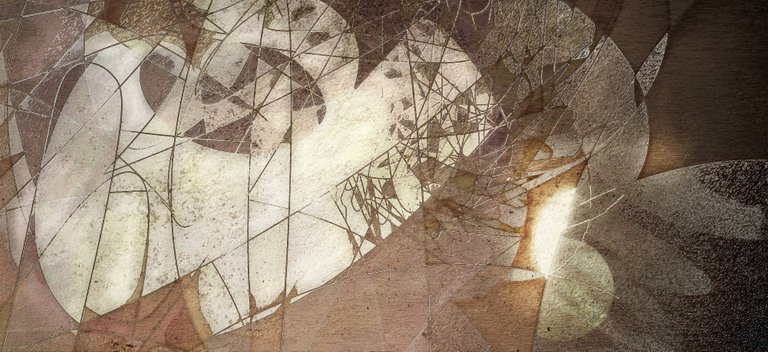 ---
---
Check out the pop-up gallery space for mattbrowne.art in cryptovoxels:
https://www.cryptovoxels.com/s/mattbrown.art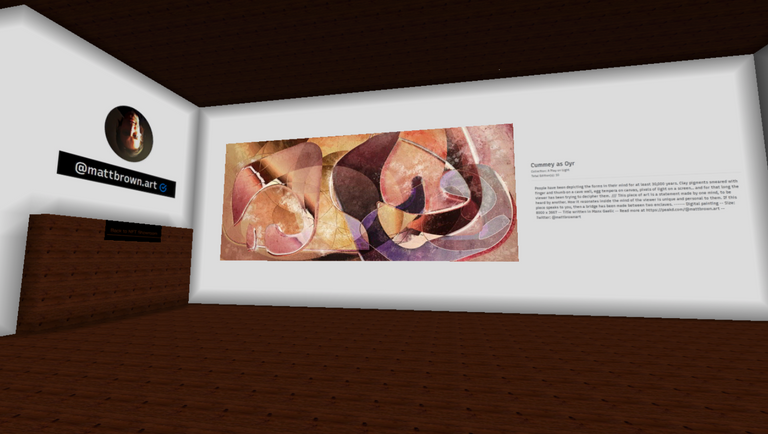 https://nftshowroom.com/mattbrown.art/gallery
https://twitter.com/mattbrownart
https://peakd.com/@mattbrown.art
---
---
Visit the site and browse art: https://nftshowroom.com/
You can follow us on Twitter: https://twitter.com/NftShowroom
or Instagram: https://www.instagram.com/nftshowroom/
For any questions or support please visit us in discord NFT Showroom discord

---
---