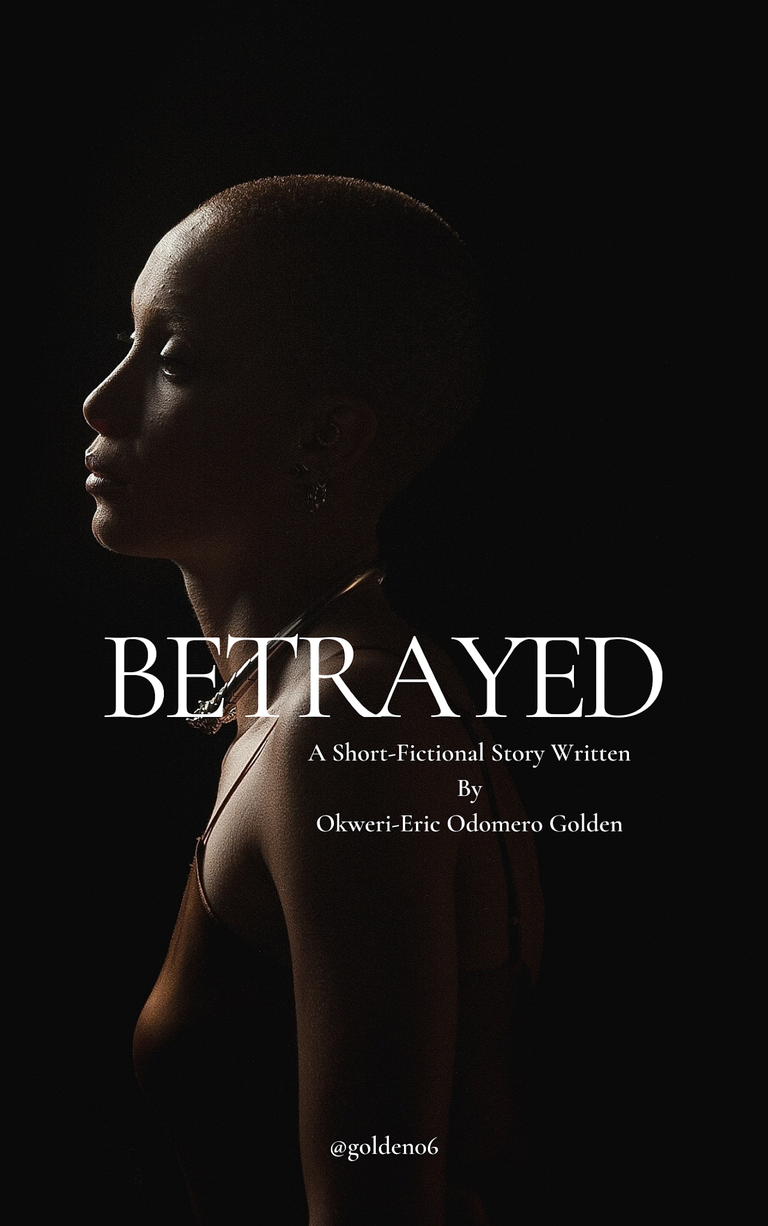 Cover Image Edited Using Canva
"So it was you all along" I said as I turned slowly. Tears flow from my eyes as I turn to find out who was pointing a gun at me. "What happened to you?. What happened to us, "those were the only words I could say. Unfortunately, I was answered with a loud bang. I felt a sharp pain in my shoulder as I fell down. I was losing a lot of blood and I could barely keep my eyes open. "How did it get to this point? ", that's all I could think about as I lay in my own blood. I closed my eyes and try to recall how this mess started.
Few Months Ago
I had a big bright smile formed on my face as my secretary called to tell me Mel was looking for me. I hadn't seen my sister in years and I was looking forward to seeing her. We went our separate ways after I decided I wanted my own life. I literally screamed when I saw my sister. She looked more beautiful than I had remembered. We walked to my office and we started chatting. We talked to a point and then her face went blank. I asked her what was wrong and she said "Are you really happy with this boring life?". I couldn't say I wasn't expecting that comment. Mel and I didn't really get a normal childhood. Our parents died when I was 7 years old and we lived on the streets since then. We did odd jobs for people, I got abused and almost became a slave.Then we started stealing. We went from pickpocketing to armed robbery. But it all went wrong, when Mel killed a woman. The guns were just to frighten them, not to hurt anyone. And that's when I knew it had to stop. I started looking for my family; uncles, cousins, aunts. That's how I found the best thing that happened to us, my aunt Ann. She took us from the street and she gave my sister and I one of her businesses. That woman loved me like her daughter. But for some reason, she took my sister far away from me.
When Mel saw how uncomfortable I was then she decided to change the topic. We talked for a while and she decided to take her leave. Why would she even say that? I love my sister but sometimes I really don't get her. I was very confused so I left work early and went to aunt Ann's house. As usual, she welcomed me very warmly. As we sat down and drank our tea, I told her what happened today. When I finished talking, her countenance changed entirely. Then she let out the most surprising words, "I think it's best you keep a little distance from your sister". "But why? She's my SISTER", l replied with a touch of anger in my voice. Then she said, "I love you and Mel very much but you know your sister. If she wants something she'll get it by any means possible. I tried to talk some sense into her head but she didn't listen. I don't think I can stop her and I don't want to lose you too. So please just do as you're told." I became silent instantly. I guess I have to stay away from my sister. But I couldn't just give up on her without trying. I'll go to her house tomorrow and try to stop her.
I always thought Mel loved our new life. I thought she wanted a good life for me. Why does she want to go back to that life? Why would she think our life was boring? Is she tired of aunt Ann? Is she tired of me? All these questions flooded my head as I made my way to my sister's door, I need answers. At that moment, I noticed that the door was already open. Did she have a visitor? Did someone break into her house? Well there was only one way to find out. I let myself inside her house and I screamed at the sight of what I saw. My sister was lying in a pool of her own blood. I felt hot tears flow from my eyes. I bent down to hold my sister and I saw that she had been shot in her chest. I couldn't hold back my tears.
The police and ambulance got to my sister's home and took her body out of the house. I hadn't changed my clothes by that time so my clothes were stained with blood. I looked at my bloody hands and tears started rushing out of my eyes. That's when my aunt ran into the house and gave me the warmest hug I had ever received. "who could've done this to her?", I could hardly hear myself talk but my aunt heard and she said "I don't know but I do know that everything will be alright. I'm here for you".
Weeks Later
"It's been three weeks and you still don't know who killed my sister?", I couldn't believe what I was hearing . The police who claimed to be doing their jobs keep telling me that there weren't any clue leading to my sister's murderer. I was getting very frustrated. My sister died three weeks ago and I still don't know who killed her. My aunt keeps telling me to drop the case but I refuse to let my sister's murderer go free. But the police weren't helping me in any way. Nobody provided the help I needed. And that's when it hit me. I had a plan. I didn't like it but I had no choice.
Christine was my best friend while I was still a criminal. I offered her a new life but she refused saying "she'd rather die a criminal than to parade with the elites who get rich by stealing from the poor". But she made it very clear to me that if I needed help I could always turn to her. She owns a huge firm but that's just a cover story for how she really gets her money. I had cut off all ties with her but I'm desperately in need of help. Christine warmly welcomed me into her office and we engaged in small talk. As we talked I brought up how my sister was murdered and I asked her for help. She told me she would do everything in her power to find my sister's murderer.
After my encounter with Christine, I decided to take a few days to rest and do some thinking. During those days, I received texts from Chris on how close she is to finding Mel's murderer. I also received several texts from aunt saying how worried she is and telling me to just drop the case. I wasn't ready to rest until I found my sister's murderer. But I knew my aunt was genuinely worried, so I decided to go to her place that evening.
When I got to her place, she was in the shower so she told me to sit and make myself comfortable till she comes out. As I waited for her to come out of the shower, I started fiddling with some documents on the table. Then I caught a glimpse of one of the documents. It had a title written boldly on it. "CLEARING OUT THE PEASANTS". I opened the documents and my face turned pale immediately. From what I was seeing, it was a plan to get rid of all the poor people because she saw them as "The nation's setback". It also says she had been bribing government officials for years just to carry out her plan. And that's when it hit me. It all made sense now. At that exact moment, I received a message from Christine saying, "it's your aunt. SHE KILLED YOUR SISTER". I was so shocked and confused that I didn't even know when I got up. I HAVE TO GET OUT OF HERE. "Don't Move",it was my aunt.
"So it was you all along".......BANG
I slowly opened my eyes. I was in a hospital bed and Christine was by my side. "How am I still alive", I asked. Christine explained to me that when she sent the message she was already on her way to my aunt's house with the police. So my aunt was under police custody and my sister was avenged. But I knew that she would eventually get out of prison.
Few Days After
It was nice to get back to work. I missed sitting behind a desk. But I had unfinished business. I wasn't truly at peace. Christine was calling. "Has it been taken care of?",I asked her. " of course, but where do you want me to keep the body?", Christine asked." Don't worry I'll take care of that". I have a sigh of relief and take a sip from my morning coffee. Now I can rest knowing that my sister is at peace.... wherever she is.
The End
---
Hello everyone, it has been a while here on Hive, that's because I have been writing my mock examination in preparation for my WAEC Examination. Still in the process of developing my writing, my teacher @officialuroga gave me a prompt a long time ago to work on, and I have been working on it, finally it's finished. According to his message to me on WhatsApp, he said, "Write about someone who discovers the only family member they have left has just betrayed them." Coming up with this story was a wonderful experience, thanks to @officialiroga for always taking out time to help me get better. Please tell me what you feel I should work on to become better in my writing, if you love this story, please share, and look forward to another one next month, because I will be working on another prompt soon.
Thank you for reading!
© Copyright, 2021 @golden06