I Discovered the Ruins of a Castle and Explored an Old Uninhabited House from the early 1900s - Discovering Italy with alequandro!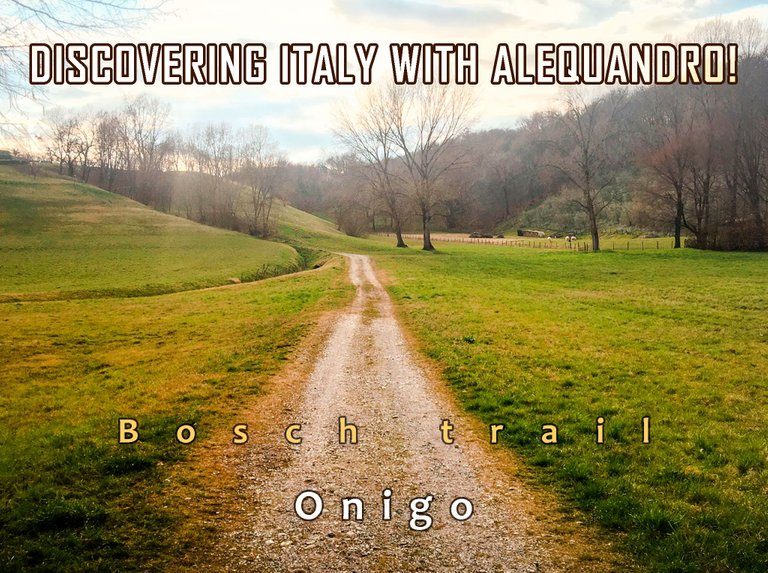 Hello everyone!
Today I am taking you to Onigo in the province of Treviso.
A place that I have never visited before and that I decided to explore letting myself be influenced only by my instincts.
ITA
Ciao a tutti!
Oggi vi porto a Onigo in provincia di Treviso.
Un luogo che non ho mai visitato prima e che ho deciso di esplorare facendomi condizionare solo dal mio istinto.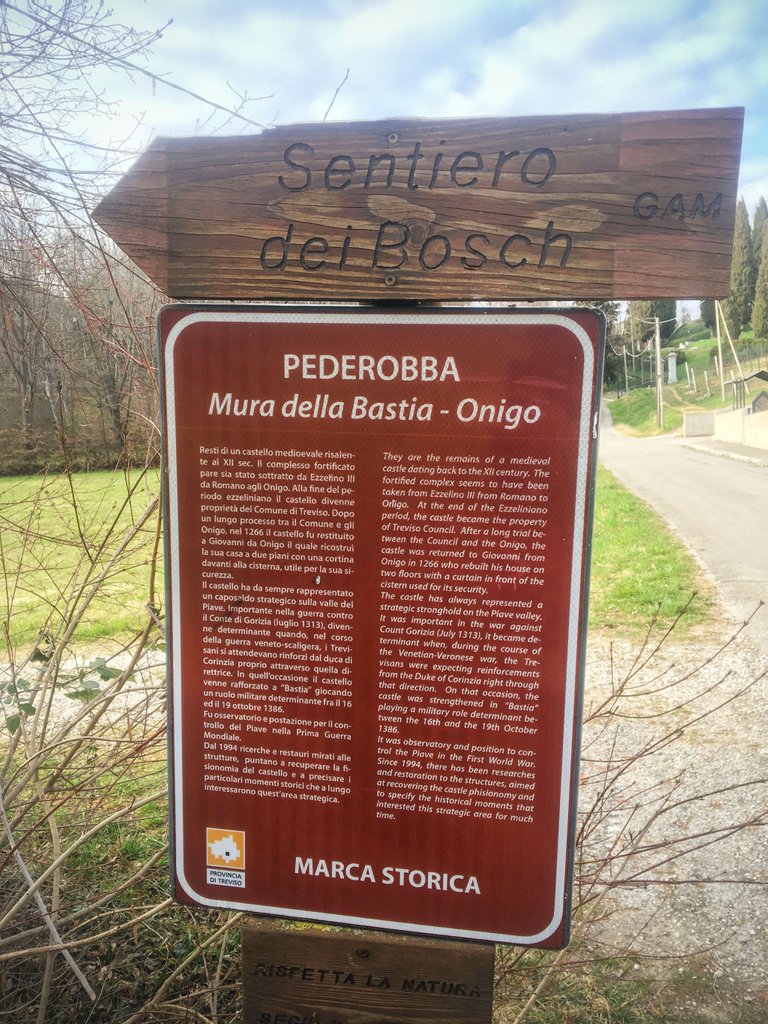 While driving along the main road of Onigo, I noticed a sign indicating the direction for a walk, so I continued and parked in a small town.
A few meters away there was a long staircase that went down the hill and I found myself in front of this sign.
ITA
Mentre percorrevo in auto la strada principale di Onigo, ho notato un cartello che indicava la direzione per una passeggiata, così ho proseguito e ho parcheggiato in un piccolo centro abitato.
A pochi metri c'era una lunga scalinata che scendeva la collina e mi sono trovato di fronte a questo cartello.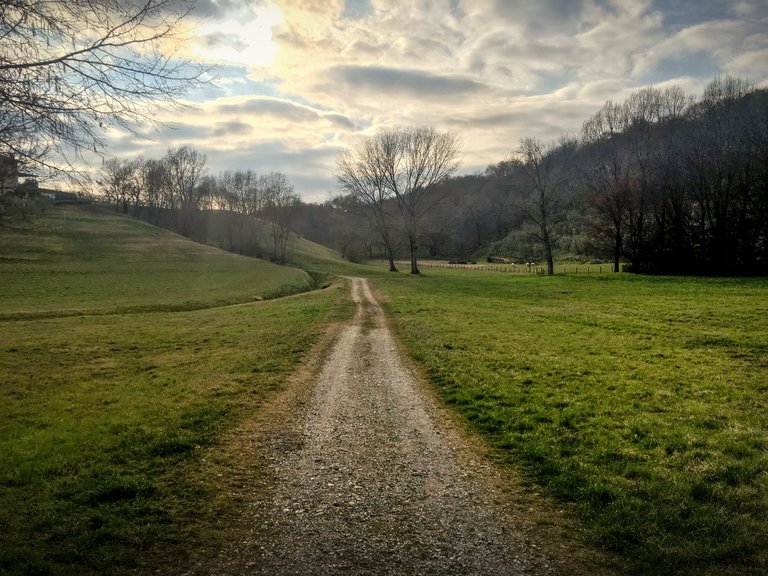 I didn't know there was a castle in this area!
Also look what a beautiful path!
It was time to set out.
ITA
Non sapevo ci fosse un castello in questa zona!
Inoltre guardate che bel sentiero!
Era ora di mettersi in cammino.
In this stretch it seemed to be in an English countryside.
In the background there were also grazing sheep.
ITA
In questo tratto sembrava di essere in una campagna inglese.
Nello sfondo c'erano anche delle pecore al pascolo.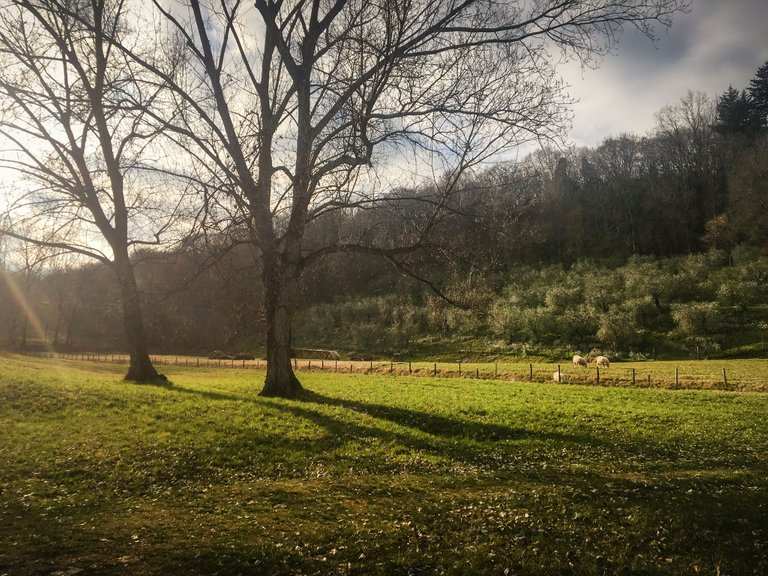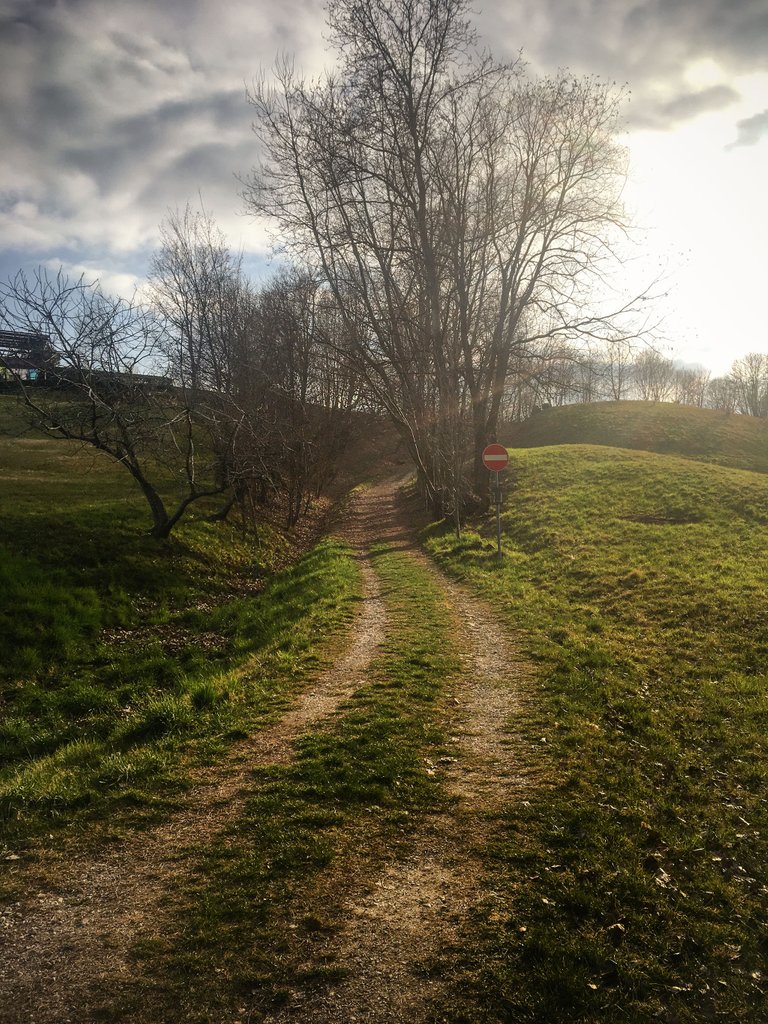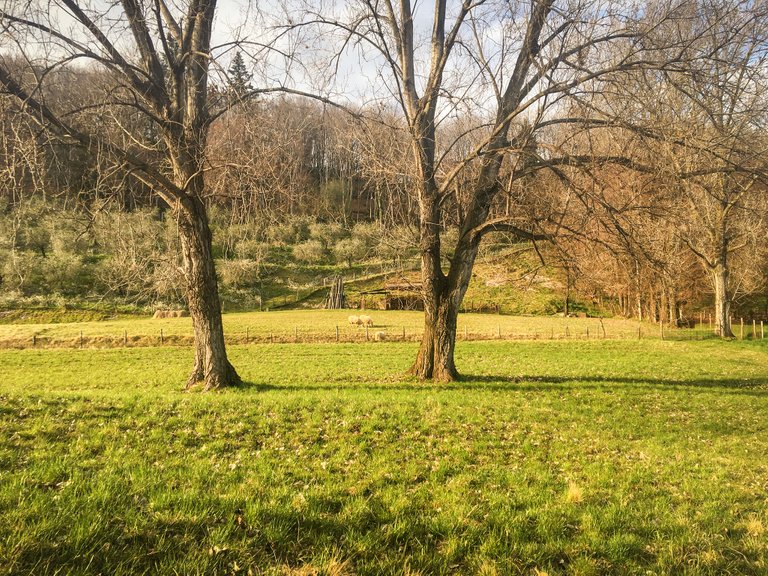 The beauty of that environment was the sinuosity of the hills, a truly pleasant landscape.
ITA
Il bello di quell'ambiente era la sinuosità delle colline, davvero un paesaggio piacevole.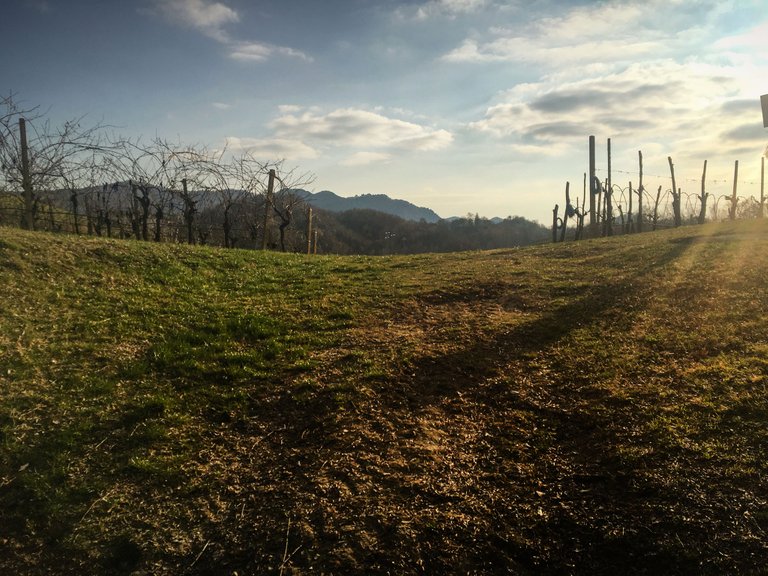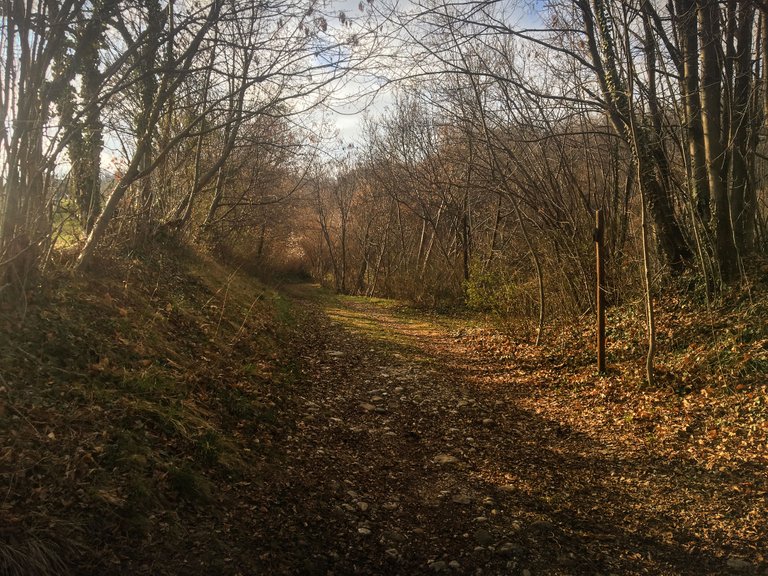 Apparently there was an ancient church nearby, but unfortunately the site was not accessible, it was undergoing renovations.
ITA
A quanto pare lì vicino c'era una chiesa antica, purtroppo però il sito non era accessibile, era in fase di ristrutturazione.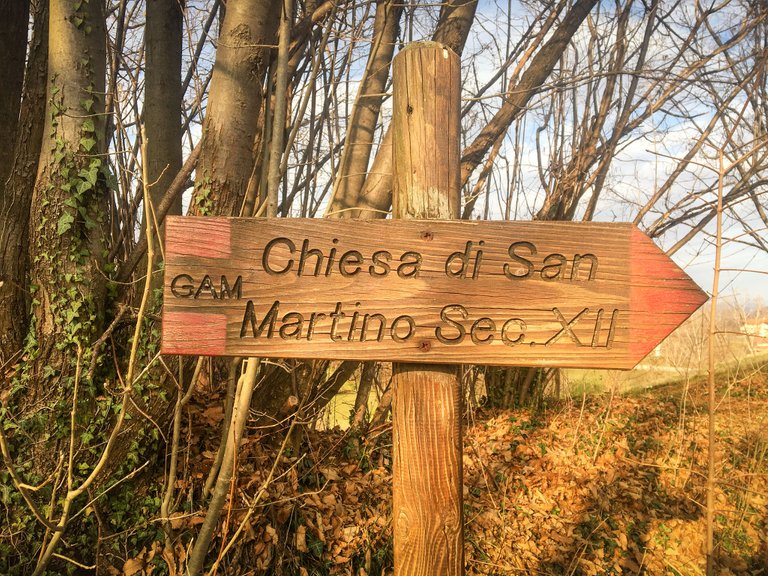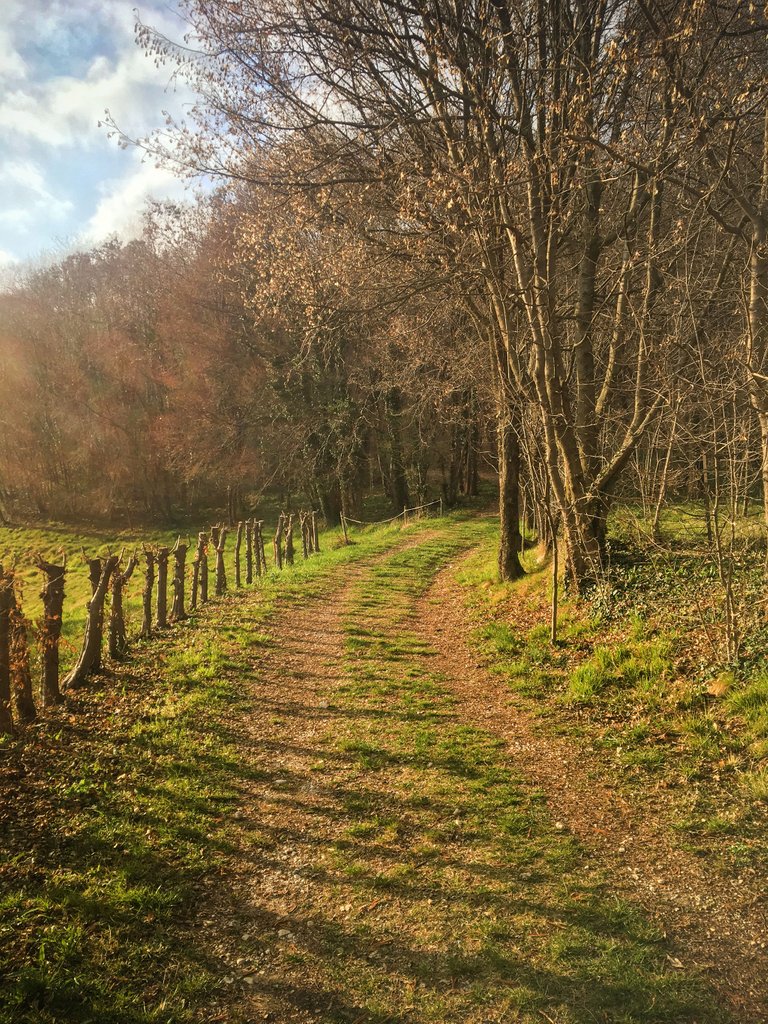 Look at what beautiful views!
ITA
Guardate che begli scorci!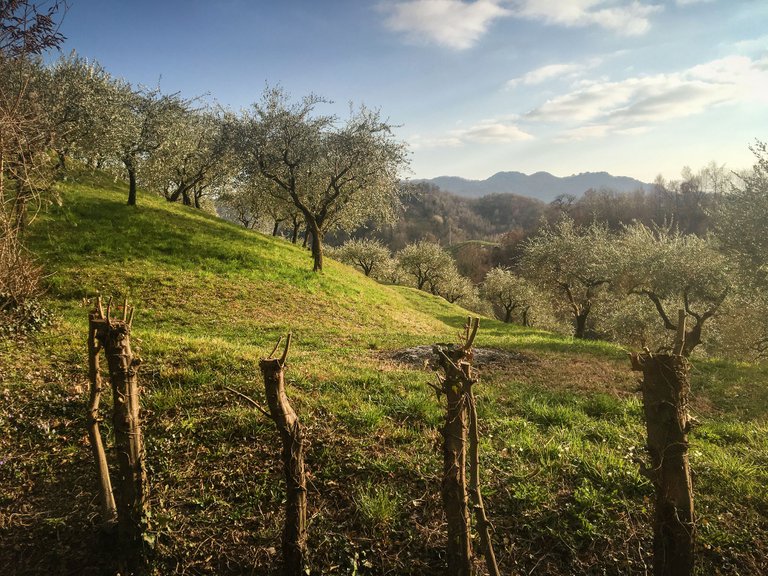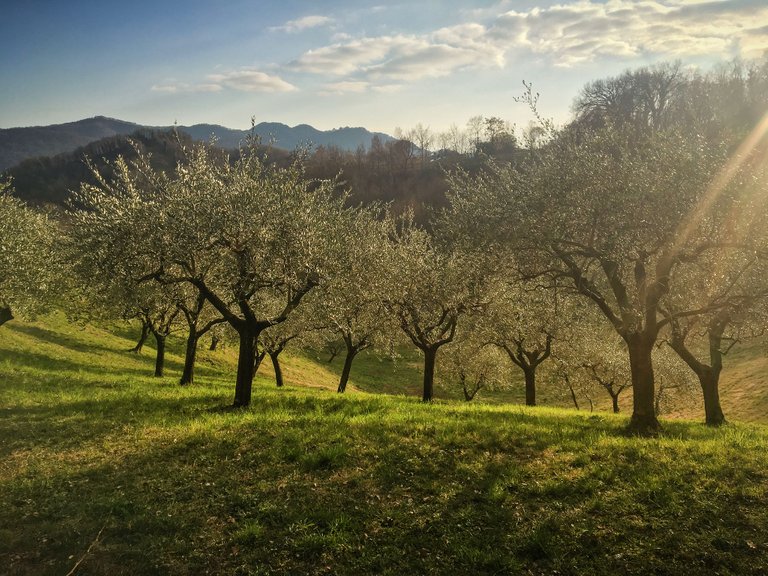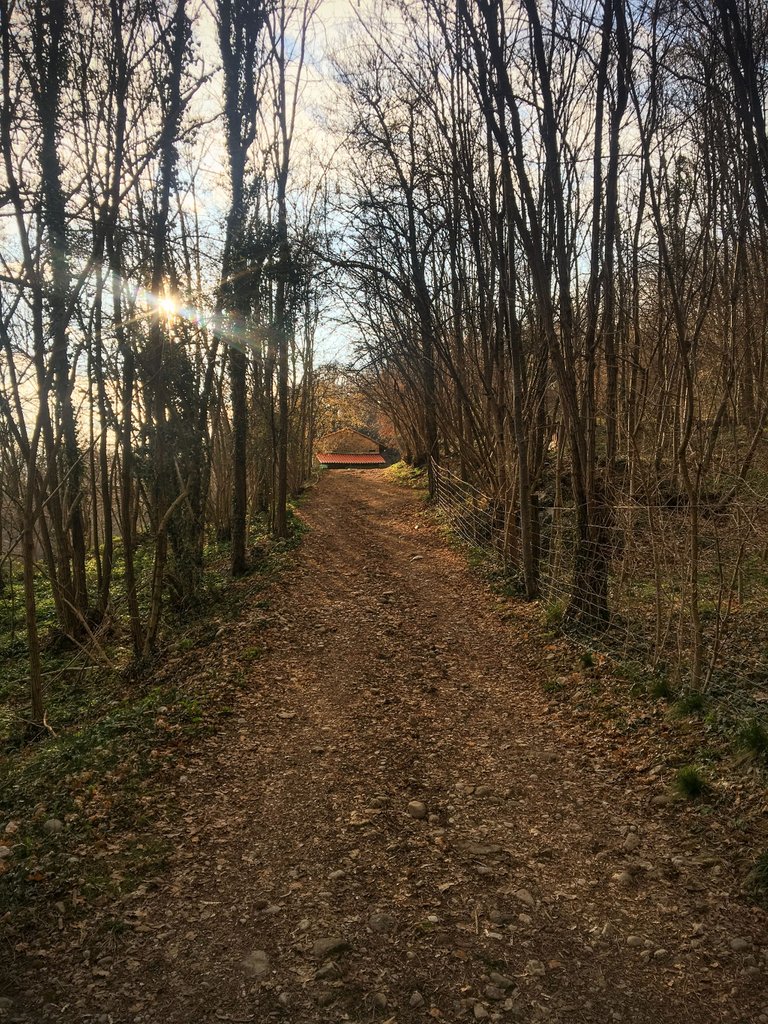 Just beyond a wooden gate separated me from the path that led to the castle.
ITA
Poco oltre un cancello di legno mi separava dal sentiero che conduceva al castello.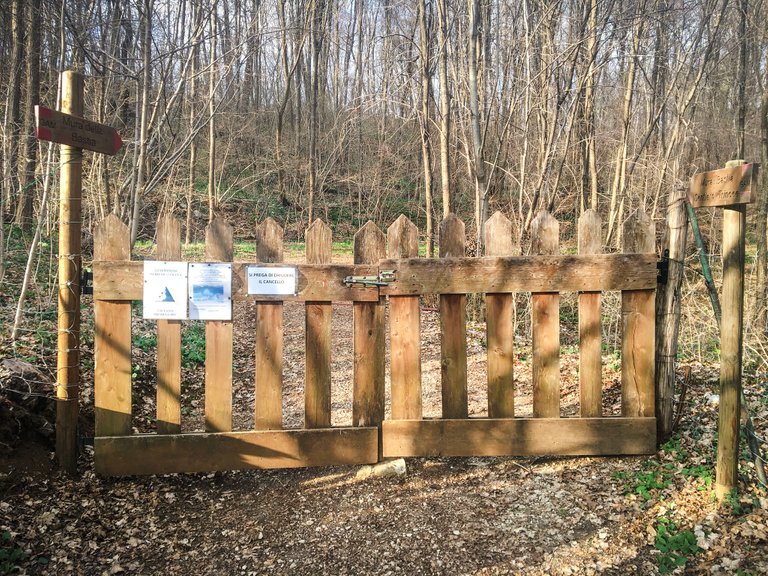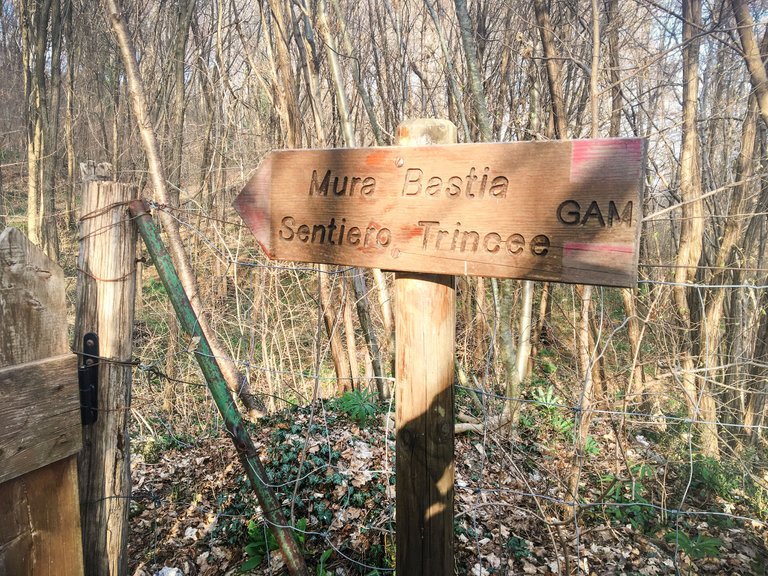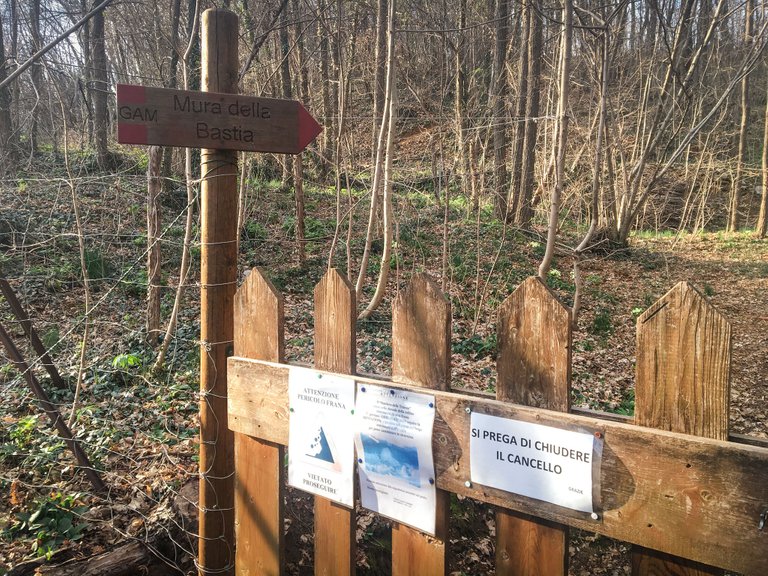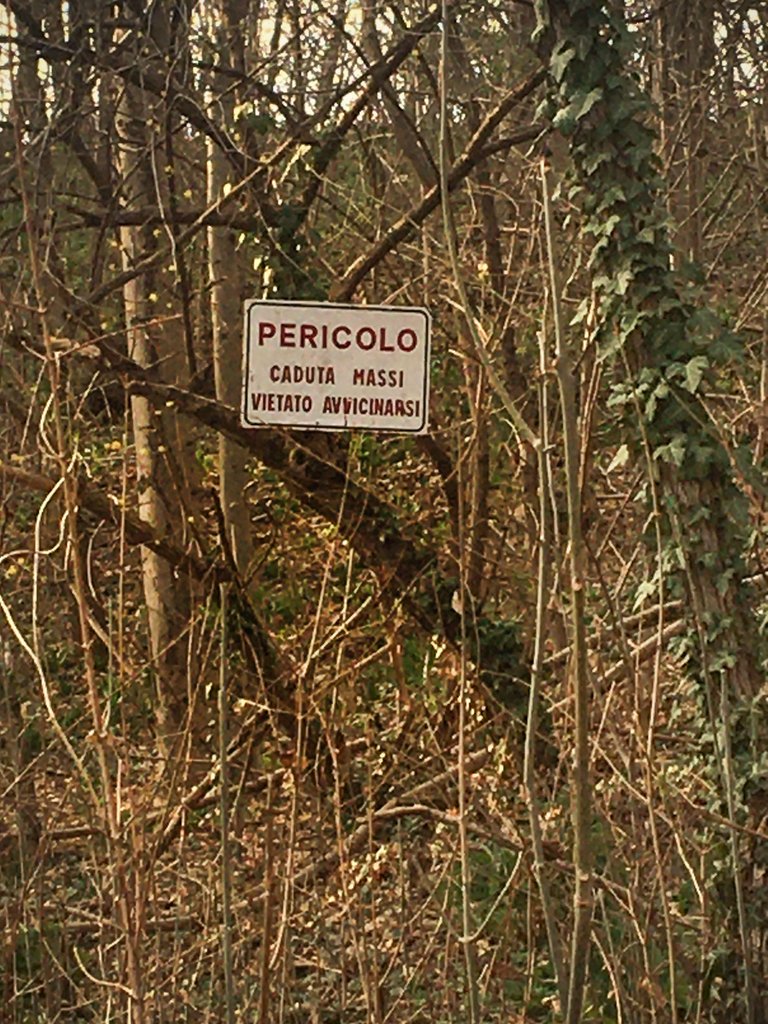 A danger sign alerted me to falling rocks...the castle was not far away.
ITA
Un cartello di pericolo mi metteva in allerta sulla caduta massi...il castello non era distante.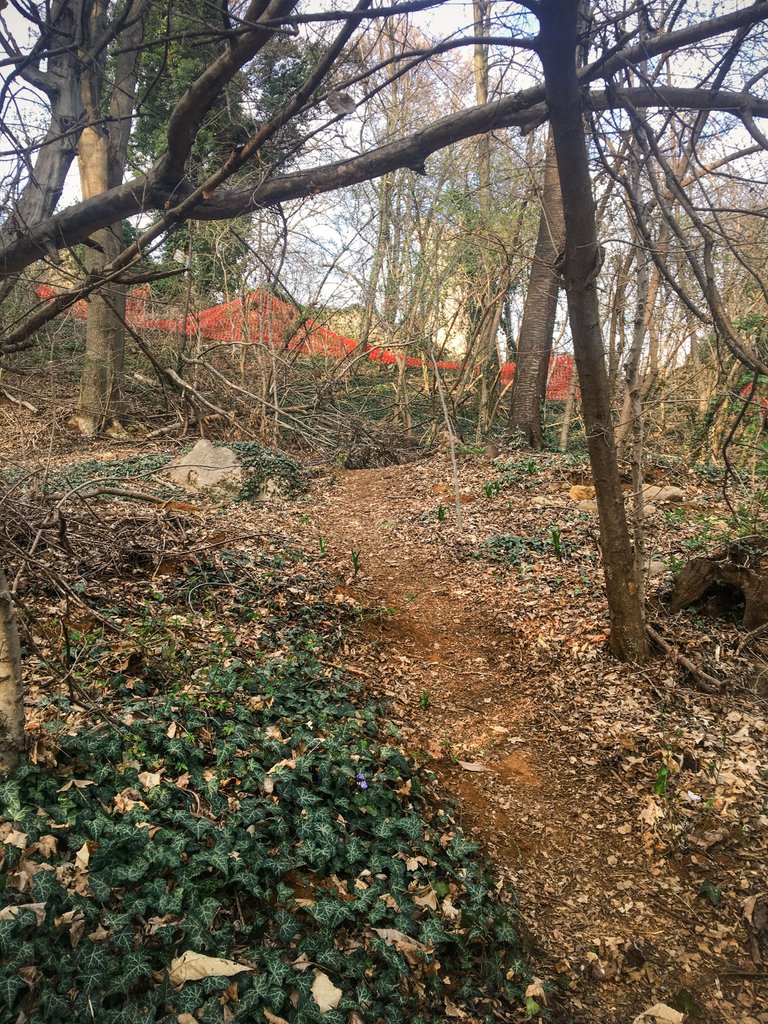 A few steps and I could already see the orange net to delimit the area.
ITA
Pochi passi e già intravedevo la rete arancione per delimitare la zona.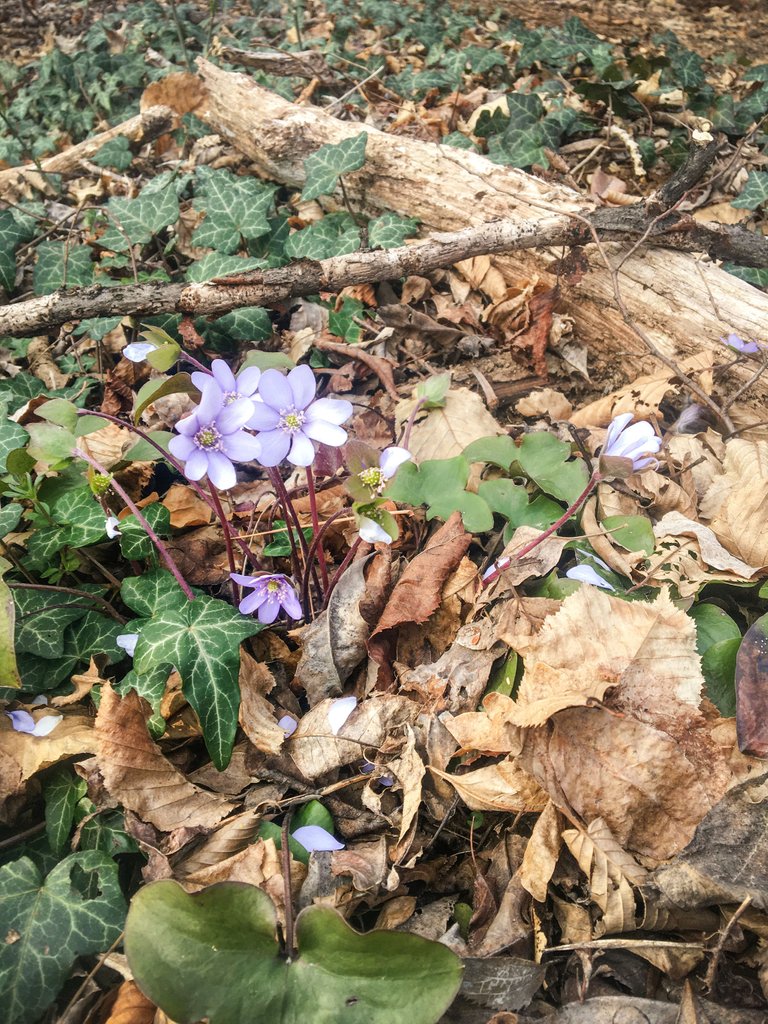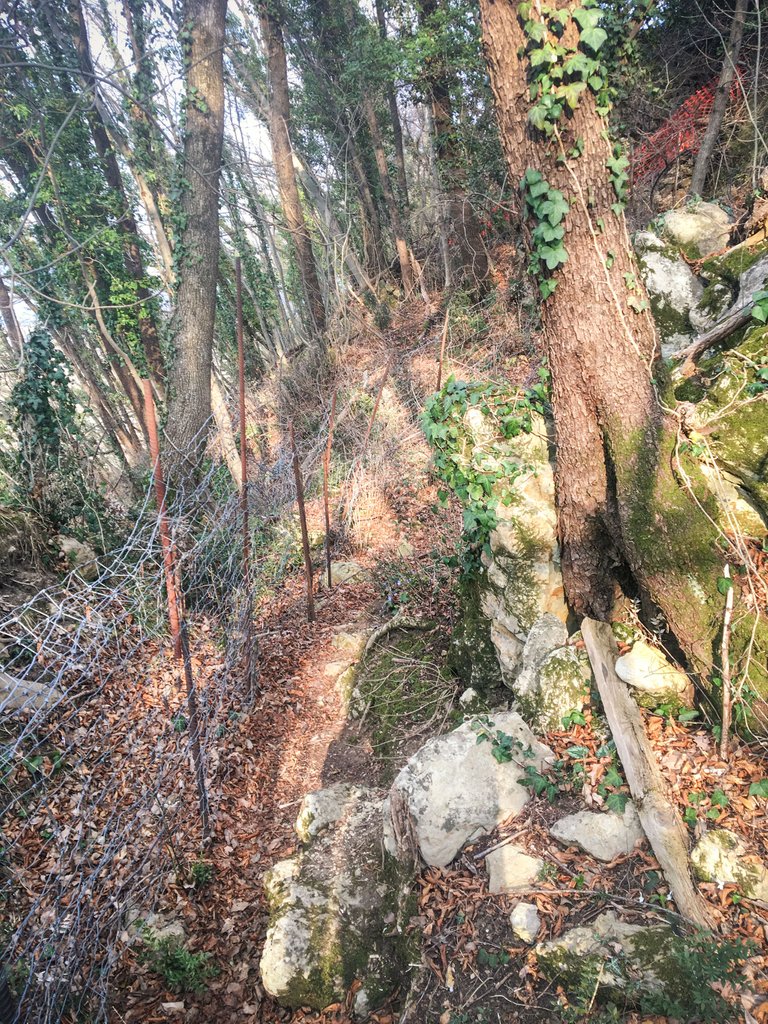 I had arrived at the plastic net and as I hoped someone had created a passage.
ITA
Ero arrivato alla rete di plastica e come speravo qualcuno aveva creato un passaggio.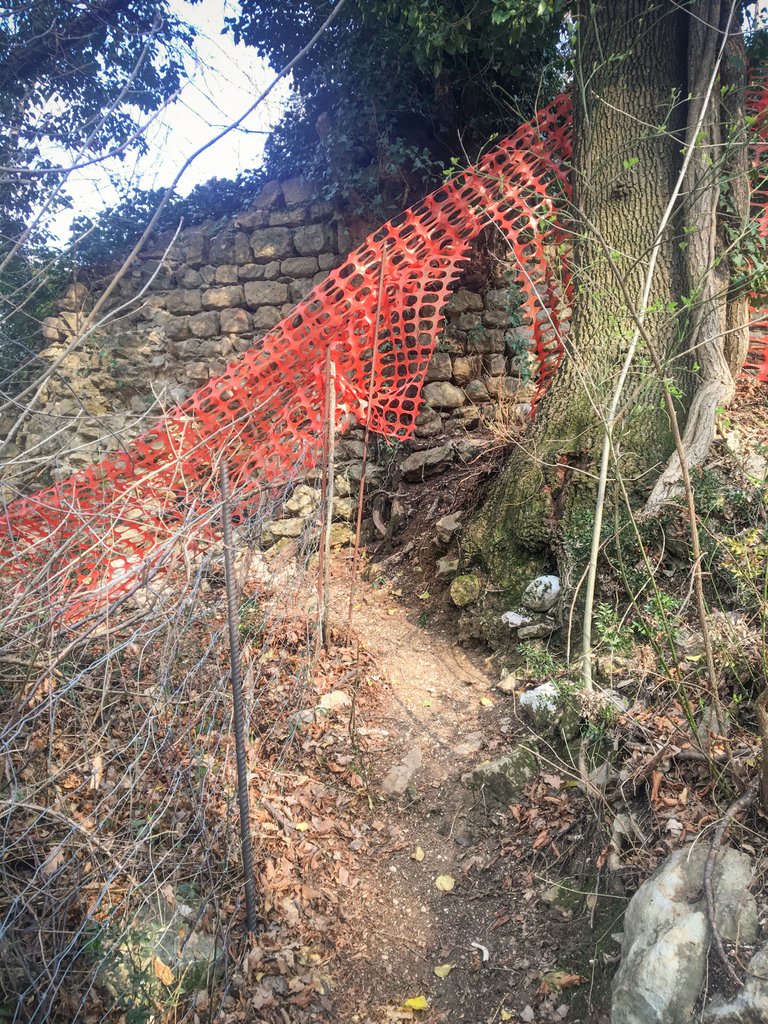 When I saw that stone belt reinforcement support I was amazed!
I had to hurry to pass, I thought: if I sneeze everything falls!
ITA
Quando ho visto quel supporto a rinforzo della cintura di pietra sono rimasto a bocca aperta!
Dovevo sbrigarmi a passare, pensavo: se starnuto cade tutto!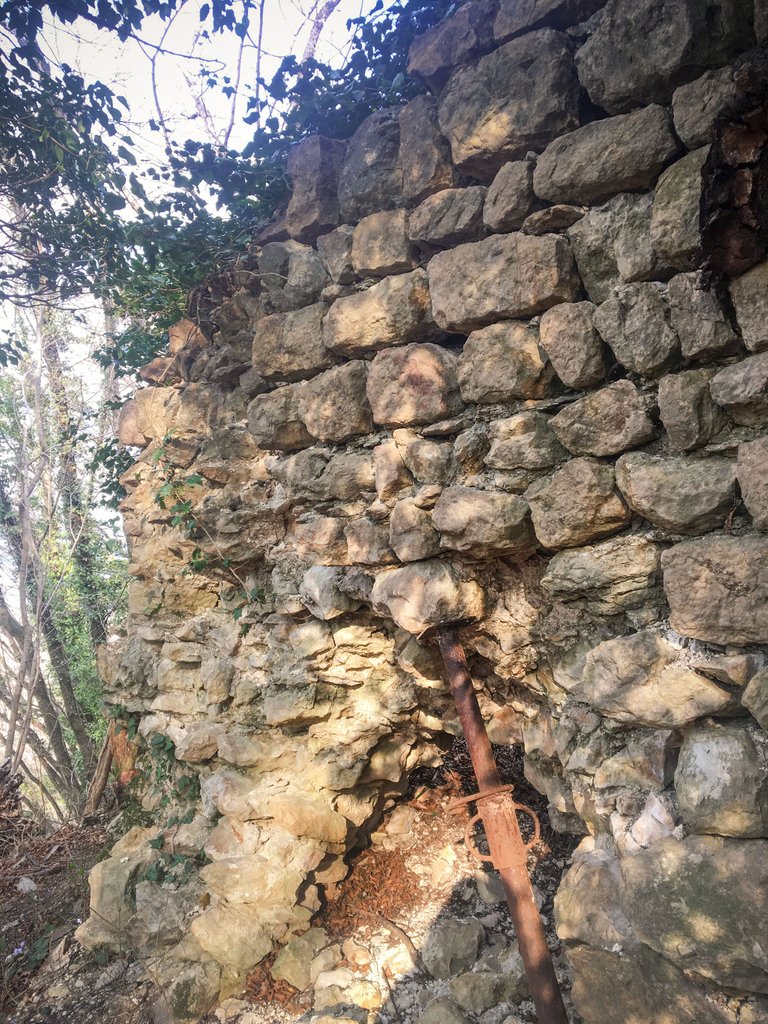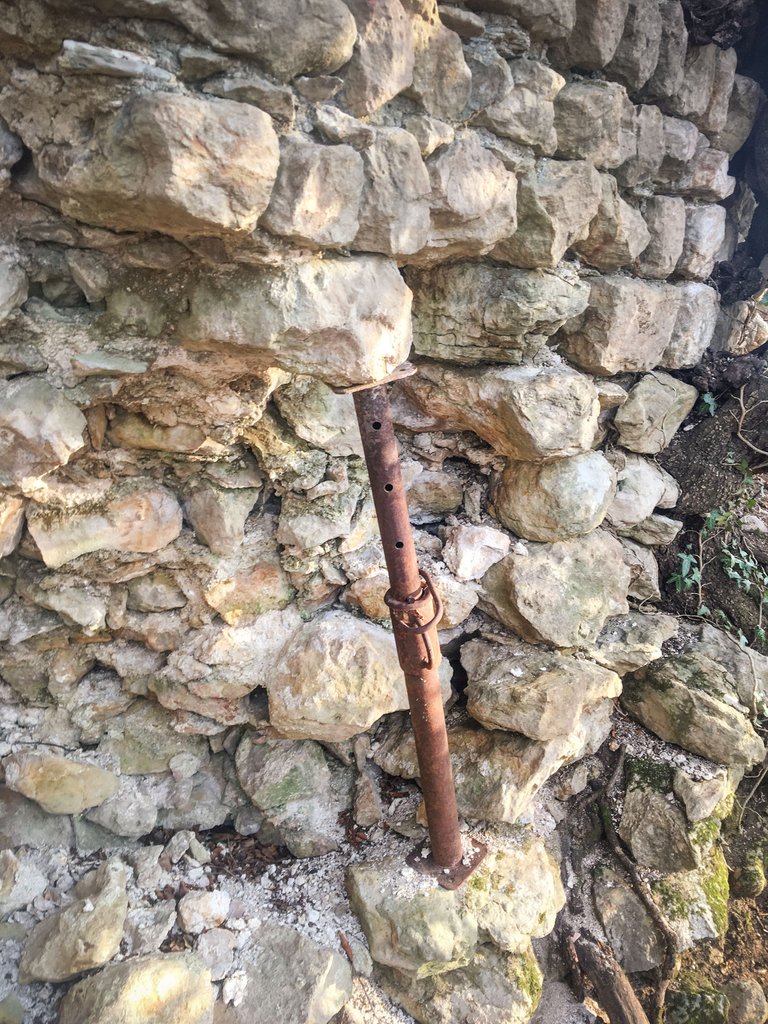 The surrounding wall was not in bad shape.
It is still a 12th century castle!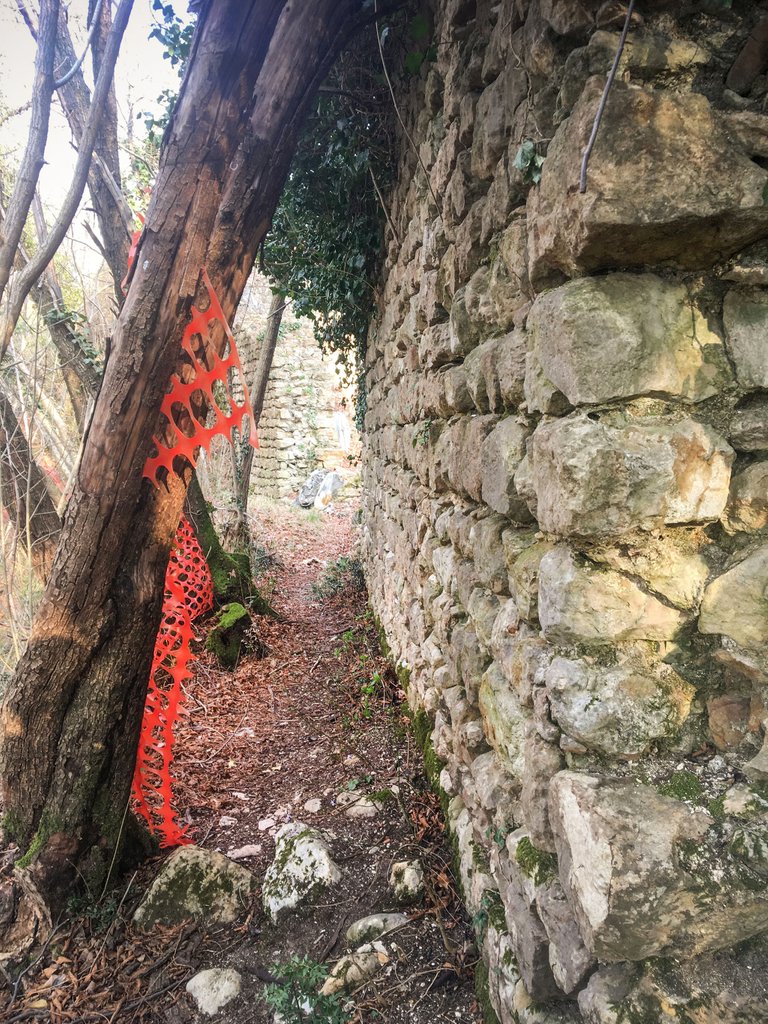 When I found a passage to overcome the walls, I found that unfortunately the interior was very damaged.
ITA
Quando ho trovato un passaggio per superare le mura ho constatato che purtroppo l'interno era molto danneggiato.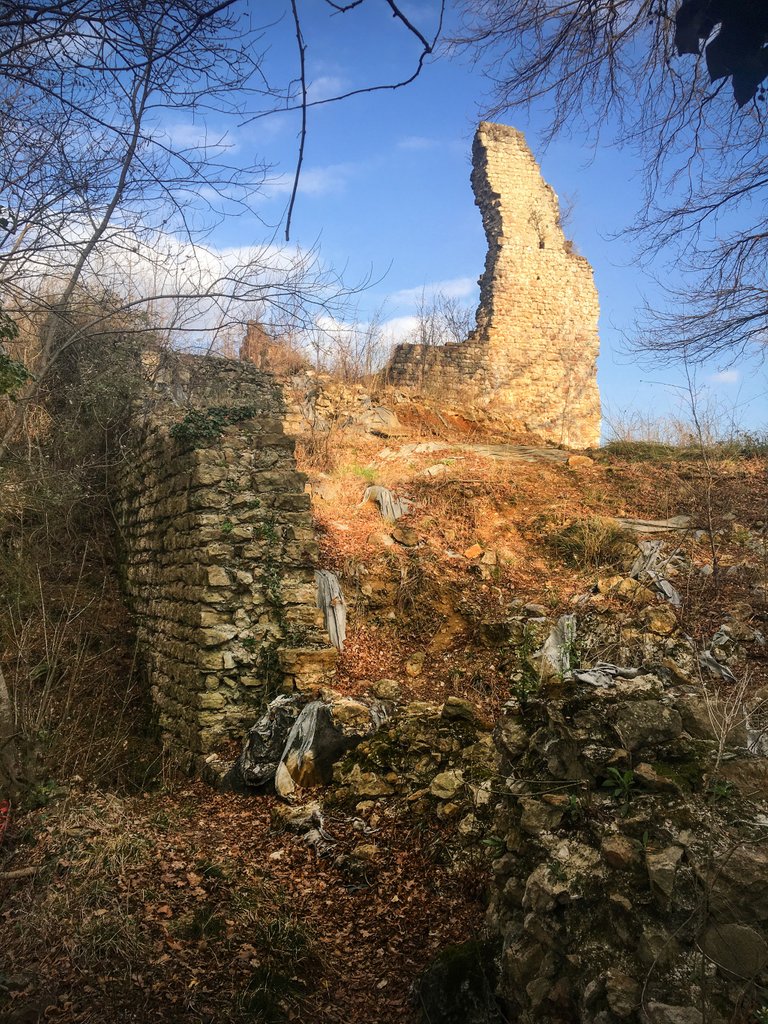 This wall was at least 5 meters high.
Who knows how beautiful this castle was...
ITA
Questo setto murario era alto almeno 5 metri.
Chissà com'era bello questo castello...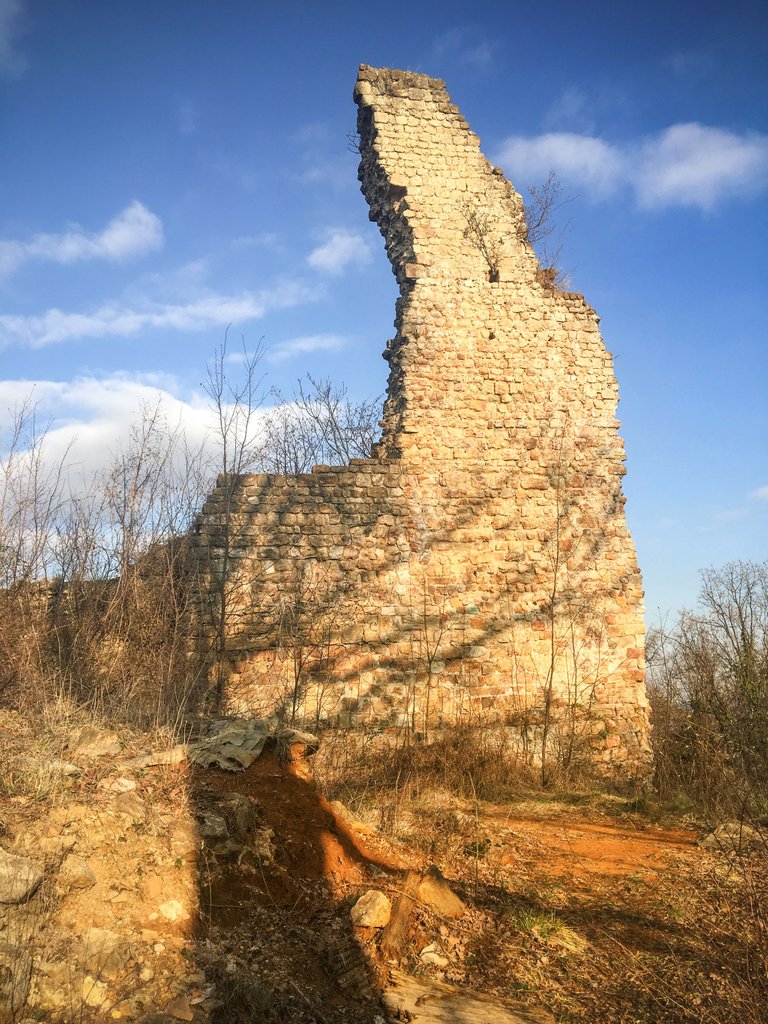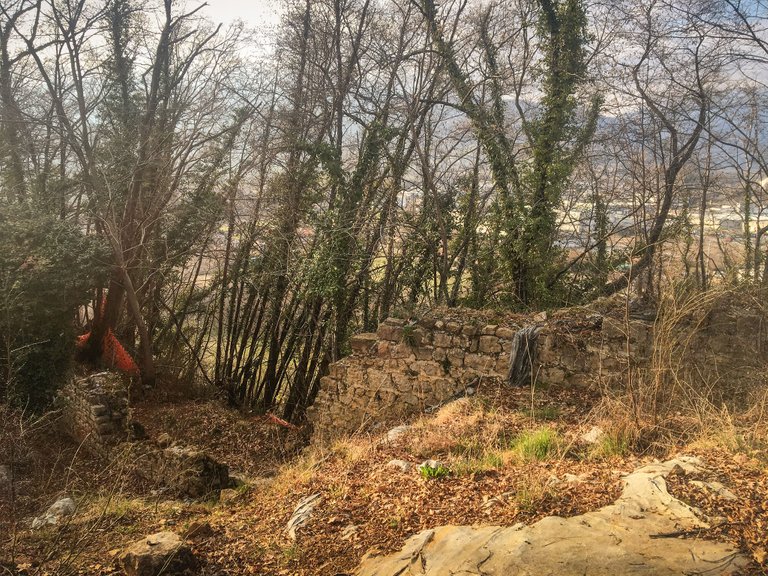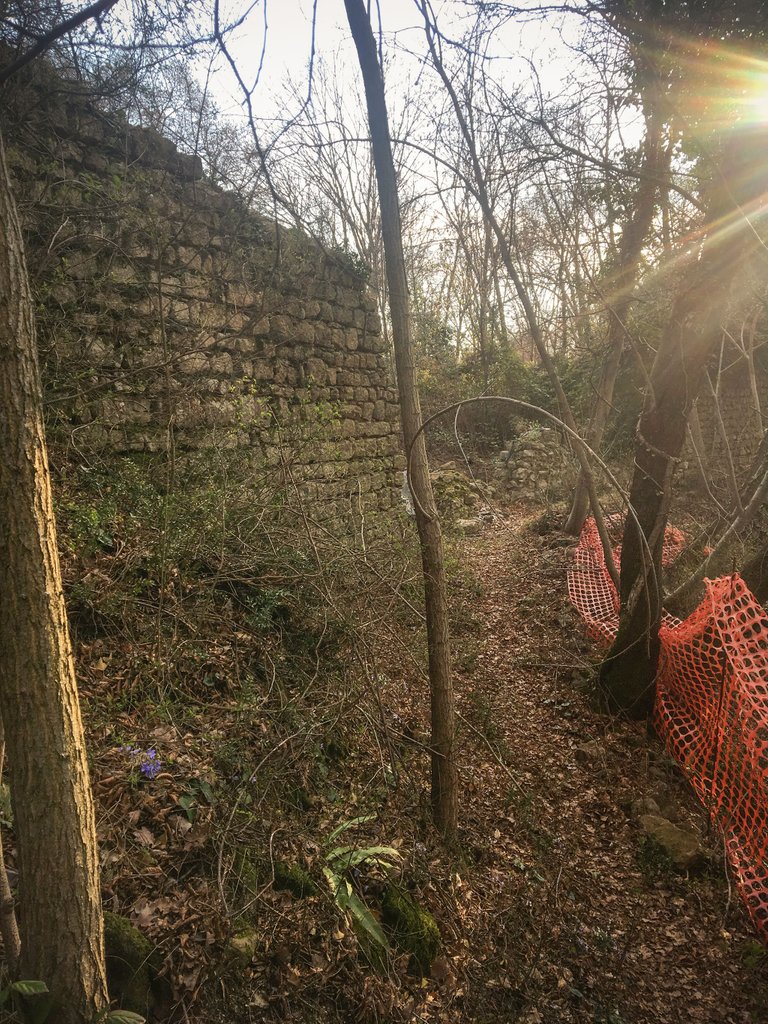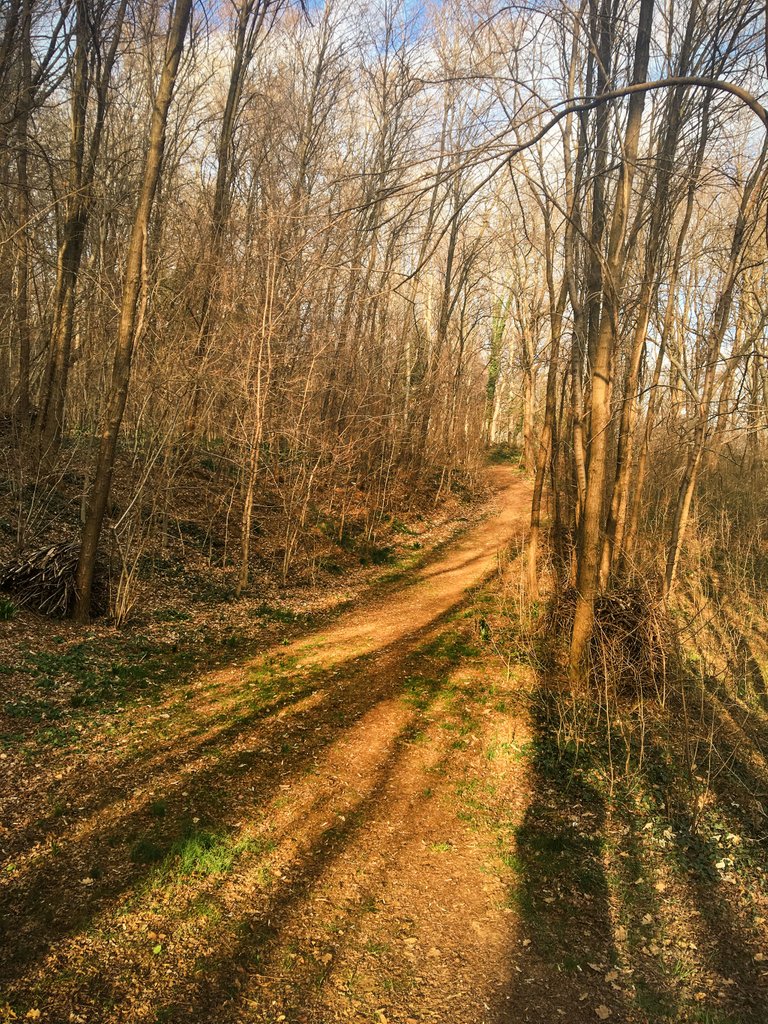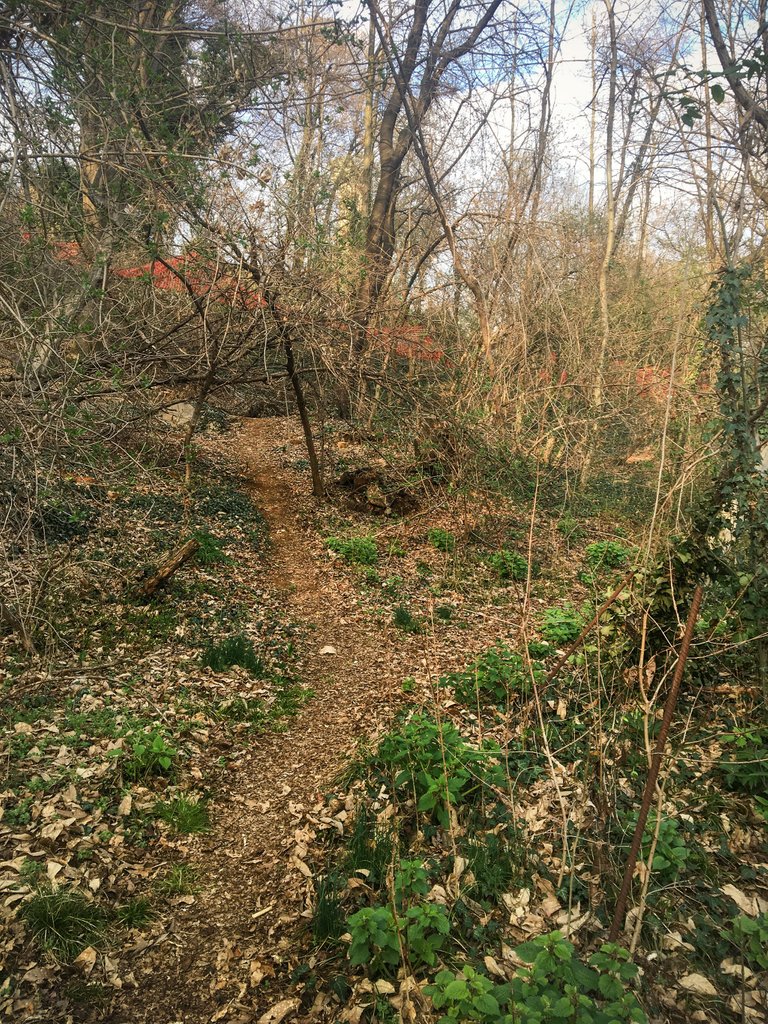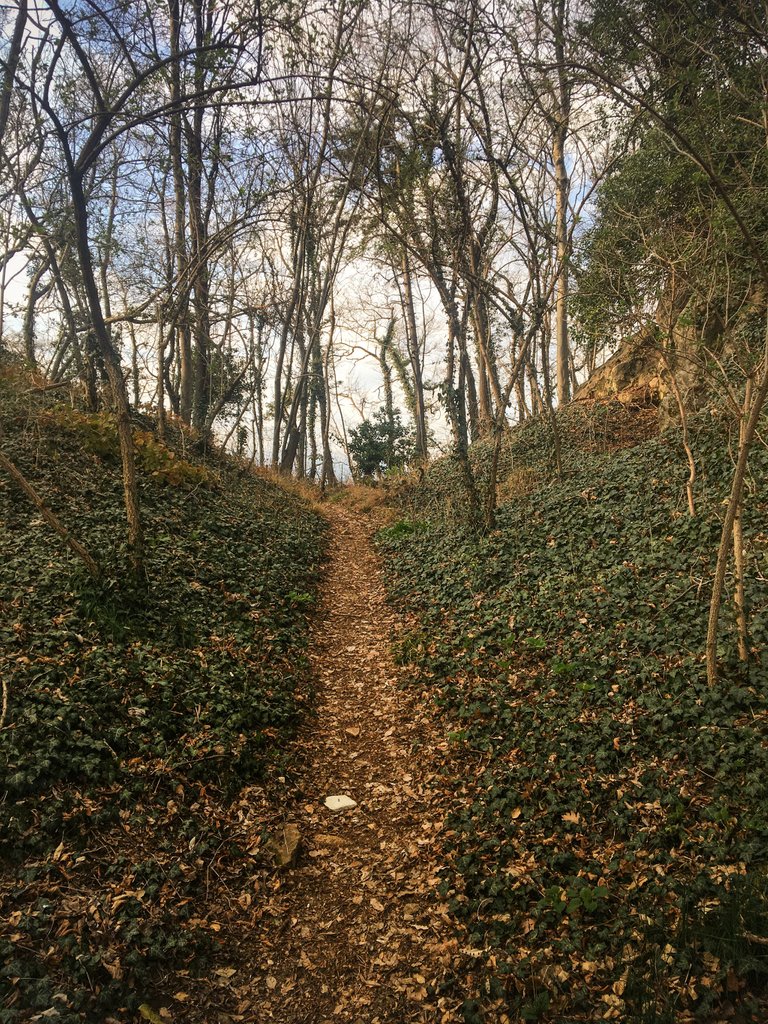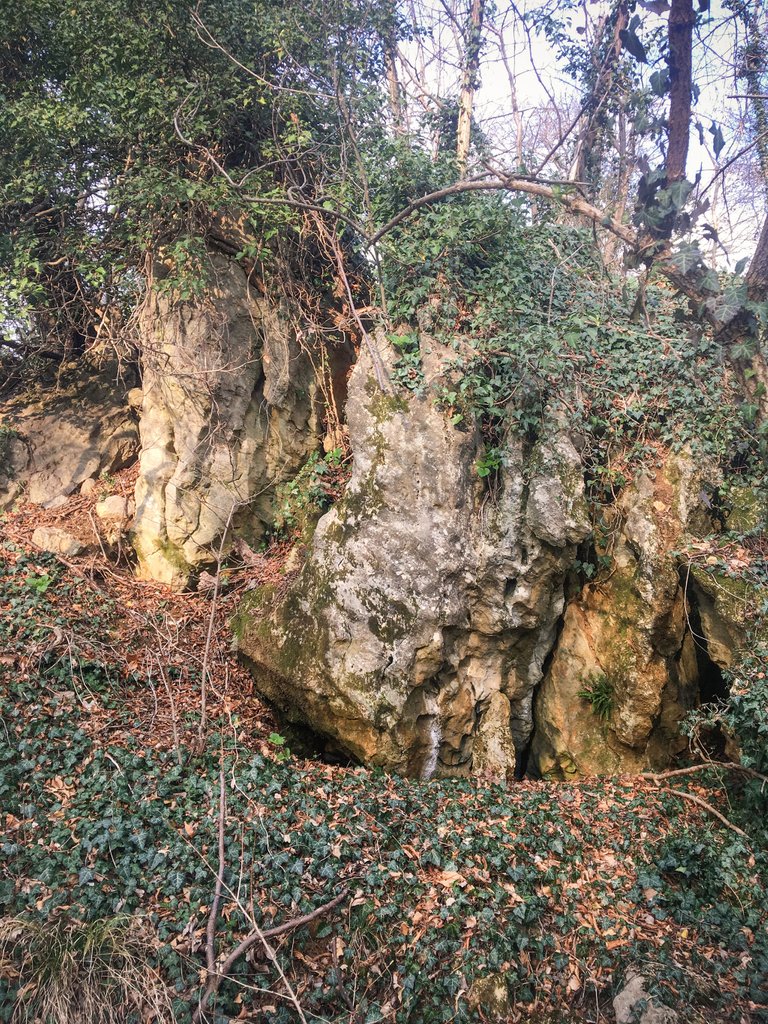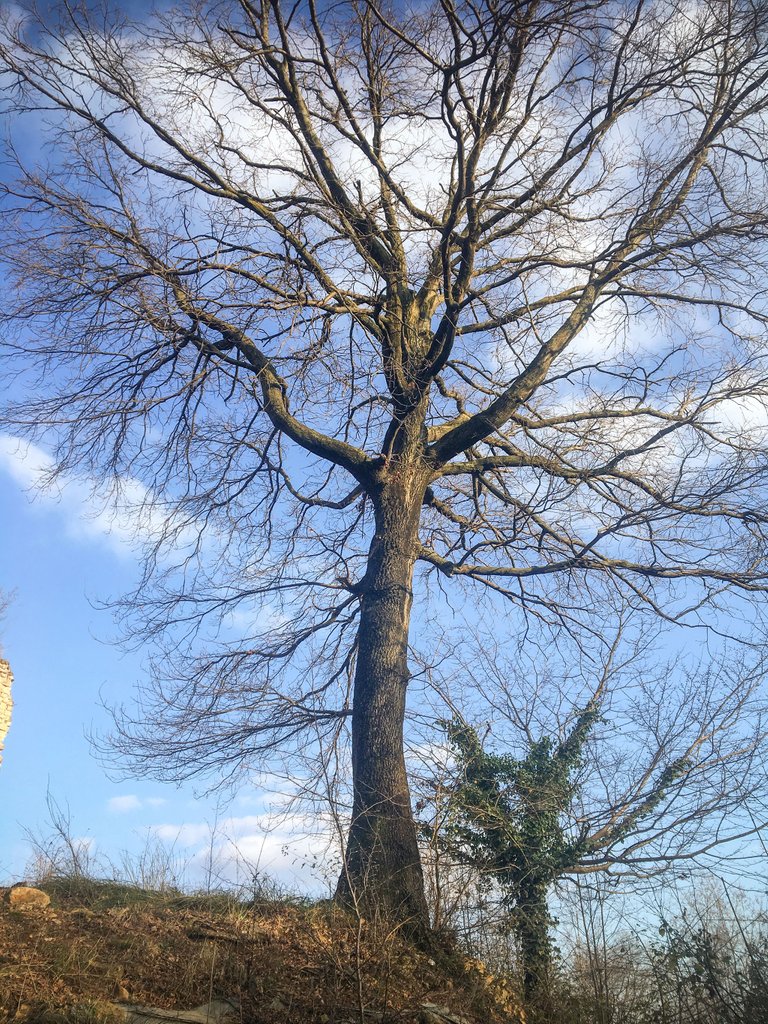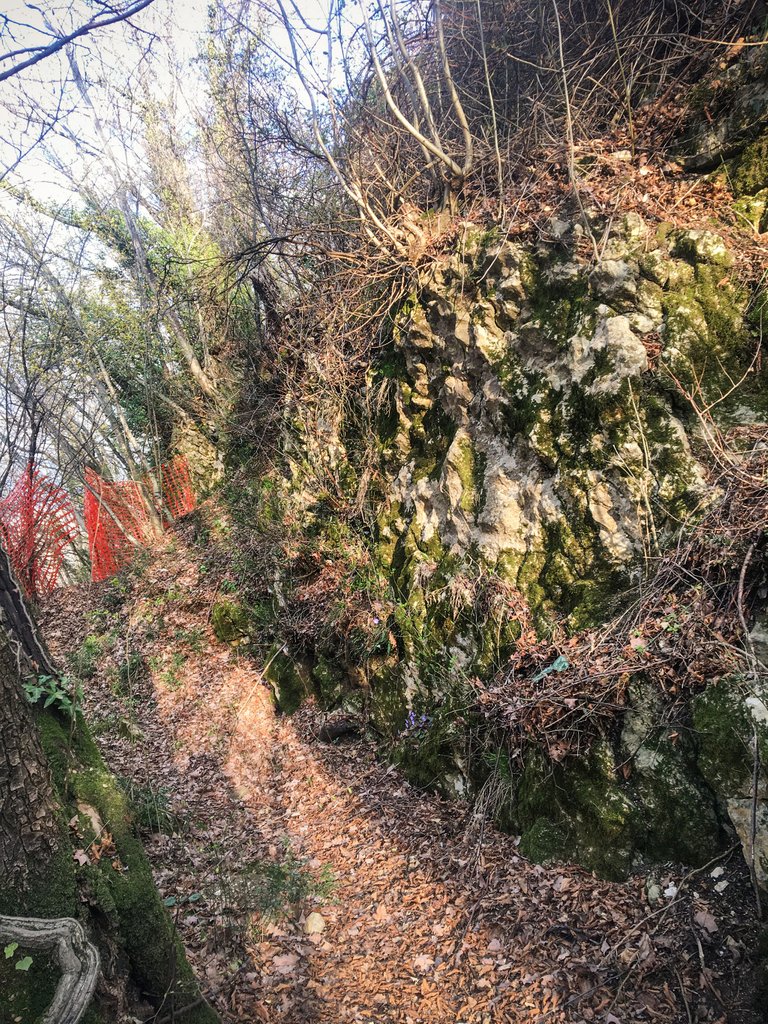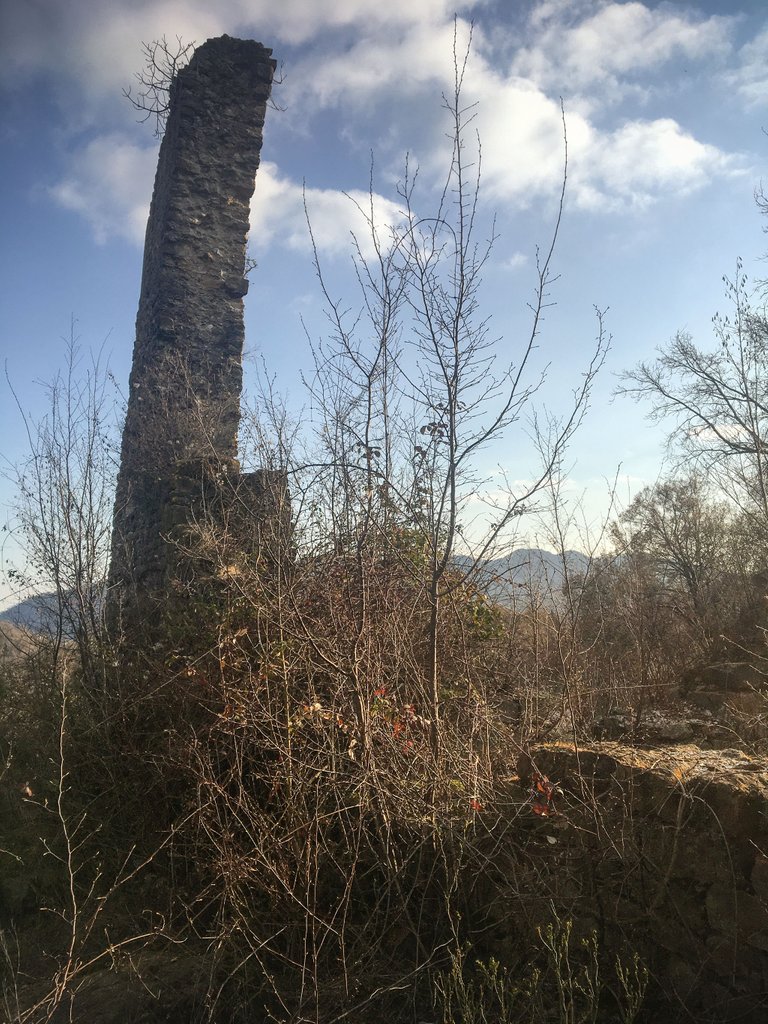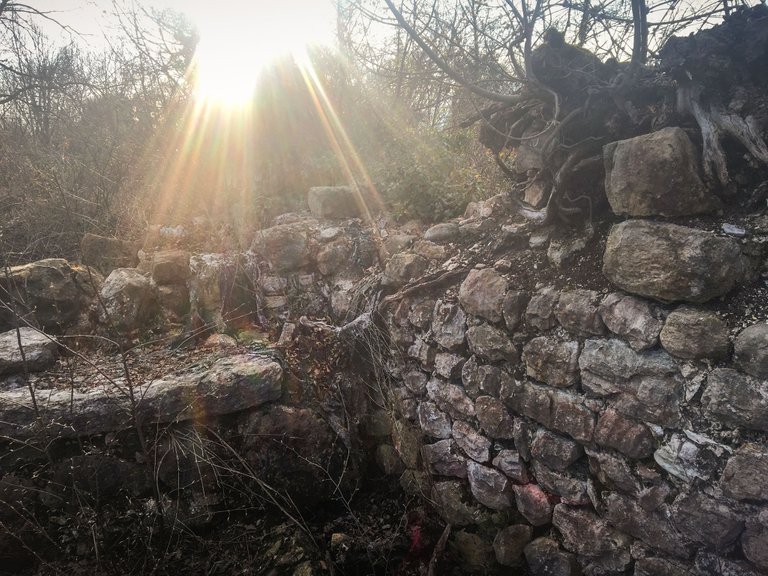 I walked along the perimeter of the walls, but there was only that one to testify its size, so I started walking again and continued along the Bosch path.
ITA
Ho camminato lungo il perimetro della cinta muraria, ma c'era solo quella a testimoniare le sue dimensioni, così mi sono rimesso in cammino e ho proseguito lungo il sentiero dei Bosch.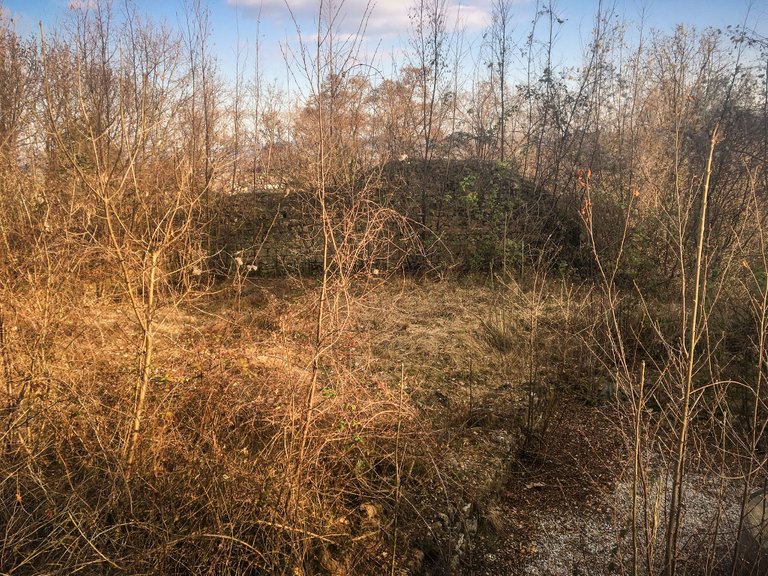 Suddenly I came to a house, which had a large pasture. It was certainly once inhabited and there were cows to graze.
ITA
Ad un tratto sono giunto ad una casa, la quale aveva un grande pascolo. Sicuramente una volta era abitata e c'erano le mucche a pascolare.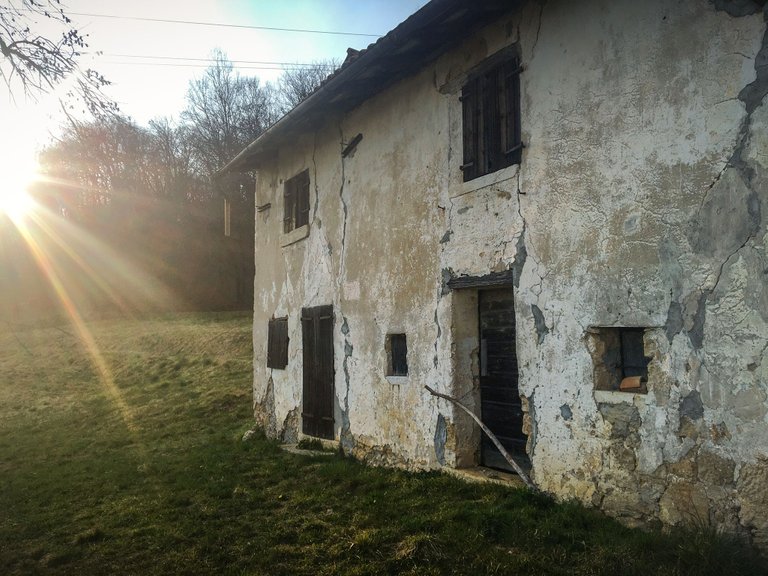 There was also an incredible landscape there!
ITA
Anche a lì c'era un paesaggio incredibile!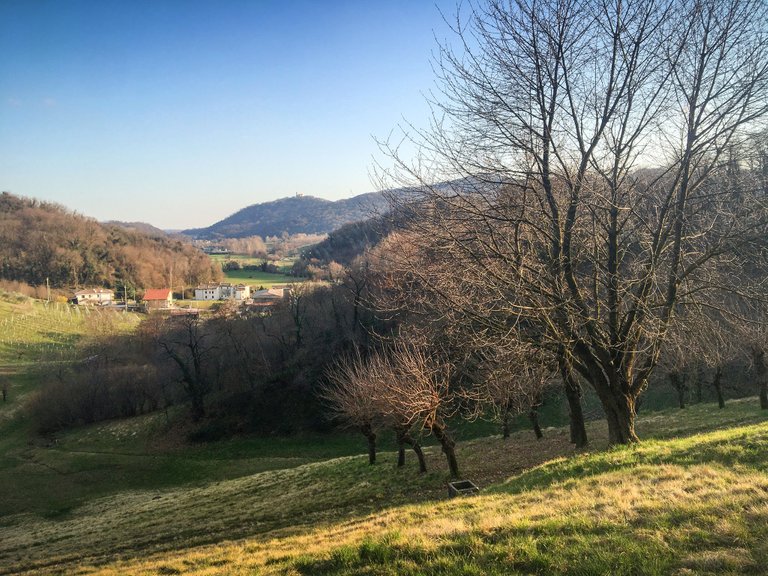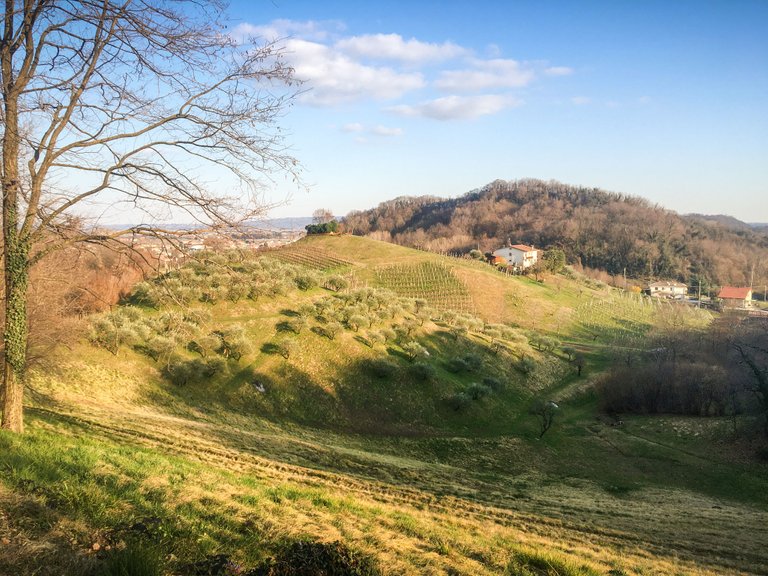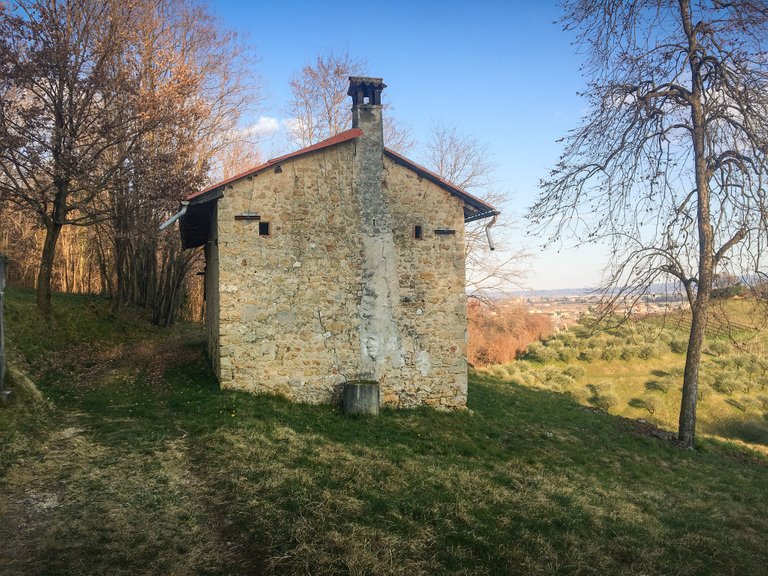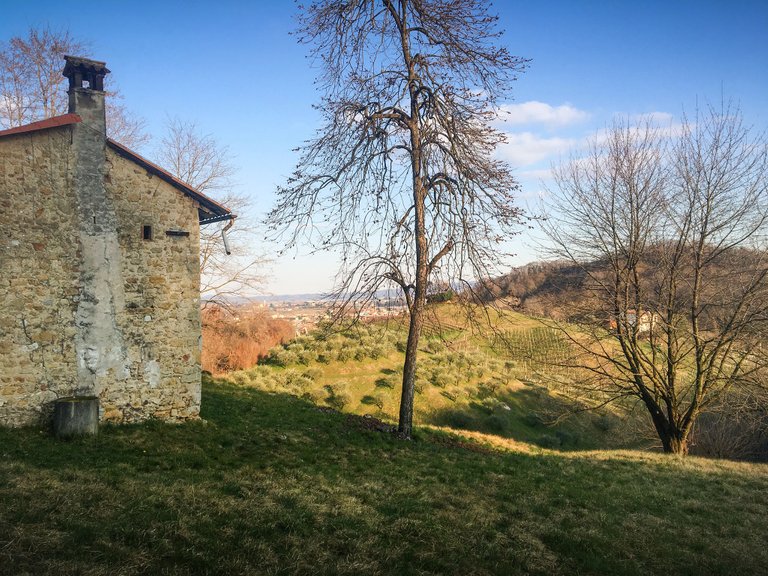 Behind the house there was a water intake and as I approached I noticed a date: 1935
ITA
Dietro la casa c'era una presa dell'acqua e avvicinandomi mi sono accorto di una data: 1935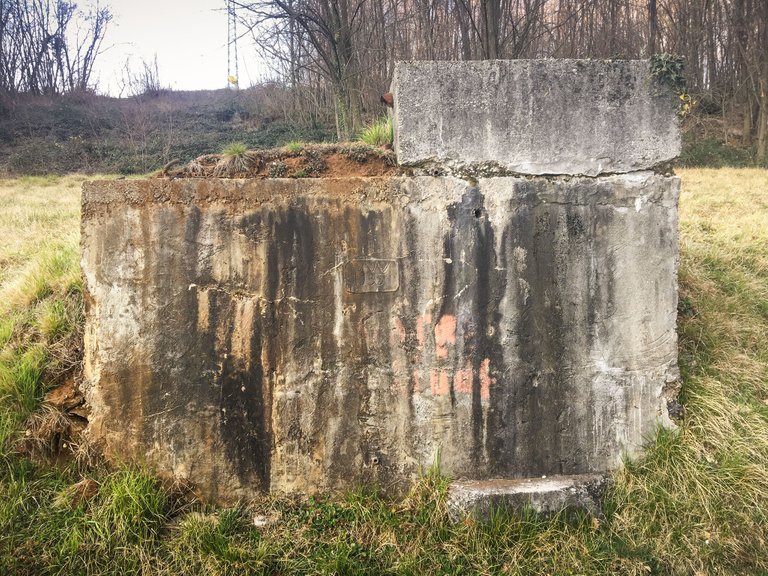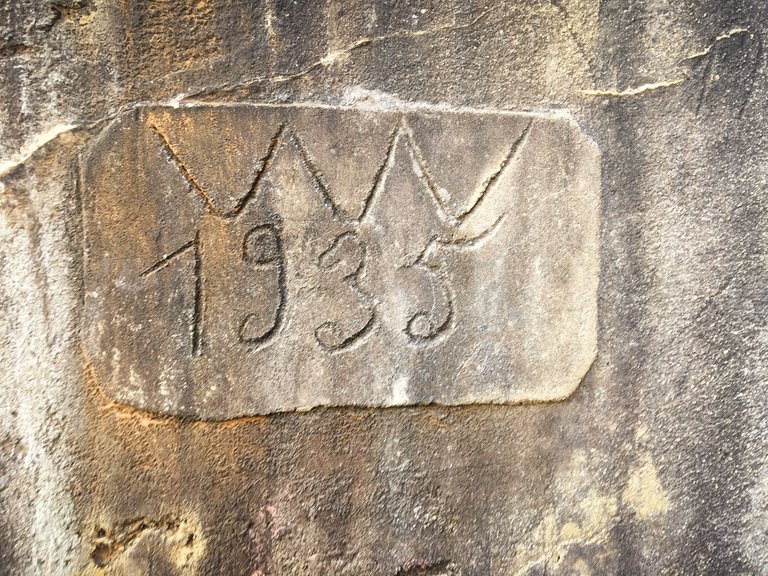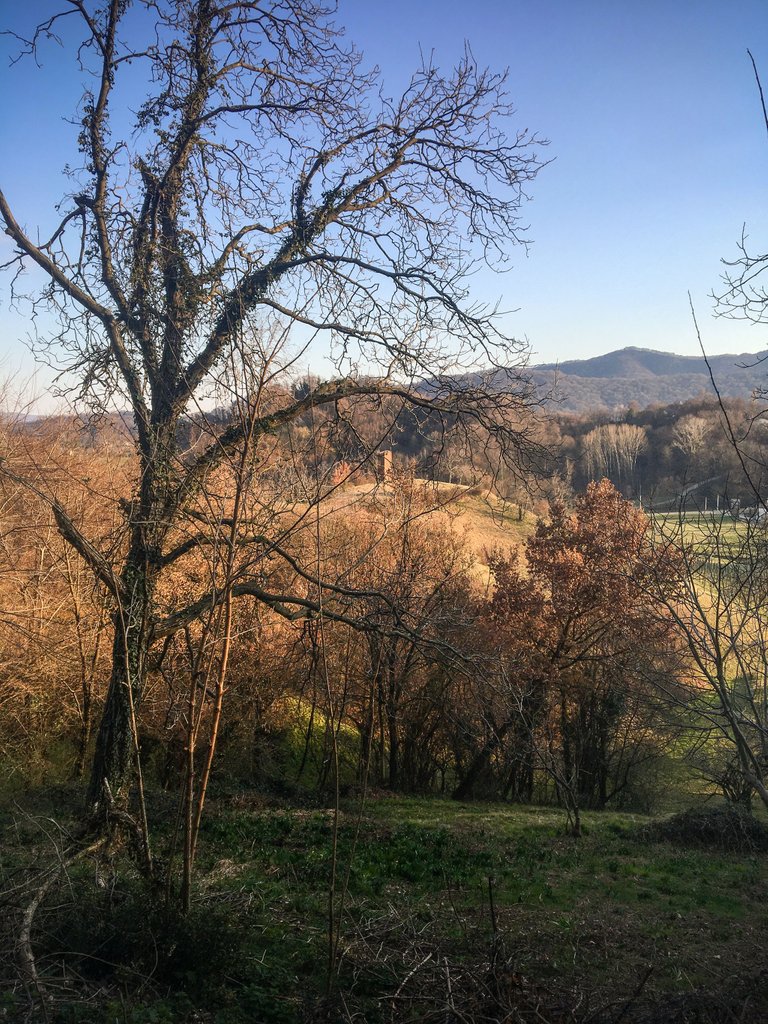 Ten minutes later I arrived at a
group of houses.
It was a small group of houses, very interesting, I had to explore it! But I decided to do it on the way back.
ITA
Dieci minuti più tardi sono arrivato ad un
gruppo di case.
Era un piccolo nucleo di case, molto interessante, dovevo esplorarlo! Ma ho deciso di farlo al ritorno.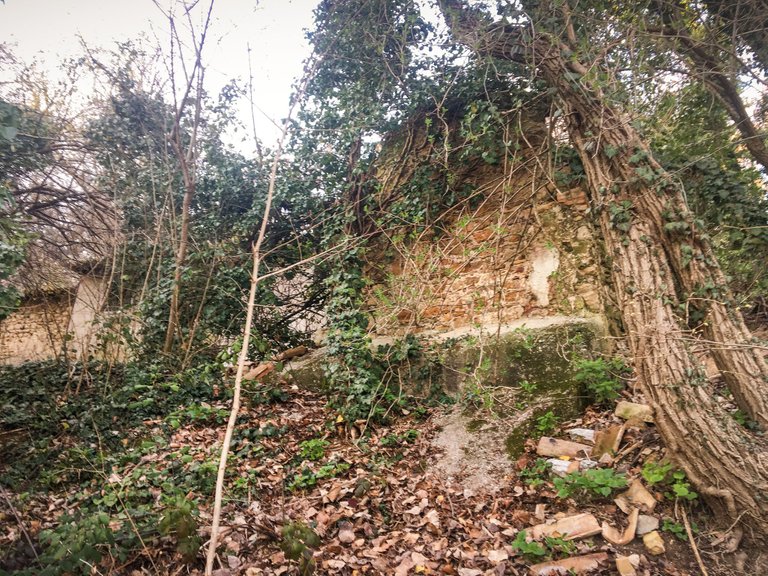 The trail was great and not strenuous at all, I could have gone on for hours.
ITA
Il sentiero era fantastico e per niente faticoso, sarei potuto andare avanti per ore.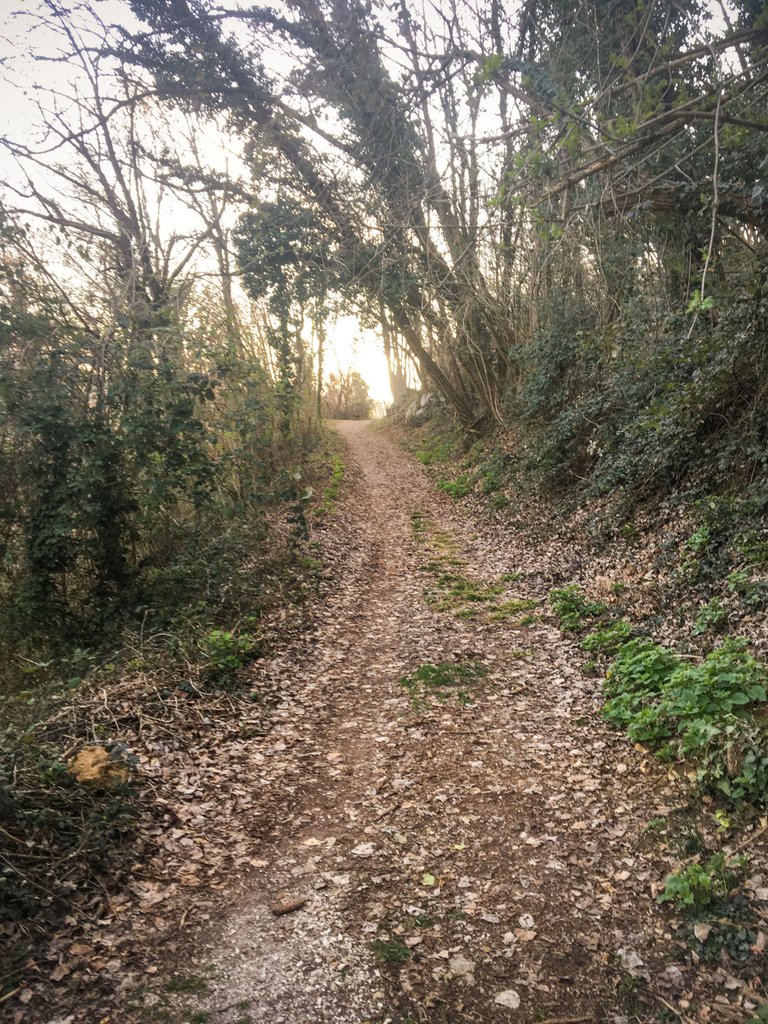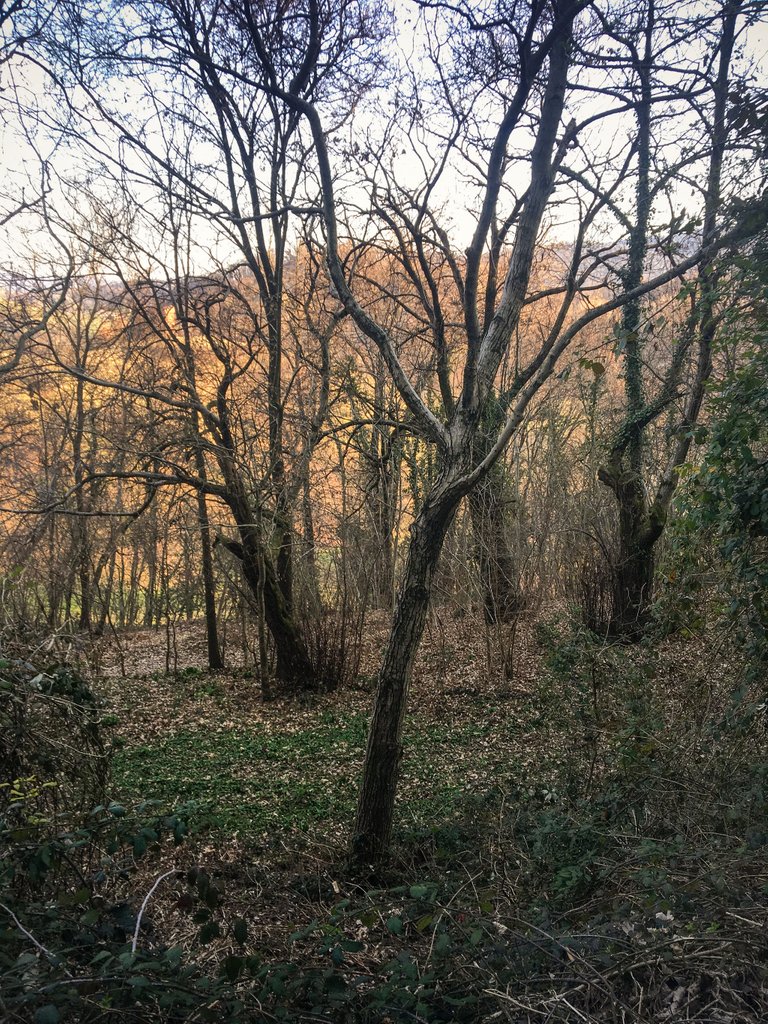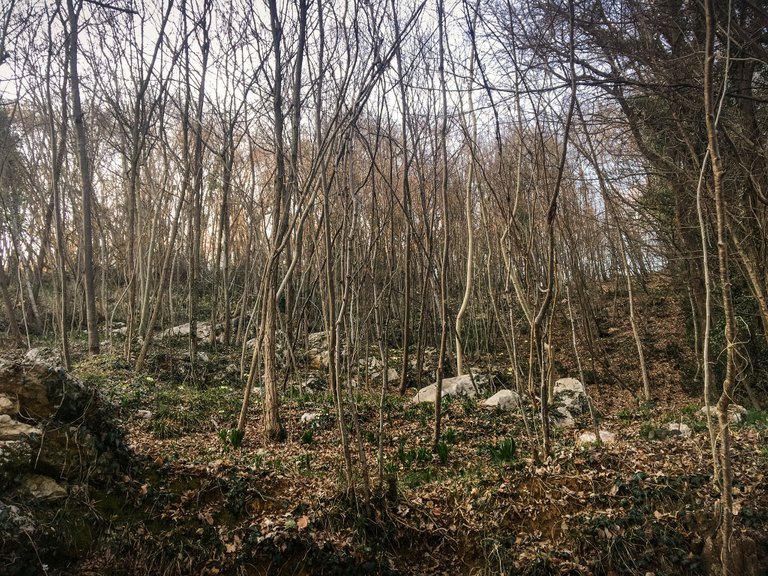 Also when I saw the surrounding landscape among the trees it was gorgeous.
ITA
Inoltre quando tra gli alberi scorgevo il paesaggio circostante era stupendo.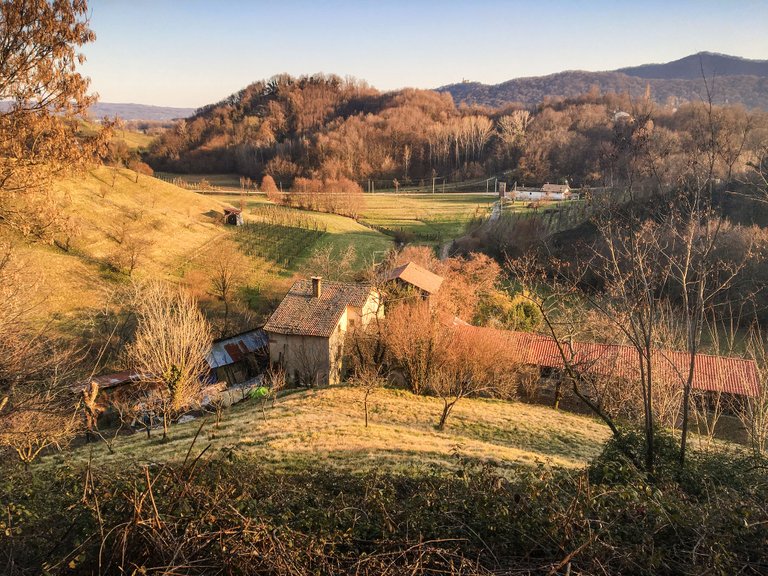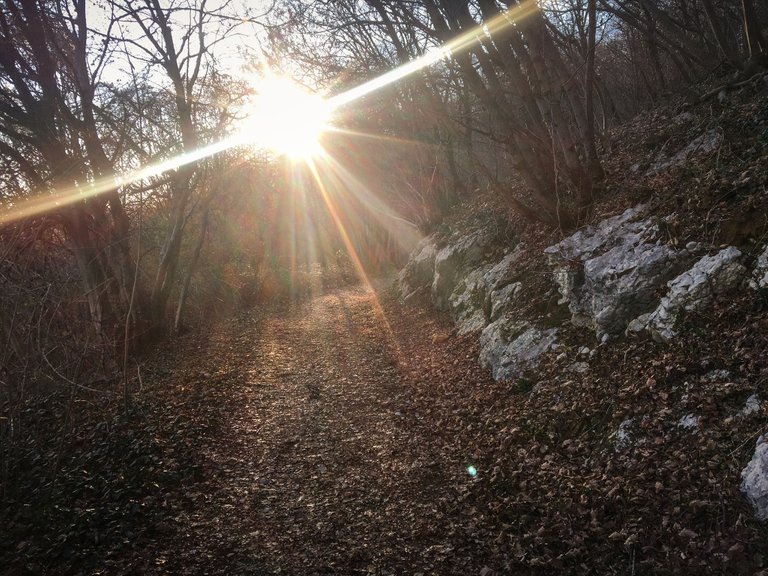 It was an area affected by the First World War, taking the appropriate path you can visit the military trenches.
ITA
Era una zona interessata dalla prima guerra mondiale, imboccando il sentiero opportuno si può visitare le trincee militari.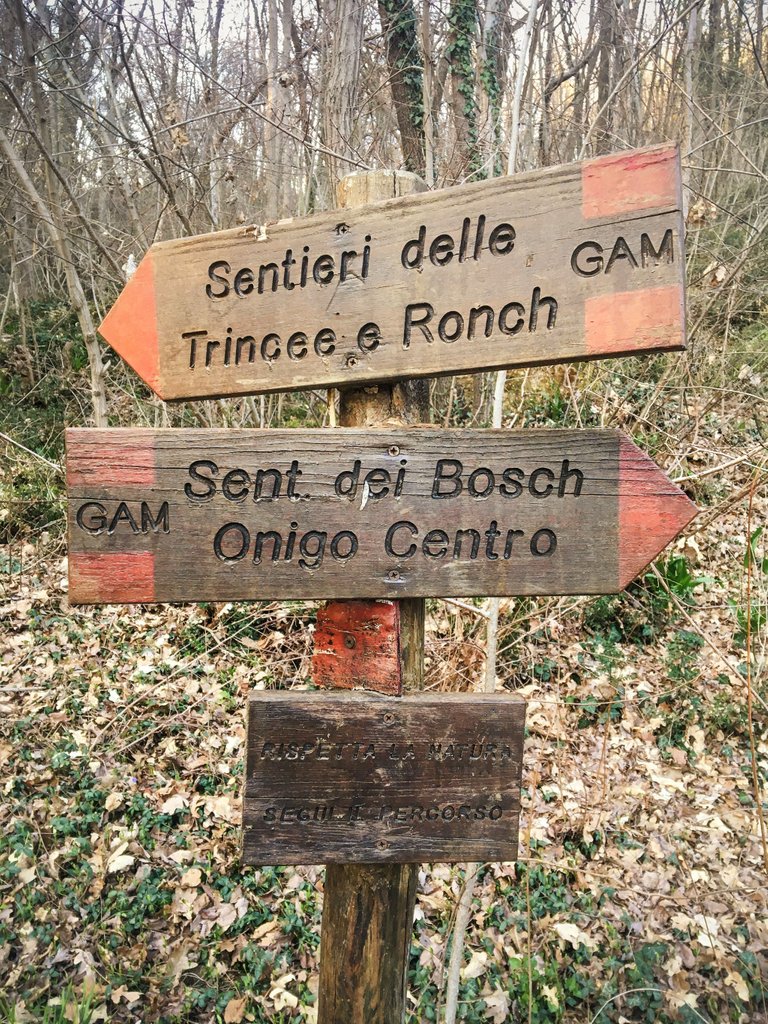 After a curve, at the sight of a hill with a vineyard on it, I decided to go up it to better look at the landscape...
ITA
Dopo una curva, alla vista di una collina con sopra un vigneto, ho deciso di risalirla per guardare meglio il paesaggio...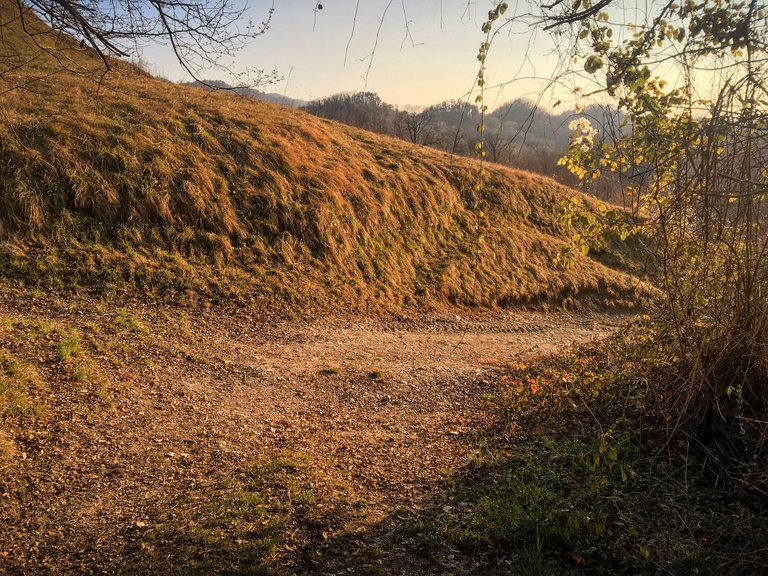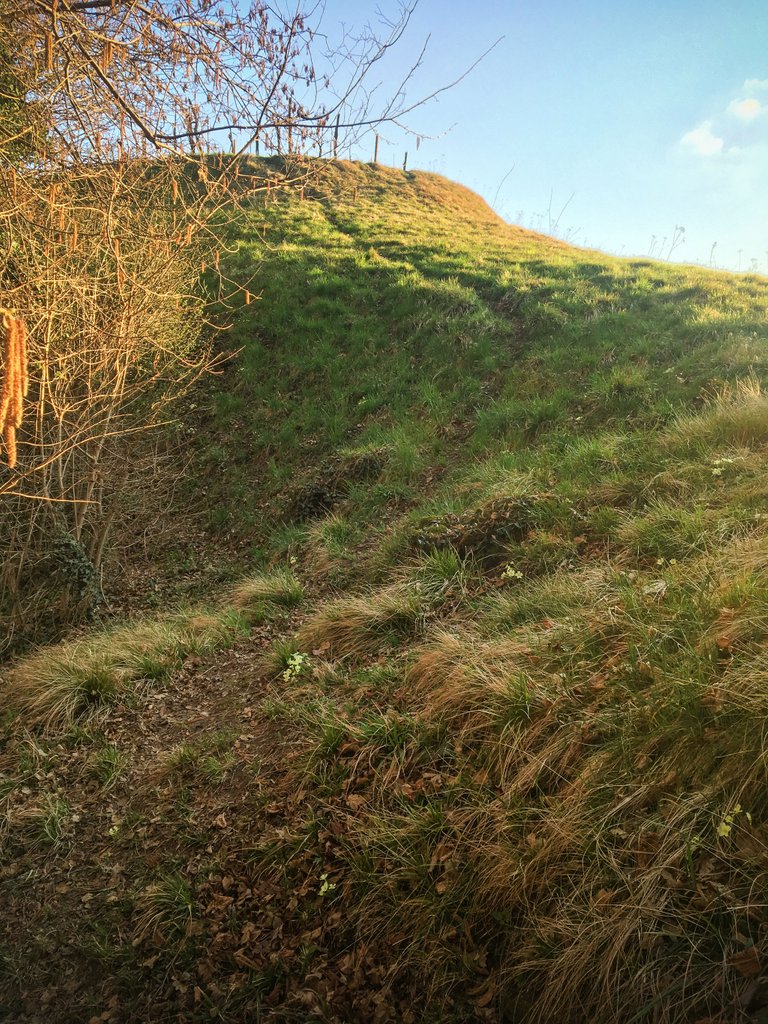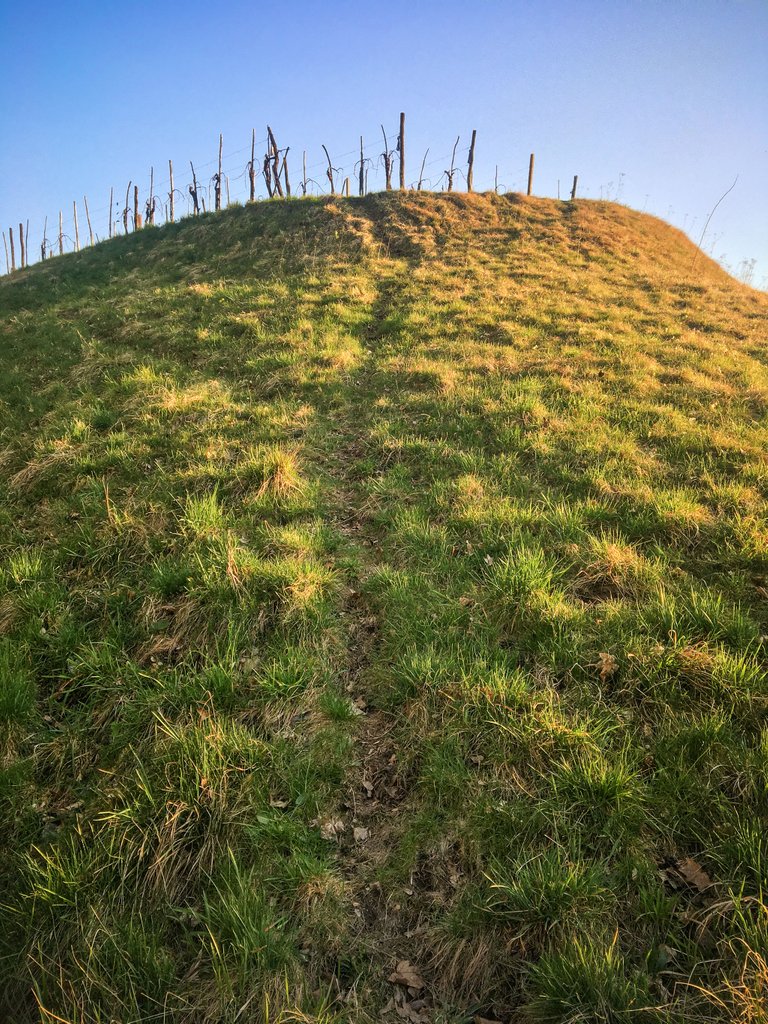 Beautiful! A nice gift to end the excursion in style!
ITA
Bello! Un bel regalo per concludere in bellezza l'escursione!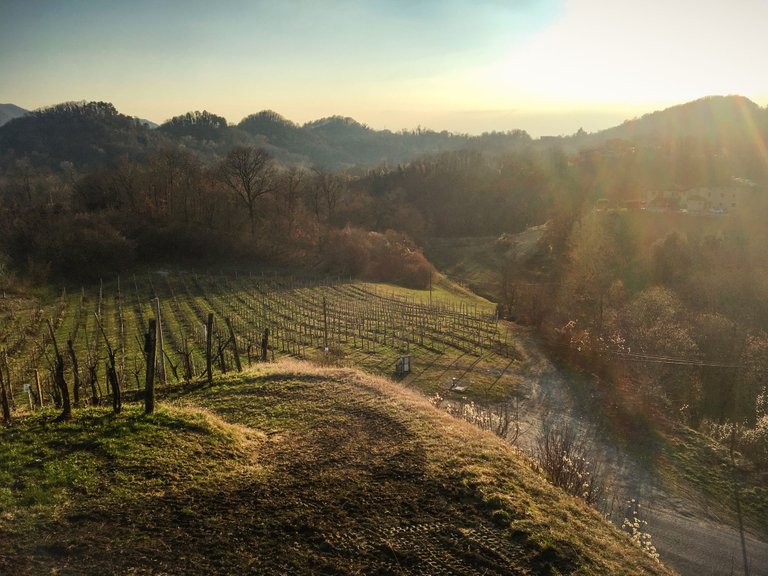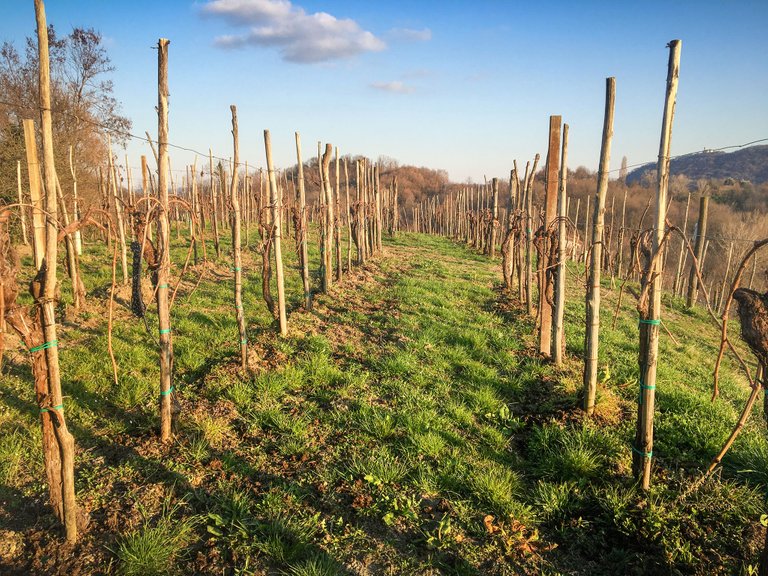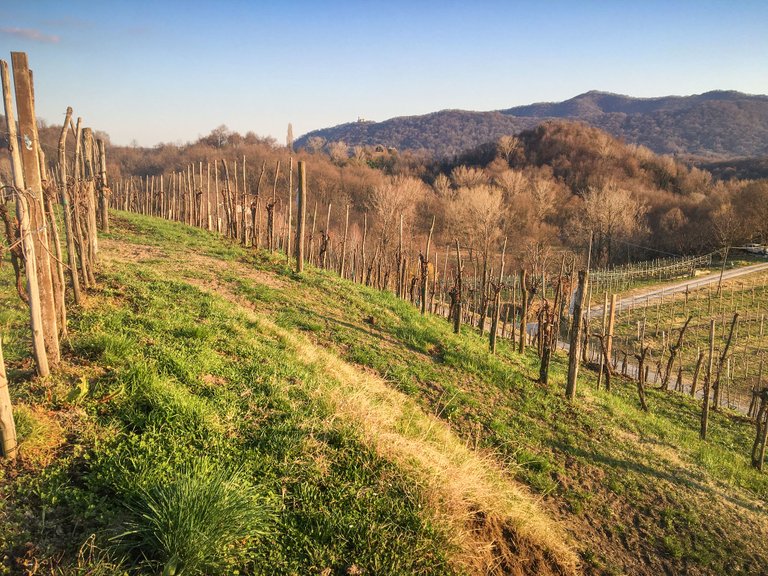 But I was lying to myself about one thing!
I had to explore the cluster of uninhabited houses!
ITA
Ma mi stavo di mentivando di una cosa!
Dovevo esplorare il gruppo di case disabitate!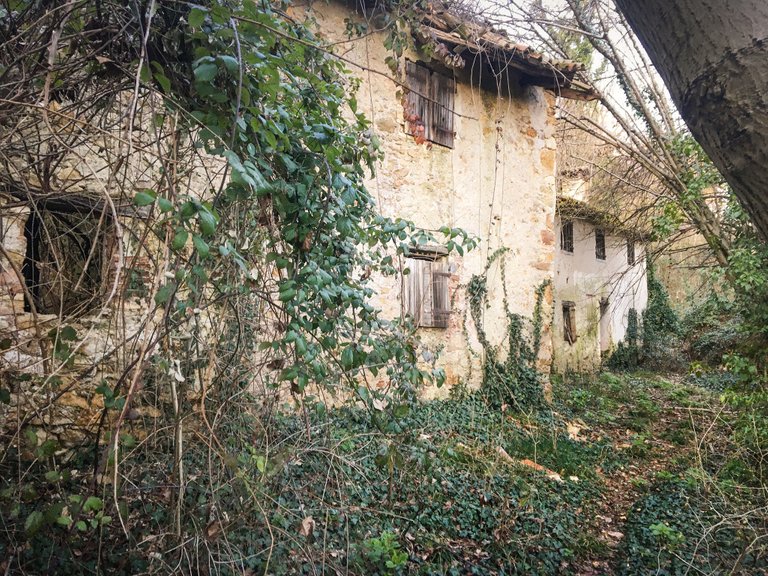 Without too much difficulty I managed to reach the houses...
ITA
Senza troppa difficoltà sono riuscito a raggiungere le case...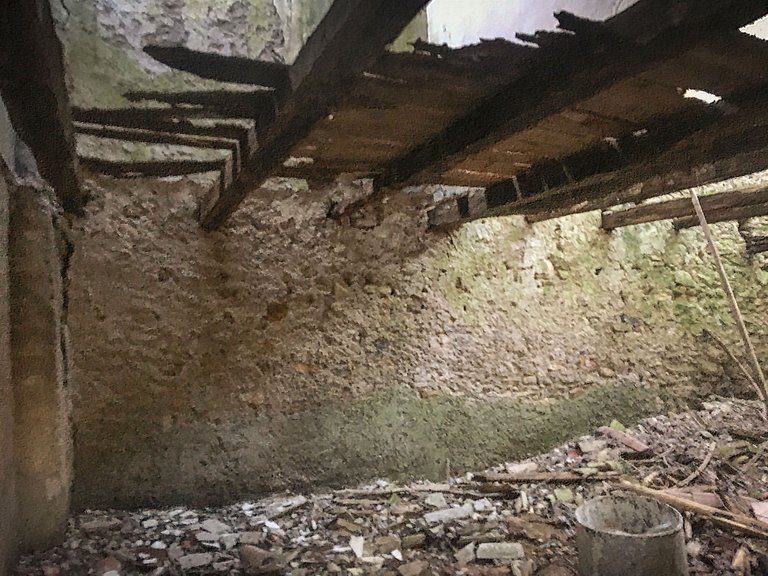 I visited the different environments very carefully and I must admit that it was exciting.
ITA
Con molta attenzione ho visitato i diversi ambienti e devo ammettere che è stato emozionante.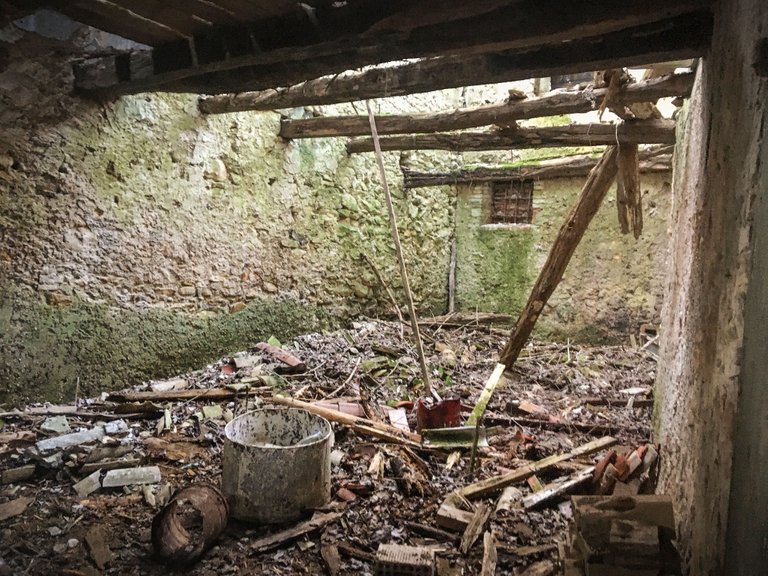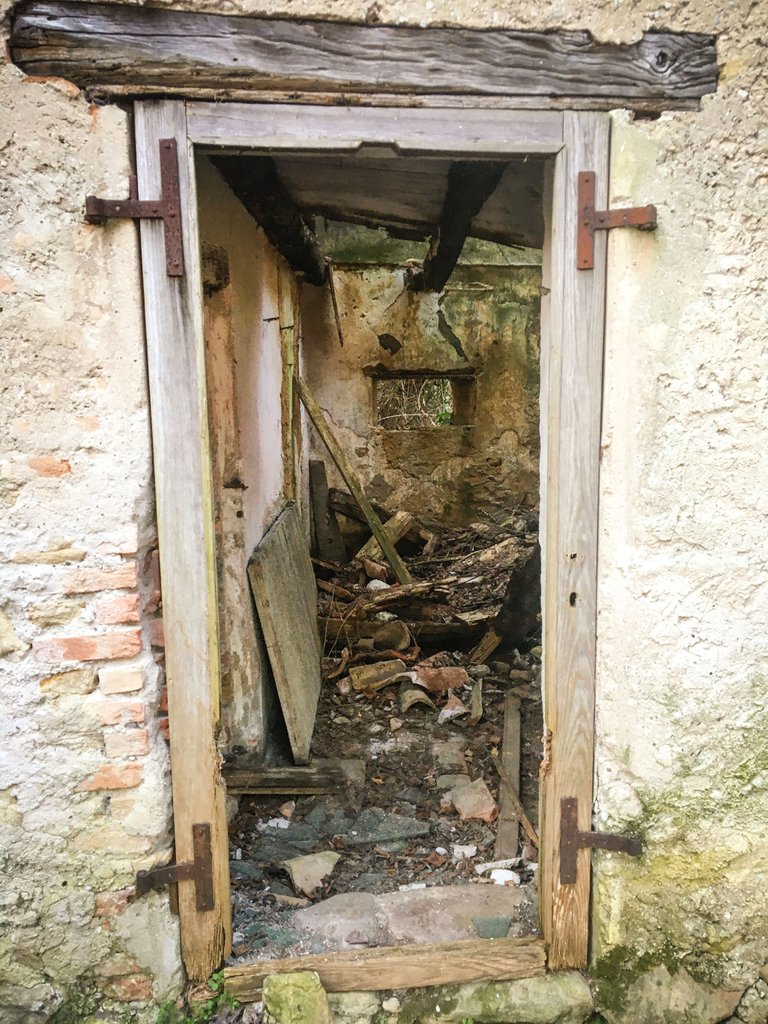 The most beautiful aspect is that the rooms were united but not as a single envelope but several rooms of different sizes joined together.
So even externally it was possible to grasp the different volumes.
These volumes create a private courtyard on the back, almost a small square bordered by the slope of the hill.
Very beautiful!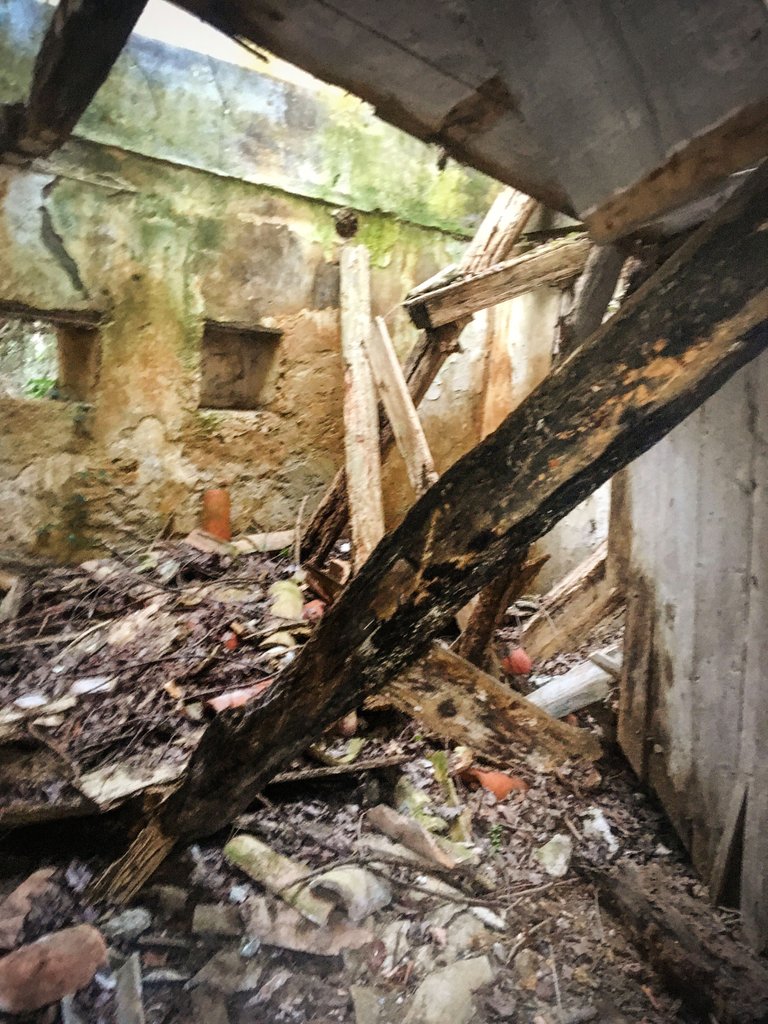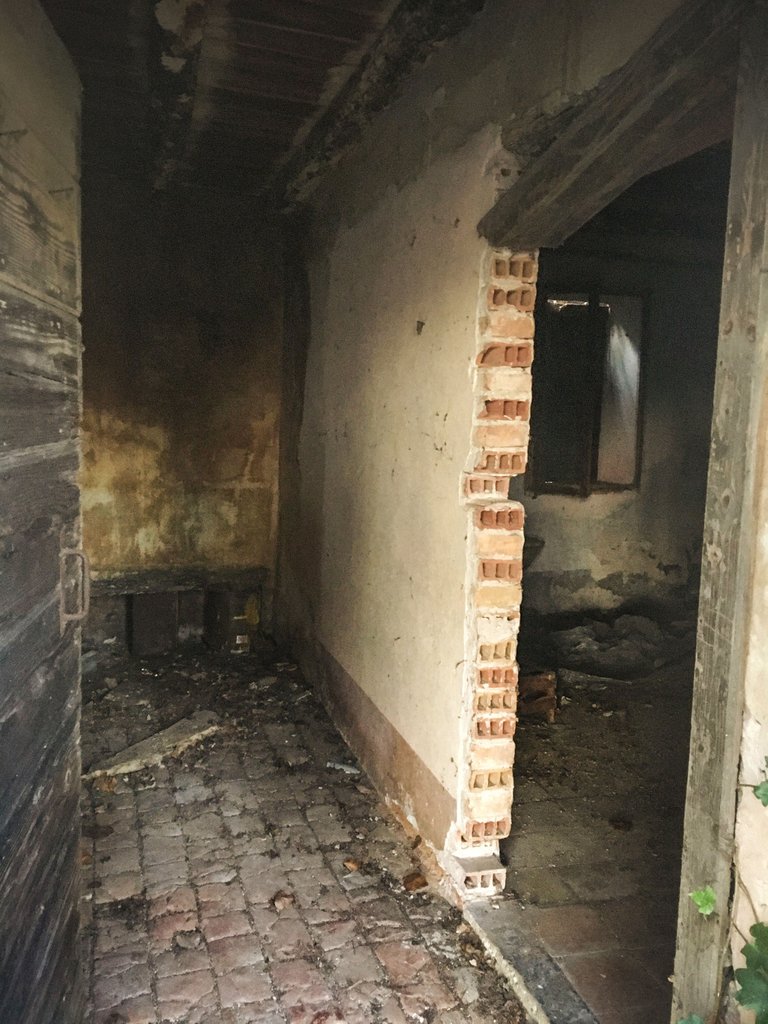 What a pity that it is in a state of disrepair!
ITA
Che peccato che si trova in condizioni di rovina!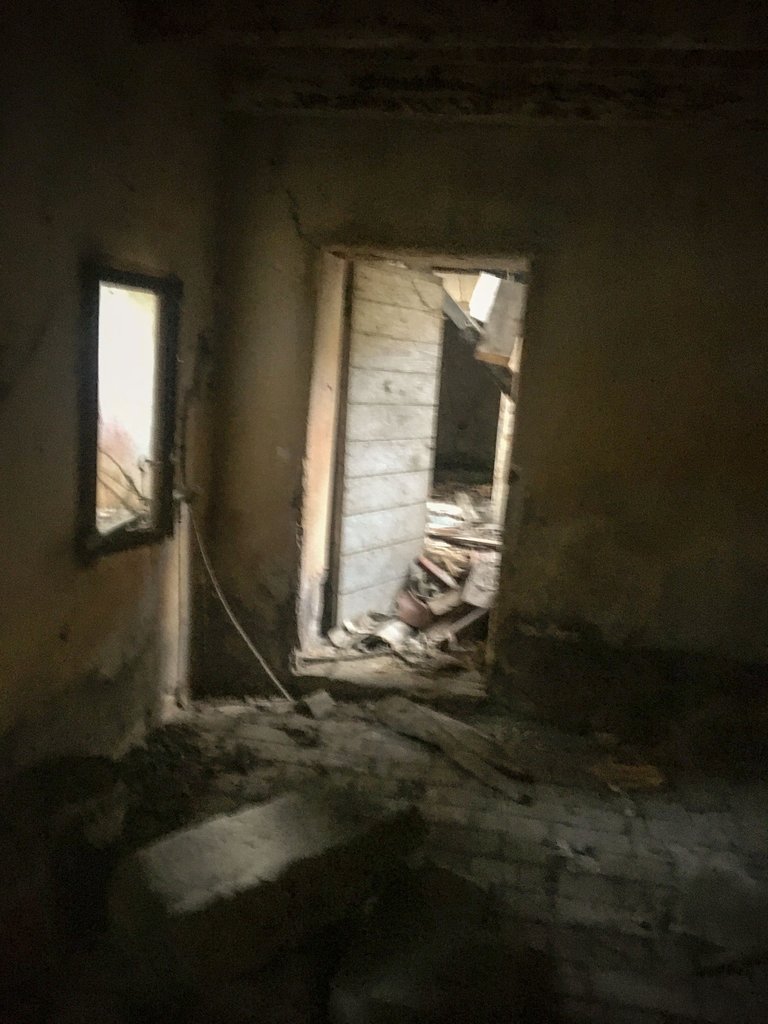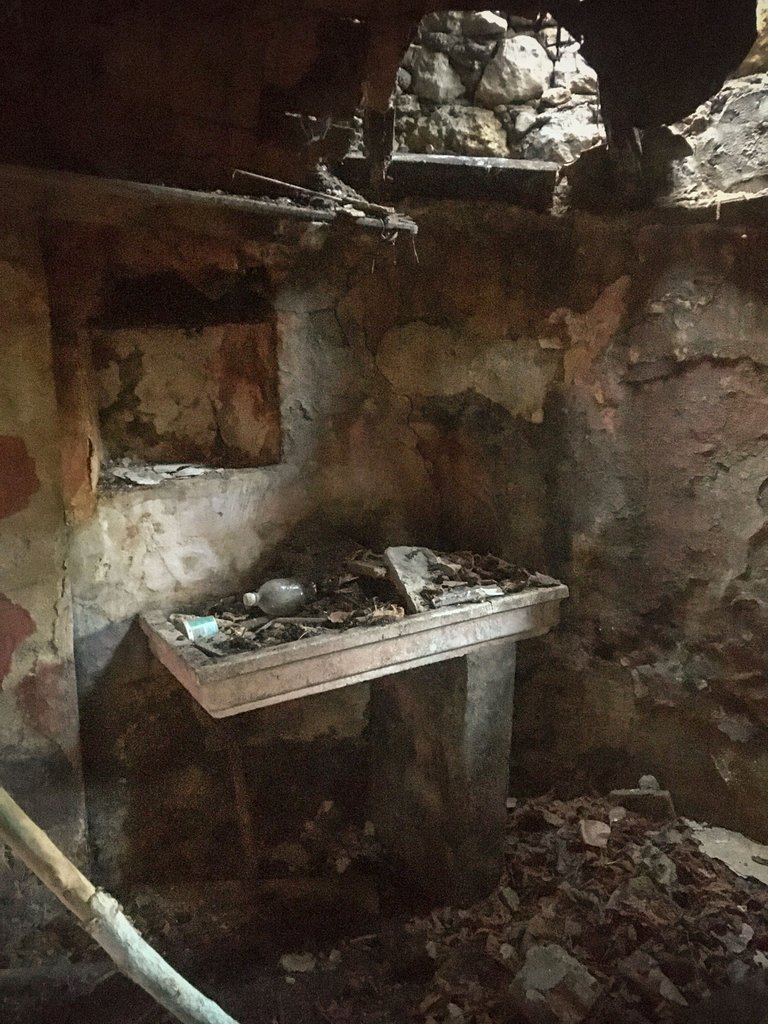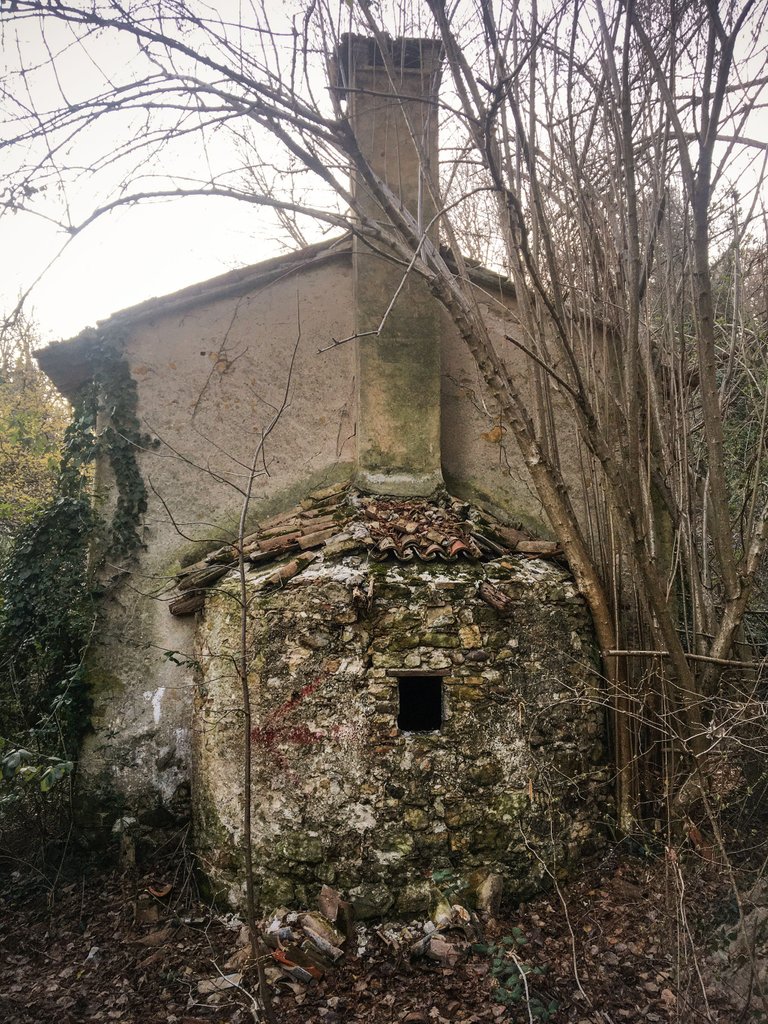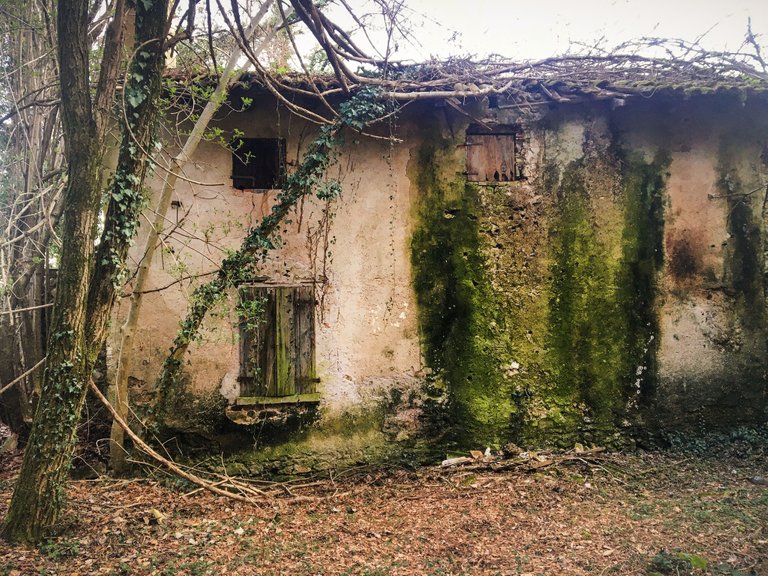 Unfortunately from the photos it is not clear, but it is really an interesting complex.
If I became a millionaire with crypto I would buy it to restructure it!
ITA
Purtroppo dalle foto non si capisce, ma è davvero un complesso interessante.
Se diventassi milionario con le cripto lo comprerei per ristrutturarlo!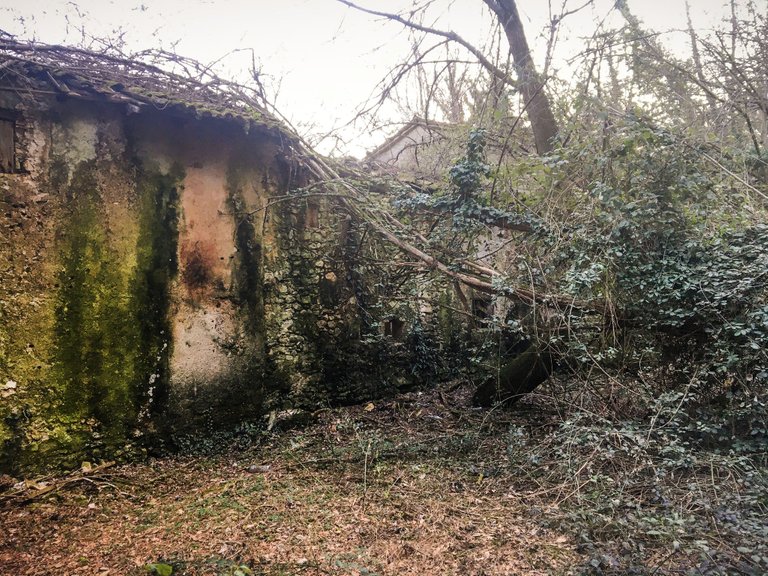 I was satisfied, the excursion was very stimulating and relaxing.
I didn't expect it.
In this lockdown period I have much lower expectations because we are very limited in travel, to be honest these days we are completely limited, luckily I still have some excursions from about two weeks ago to tell you.
ITA
Ero soddisfatto, l'escursione è stata molto stimolante e rilassante.
Non me l'aspettavo.
In questo periodo di lockdown ho aspettative molto più basse perchè si è molto limitati negli spostamenti, a dire il vero in questi giorni siamo limitati del tutto, per fortuna ho ancora qualche escursione di circa due settimane fa da raccontarvi.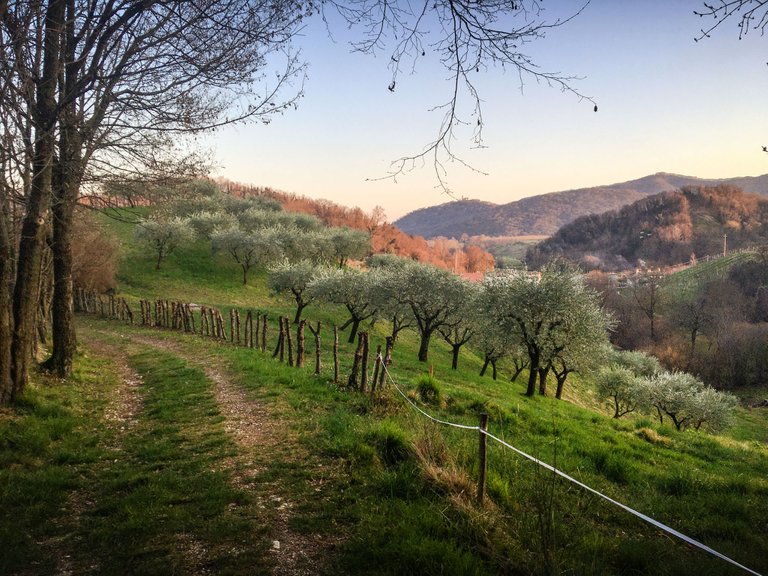 I wish you a good weekend see you soon!
ITA
Vi auguro un buon weekend a presto!
---
---