Path of the Volpere, Mussolente- Discovering Italy with alequandro!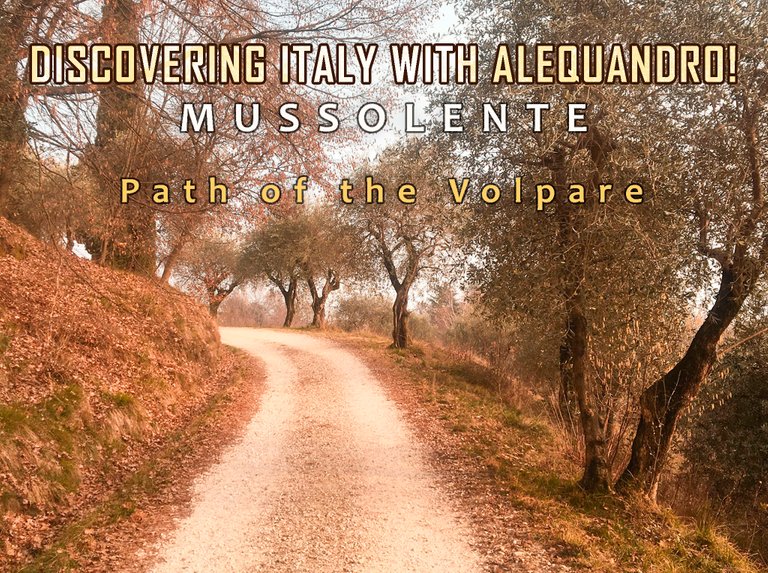 Hello everyone!
Here is another report from one of my last excursions.
As I write this I am a bit angry because due to the lockdown I cannot go out for excursions!
Patience, I want to believe that all this will serve to limit the infections...
ITA
Ciao a tutti!
Ecco un altro reportage di una delel mie ultime escursioni.
Mentre scrivo ho un po' di rabbia perchè a causa del lockdown non posso uscire per fare escursioni!
Pazienza, voglio credere che tutto ciò servirà a limitare i contagi...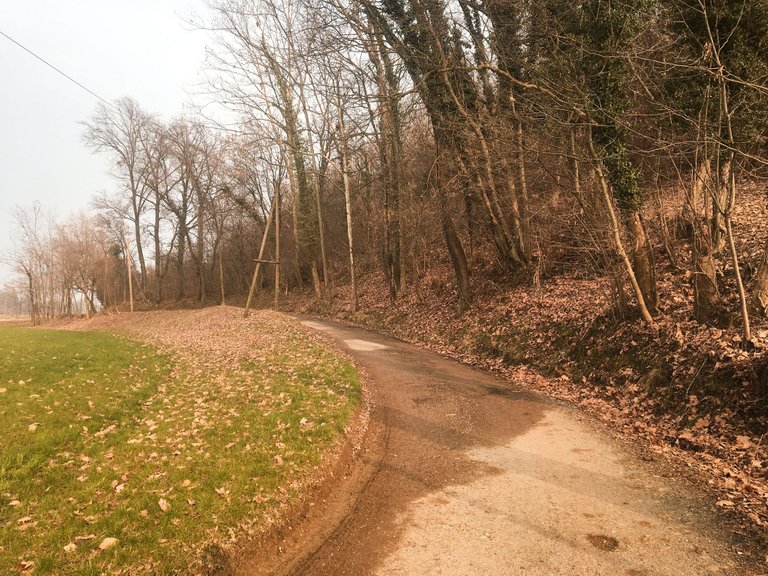 As I said I was in Mussolente, in the province of Vicenza.
ITA
Come dicevo mi trovavo a Mussolente, in provincia di Vicenza.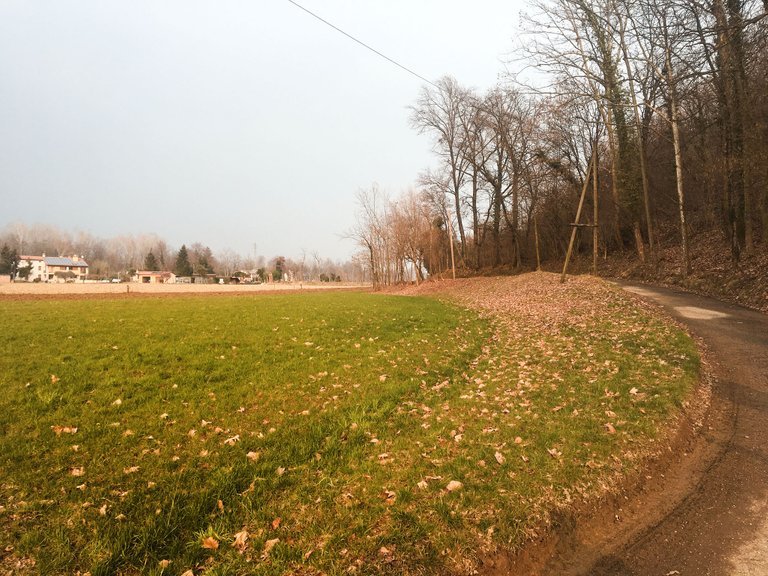 I did this excursion a few years ago, in spring and I liked it, so I thought about doing it in winter.
ITA
Questa escursione l'ho fatta qualche anno fa, in primavera e mi era piaciuta, così ho pensato di farla in inverno.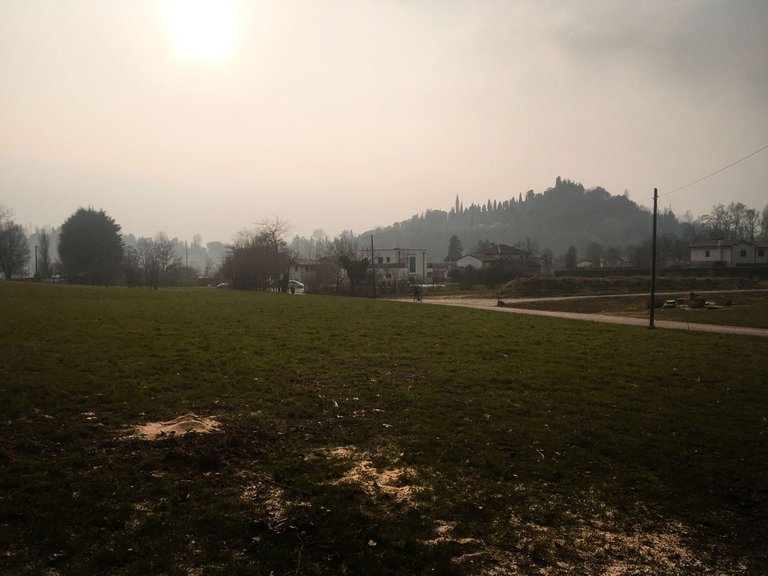 After a short stretch of asphalt I took a path through the woods.
By now I'm getting used to finding few people around and I must say that I really like tranquility and silence.
I remain fully listening to nature.
ITA
Dopo un breve tratto di trada asfalta ho imboccato un sentiero per il bosco.
Ormai mi sto abituando a trovare poche persone in giro e devo dire che la tranquillità e il silenzio mi piace proprio.
Rimango in pieno ascolto della natura.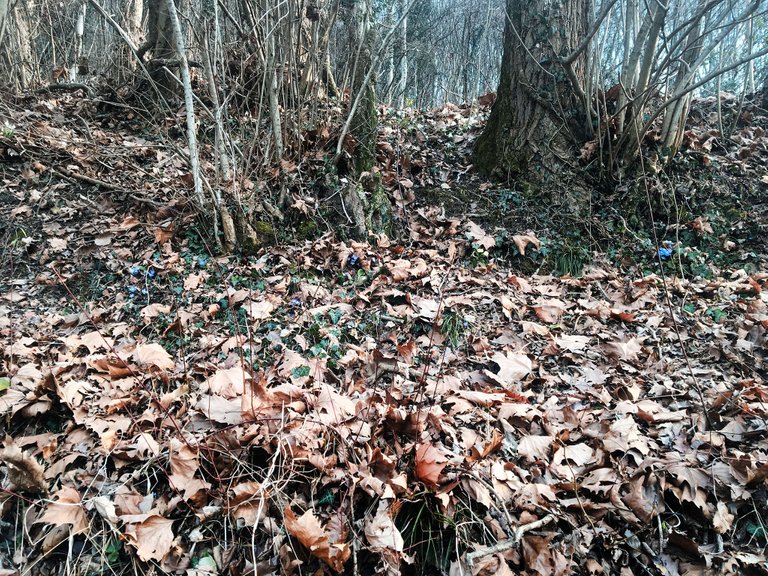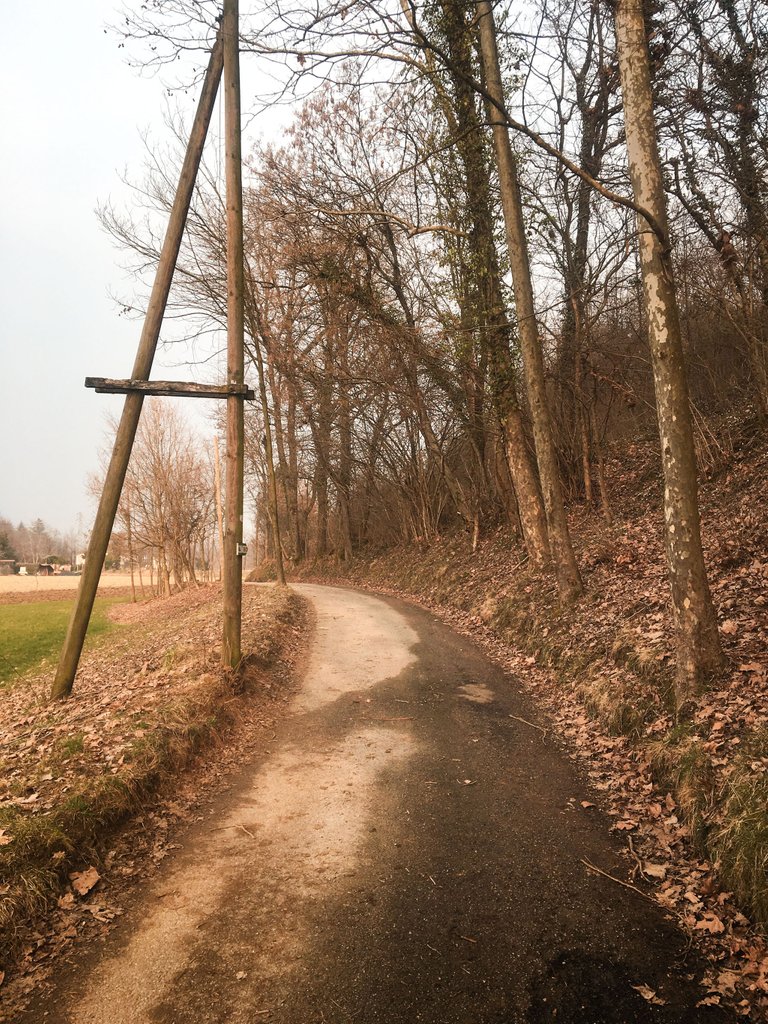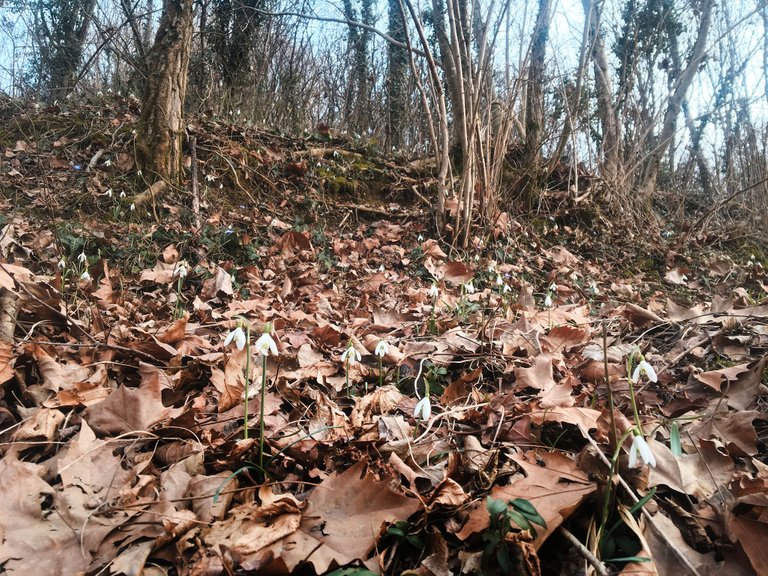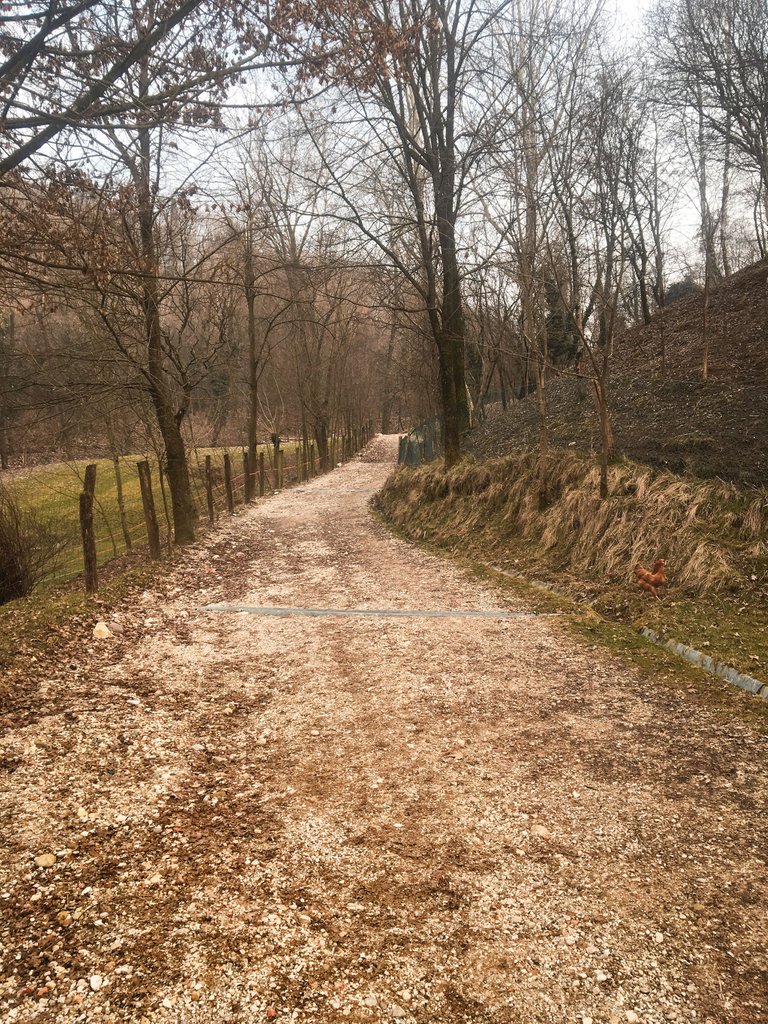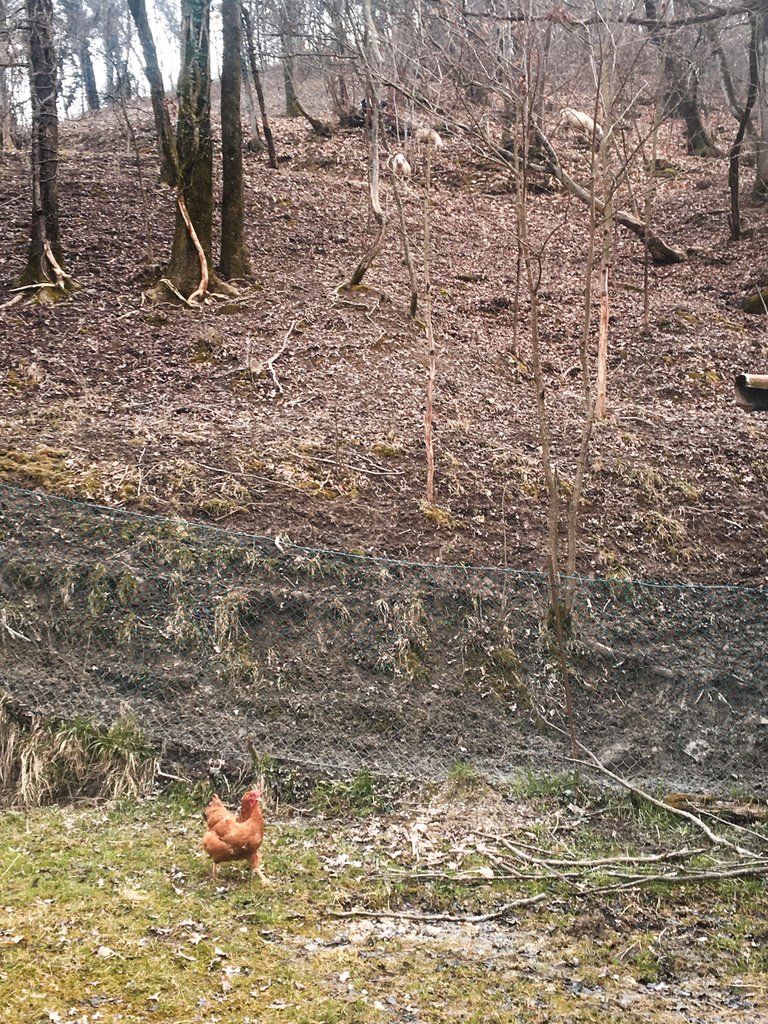 Just inside the wood, near a house, there were gallies running free on the dry leaves.
ITA
Appena dentro al bosco, vicina ad una casa c'erano delle gallie che correvano libere sulle foglie secche.
Higher on a hill, two sheep were watching me curiously.
ITA
Più in alto su una collina, due pecore mi osservavano incuriosite.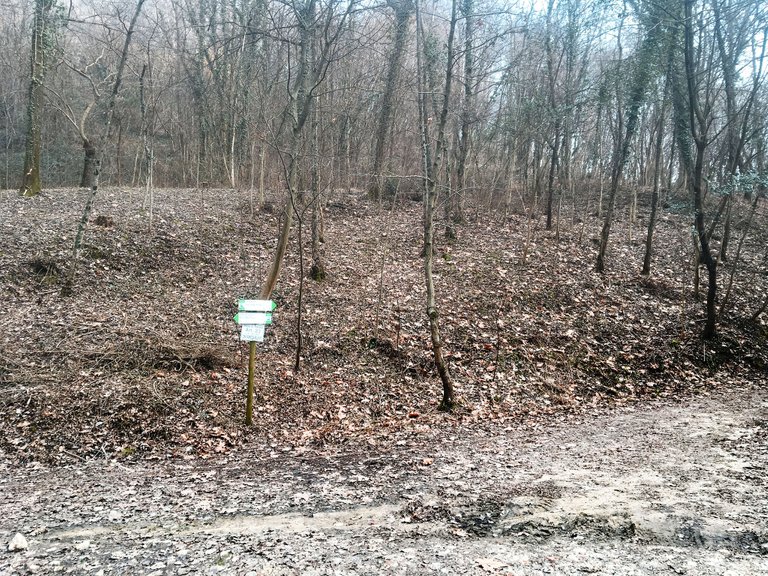 Then I followed the indication for the path of the Volpare (volpe = fox), so called because up to fifty years ago it was a place where foxes lived.
ITA
Poi ho seguito l'idicazione per il sentiero delle Volpere (volpe = fox), chiamato così perchè fino a cinquanta anni fa era un luogo dove vivevano le volpi.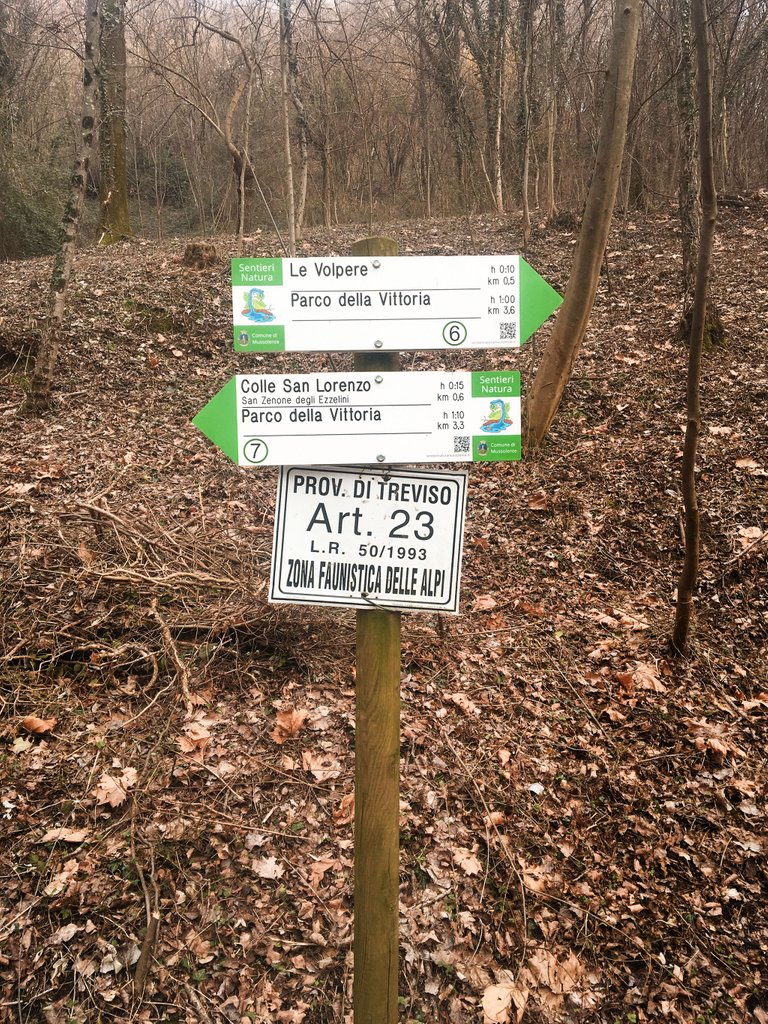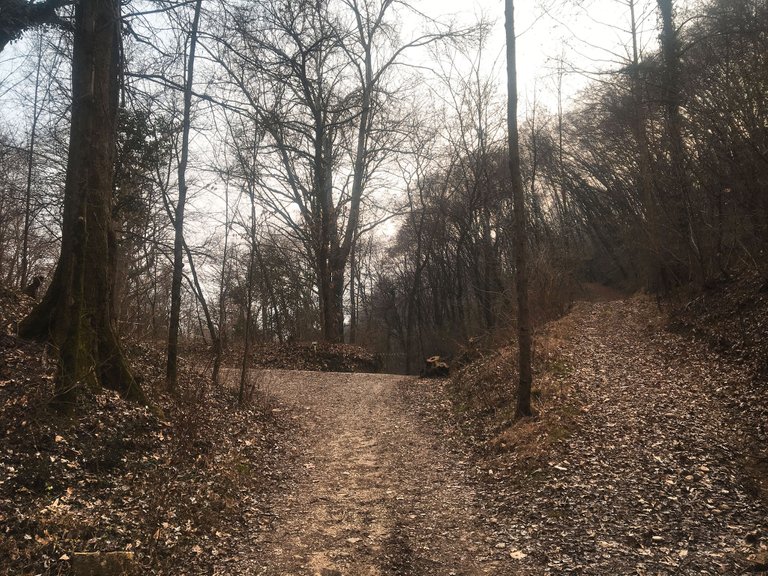 Due to the constant presence of humans, foxes have moved to more protected areas.
ITA
A causa della presenza costante dell'uomo, le volpi si sono spostate in aree più protette.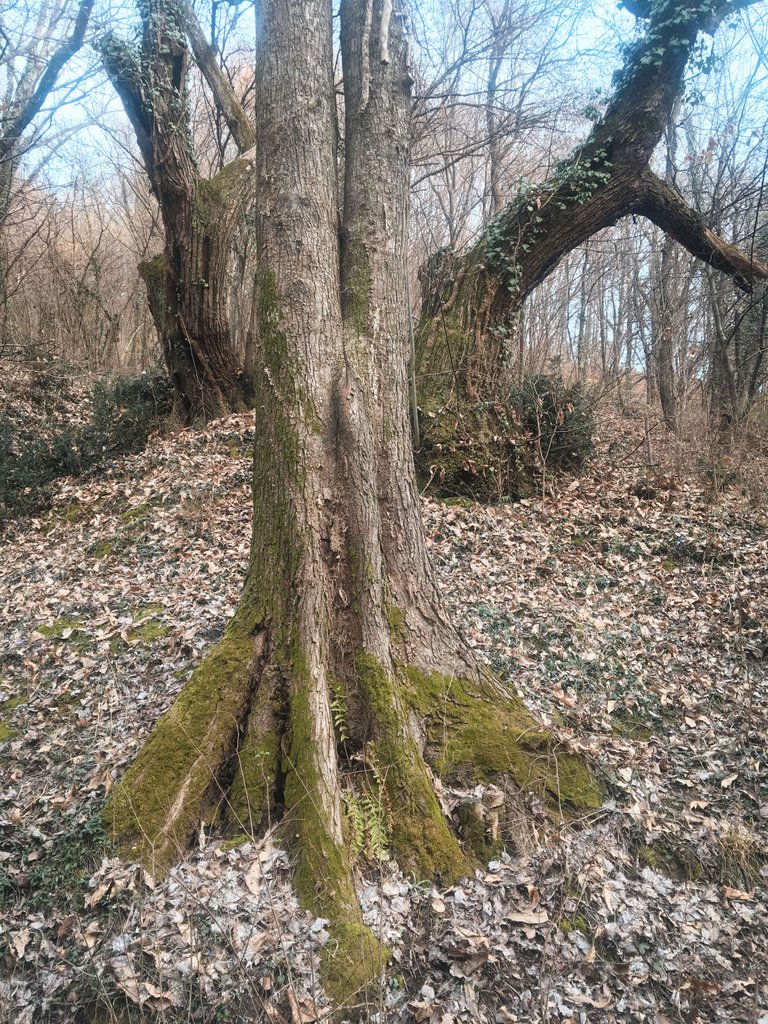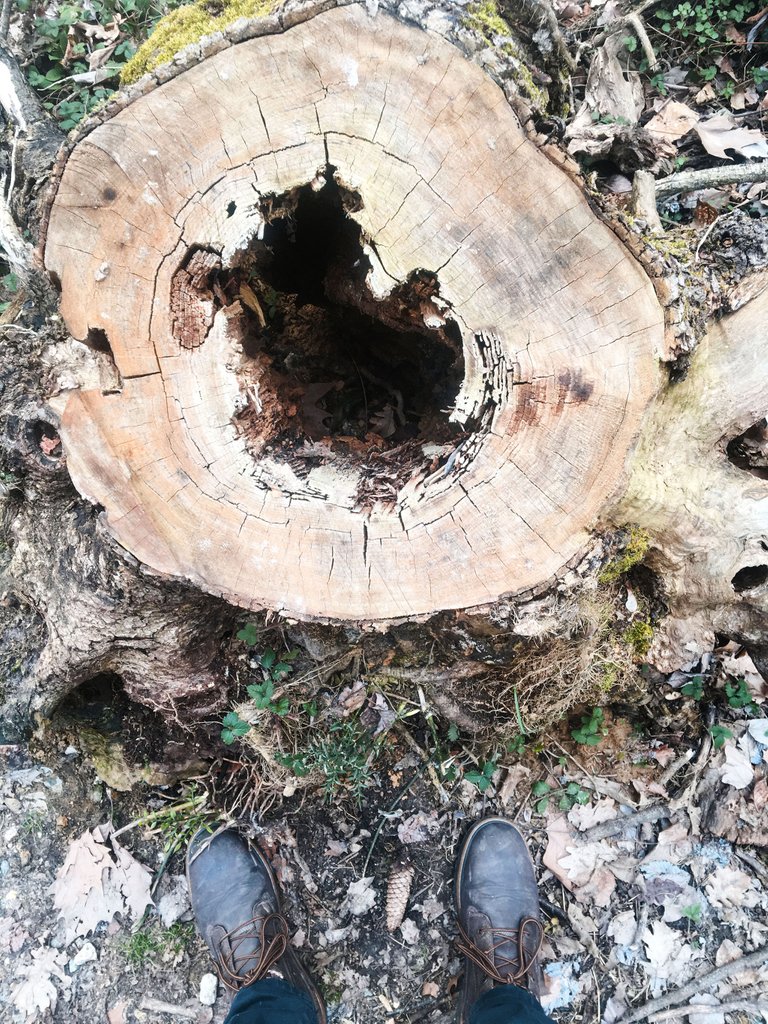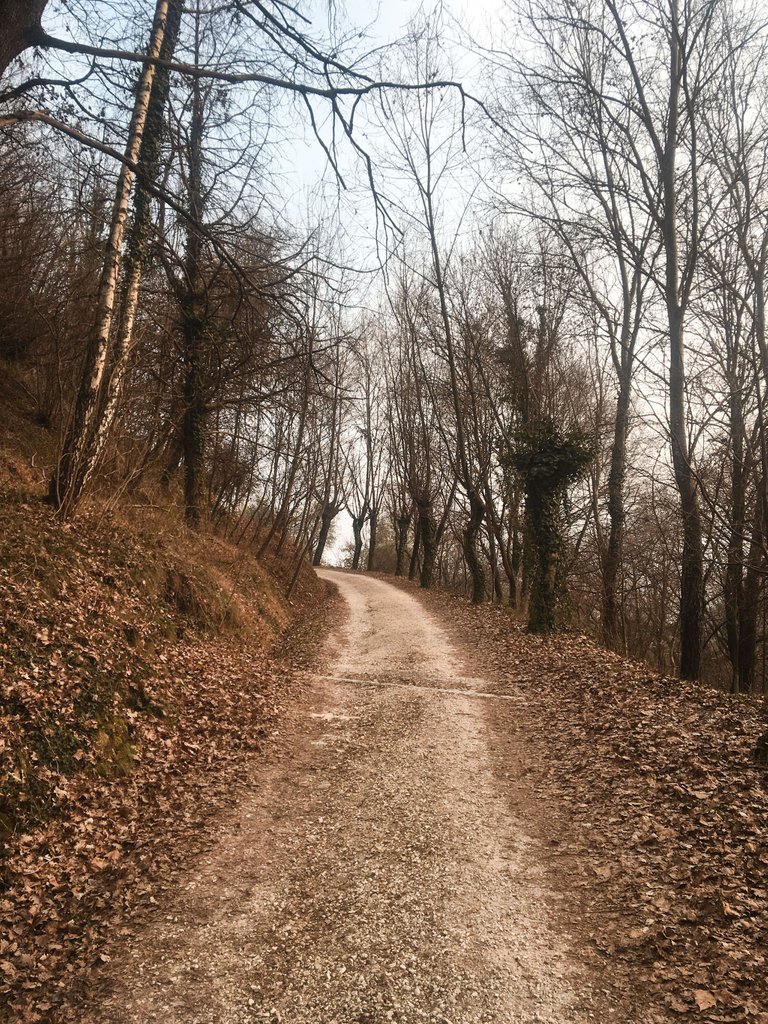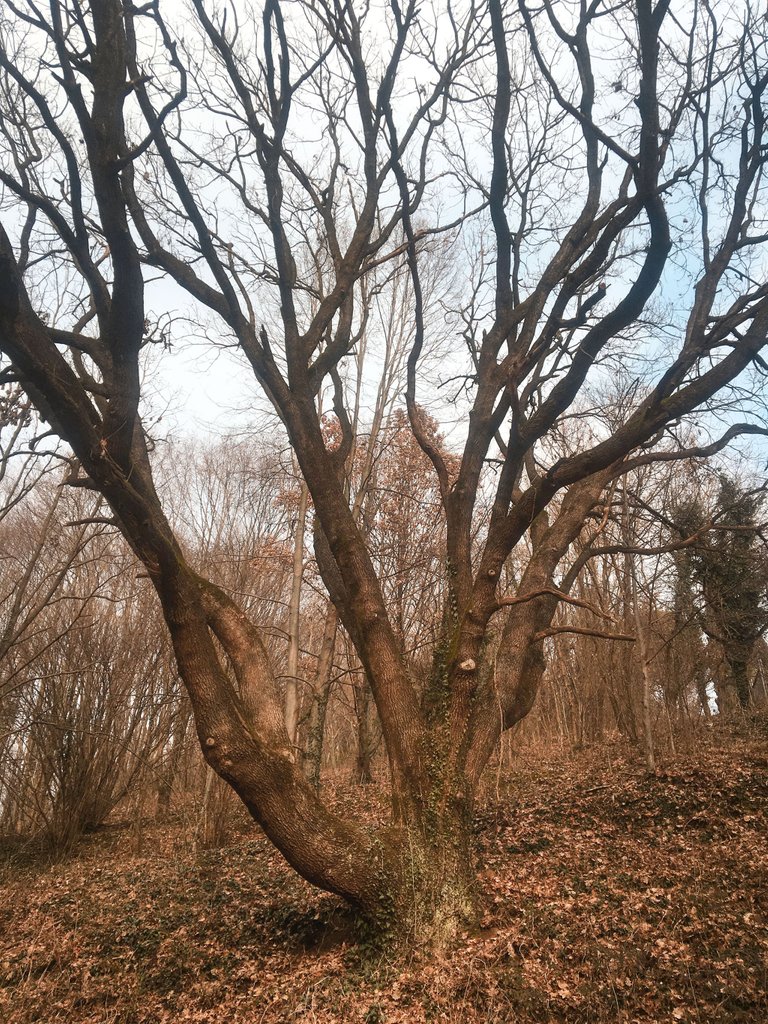 It is a path with very beautiful trees that embellish the excursion.
ITA
E' un sentiero con alberi molto belli che impreziosiscono l'escursione.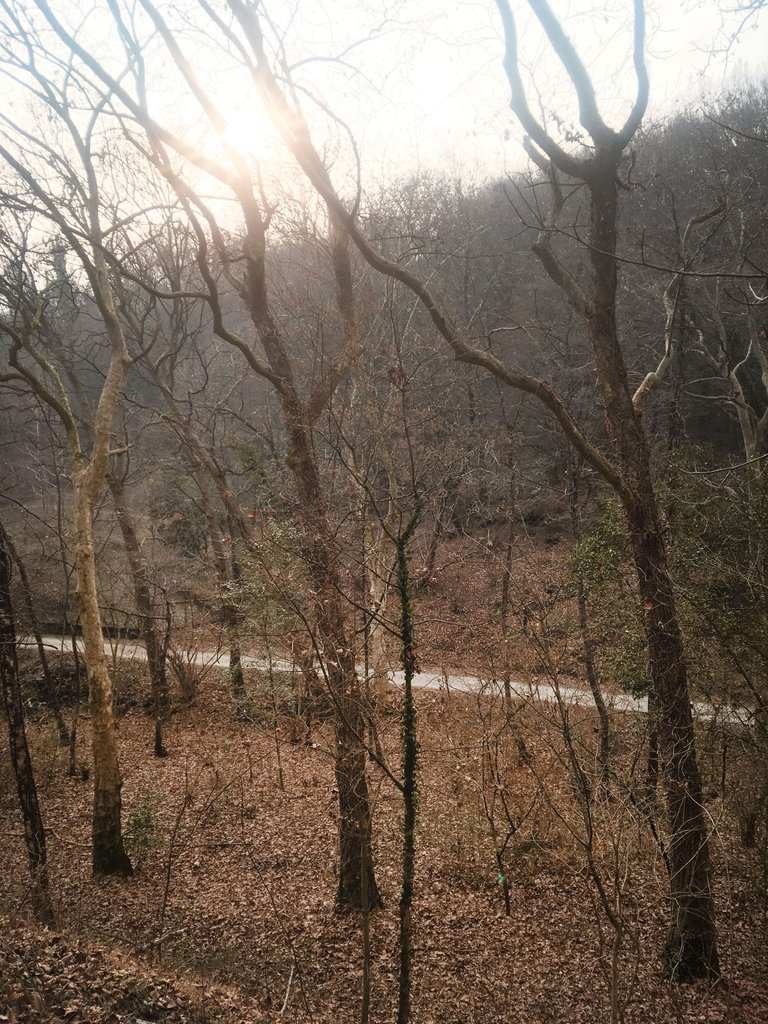 On the ground you can see the first flowers...
ITA
Sul terreno si vedono i primi fiorni...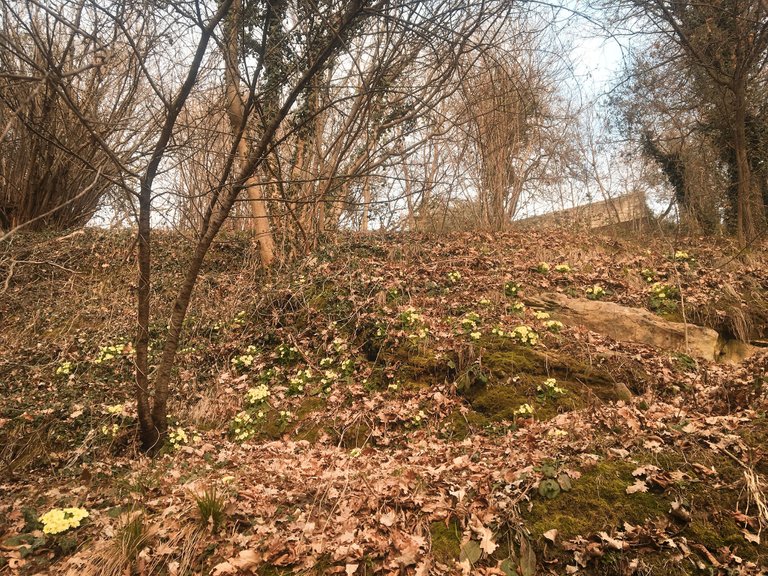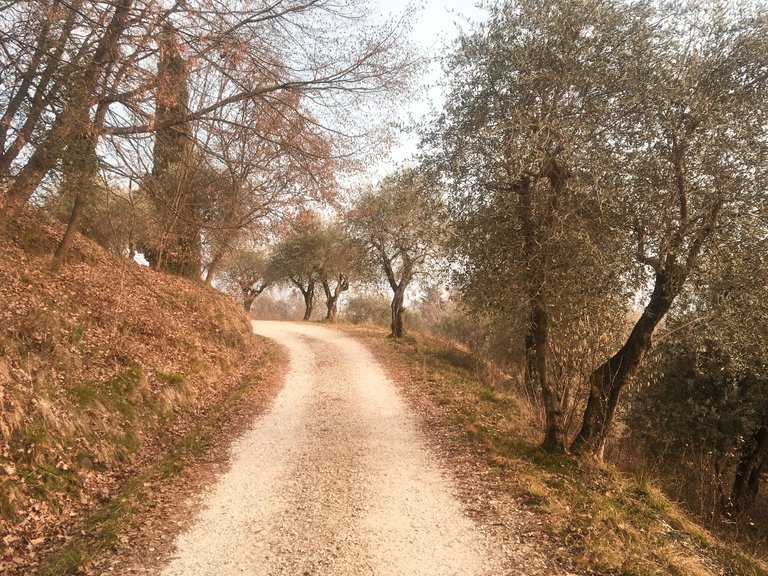 ù
One section is very suggestive because it dominates the landscape and the path is flanked by rows of olive trees.
ITA
Un tratto è molto suggestivo perchè domina il paesaggio e il sentiero è affiancato da filari di olivi.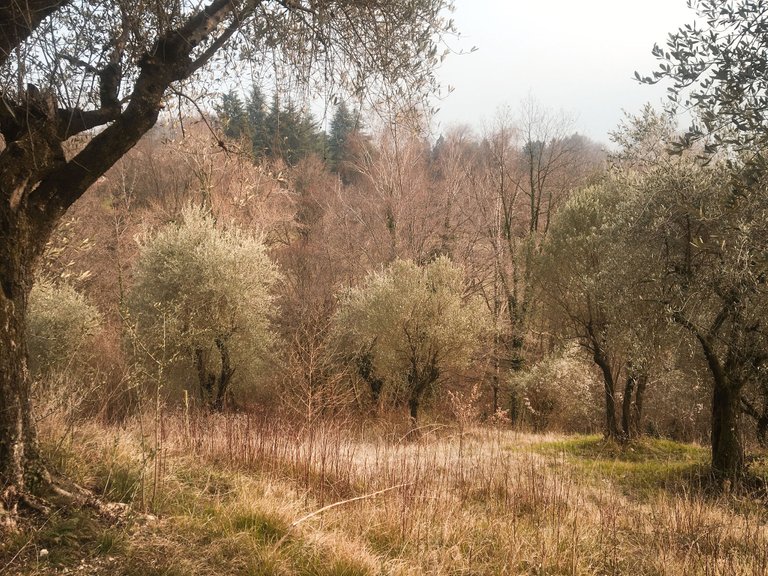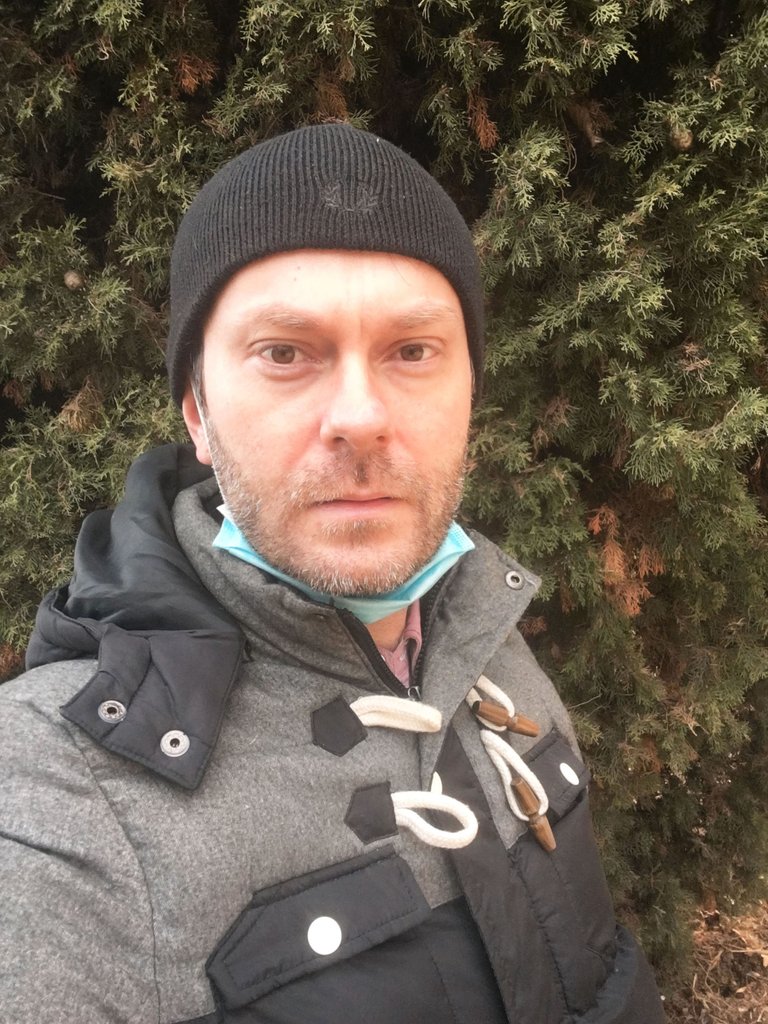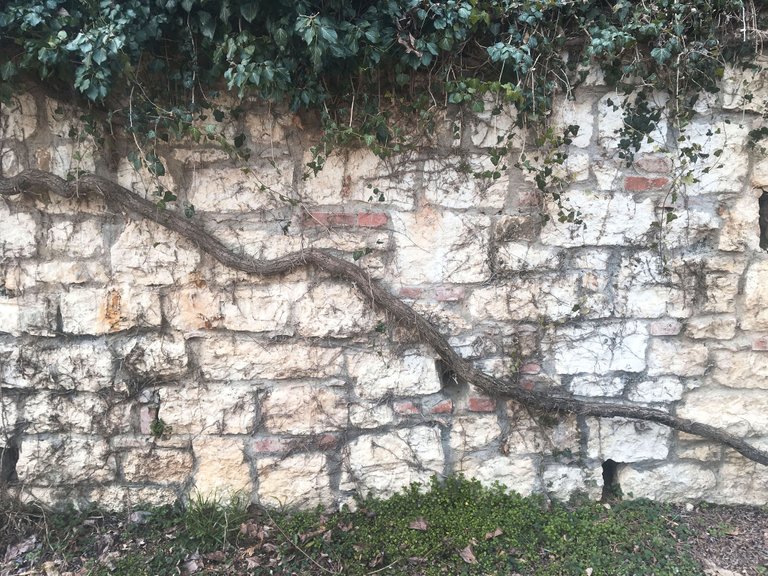 There are some isolated houses whose owners take care of the space, cutting trees, cleaning the street etc.
ITA
Ci sono alcune case isolate i cui proprietari si prendono cura dello spazio, tagliando alberi, pulendo la strada ecc.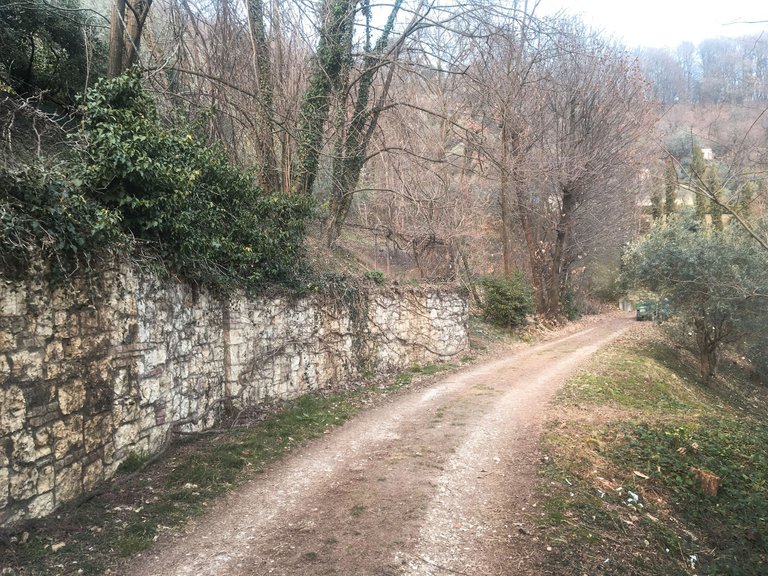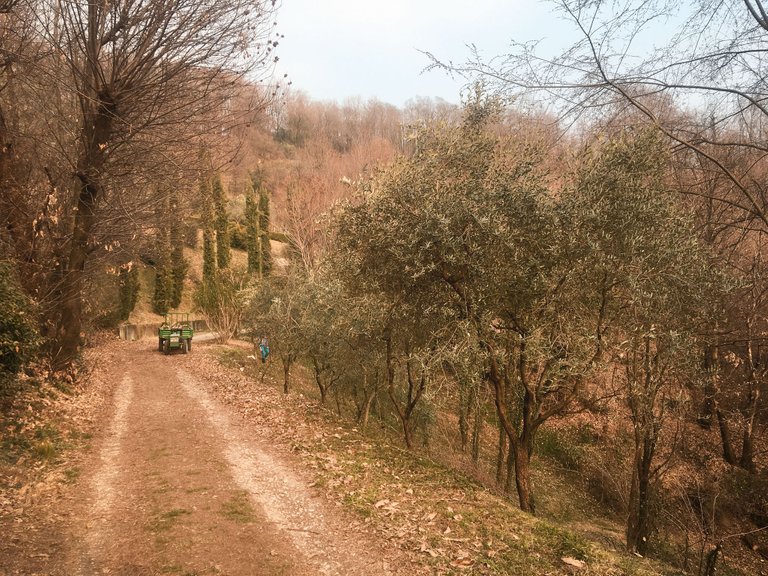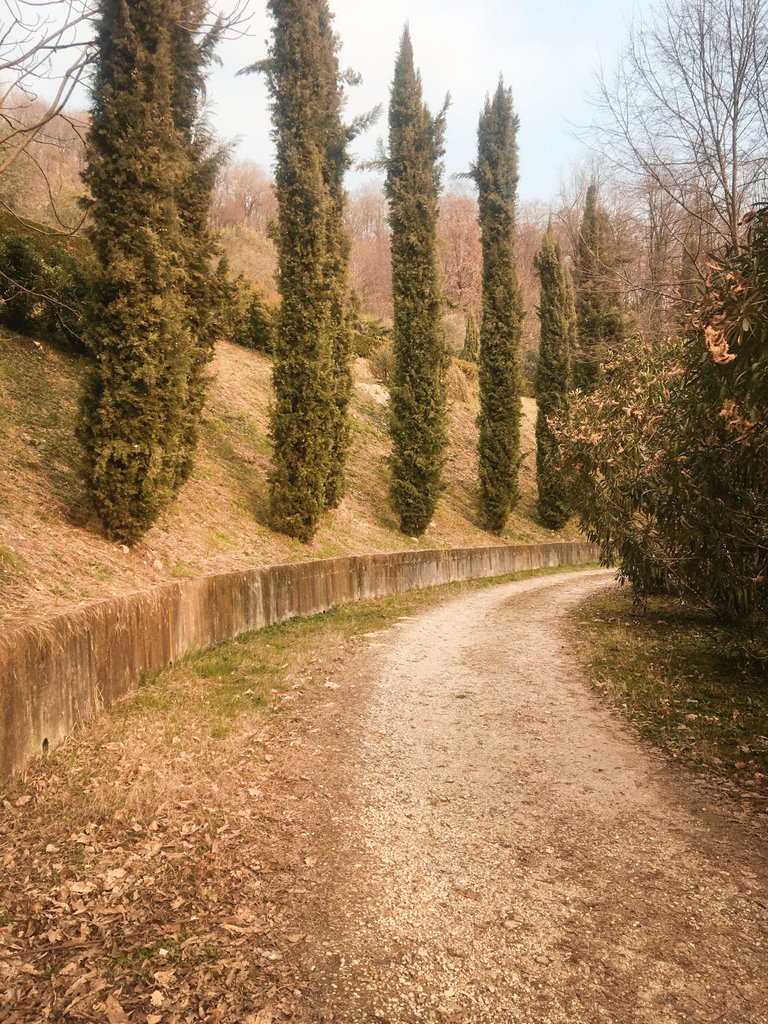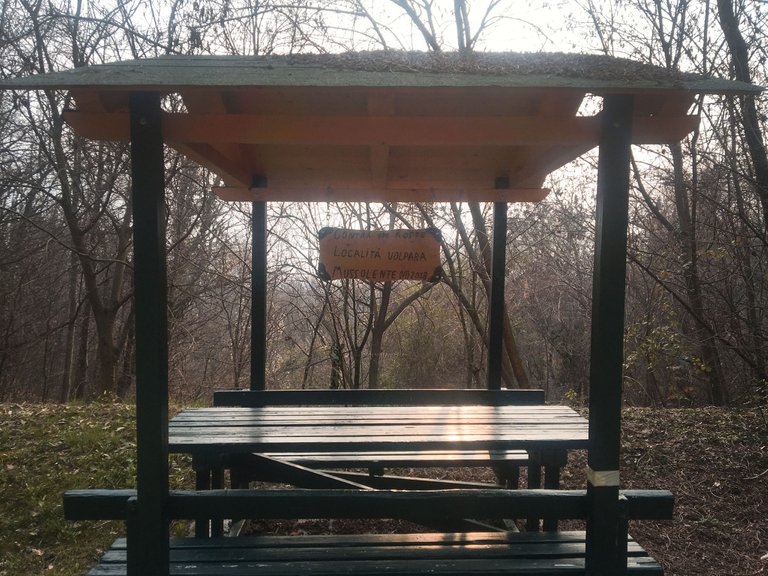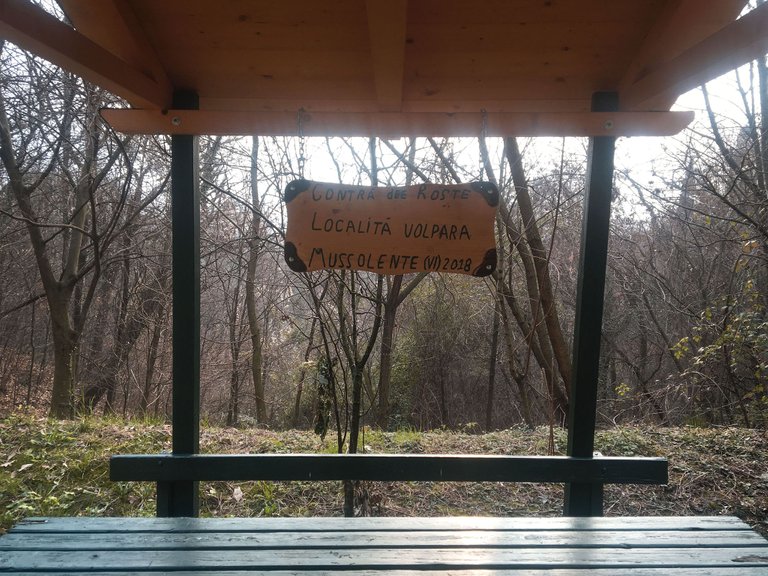 Coming out of the wooded area, there is a restaurant that I have yet to try, as soon as you can I will go and test it.
Many wedding dinners took place there.
There are still some bows hanging from the trees.
ITA
Uscendo dall'area boschiva, c'è un ristorante che devo ancora provare, appena si potrà andrò a testarlo.
Li si svolgevano molti pranzi matrimoniali.
Ci sono ancora alcuni fiocchi appesi agli alberi.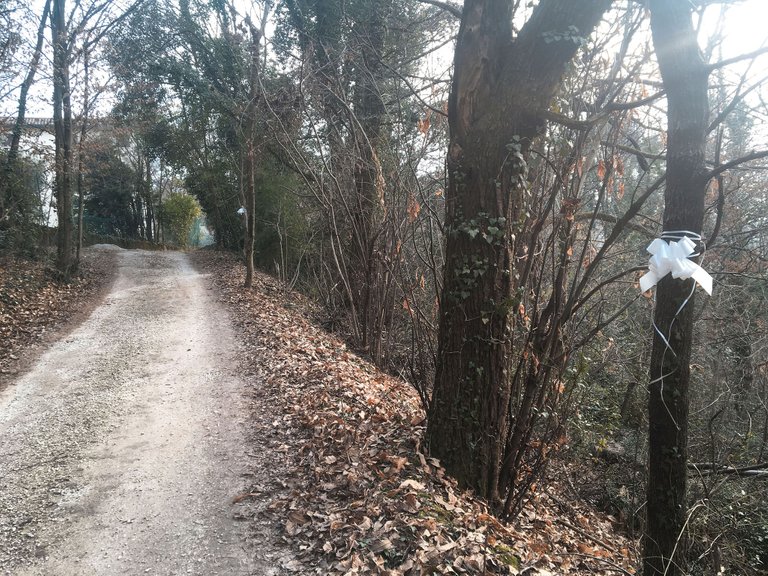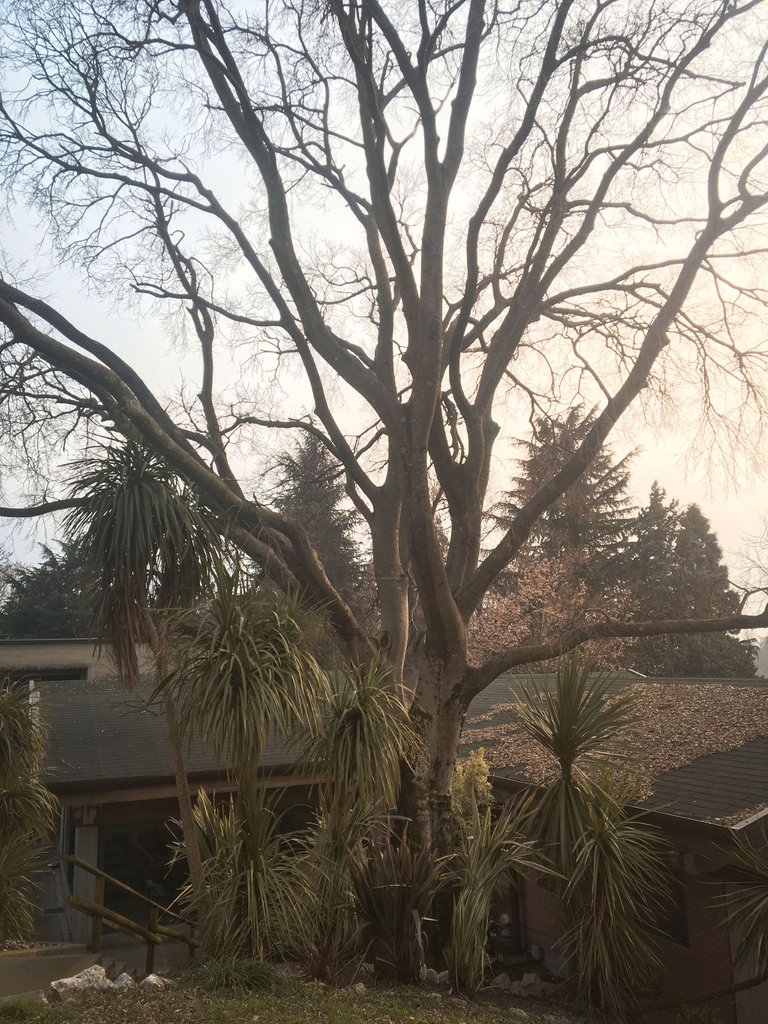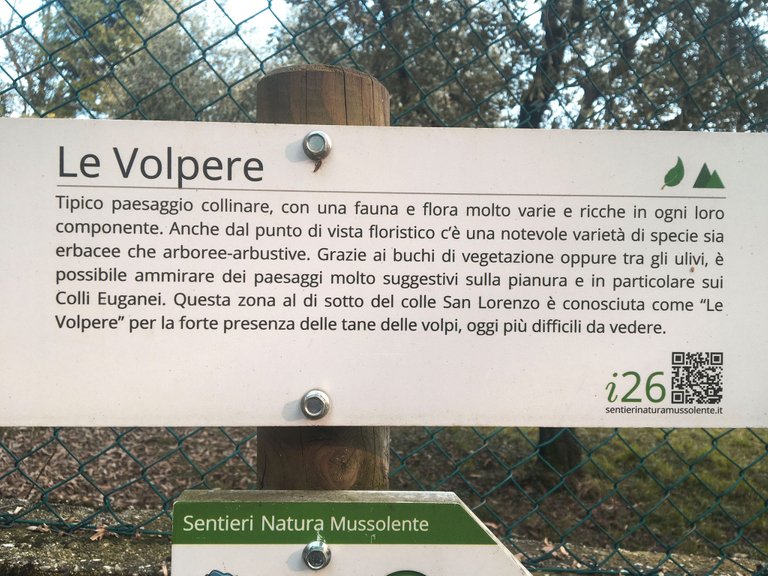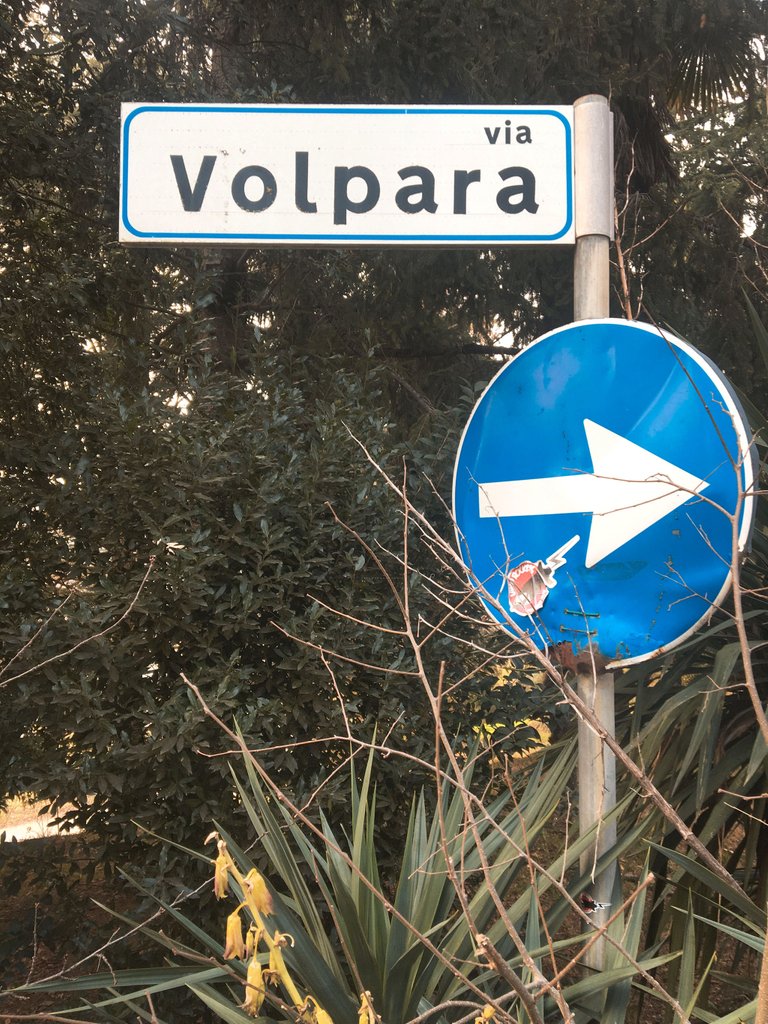 To return to where I had parked the car, continue along an asphalted road with almost no traffic at all.
This stretch is also pleasant because it is surrounded by nature.
ITA
Per ritornare a dove avevo parcheggiato l'auto, si prosegue lungo una strada asfaltata quasi per nulla trafficata.
Anche questo tratto è piacevole perchè immerso nella natura.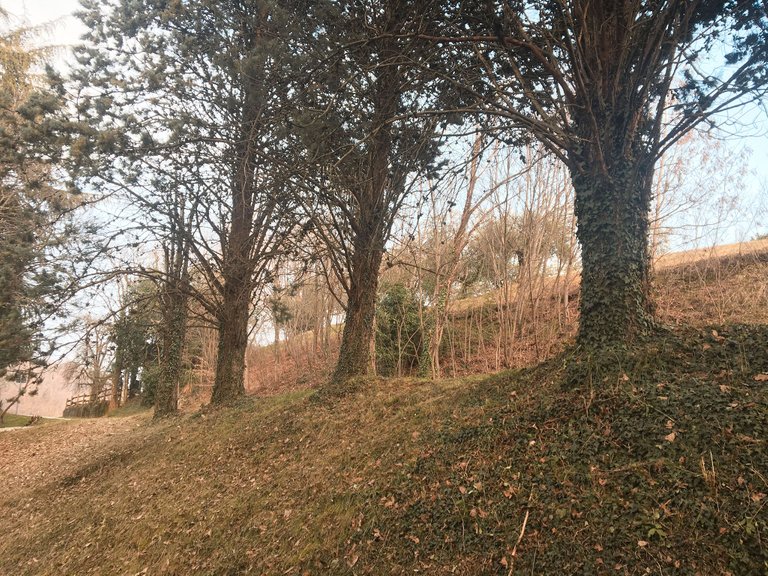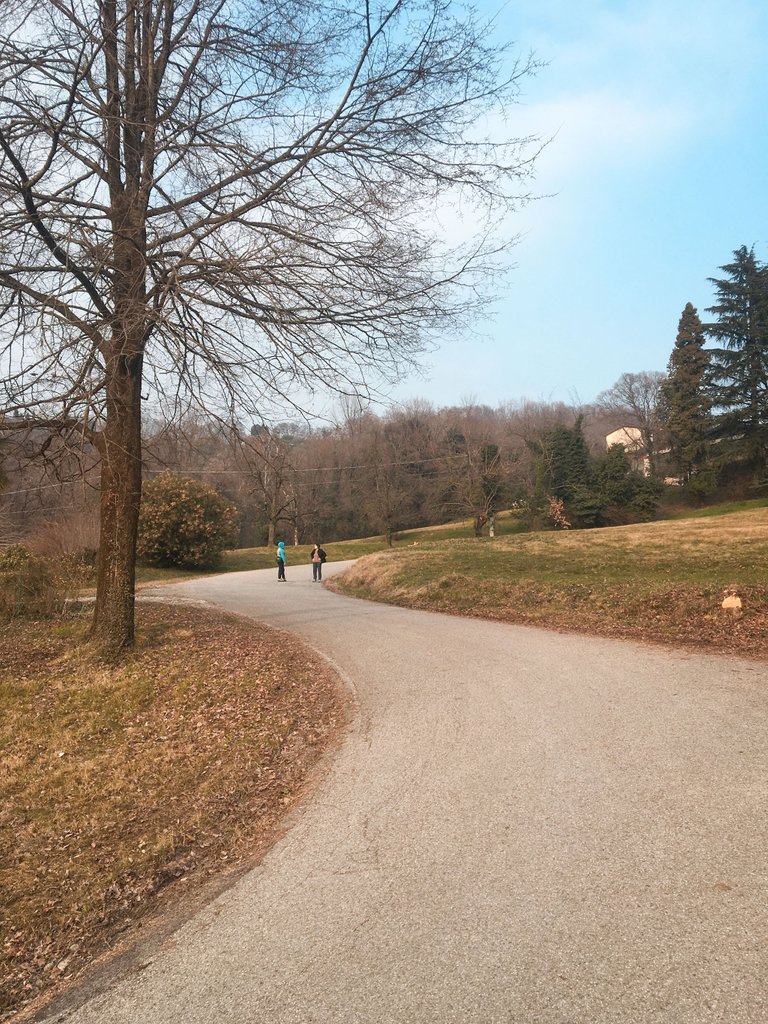 On the side of the road I caught a glimpse of another path, as soon as we can I will go and explore it.
ITA
A lato della strada ho intravisto un altro sentiero, appena si potrà andrò ad esplorarlo.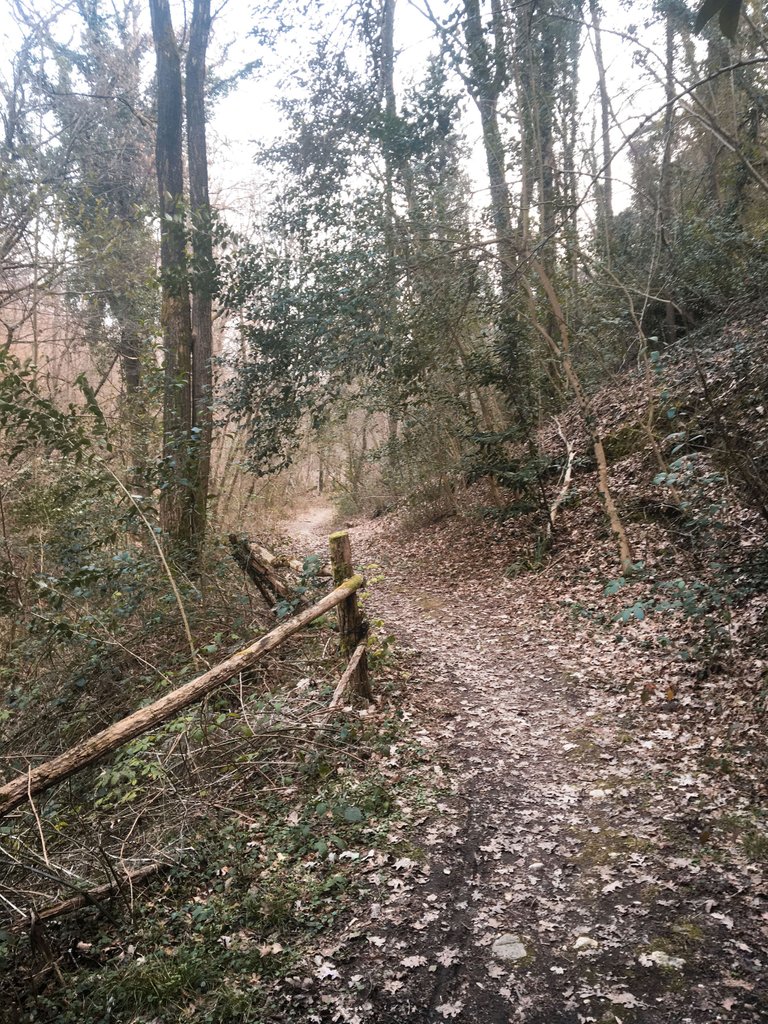 Step by step I was approaching the main street of Mussolente.
The landscape had changed.
Around me I had fields and in the background the hills of Mussolente.
ITA
Passo dopo passo mi stavo avvicinando verso la strada principale di Mussolente.
Il paesaggio era cambiato.
Attorno a me avevo campi e sullo sfondo i colli di Mussolente.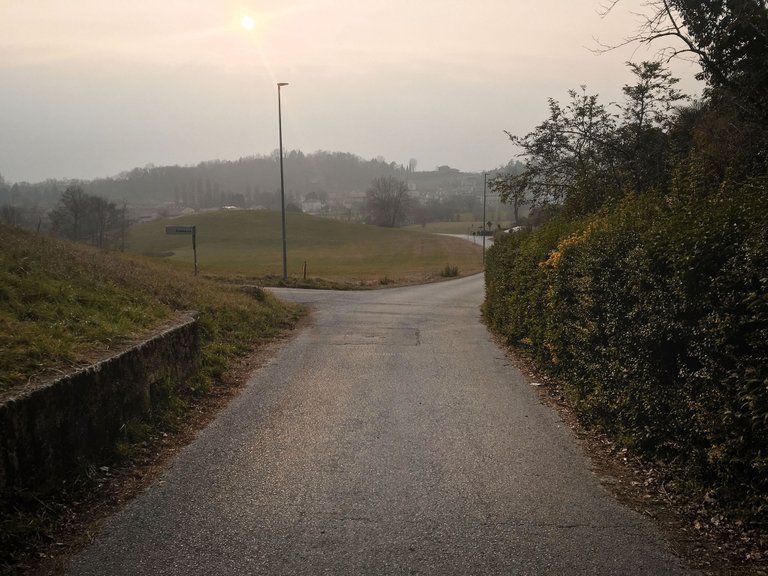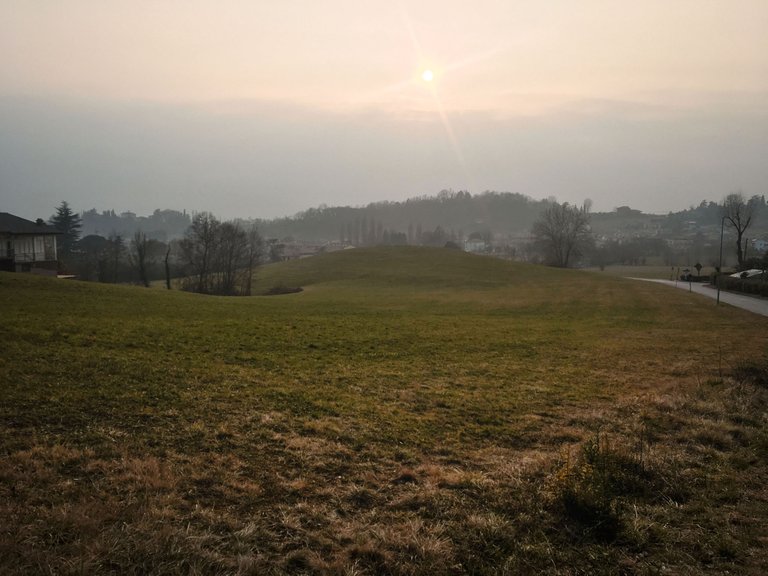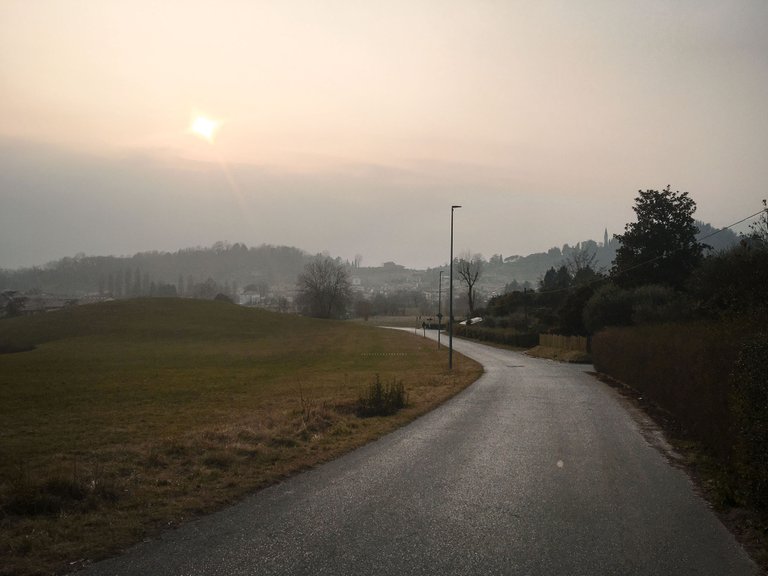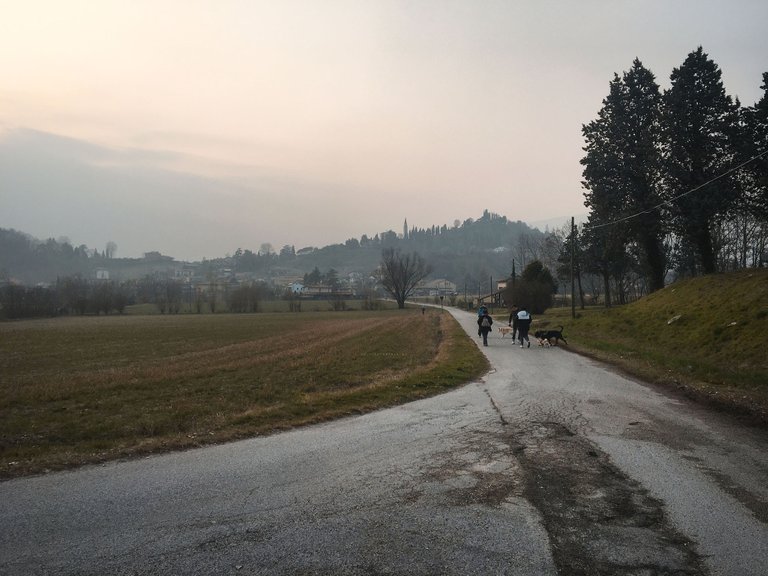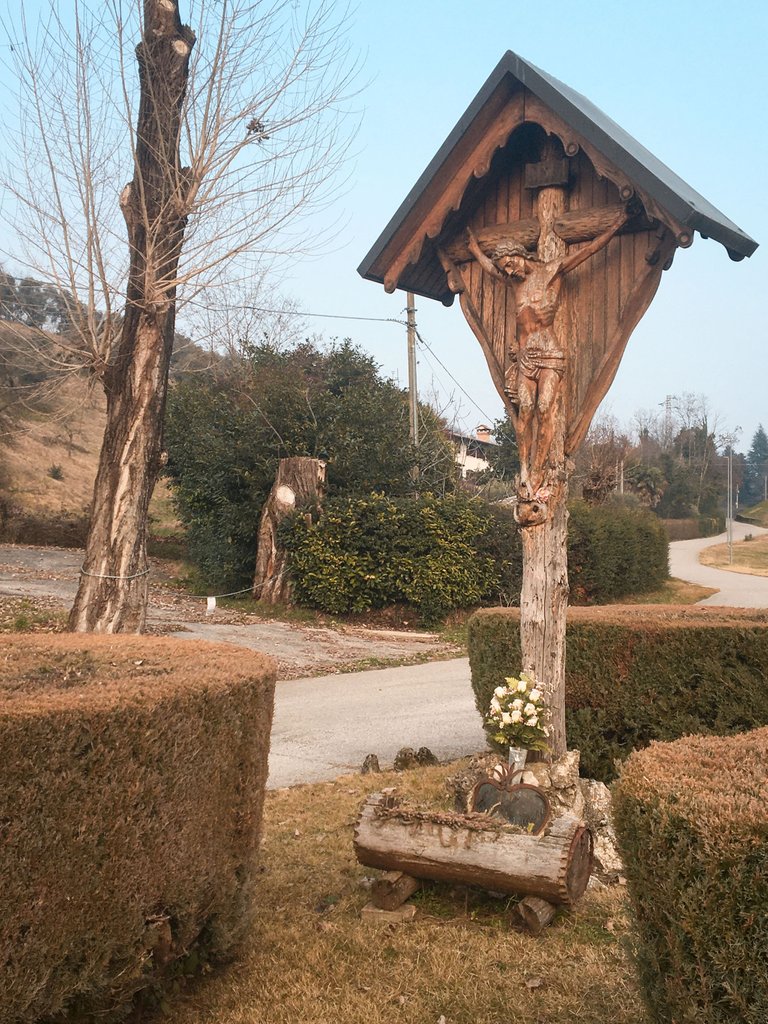 The straight road, in the silence of the countryside, led me to the car.
ITA
La strada rettilinea, nel silenzio della campagna, mi ha condotto verso l'auto.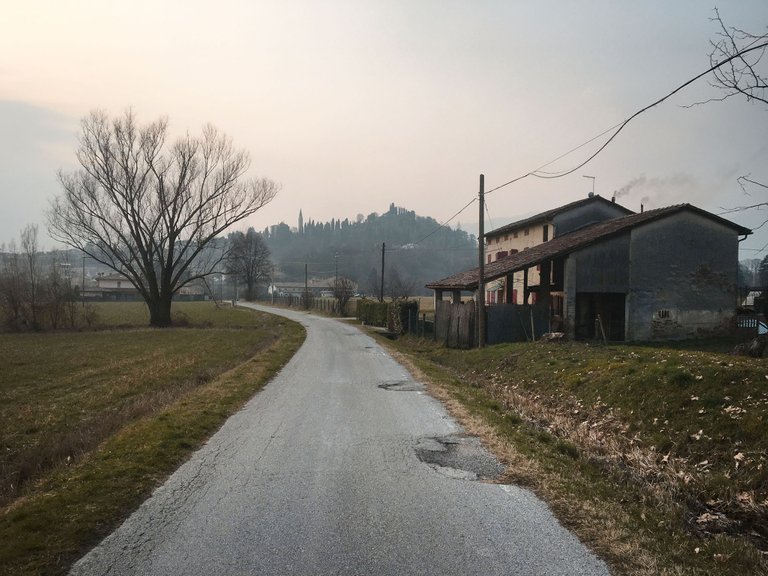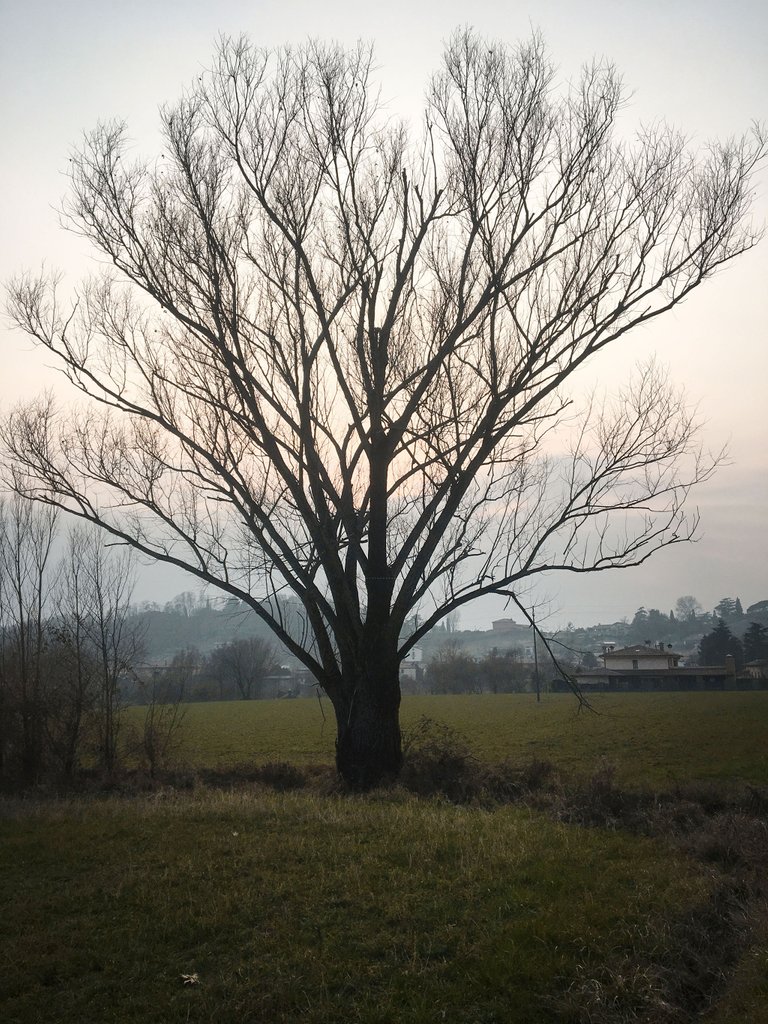 There was water in the ditches, everything around it was still monotonous, in vegetative stasis.
In a couple of months everything will be green and lush, I can't wait!
ITA
Nei fossi c'era acqua, attorno era ancora tutto in monotonale, in stasi vegetativa.
Fra un paio di mesi sarà tutto verde e rigoglioso, non vedo l'ora!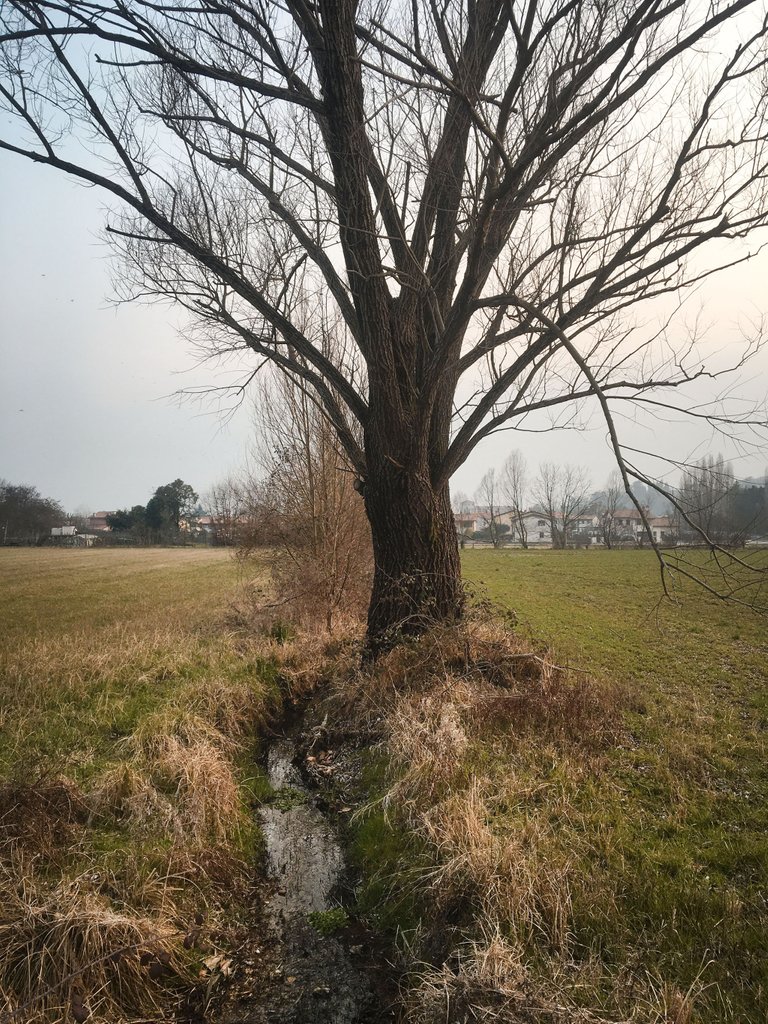 I was almost at the car, a couple of more photos of the stream that runs alongside the road...
ITA
Ero quasi giunto all'auto, ancora un paio di foto al torrente che costeggia la strada...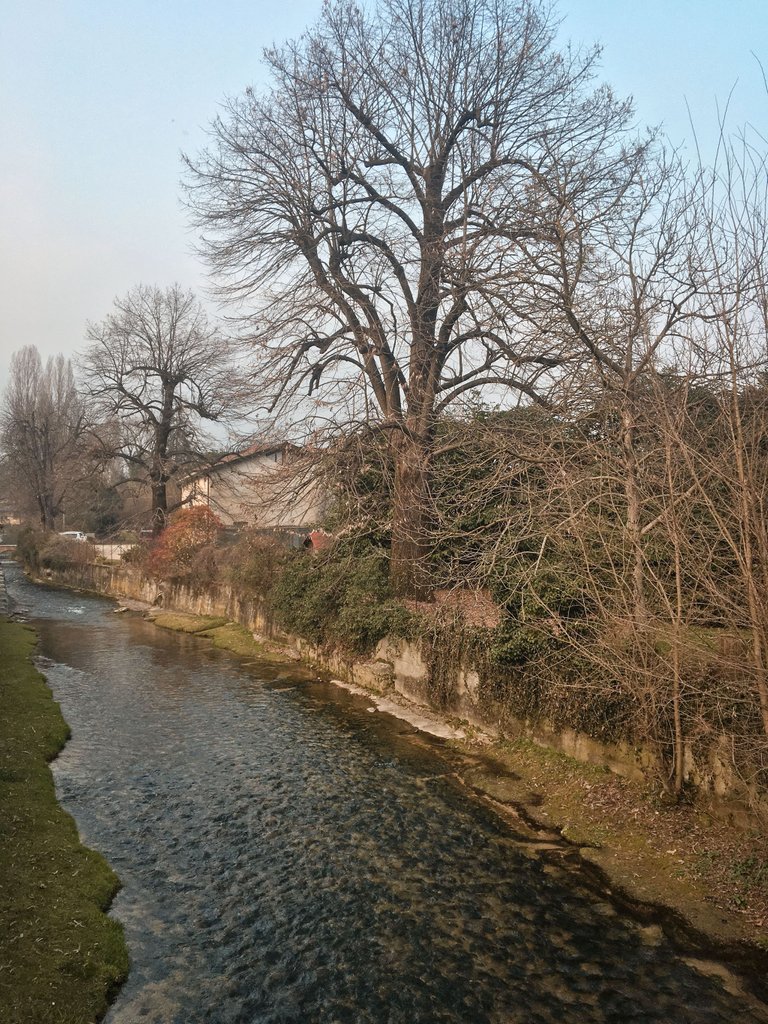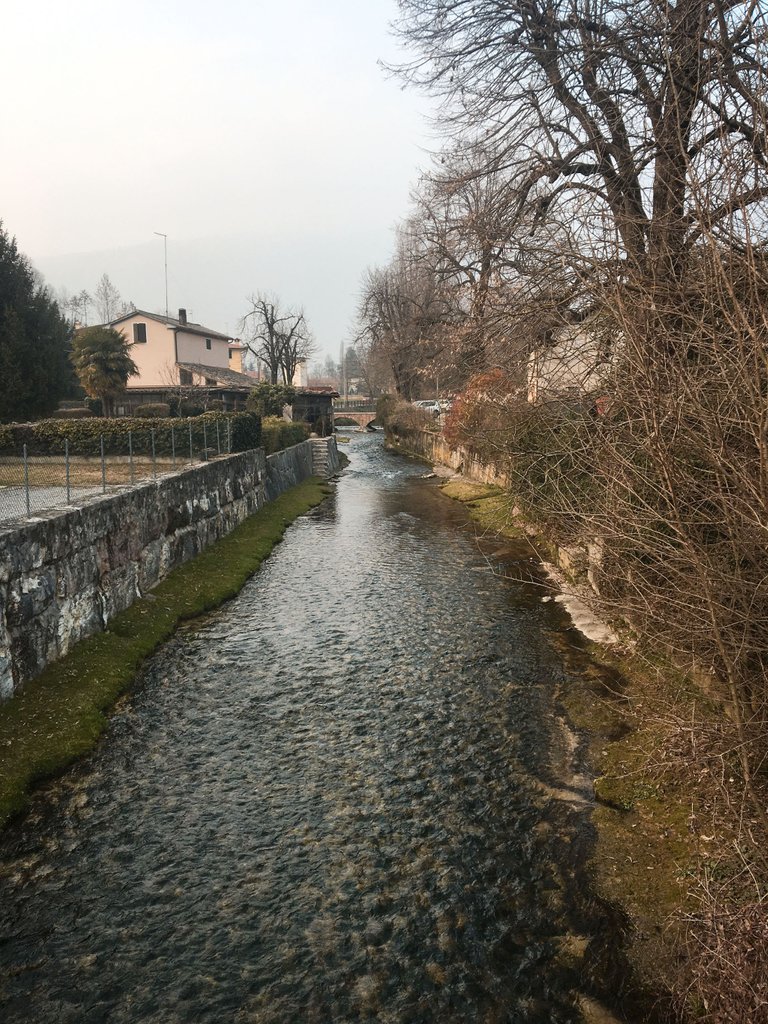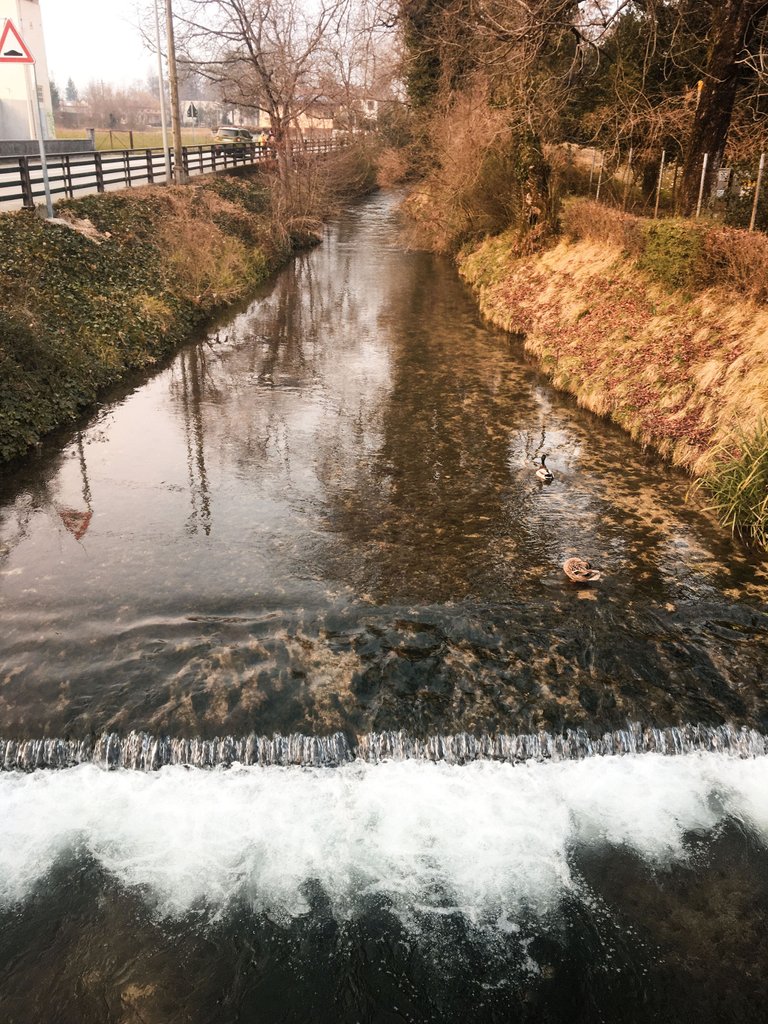 I am always amazed at how many beautiful places can be discovered in unsuspected places.
I am realizing more and more that 100 lives would not be enough to satisfy my coriosity of exploration.
ITA
Rimango sempre sorpreso da quanti bei posti si possono scoprire in luoghi insospettabili.
Sto realizzando sempre di più che non mi basterebbero 100 vite per soddisfare la mia coriosità di esplorazione.
---
---