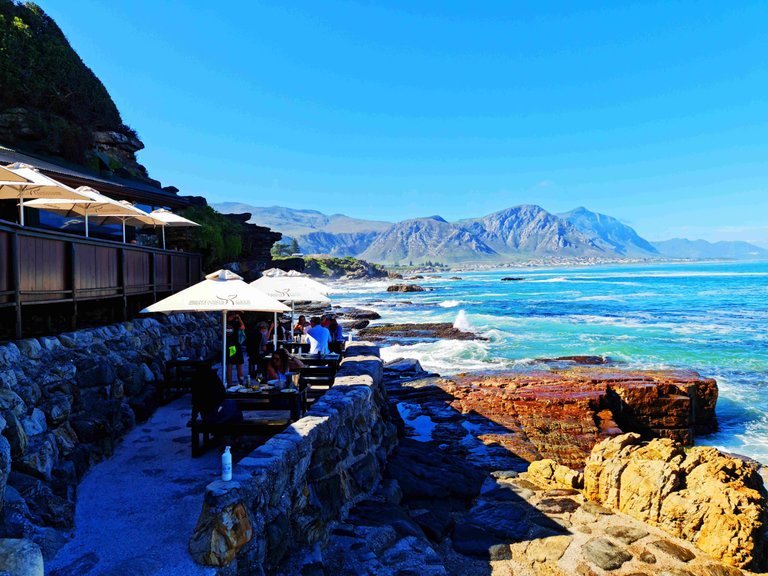 Situated on the shores of Walker Bay. Carved into the depths of a century old cave, in the heart of the best land-based whale watching area in the world.
Every Tuesday and Thursday Jude has club soccer out here in country bumpkin land, which is held at the recently developed Hermanus Sports Club which is pretty much butted up against the permanent structure for the Weekly Saturday market which I featured in this post. Soccer is a two hour stint, and whilst I try to be there for at least the last 30 minutes of play - there is no ways my back would allow me to sit like that for that length of time - so I have begun using those two hours to start exploring "my new home town" and its surrounds.
Today, I took a drive to a place called Bientangs Cave. It is located right next to the Old Hermanus Harbour which is essentially a five to ten minute drive away from the sports club, depending on traffic. It is an internationally recognised restaurant which has been created in an existing cave which was originally inhabited by the Khoi Strandloper people. Its name comes from the last known khoi strandloper known to have lived in the cave.
According to the history of the location, Bientang lived a very fruitful life in that cave. There is actually a stream which runs under the stairway which leads you down toward the restaurant and obviously no shortage of fresh seafood at her disposal either. You can read a little bit more about the history here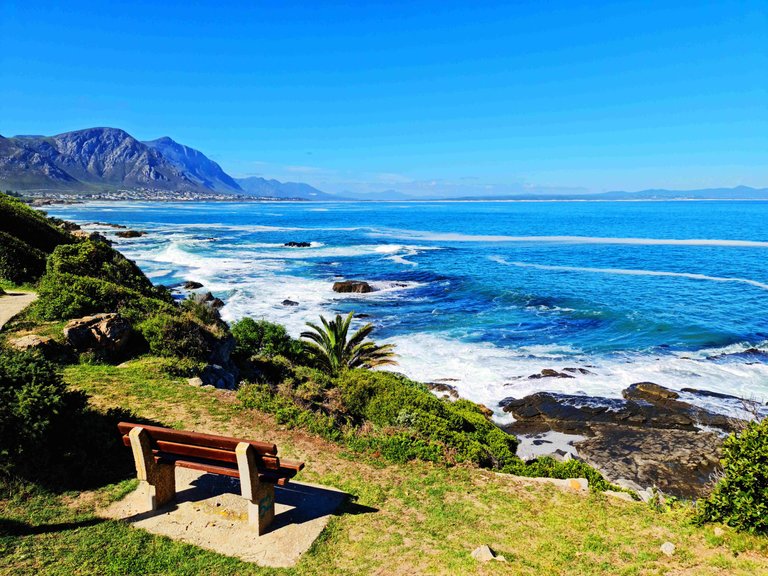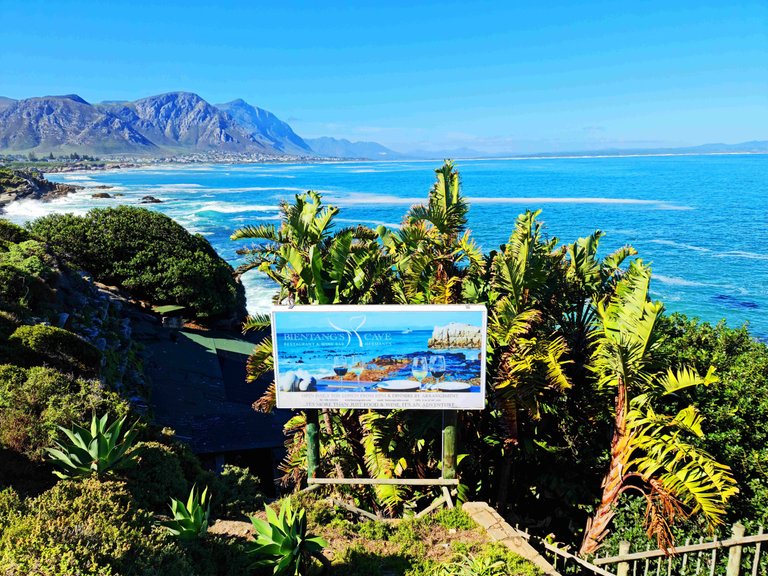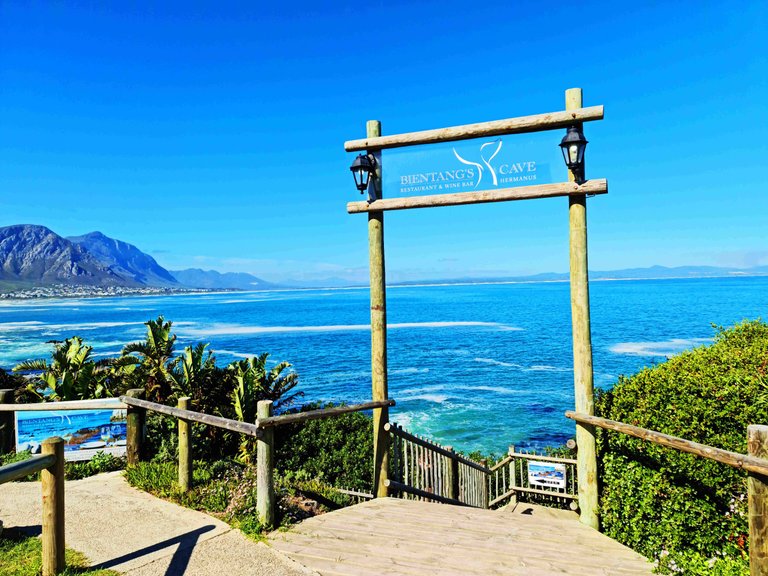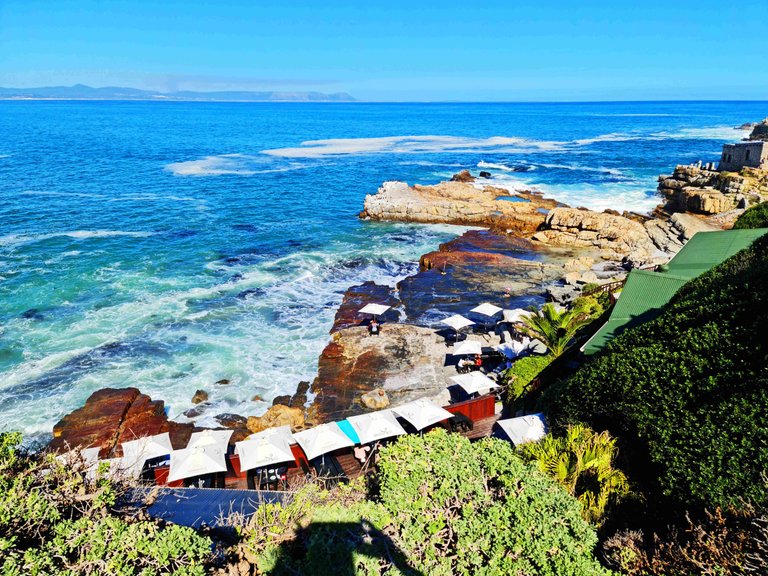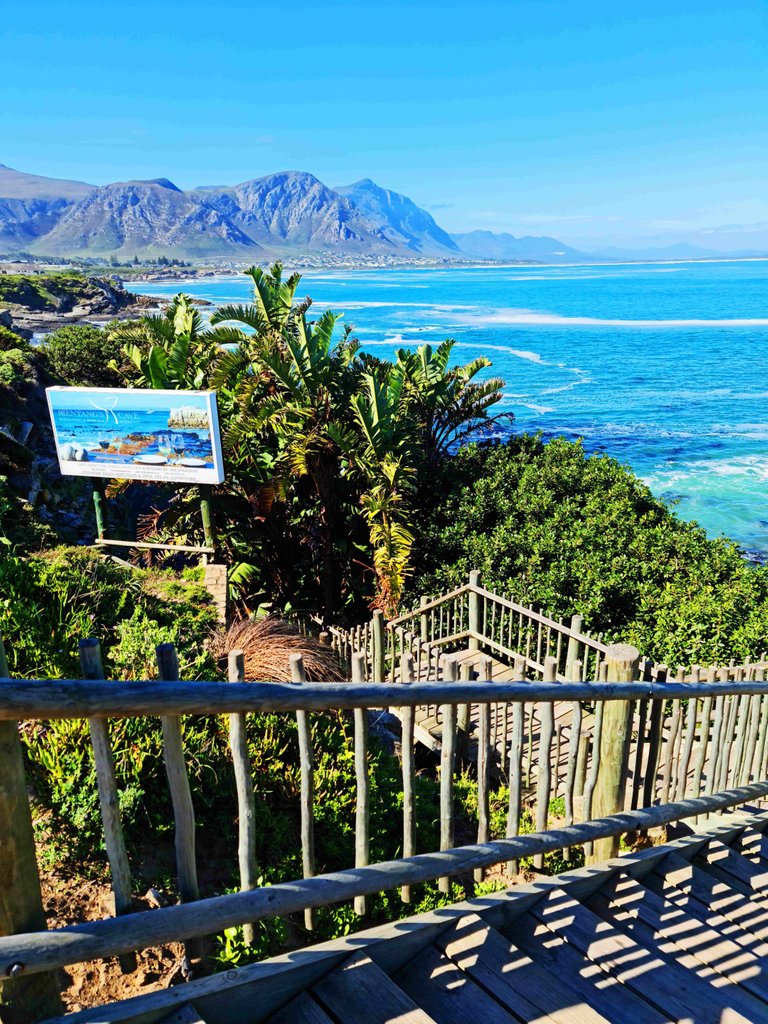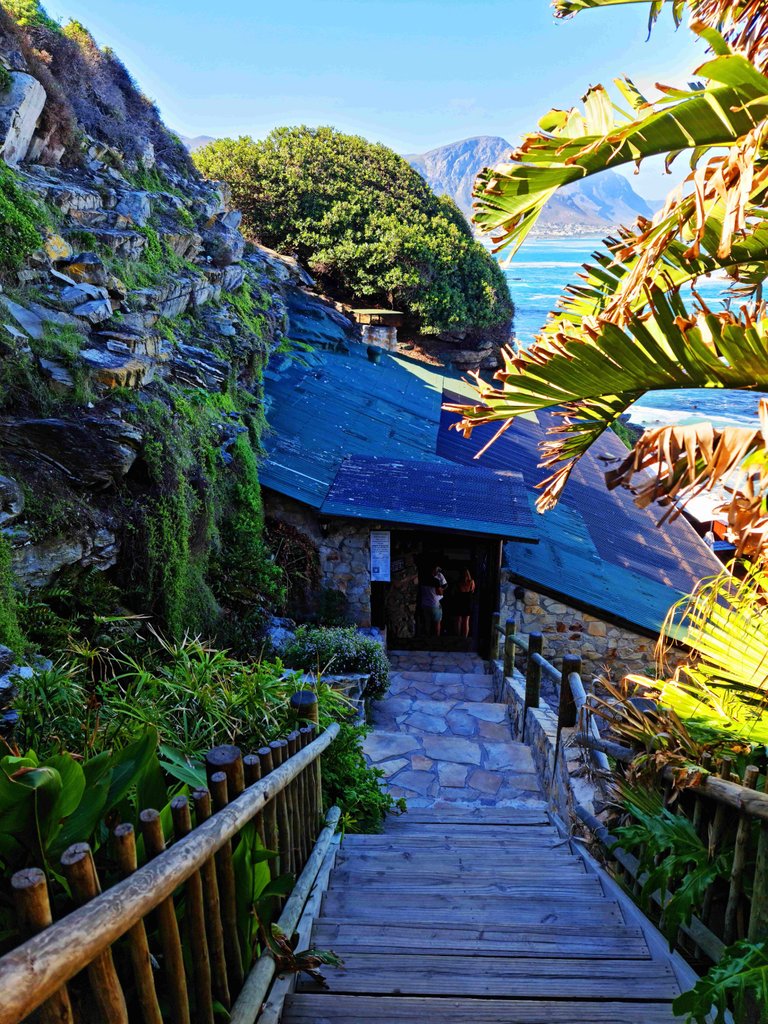 I was not really looking to have a three course meal, but rather to simply enjoy being able to sit surrounded by so much natural beauty! As you enter the restaurant there is a seated area in the cave itself, then some tables along the perimeter, which is where I sat. They also have many tables scattered on the rocks which literally do give you the feeling that you are sitting in the middle of nowhere - there are no words fit to describe the pleasure of dining RIGHT on the ocean like that. Sure, it comes with its own set of challenges... like the tides, haha - but well worth the adventure, always!
When I arrived, they were just an hour prior to closing time so the place was pretty empty which was actually really nice! Under normal circumstance you cannot just "waltz" into Bientangs cave, lol - you would absolutely need a reservation... so I consider myself lucky!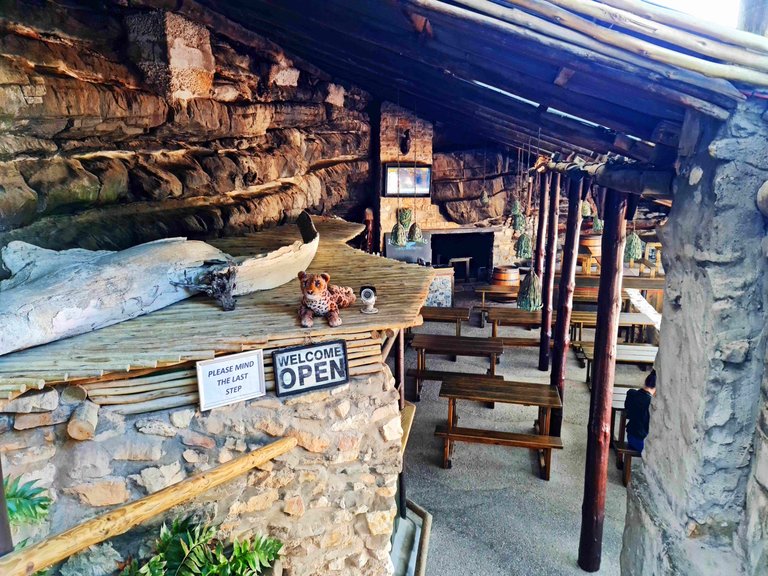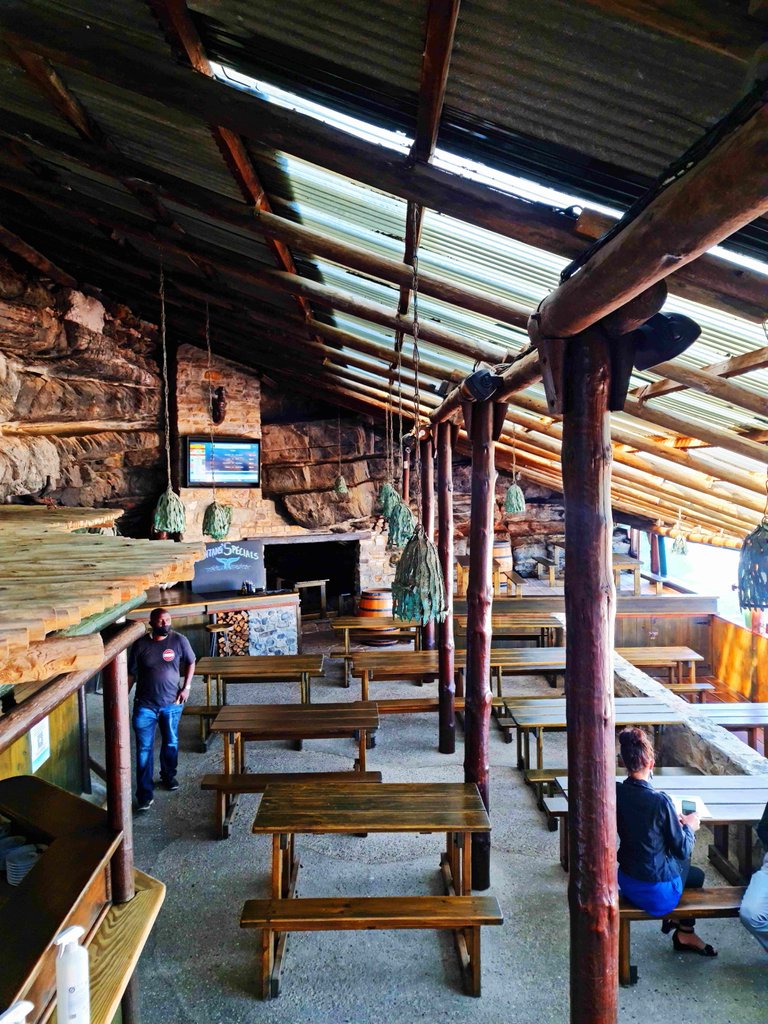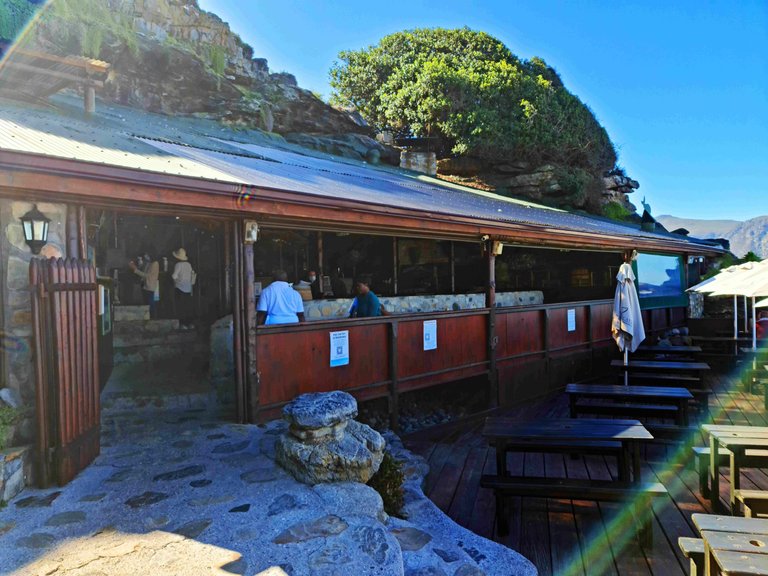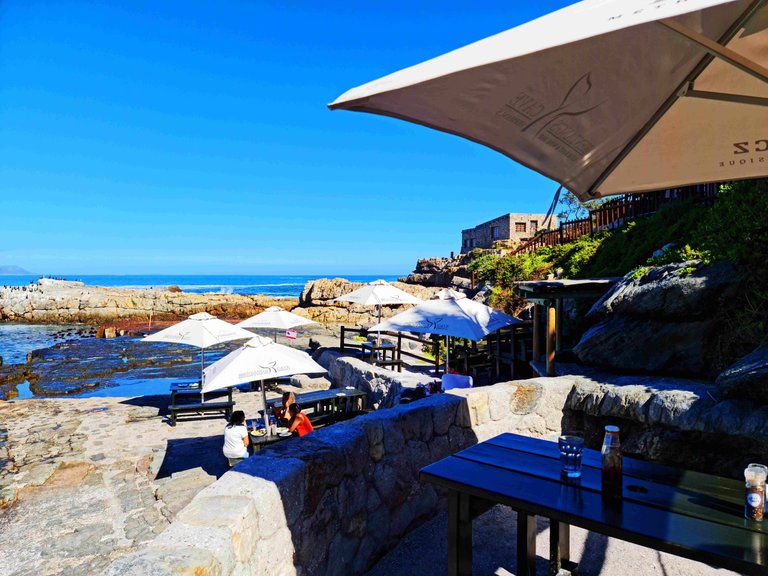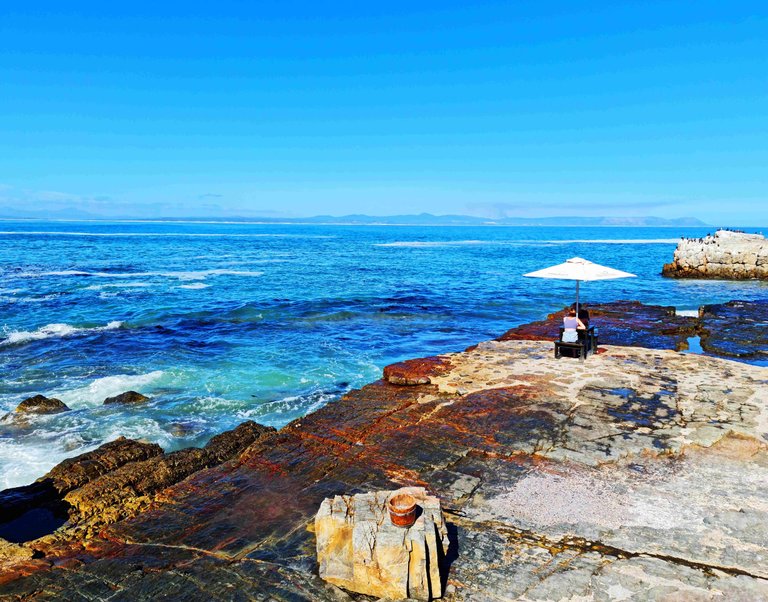 So, this was where I planted my rear end! Ordered myself a glass of water with lemon, no ice and a side of fries. How depressing to sit at a place like that and have to order a glass of water, haha!!! But, I was in "soccer mom mode" and was driving... but hey, at least they served it in a wine glass!
There is one thing you need to know about visiting an establishment like this... you do indeed pay for that seaside experience. When the starters on the menu are labelled SQ, you know your wallet is in for a joyride, haha! Honestly though, I would have ordered at least a starter if their kitchen was not closing shortly after my arrival... and I would have ordered the panko prawns... because PRAWNS!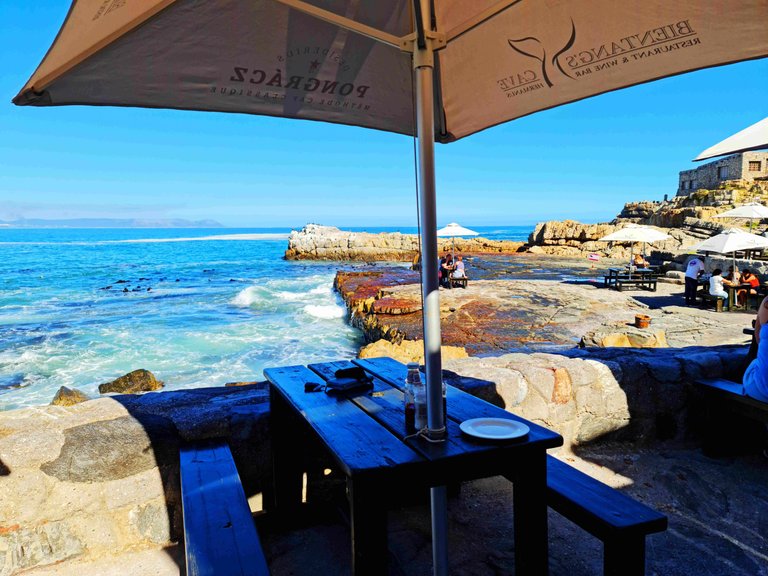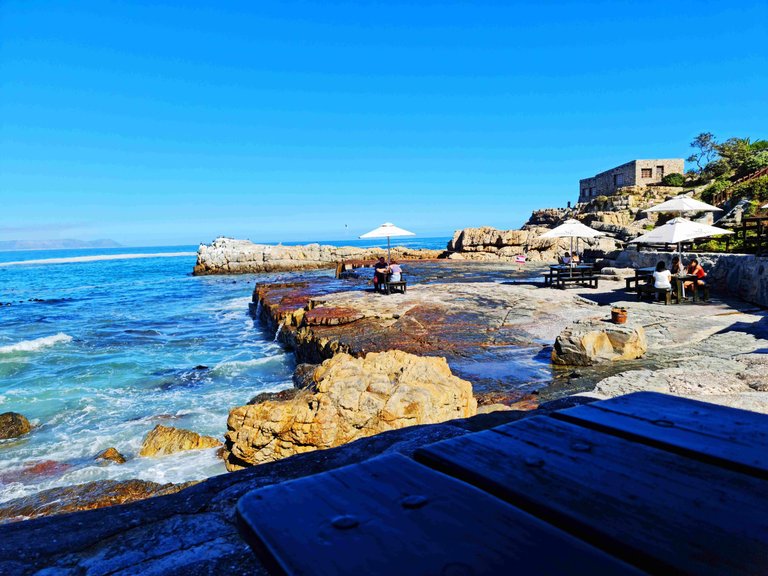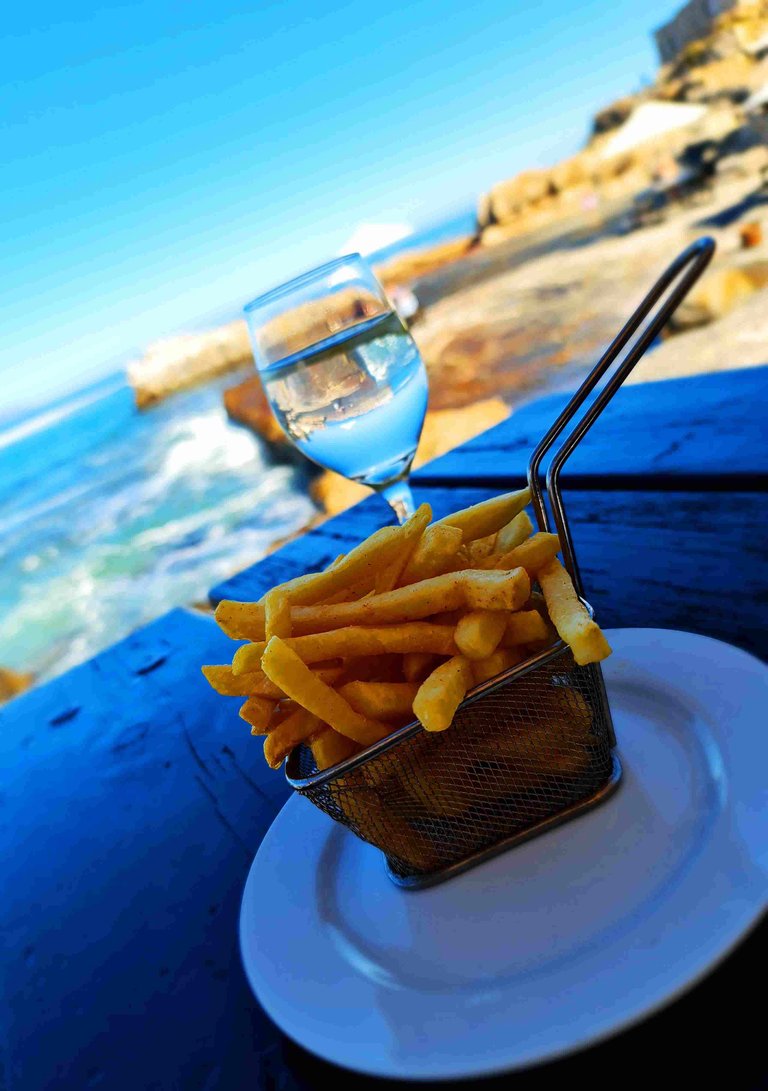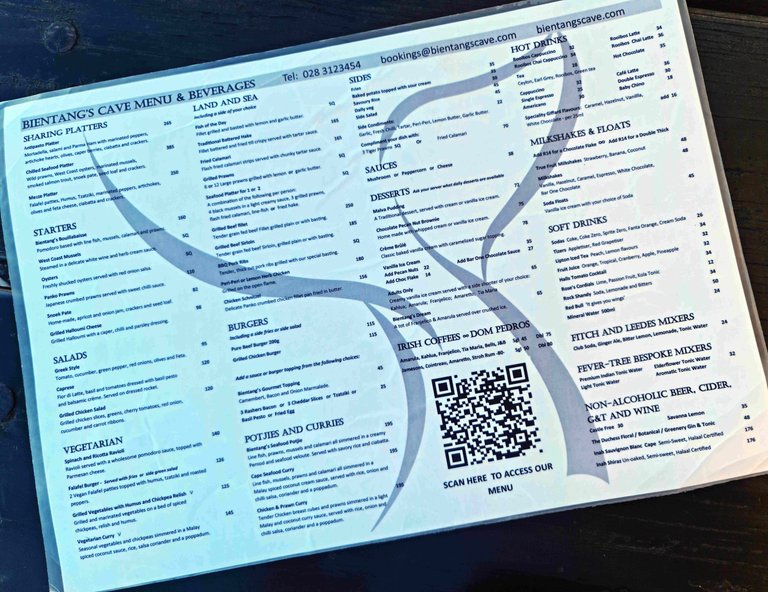 When my "fries" arrived I was actually in the middle of an online conversation with someone, so I sent them a snapshot. I was told that I had better have sauce with those... something I NEVER do, lol! I am a "excessive amounts of salt is fine for me" kinda gal! However, for entertainment purposes, I threw a dollop of tomato sauce on the plate. Admittedly, I actually ended up adding a few more dollops and was planning to take a pic of the "finished product" as verification for my saucy consumption, but the waitress was too efficient... because - Bientangs Cave. haha!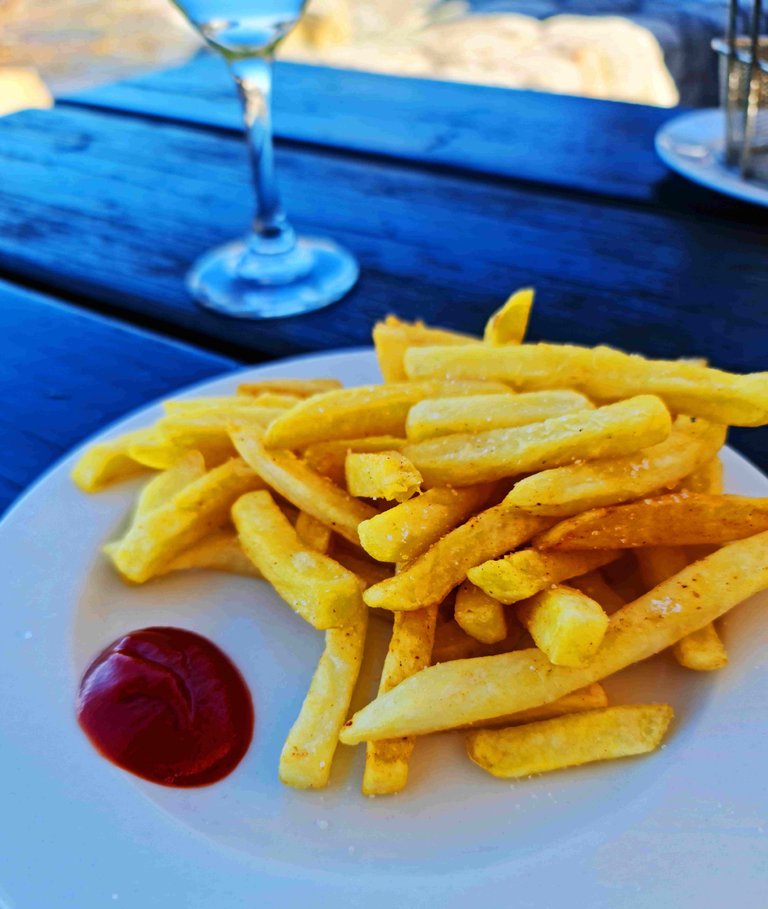 And talking about food... seeing as I am not able to share any of my own experience with their food this time around... I thought I would steal the below three snap shots from their website... I could definitely see myself enjoying a romantic afternoon there - sitting, holding hands with someone special, talking about everything and nothing! BLISS!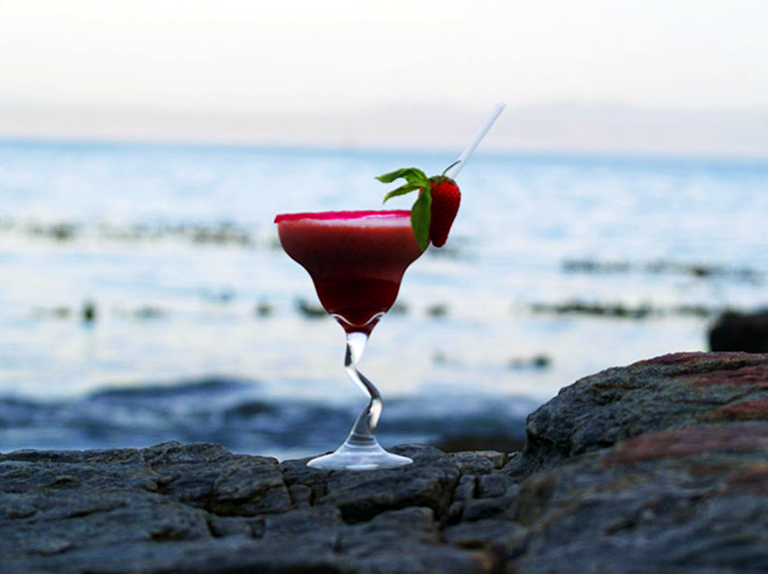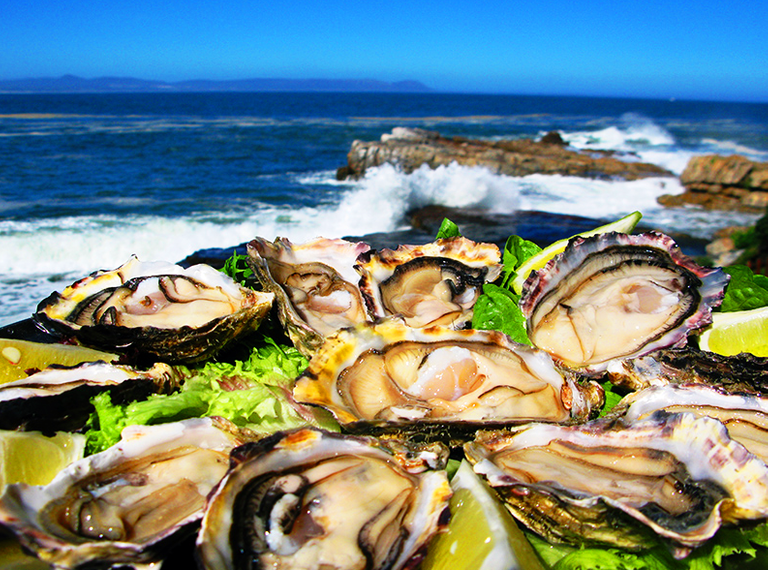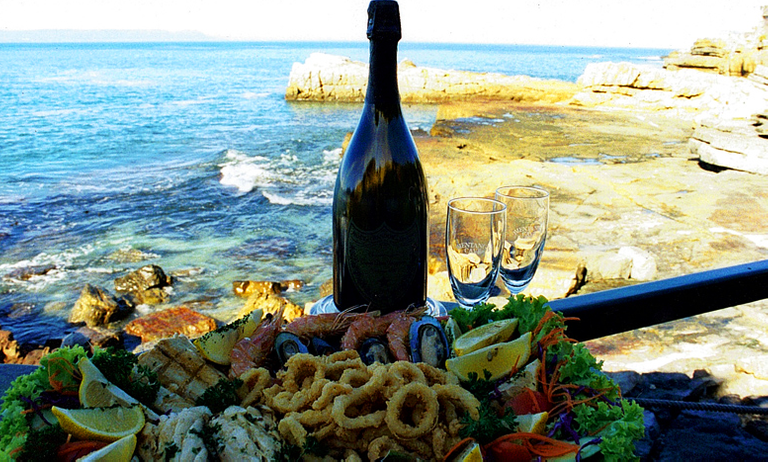 I was only there for about an hour, but it was an hour really well spent. Despite being alone - I had wonderful virtual company, got to enjoy the waves crashing closer and closer by the minute as the tide came in - AND some really good fries WITH tomato sauce, haha - it was fruitful... no pun intended :)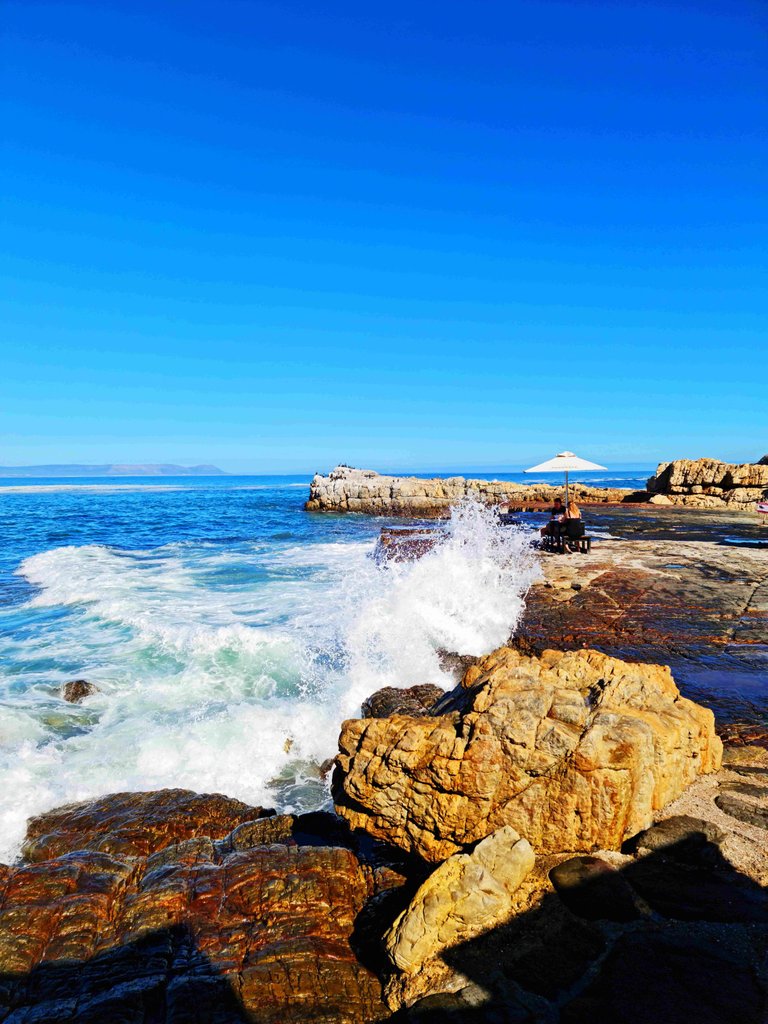 ❤❤❤
Until next time...
Much Love from Cape Town, South Africa xxx
Jaynielea

JOIN US ON DISCORD
SUBSCRIBE TO THE LIFESTYLE LOUNGE COMMUNITY HERE
JOIN US ON TWITTER


ALL IMAGES ARE MY PROPERTY UNLESS OTHERWISE CREDITED