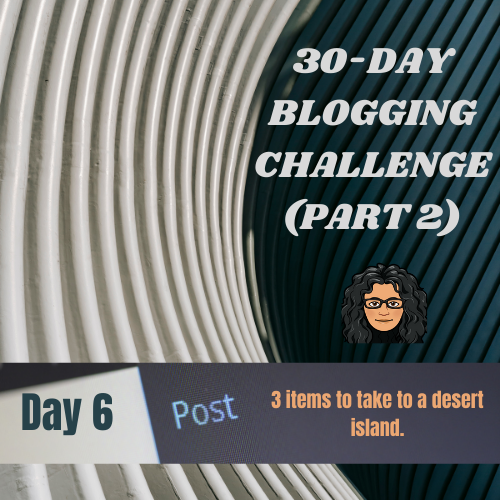 Image created in Canva by @justclickindiva utilizing its free images and bckgrnds

Day 6 of the 30-day Blogging Challenge (Part 2).
3 items to take to a desert island

There are definitely must haves if I'm to be on a desert island for whatever reason. Although I love solitude, it won't be easy. I'll need the following: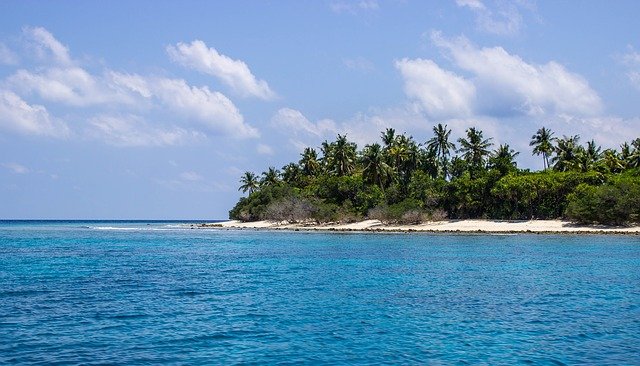 Image by TheOtherKey from Pixabay
Food, Clothing, Water, and Medications
I hope this never happens to me. I'm a Type 2 Diabetic and need access to my daily medicines. I usually get a 3-month refill supply. I'd stay as long as my meds last out. Then I'd need to return home. But if for some reason I was on a desert island, I'd would definitely require all my favorite foods and snacks and purified water.

Lawn Chair w/umbrella, pillows, and sunscreen
For comfort, I'll need my favorite lawn chair. It has an umbrella attached. I'll be a bit torrid if I had to sit on the ground. Then I'd need pillows to ease the pain my back and knees. Next, I'd definitely need sunscreen. I never leave home without it is being out in the sun for more than 4 hours. Doctor's orders.

Writing and Reading Materials
There's only so much desert I'll be exploring. To pass the time, writing and reading materials are a necessity. I'll probably finish that novel I started on ten years ago. I'll also have time to write everyday my posts on Hive. But then I just had a thought. How was I going to publish them without internet. Well, I'd better add that to the list of necessities.


Definitivamente hay cosas imprescindibles si voy a estar en una isla desierta por cualquier motivo. Aunque me encanta la soledad, no será fácil. Necesitaré lo siguiente:
Alimentos, ropa, agua y medicamentos
Espero que esto no me pase nunca. Soy diabético de tipo 2 y necesito tener acceso a mis medicamentos diarios. Suelo tener un suministro de 3 meses de recarga. Me quedaría el tiempo que me duren las medicinas. Luego tendría que volver a casa. Pero si por alguna razón estuviera en una isla desierta, definitivamente necesitaría todos mis alimentos y bocadillos favoritos y agua purificada.

Silla de jardín con paraguas, almohadas y protector solar.
Para estar cómoda, necesitaré mi silla de jardín favorita. Tiene una sombrilla. Si tuviera que sentarme en el suelo, sería un poco tórrido. Luego necesitaría almohadas para aliviar el dolor de mi espalda y mis rodillas. Después, definitivamente necesitaría crema solar. Nunca salgo de casa sin ella es estar al sol durante más de 4 horas. Órdenes del médico.

Material de escritura y lectura
No hay mucho desierto que pueda explorar. Para pasar el tiempo, los materiales de escritura y lectura son una necesidad. Probablemente terminaré esa novela que empecé hace diez años. También tendré tiempo para escribir todos los días mis posts en Hive. Pero entonces se me ocurrió una idea. Cómo iba a publicarlos sin Internet. Bueno, será mejor que lo añada a la lista de necesidades.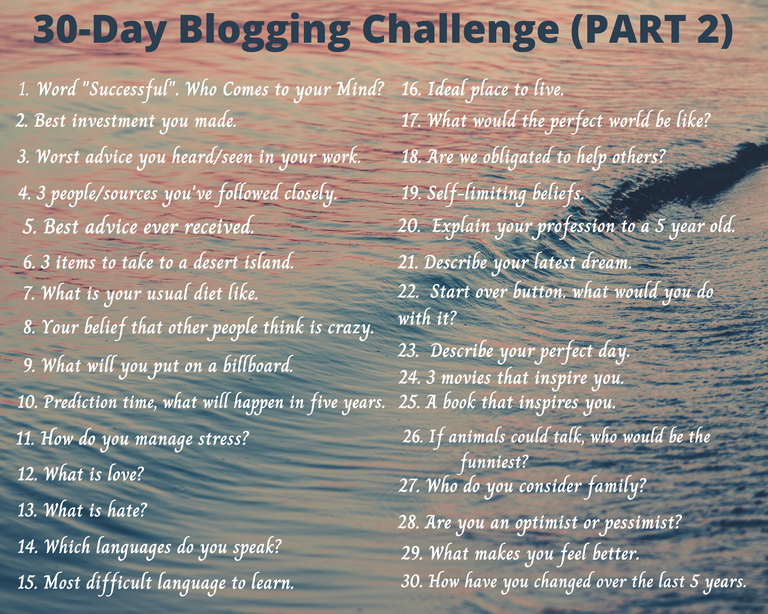 Image created in Canva by @justclickindiva utilizing its free images and bckgrnds
Follow my 30-Day Blogging Challenge below:

@flaxz initiative #iamalivechalleng (Published my Day 6 of 30-Day Blogging Challenge [Part 2] post today)

Thanks,
@justclickindiva
Happy rest of the week everyone with whatever your endeavors.


SOURCES:
a) JustClickindiva's Footer created in Canva utilizing its free background and images used with permission from discord admins.
b) Unless otherwise noted, all photos taken by me with my (i) Samsung Galaxy 10" Tablet, (ii) Samsung Phone, & (iii) FUJI FinePix S3380 - 14 Mega Pixels Digital Camera
c) Purple Butterfly part of purchased set of Spiritual Clip Art for my Personal Use
d) All Community logos, banners, page dividers used with permission of Discord Channel admins.
e) Ladies of Hive banner used with permission of and in accordance with the admin's guidelines.

Your Personal Terminal Discord Invite