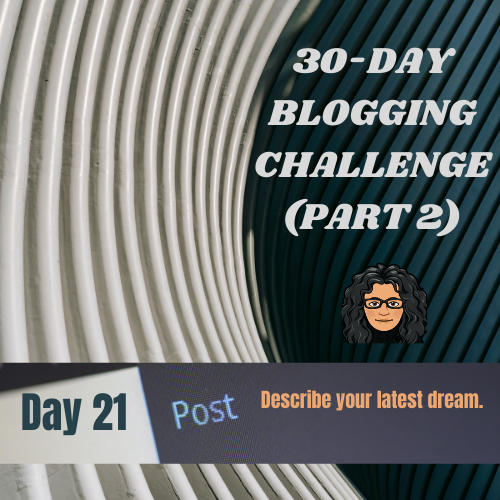 Image created in Canva by @justclickindiva utilizing its free images and bckgrnds

Day 21 of the 30-day Blogging Challenge (Part 2).
Describe your latest dream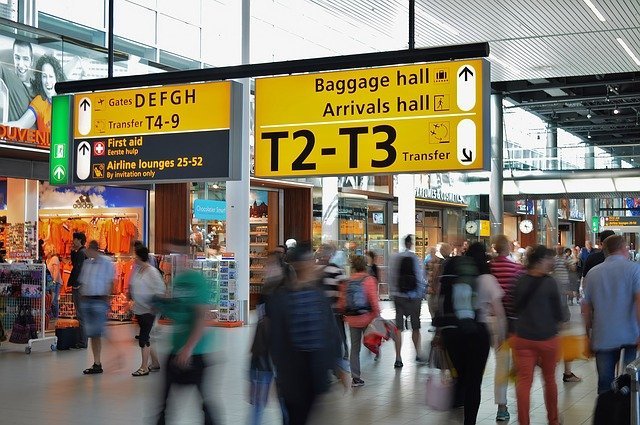 Image by Skitterphoto from PIxabay
One night last week, I woke up in a panic as I normally do when encapsulated a a serious dream or an outright nightmare. You see, my spouse and I were going on a trip. It wasn't a fun trip to an exotic get-a-way, It was a scheduled trip to return our Aunt to her home.
Aunt Mariah. She passed away about ten years ago. At the age of 96, she was still sharp as a whip with one-liners meant to catch you off guard when imparting some important wisdom she'd acquired or setting you straight if you got out of place or acted, as she called it, "uppity" and needed to be reminded to whom you were talking.
Anyway, back to my dream. Another relative brought Aunt Mariah to town by car to attend an important funeral.
She was left in our care. It was time for her to return home. Instead of driving her as she requested, we decided to make arrangements to fly back. She was upset about this, but went along with it.
We arrived at the airport well ahead of time to make sure the airline would accommodate her wheelchair access. We both had to use the facilities, so we left her in the waiting area near the boarding counter. When we returned, she was gone from the place we left her.
We could hear her screaming. She was calling our names to help her. We asked everyone in the seating area if they'd seen her. No one did. We were frantic. We could still hear her screams as they got farther away from us.
She was yelling "I told you all I didn't want to go on any airplane. Help, help."
At that point, wee were frantic and crying ourselves. We split up so we could go in different directions. No one in our particular terminal seemed to hear her screams. They acted as if nothing was wrong.
We were going in circles and didn't know where else to look. All the time I kept thinking that we were her favorite niece and nephew. We couldn't let anything happen to her.
I had a feeling of being overwhelmed. I was sweating. Then I woke up breathing heavily.

Una noche de la semana pasada, me desperté con pánico, como suelo hacer cuando se encierra un sueño grave o una auténtica pesadilla. Verás, mi cónyuge y yo nos íbamos de viaje. No era un viaje divertido a un lugar exótico, era un viaje programado para devolver a nuestra tía a su casa.
Tía Mariah. Ella falleció hace unos diez años. A la edad de 96 años, seguía siendo muy aguda con sus frases para pillarte desprevenido al impartir alguna sabiduría importante que había adquirido o para enderezarte si te salías de tu sitio o te comportabas, como ella decía, de forma "arrogante" y necesitabas que te recordaran con quién estabas hablando.
En fin, volviendo a mi sueño. Otro pariente trajo a la tía Mariah a la ciudad en coche para asistir a un importante funeral.
La dejaron a nuestro cuidado. Era hora de que volviera a casa. En lugar de llevarla en coche, como ella había pedido, decidimos hacer los preparativos para que volviera en avión. Ella se molestó por ello, pero aceptó.
Llegamos al aeropuerto con mucha antelación para asegurarnos de que la aerolínea permitiera el acceso de su silla de ruedas. Ambos teníamos que utilizar las instalaciones, así que la dejamos en la zona de espera cerca del mostrador de embarque. Cuando volvimos, ya no estaba en el lugar donde la habíamos dejado.
La oímos gritar. Nos llamaba para que la ayudáramos. Preguntamos a todos los que estaban en la zona de asientos si la habían visto. Nadie la vio. Estábamos desesperados. Seguíamos oyendo sus gritos mientras se alejaban de nosotros.
Gritaba: "Os dije a todos que no quería subir a ningún avión. Ayuda, ayuda".
En ese momento, nosotros mismos estábamos frenéticos y llorando. Nos separamos para ir en diferentes direcciones. Nadie en nuestra terminal particular parecía escuchar sus gritos. Actuaban como si no pasara nada.
Íbamos en círculos y no sabíamos hacia dónde mirar. Todo el tiempo seguía pensando que éramos sus sobrinos favoritos. No podíamos dejar que le pasara nada.
Tenía una sensación de agobio. Estaba sudando. Luego me desperté respirando con dificultad.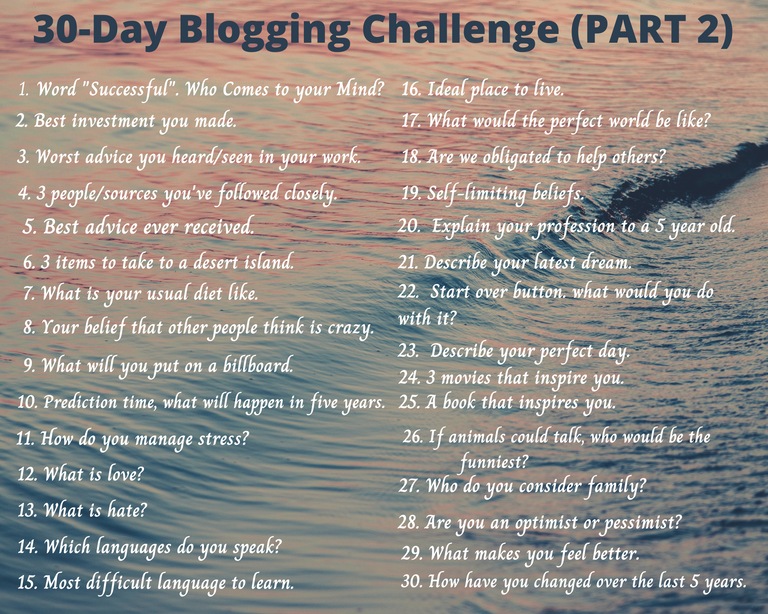 Follow my 30-Day Blogging Challenge below:

@flaxz initiative #iamalivechalleng (Published my Day 21 of 30-Day Blogging Challenge [Part 2] post today)

Thanks,
@justclickindiva
Happy rest of the week everyone with whatever your endeavors.


SOURCES:
a) JustClickindiva's Footer created in Canva utilizing its free background and images used with permission from discord admins.
b) Unless otherwise noted, all photos taken by me with my (i) Samsung Galaxy 10" Tablet, (ii) Samsung Phone, & (iii) FUJI FinePix S3380 - 14 Mega Pixels Digital Camera
c) Purple Butterfly part of purchased set of Spiritual Clip Art for my Personal Use
d) All Community logos, banners, page dividers used with permission of Discord Channel admins.
e) Ladies of Hive banner used with permission of and in accordance with the admin's guidelines.

Your Personal Terminal Discord Invite