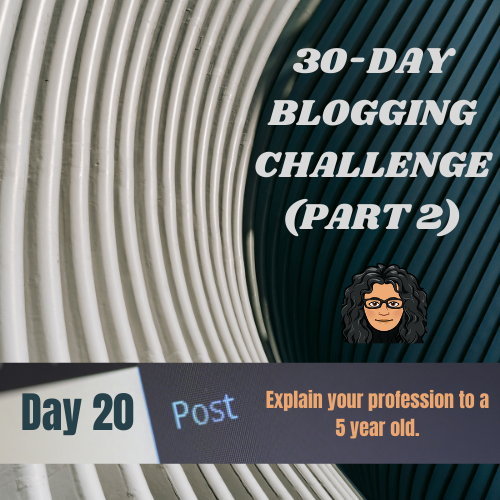 Image created in Canva by @justclickindiva utilizing its free images and bckgrnds

Day 20 of the 30-day Blogging Challenge (Part 2).
Explain your profession to a 5 year old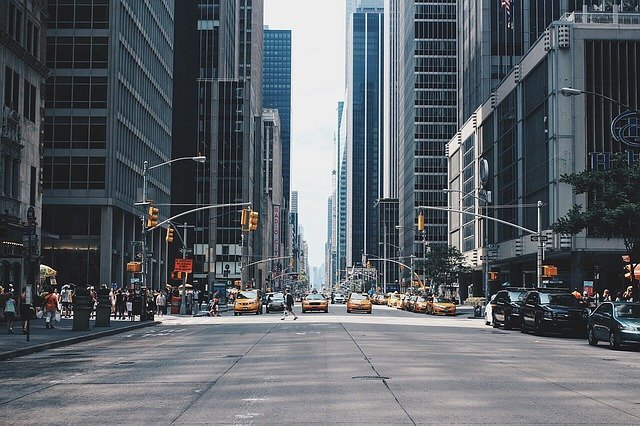 Image by FreePhotos from PIxabay
I'm now retired having worked in the legal field for over 30 years. However, when my children were small, they'd ask what I did all day when I was not at home.
I explained to them that I was away at work doing lots of things for eight hours in an office building helping their dad make money to buy food, toys, and clothes.
That wasn't enough, so I attempted to explain what I actually did at work all day to make money. I told them I pick up papers from my boss' desk and put them away so he can find them again; just like I pick up their toys and put them in their toy chest. I told them I had a storage chest called a filing cabinet.
They wanted to know what type of papers and if I had to draw and color on them. I simply said yes. Trying to explain charts and graphs would have been a wasted effort, so I told them I wrote stories on the papers that helped grownups whenever they had a problem. Then, they would come and get the papers from my office.
Finally, they wanted to see my office. I told them we had to ride an escalator like we did when visiting the mall. They were so excited, they couldn't wait to go to work with me.
So one Saturday morning, I took them to work. I remember our ride to the 40th floor. It was a bit scary for them, but once we arrived, they were happy to look out the windows at the traffic below.
The most intriguing aspect of their work adventure was when I gave each a piece of paper, let them draw something, then write their names.
I then took them to the copier and made each a copy, then faxed them home. I let it be a surprise. When we returned home, they found their papers on the fax machine. They couldn't figure out how the papers come from work to our fax machine arrived home before we did.
It intrigued them enough that they wanted to return. I'd schedule to take them one a month to work. I'd give them assignments to keep them busy. They truly believed they were helping me make money for them.

Ahora estoy jubilada tras haber trabajado en el ámbito jurídico durante más de 30 años. Sin embargo, cuando mis hijos eran pequeños, me preguntaban qué hacía todo el día cuando no estaba en casa.
Les explicaba que estaba en el trabajo haciendo muchas cosas durante ocho horas en un edificio de oficinas ayudando a su padre a ganar dinero para comprar comida, juguetes y ropa.
Eso no fue suficiente, así que intenté explicarles lo que realmente hacía en el trabajo durante todo el día para ganar dinero. Les dije que recogía los papeles de la mesa de mi jefe y los guardaba para que pudiera volver a encontrarlos; al igual que recogía sus juguetes y los guardaba en su baúl. Les dije que tenía un baúl de almacenamiento llamado archivador.
Querían saber qué tipo de papeles y si tenía que dibujar y colorear en ellos. Les dije simplemente que sí. Intentar explicarles las tablas y los gráficos habría sido un esfuerzo inútil, así que les dije que escribía historias en los papeles que ayudaban a los mayores cuando tenían un problema. Entonces, venían a buscar los papeles a mi despacho.
Finalmente, quisieron ver mi despacho. Les dije que teníamos que subir a una escalera mecánica como cuando visitamos el centro comercial. Estaban tan emocionados que no podían esperar a ir a trabajar conmigo.
Así que un sábado por la mañana los llevé al trabajo. Recuerdo nuestro viaje hasta el piso 40. Les dio un poco de miedo, pero una vez que llegamos, estaban felices de mirar por las ventanas el tráfico que había abajo.
El aspecto más interesante de su aventura laboral fue cuando les di un papel a cada uno, les dejé dibujar algo y luego escribir sus nombres.
Luego los llevé a la fotocopiadora y les hice una copia a cada uno, y los envié por fax a casa. Dejé que fuera una sorpresa. Cuando volvimos a casa, encontraron sus papeles en el fax. No se explicaban cómo los papeles que venían del trabajo a nuestro fax llegaban a casa antes que nosotros.
Les intrigó lo suficiente como para querer volver. Yo programaba llevarlos a trabajar una vez al mes. Les daba tareas para mantenerlos ocupados. Realmente creían que me ayudaban a ganar dinero para ellos.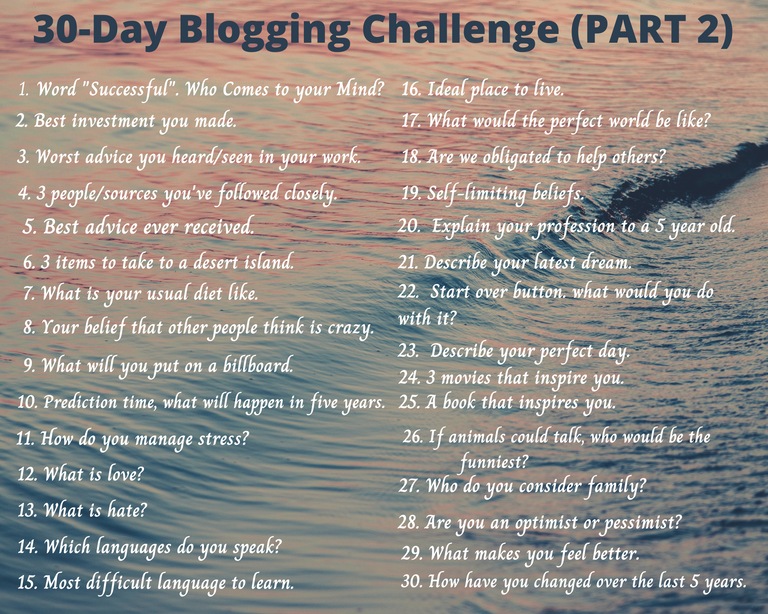 Follow my 30-Day Blogging Challenge below:

@flaxz initiative #iamalivechalleng (Published my Day 20 of 30-Day Blogging Challenge [Part 2] post today)

Thanks,
@justclickindiva
Happy rest of the week everyone with whatever your endeavors.


SOURCES:
a) JustClickindiva's Footer created in Canva utilizing its free background and images used with permission from discord admins.
b) Unless otherwise noted, all photos taken by me with my (i) Samsung Galaxy 10" Tablet, (ii) Samsung Phone, & (iii) FUJI FinePix S3380 - 14 Mega Pixels Digital Camera
c) Purple Butterfly part of purchased set of Spiritual Clip Art for my Personal Use
d) All Community logos, banners, page dividers used with permission of Discord Channel admins.
e) Ladies of Hive banner used with permission of and in accordance with the admin's guidelines.

Your Personal Terminal Discord Invite