I finally found time to share my thoughts on my favorite book. In my short life I have not read many books, but I remember 90% of all books I read, each of them unique. Under the terms of the contest from @infa # 1 Weekly Challenge - Write a review of a book you would like to advise the Community! I can write about one book that I would like to recommend. In this case, I decided to write about the most "useful" book, which in 2008 changed my financial skills. I have already read this book more than 5 times. Each time I read I found something new, very useful to me. I will no longer pull the cat by the tail, this book is "The Richest Man in Babylon" by George C. Clayson written in 1926. Despite the fact that the book was written in 1926, it is still relevant and widely sold in bookstores.
Нарешті я знайшов час поділитись своєю думкою про свою улюблену книгу. За своє коротке життя я прочитав не так багато книг, але я пам'ятаю 90% всіх прочитаних книг, кожна із них по своєму унікальна. За умовами конкурсу від @infa #1 Тижневий челенж - Напишіть рецензію на книгу, що ви хотіли би порадити Спільноті! я можу написати про одну книгу, яку б я хотів порекомендувати. В такому випадку я вирішив написати про саму "корисну" книгу, яка в далекому 2008 році змінила мій фінансовий світогляд. Цю книгу я вже прочитав більше 5 разів. Кожний раз я знаходив щось нове, дуже корисне для мене на той момент, коли я її читав. Не буду далі тягти кота за хвоста, ця книга - "Найбагатша людина у Вавилоні" автор - Джордж С. Клейсон. Незважаючи на те, що книга написана в 1926 році, вона досі являється актуальною і широко продається в книгарнях.
More information about the book can be found on wikipedia
Більш детальну інформацію про книгу можна знайти на вікіпедії.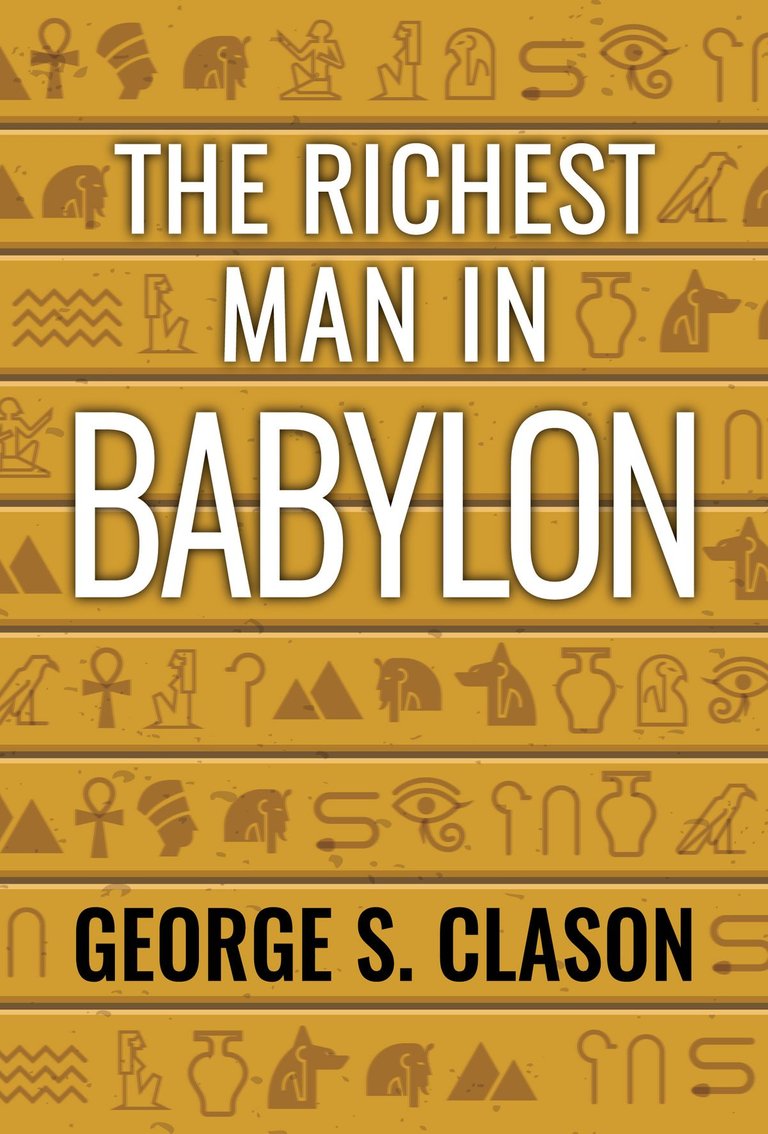 link
This book started my process of investing in myself. Thanks to her, I realized that skills, knowledge, and abilities are worth much more than money. Especially since when there is a desire in the time that we live, you can get any knowledge almost for free. It is enough to have the desire, self-discipline, and internet connection.
Ця книга почала мій процес інвестування в себе. Завдяки їй я зрозумів, що навики, знання та вміння коштують набагато більше за гроші. Тим паче, що коли є бажання в час що ми живемо, можна отримувати будь-які знання майже безкоштовно. Достатньо мати бажання, самодисципліну та підключення до інтернету.
"The richest man in Babylon" is the alphabet of financial literacy, which is not taught in school. Despite the small amount of text, it contains a LOT of wisdom. I repeat, even after the 5th reading I find something new for myself. I think it should be read to teenagers.
"Найбагатша людина у Вавилоні" це азбука фінансової грамотності, якій не вчать в школі. Незважаючи на не великий об'єм тексту вон містить ДУЖЕ багато мудрості. Повторюсь, навіть після 5-го читання я знаходжу для себе щось нове. Думаю, її потрібно давати читати ще дітям підліткового віку.
This book will be especially relevant for people who live from loan to loan, who are looking for quick enrichment and those people who are ready to change their lives. Very interesting opinion of my readers, have you read this book?
Ця книга буде особливо актуальною для людей, які живуть від кредиту до кредиту, які шукають швидкого збагачення та тих людей, що готові змінити своє життя. Дуже цікава думка моїх читачів, Ви читали цю книгу?
AD
Each next of my referrals receives a X HIVE (X=1$) gift and 1 additional booster pack as soon as the gift sending function is possible. Plus, you and I also get 2 booster packs, under the prerequisites of a referral program. I already have 10 referrals, so in addition to the above, you will receive an additional 1 Epic card (the chance of receiving which, with the booster pack open, is only 4%).

Кожний наступний мій реферал отримує подарунок в розмірі X HIVE (X=1$) та 1 додатковий booster pack, як тільки стане можлива функція відправки подарунків. Плюс, до X HIVE (X=1$)* ви, та я, також отримуємо по 2 booster pack, по попереднім умовам реферальної програми. У мене вже Є 10 рефералів, тому, крім описанного вище, ви отримаєте додаткову 1 Епічну карту (шанс на отримання якої, при відкриті booster pack, всього 4%).
Total: X HIVE=1$, 3 boosters, 1 Epic card.
Ітого: **X HIVE=1$, 3 boosters, 1 Epic card.