Someone starts their morning with a cup of aromatic coffee. I don't mind coffee. But just coffee ... that won't be enough. Actually, we will talk more about one interesting sandwich.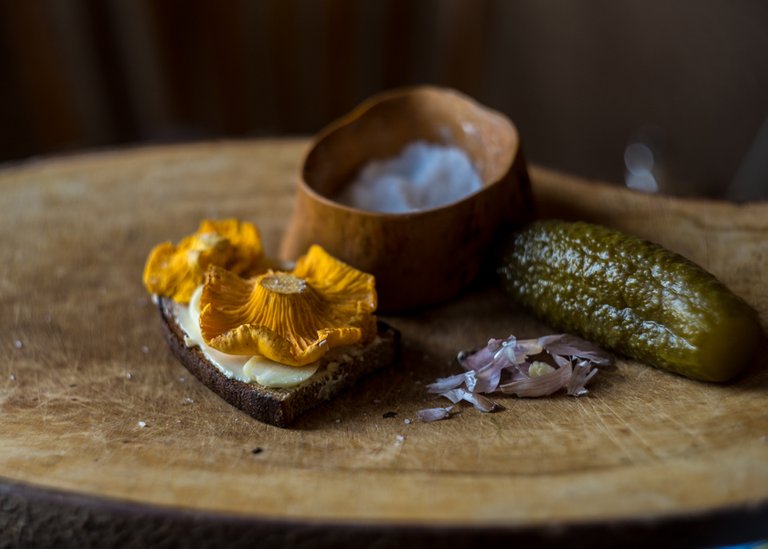 У кого-то утро начинается с чашечки ароматного кофе. Я не против кофе. Но только кофе... этого будет мало. Вообще-то речь пойдёт скорее об одном интересном бутерброде.
---
---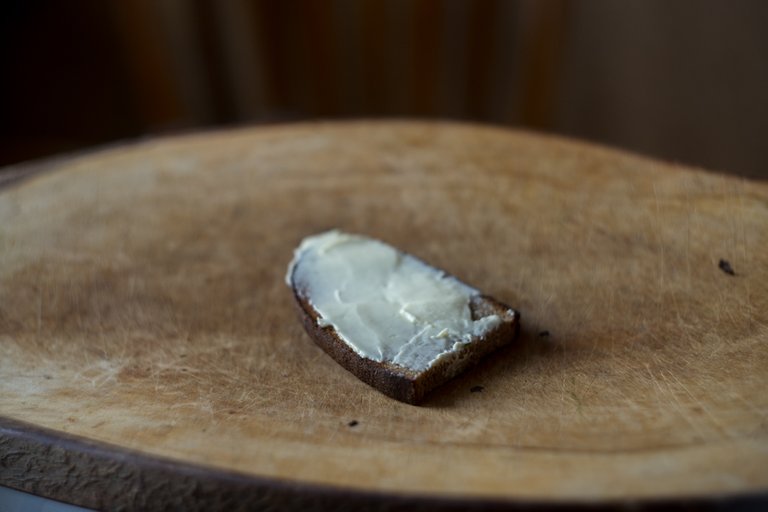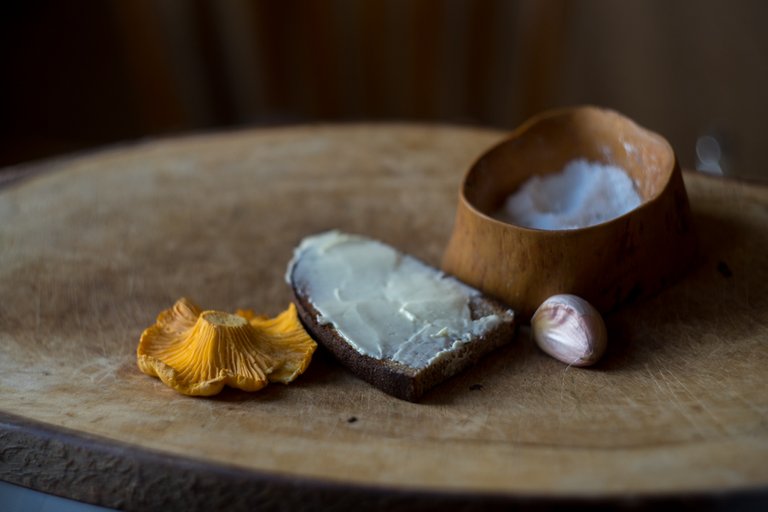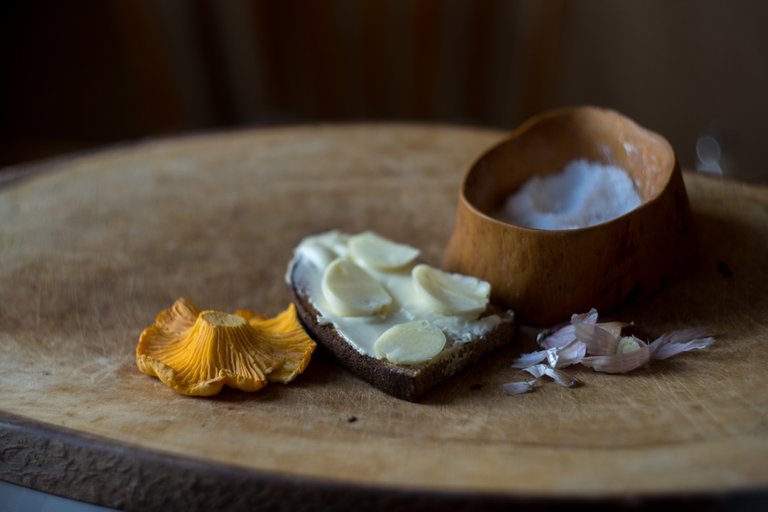 It all starts with a piece of black rye bread. It is better if it is completely fresh and aromatic. I didn't have that and I used the toaster. When the bread cooled down a little, I spread it with butter.
Peel the garlic clove and cut it into thin slices. Place the garlic plates on the bread and butter.
Всё начинается с кусочка чёрного ржаного хлеба. Лучше, если он совсем свежий и ароматный. У меня такого не оказалось и я воспользовался тостером. Когда хлеб немного остыл, я намазал его сливочным маслом.
Очищаем зубчик чеснока и режем его тонкими пластинами. Пластины чеснока укладываем на хлеб с маслом.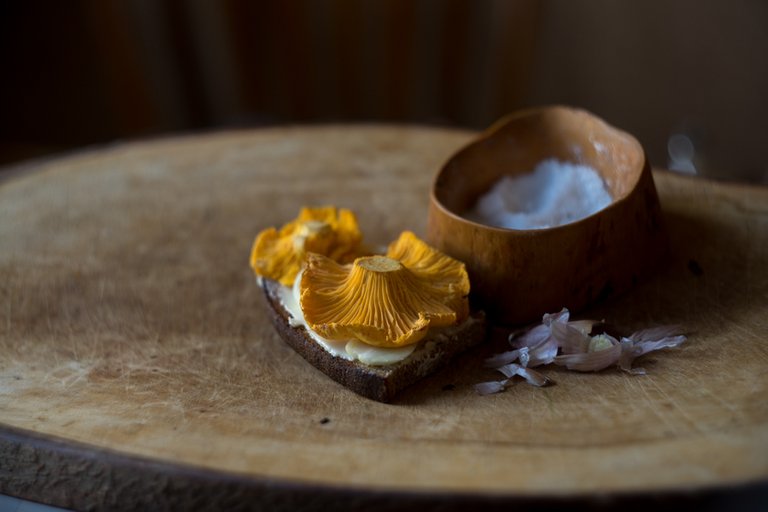 The most important ingredient is the chanterelle mushroom. The Lactarius deliciosus are, of course, tastier, but I only had fresh raw chanterelles in my refrigerator. Well, how fresh ... they lay in the refrigerator for 3 days.
Put the chanterelle hat on top of the sandwich, sprinkle with salt and ... woo-ala.
Pickled cucumber can be added ... great snack with vodka, but I don't drink it in the morning.
Самая важная составляющая - это гриб лисичка. Рыжики, конечно, вкуснее, но у меня в холодильнике были только свежие сырые лисички. Ну как свежие... они пролежали в холодильнике 3 дня.
Накладываем шляпку лисички сверху на бутерброд, посыпаем солью и...ву-аля.
Можно добавить маринованный огурчик...отличная закуска к водке, но по утрам я её не употребляю.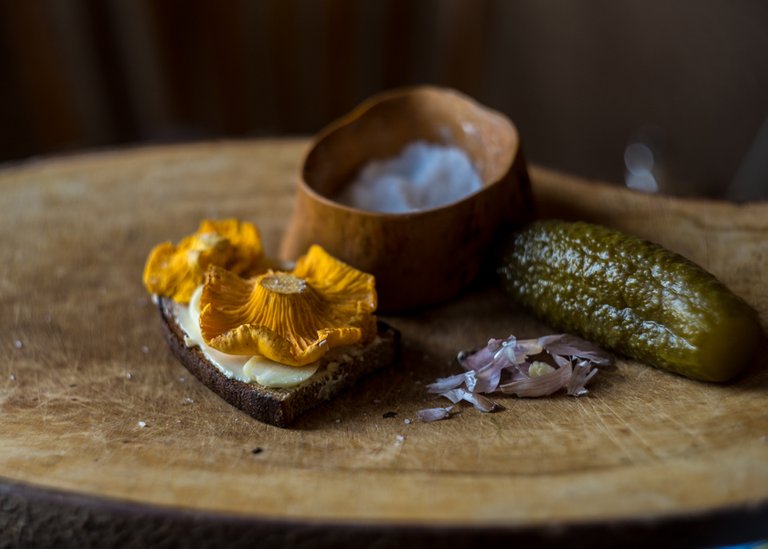 Don't think that this is my whole breakfast. It was a warm-up.
Buckwheat porridge with egg, cheese and smoked sausage pieces for flavor ... now you can have a cup of coffee.
Не подумайте, что это весь мой завтрак. Это была разминка.
Гречневая каша с яйцом, сыром и кусочками копчёной колбасы для аромата... теперь можно и чашечку кофе.
Bonus for those who have read this far
Now let's talk about why I showed and said all this.
Chanterelles are a fairly strong medicinal raw material.
Mushrooms contain the polysaccharide quinomannose, which kills helmins in the body.
Chanterelles contain a rare natural substance ergosterol, which affects the structure of the liver, increases the resistance of its cells to toxins, stimulates the production of enzymes and heals the organ.
In addition, the substances contained in chanterelles fight cancer.
This is a short summary of just three properties of this wonderful and affordable mushroom.
You can find a lot of additional information on the Internet.
By eating a raw chanterelle, I give the body an opportunity to choose from it what it needs at the moment. The body is wise and capable of breaking down any substance. But I also have dry chanterelles, from which I am going to make alcohol tincture. Why haven't you done it yet? I ran out of pure alcohol, but it's fixable.
Бонус для тех, кто дочитал до этого места
А теперь поговорим о том, для чего я всё это показал и наговорил.
Лисички являются довольно сильным лекарственным сырьём.
Грибы содержат полисахарид хиноманнозу, который убивает в организме гельмины.
В лисичках содержится редкое природное вещество эргостерол, который воздействует на структуру печени, повышает устойчивость ее клеток к воздействию токсинов, стимулирует выработку ферментов и оздоравливает орган.
Кроме того, вещества, содержащиеся в лисичках, борются с онкологией.
Это коротко всего лишь о трёх свойствах этого замечательного и доступного гриба.
В интернете можно найти массу дополнительной информации.
Съедая сырую лисичку, я даю возможность организму выбрать из неё то, что ему надо в данный момент. Организм мудрый и способен расщепить любое вещество. Но у меня есть ещё и сухие лисички, из которых я собираюсь сделать спиртовую настойку. Почему не сделал её до сих пор? У меня закончился чистый медицинский спирт, но это поправимо.


Unless otherwise specified, the text and photos are mine
---
From Russia with Love
---
My last post