This mushroom was the decoration of my forest trip. Worms had eaten his leg, but the hat was quite good. It's difficult to hunt mushrooms on an autumn carpet of leaves. But I went into the forest for a different purpose. Hmm ... actually it was chaga and turkey tail hunting ... but these are mushrooms too. So I still went for mushrooms.
This is a kind of continuation of the previous post. Let me remind you that @ ruta-rudens [wrote about the Chaga mushroom] (https://beta.peakd.com/@ruta-rudens) and I started preparing by doing [ax case] (https: // beta. peakd.com/publish?edit=bambuka%2Fhandmade-wooden-ax-case). So I went hunting with him.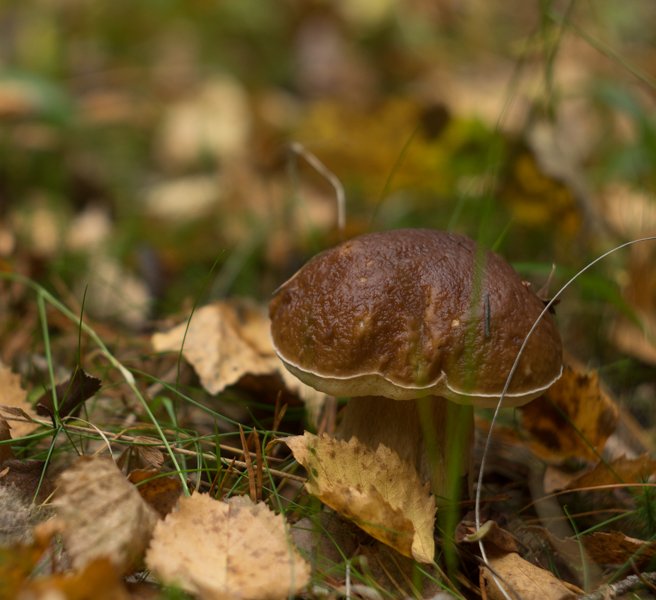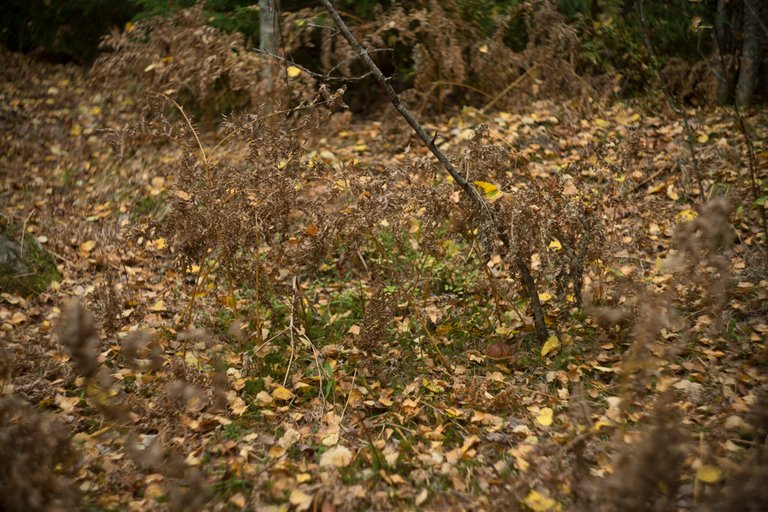 Этот гриб был украшением моего лесного похода. Его ножку проели червяки, но шляпка была вполне хорошей.На осеннем ковре из листьев сложно охотится на грибы. Но я пошёл в лес с другой целью. Хм...вообще-то это была охота на чагу и индюшачий хвост...но ведь это тоже грибы. Значит я ходил всё же за грибами.
Это своего рода продолжение предыдущего поста. Напомню, что @ ruta-rudens написала про гриб Чагу и я начал подготовку с того, что сделал чехол для топора. Вот с ним я и отправился на охоту.
---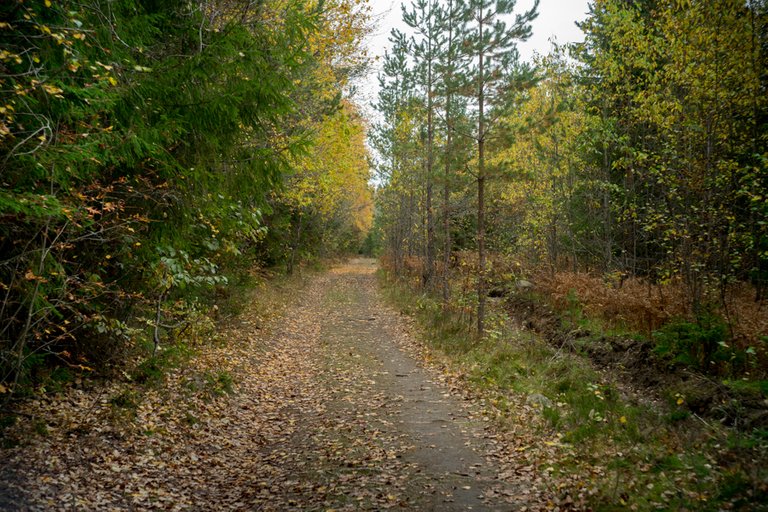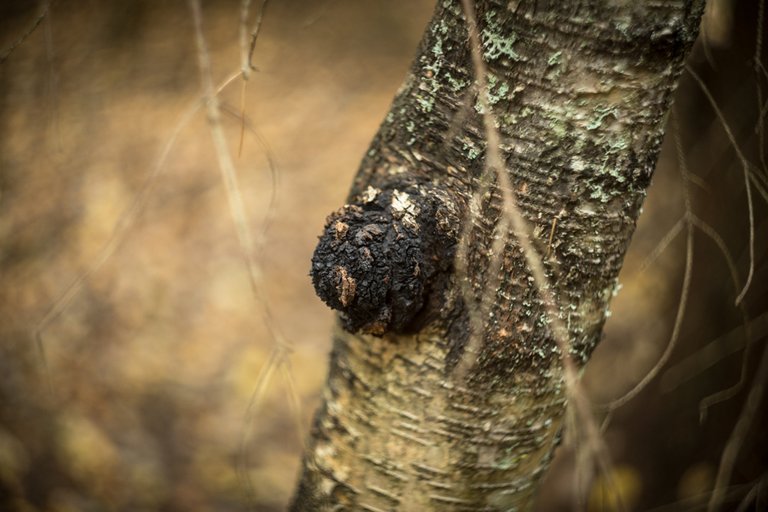 Autumn is already in charge in the forest. I wandered for a long time in search of chaga. During this time, I found half a basket of mushrooms and only one small chaga. But it was low and I shot it from a short distance. Yes, chaga looks like that. This is a young, growing specimen.
В лесу уже хозяйничает осень. Я долго бродил в поисках чаги. За это время нашёл пол корзины опят и только одну маленькую чагу. Но она была низко и я снял её с малого расстояния. Да, чага выглядит именно так. Это молодой растущий экземпляр.
---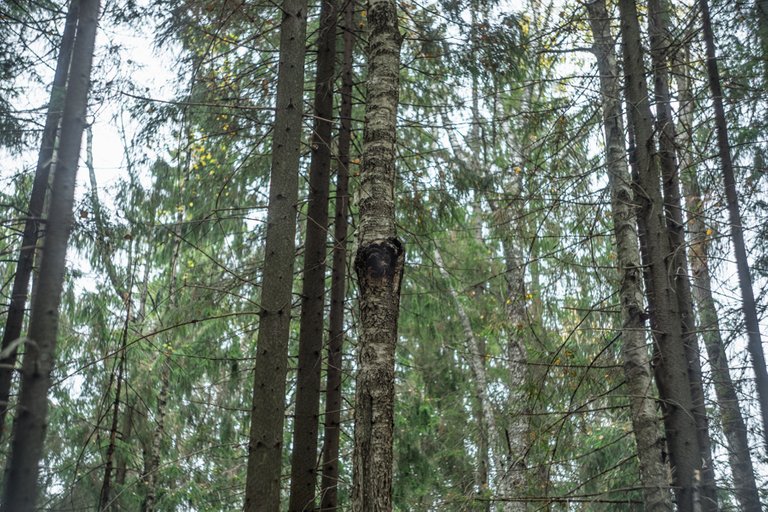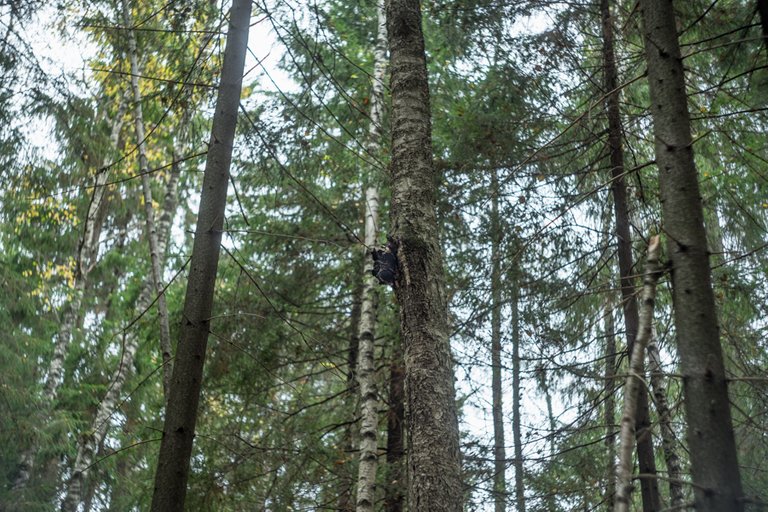 I had to turn to the Spirit of the Forest for help and He took pity on me. But at the same time he decided to test me. The only suitable chaga grew on a healthy birch at a height of ... about 6 meters. One could try to climb a tree ... cut down a tree ... one could throw an ax into the chaga and maybe even hit ...
I decided to knock him down with a stick. Nearby lay the trunk of a felled birch of a suitable length (in the second photo it is leaning against a spruce on the right). Its wood turned out to be too loose for this purpose. Chaga didn't even think to give up.
Мне пришлось обратится к Духу Леса за помощью и Он сжалился надо мной. Но при этом решил меня испытать. Единственная подходящая чага росла на здоровой берёзе на высоте... примерно 6 метров. Можно было попробовать залезть на дерево...срубить дерево...можно было метать в чагу топор и может быть даже попасть...
Я решил сбить его палкой. Рядом лежал ствол поваленной берёзы подходящей длины (на втором снимке он справа прислонен к ели). Его древесина оказалась слишком рыхлой для этой цели. Чага даже не подумала сдаваться.
---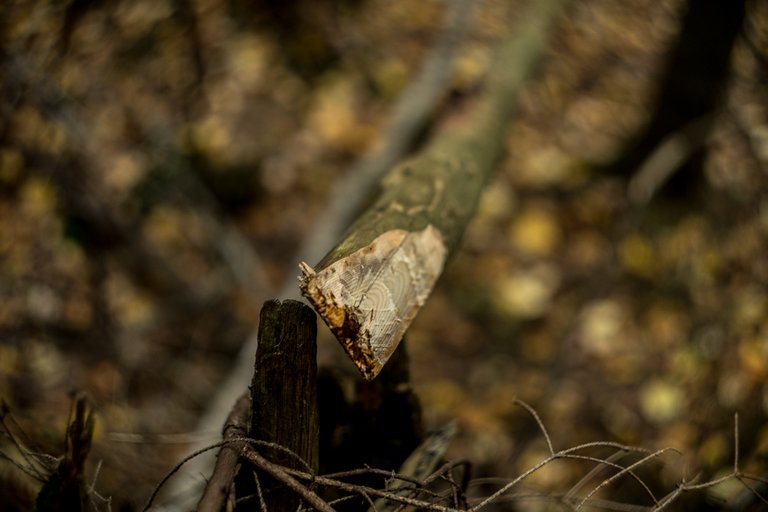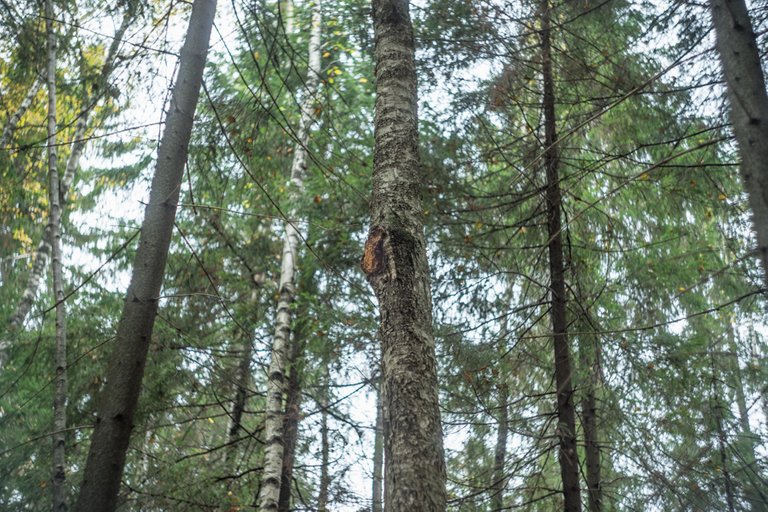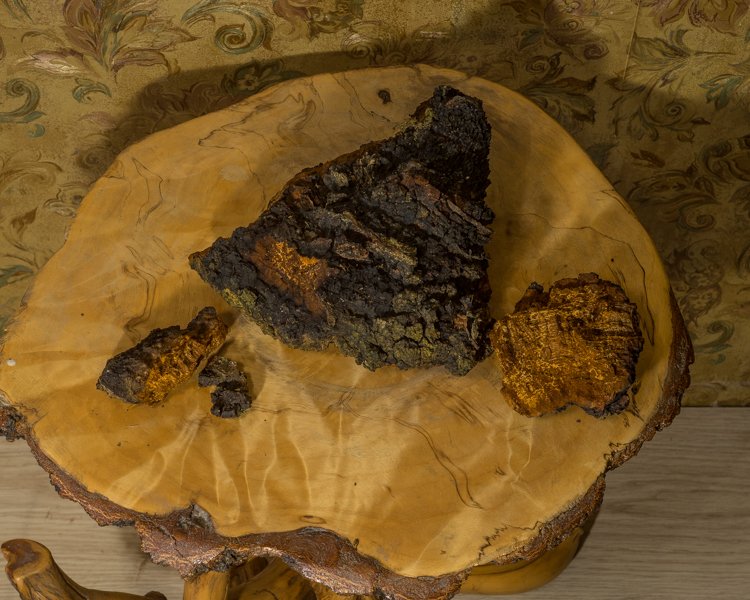 The long pole made of dead spruce was much stronger and harder. This is where my ax came in handy. I made a kind of long chisel out of a spruce pole. After a few hits, I became the owner of this trophy. Chaga went to my backpack. It was yesterday. Today I will handle it.
I also found turkey tails. True, they are very small and I will still clarify whether they are at all.
Длинный шест из сухостоя ели оказался гораздо прочнее и твёрже. Тут и пригодился мой топор. Из елового шеста я сделал подобие длинной стамески. После нескольких ударов я стал обладателем этого трофея. Чага отправилась в мой рюкзак. Это было вчера. Сегодня я займусь его обработкой.
Индюшачьи хвосты я тоже нашёл. Правда, они весьма малы и я ещё буду уточнять, они ли это вообще.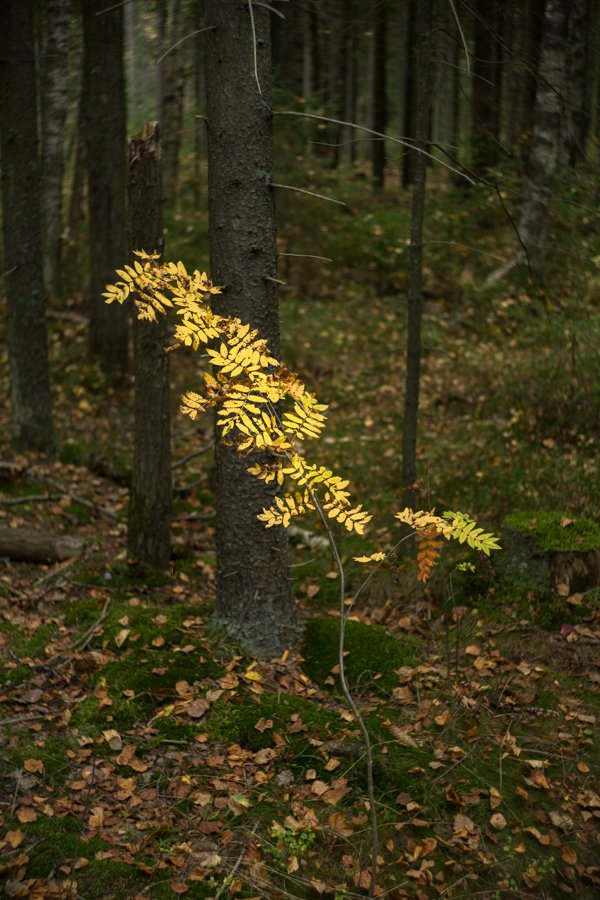 Unless otherwise specified, the text and photos are mine
---
From Russia with Love
---
My last post