Film Review: Footloose (1984)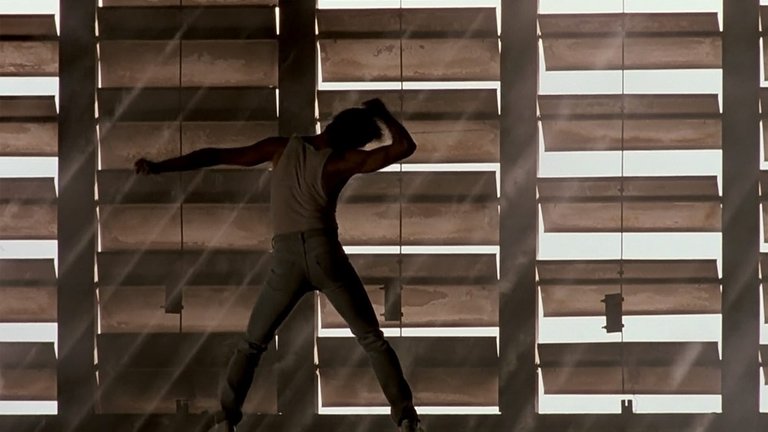 Most films are made in order to entertain the audienece. After a while, some may begin to fail performing that task due to certain circumstances that come with age. Footloose, 1984 musical drama directed by Herbert Ross, is one of such films.
The protagonist, played by Kevin Bacon, is Ren MacCormack, teenager who, following parents' divorce, comes to live with his mother and relatives in Bomont, small town somewhere in rural West. Ren as sophisticated city slicker has problems adapting to new surroundings and a way of life, especially because of his great love of dancing and rock music. Those things are explicitly forbidden by local ordnances, passed under the guidance of Reverend Shaw Moore (played by John Lithgow), conservative preacher who happens to be the most influential person in town. Despite the difficulties in reconciling his city slicker ways with rural teenagers, he befriends schoolmate Willard Hewitt (played by Chris Penn), whom he would teach dancing, and also attracts attention of Ariel (played by Lori Singer), preacher's rebellious thrill-seeking daughter. Although Ren and his friends can indulge in forbidden activities by simply driving over town limits, Ren decides to mobilise town's youth into openly challenging and reversing the ban.
Footloose was scored major success at the box office after the premiere and, like many popular films of its time, was greeted with noticeable lack of enthusiasm among the critics. Most of them saw it as a cynical attempt to pander to young audience with combination of weak generic plot that celebrates youthful rebellion, cheesy pop songs and dance numbers directed like MTV-style music videos. Script by Dean Pitchford, inspired by real events that happened in obscure little Oklahoma town few years earlier, could be, on the other hand, interpreted as expression of Hollywood's anxiety over the rise of conservative Christian Right in Reagan's America. The main conflict in the film is clearly ideological in nature, pitting freedom-loving youths against conservative and authoritarian adults, but unlike Hollywood's films with similar themes today, Footloose doesn't preach and allows viewers to draw their own conclusions. This is achieved by having character of Reverend portrayed not as typical villain, but a loving and caring parent whose actions are motivated with genuine concern for the well-being of his daughter and other youths in town. When some of his parishioners take his crusade too far and indulge in violence, intimidation and public book burning, Reverend begins to see reason and gradually changes his view- Although Lithgow plays this character well, this change of heart is too abrupt and not explained well in the script. This, as well as cliches and some of the music that hasn't changed well as the reason why this film can mostly appeals to those who were teenagers in 1980s.
Some of them, on the other hand, might feel nostalgic joy met with sadness when remembering some of the things that happened afterwards. Arguably the best performance in the film belongs to Chris Penn who realistically portrayed protagonist's sidekick with whom most of the audience can empathise with. Penn, who was still teenager while making this film, is almost unrecognisable to the audience who know him from his later roles, when he was much obese and played characters who, like in Reservoir Dogs, could pass for middle-aged men. Even more sadness can be caused when the plot of this film is put in context of recent events, when bans on dancing are passed under the excuse of global pandemics and books are publicly burned under excuse of righting historical wrongs.
RATING: 5/10 (++)
Blog in Croatian https://draxblog.com
Blog in English https://draxreview.wordpress.com/
Leofinance blog https://leofinance.io/@drax.leo
Cent profile https://beta.cent.co/@drax
Minds profile https://www.minds.com/drax_rp_nc
Uptrennd profile https://www.uptrennd.com/user/MTYzNA
Hiveonboard: https://hiveonboard.com?ref=drax
Rising Star game: https://www.risingstargame.com?referrer=drax
1Inch: https://1inch.exchange/#/r/0x83823d8CCB74F828148258BB4457642124b1328e
BTC donations: 1EWxiMiP6iiG9rger3NuUSd6HByaxQWafG
ETH donations: 0xB305F144323b99e6f8b1d66f5D7DE78B498C32A7

---
---