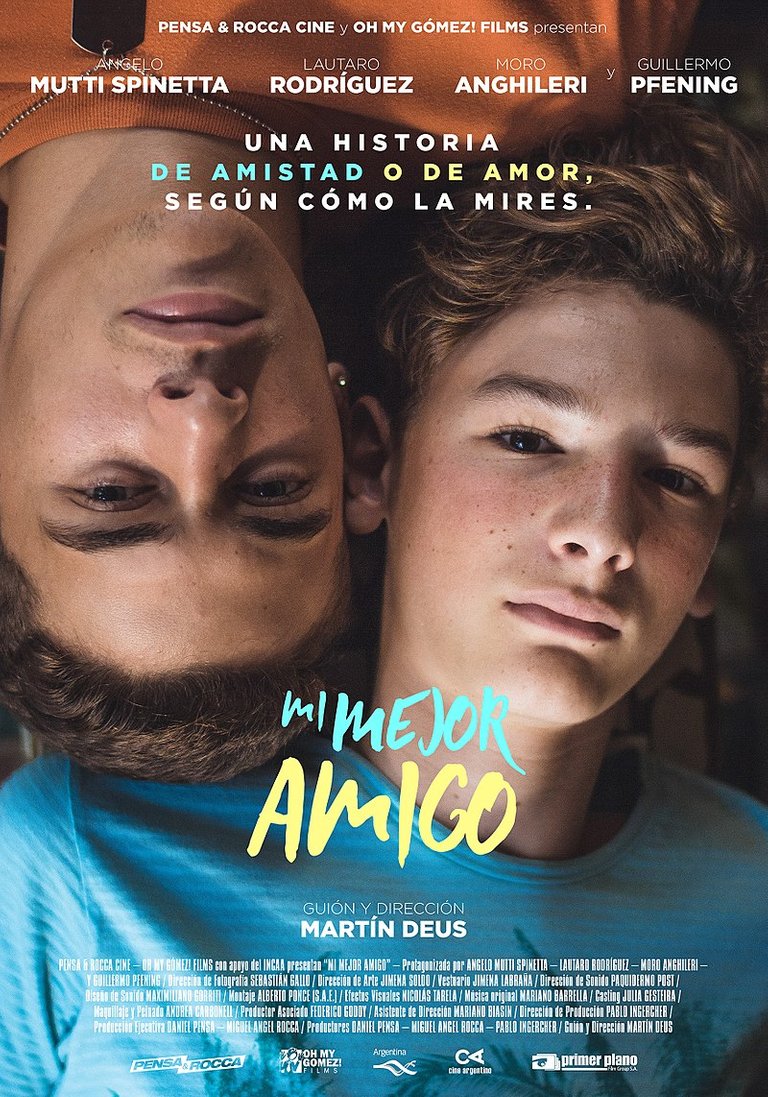 Hace un par de noches quise salir de la rutina y me dispuse a ver esta película que estaba dentro de las recomendaciones de Netflix, y creo que desde hace ya un tiempo algunos amigos me lo habían recomendado.
Mi mejor amigo, más que una película parece un documental de hechos reales, figura entre los guiones con más sentimientos y emociones de las que he visto dentro de las películas latinoamericanas reconocidas. Creo que por el lenguaje se trata de una película argentina, y debo decir que me gusto mucho, raramente sucede que me gusta tanto una película producida por un director latinoamericano, en fin.
Esta trama se basa en una familia que piensa en darle alojamiento a un chico que figura como el hijo del mejor amigo del padre de Lorenzo quien es uno de los protagonistas de esta romántica y triste historia.
Resulta ser que la familia de Caito (el chico a quien alojan en su casa), tiene muchos problemas en su casa, y buscan una forma de apoyarse con alguna amistad mientras que los malestares familiares se disipen.
A couple of nights ago I wanted to get out of the routine and I set out to see this movie that was within the recommendations of Netflix, and I think that for some time now some friends had recommended it to me.
My best friend, more than a movie seems a documentary of real facts, is among the scripts with more feelings and emotions that I have seen within the recognized Latin American movies. I think that because of the language it is an Argentinean film, and I must say that I liked it very much, rarely does it happen that I like so much a film produced by a Latin American director, in short.
This plot is based on a family that thinks of giving shelter to a boy who appears as the son of Lorenzo's father's best friend who is one of the protagonists of this romantic and sad story.
It turns out that Caito's family (the boy who will be housed in their house), has many problems at home, and they are looking for a way to support themselves with some friendship while the family's discomfort dissipates.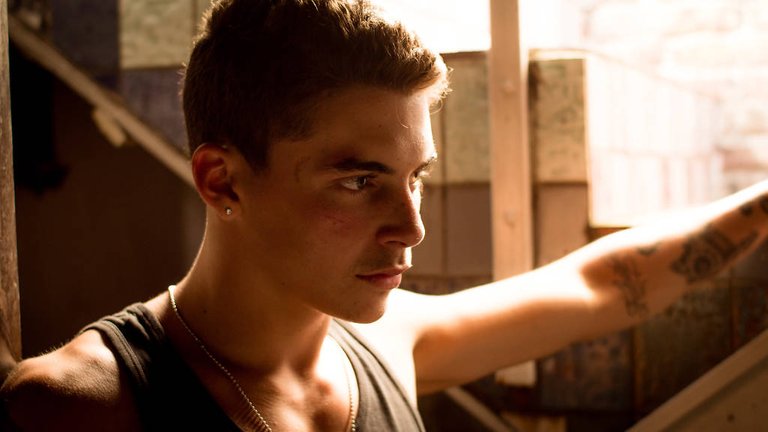 Una vez que Caito llega a la casa de Lorenzo empiezan a surgir muchos problemas, ya que a él le gusta aventurarse sin responsabilidad alguna y sin ningún tipo de restricciones, todo lo contrario a lo que es la familia de Lorenzo. La primera noche Caito se escapa con Lorenzo y terminan en un bar de pool tomando y jugando. Algo de pronto sucedió que las cosas empezaron a caldearse y pues Lorenzo en vista de la situación tuvo que obligar a Caito a que se regresaran a casa.
En todo ese proceso de quitarle la ropa y acostarlo en su cuarto se da cuenta que este tiene unas pastillas para dormir en su bolso de viaje, pero lo ignora y se queda callado.
La familia desde ese momento empieza a cuestionar el hecho de ayudarlo ya que de cierto modo él tenía un irrespeto por las normativas, debía avisar cuando salía o cuando debía regresar, incluso no se le daba dinero por el temor de lo que Caito hiciera.
Caito, parece ser un chico rebelde, con ciertos vicios, pero en el transcurso de la película se desencadenan ciertos hechos que dejan ver que es alguien que sufre internamente y que necesita ayuda, más que algo psicológico amor familiar, algo que no consiguió con su disfuncional familia, pero que con el tiempo empieza a obtener de la familia de Lorenzo y especialmente de él.
Once Caito arrives at Lorenzo's house many problems begin to arise, since he likes to venture out without any responsibility and without any restrictions, the opposite of what Lorenzo's family is. The first night Caito escapes with Lorenzo and they end up in a pool bar drinking and playing. Something suddenly happened that things started to get heated and so Lorenzo had to force Caito to go home.
In the whole process of taking off his clothes and putting him to bed in his room he realizes that he has some sleeping pills in his travel bag, but he ignores it and remains silent.
The family, from that moment on, begins to question the fact of helping him since, in a certain way, he had a lack of respect for the regulations, he had to warn them when he was going out or when he had to return, and he was not even given any money because he was afraid of what Caito would do.
Caito, seems to be a rebellious boy, with certain vices, but in the course of the movie certain facts are unleashed that let us see that he is someone who suffers internally and needs help, more than something psychological family love, something that he didn't get with his dysfunctional family, but that with time he starts to get from Lorenzo's family and especially from him.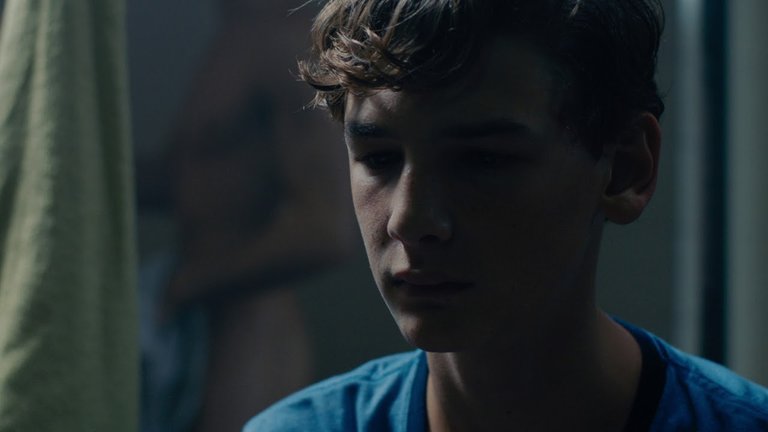 Por otro lado, Lorenzo es un chico de familia al que le gusta estudiar y leer muchos libros, tanto así que en su cuarto tiene una pequeña biblioteca de la cual toma libros para leer todos los días en su cuarto. Aun cuando se muestra que es un chico centrado, este lucha con ciertas cosas de su vida que parecen no estar bien para él.
Se crea un cierto vicio por cambiar los reales gustos sexuales a tal grado que tiene relaciones con una chica que gusta de él, dándose de cuenta al final que no significo nada, ni siquiera una simple atracción. Sin embargo, desde la llegada de Caito, empieza a mostrar un cierto interés inocente por él. Por lo que llegan a tener una estrecha amistad, ofreciéndole apoyo al momento de que Caito quisiera hablar de lo que fuese, y estar encima de él para que haga las cosas lo más correcto posible.
Pero luego vemos que esto empieza a ser una tortura para él, viendo como los demás en su familia hablan mal de Caito inclusive rechazan la idea de que este siga viviendo con ellos.
Juntos Lorenzo y Caito, emprenden un viaje de campo donde tienen un pequeño enfrentamiento que no termina en nada grave, más bien sirvió para que ambos se unieran más de cierto modo, y para que el chico rebelde entendiera la posición en la que está Lorenzo. En ese momento Lorenzo le pide a este que cierre los ojos y es cuando le da un beso en la mejilla, posterior a ello Caito simplemente lo abraza y lo tomo como un gesto de cariño fraternal, es en ese entonces que se convierten en mejores amigos.
Sin embargo, vemos que todo empieza a empeorar para Caito ya que su hermano con el que tuvo una pelea falleció, y teme terminar en la cárcel, por lo que sus vicios nuevamente cobran vida, sus ansiedad y temores, algo que perturba a la familia de Lorenzo al no saber absolutamente nada de la situación.
On the other hand, Lorenzo is a family boy who likes to study and read many books, so much so that in his room he has a small library from which he takes books to read every day in his room. Even though he shows himself to be a centered kid, he struggles with certain things in his life that don't seem right for him.
He creates a certain vice by changing his real sexual tastes to such a degree that he has relations with a girl who likes him, realizing in the end that she meant nothing, not even a simple attraction. However, since Caito's arrival, he begins to show a certain innocent interest in him. So they become close friends, offering him support when Caito wants to talk about anything, and being on top of him to make things as right as possible.
But then we see that this begins to be a torture for him, seeing how the others in his family speak ill of Caito and even reject the idea that he should continue living with them.
Together Lorenzo and Caito, undertake a field trip where they have a small confrontation that does not end in anything serious, rather it served so that both were united more in a certain way, and so that the rebellious boy understood the position in which Lorenzo is. At that moment Lorenzo asks him to close his eyes and that's when he gives him a kiss on the cheek, after that Caito simply hugs him and takes it as a gesture of brotherly love, it's then that they become best friends.
However, we see that everything starts to get worse for Caito since his brother with whom he had a fight died, and he fears to end up in jail, so his vices come to life again, his anxiety and fears, something that disturbs Lorenzo's family since they know absolutely nothing about the situation.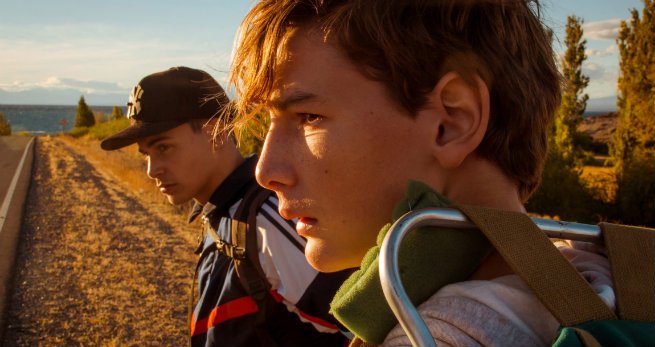 Al final vemos a un chico rebelde que asienta la cabeza y agradece toda la hospitalidad que la familia de Lorenzo tuvo con él, sin embargo se deja llevar por la desesperación y abandona la casa de su mejor amigo.
At the end we see a rebellious boy who settles down and thanks all the hospitality that Lorenzo's family had with him, however he gives in to despair and leaves his best friend's house.
Lorenzo por otro lado, queda con el corazón destrozado al ver como la vida de Caito se venía abajo sin él poder hacer nada, prefería tenerlo cerca para apoyarlo en lo más posible, pero sobre todo para proteger a la persona que amaba, así es, Caito para Lorenzo fue su primer amor, y Lorenzo para Caito su único y mejor amigo.
Lorenzo, on the other hand, is heartbroken to see how Caito's life was falling apart without him being able to do anything, he preferred to have him close by to support him as much as possible, but above all to protect the person he loved, that's right, Caito for Lorenzo was his first love, and Lorenzo for Caito was his only and best friend.
Como espectador de esta peculiar película, me hubiese gustado que Caito se enterase de los sentimientos reales de Lorenzo, creo que de cierto modo eran correspondidos, pero para Caito iba a ser muy difícil demostrarlo ya que vivía bajo un ambiente familiar muy hostil y seguramente machista por la forma en que a veces le hablaba a Lorenzo, pero cabe destacar que realmente mostró mucho agradecimiento y cariño por él, creo que lo suficiente para aceptar sus sentimientos y corresponderle.
As a spectator of this peculiar movie, I would have liked Caito to know about Lorenzo's real feelings, I believe that in a certain way they were reciprocated, but for Caito it was going to be very difficult to show it since he lived under a very hostile and surely macho family environment because of the way in which he sometimes spoke to Lorenzo, but it is worth mentioning that he really showed a lot of gratitude and love for him, I think enough to accept his feelings and reciprocate them.