Hi All!
I wanted to follow-up on my video series "Road to Champion League" that was featured in the last season of Splinterlands. This season I hit Champion League much quicker with 9 days remaining to be in fact!! I just got done with a little session just now, after dipping back below into diamond, but worked my way back up into Champion again.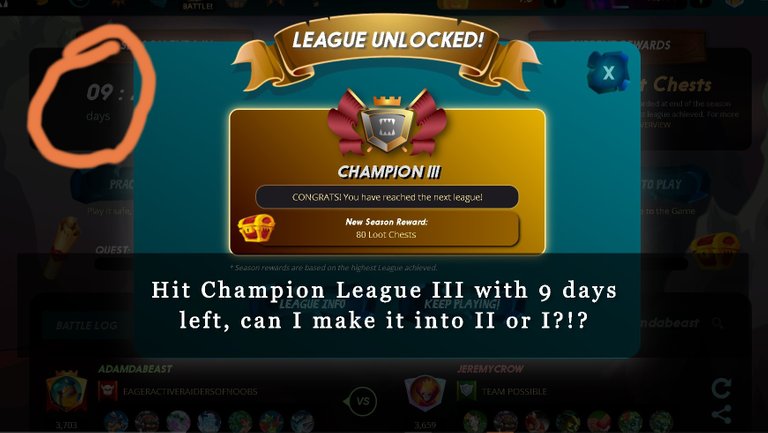 I have started a city of DCity, and have moved some of my funds over there, but have kept my deck and am still selling cards from my 110 pack unpacking. I have a great deck overall, my only weakness is in the low tier mana pools which I am getting better working with what I have in, but it is still hard. I hope that I am able to push through and make it into Champion League II or even I this time!
I am going to try and make it into II or I leagues and will keep you updated on how that goes, and i will bring you a video of playing at the Champion League level for you next time! Thanks again for all the support and stay tuned for a Champion League level video soon, as well as any good reward videos I am able to make, and also I am planning a giveaway soon too so stay tuned!
One Luv,
Adam DaBeast
Thanks For Visiting Adam DaBeast's Blog!
I Love That You Came to Visit, and Look Forward to Connecting With You & Talking Business, Finance, Crypto, Gaming, Life, and So Much More!
Join All The Amazing Action Over at Hive Today Using My Referral Link:
Join Hive Now!
Join All The Amazing Action at Splinterlands while earning Crypto and Prizes through my referral link to get the best cards:
Join Splinterlands Now!
Posted Using LeoFinance