More often than not, many crypto projects remain in the bubble of their own comfort, or may I say - discomfort. They may have a community but it's shattered all around the web with no real movement forward. People get lost, projects disappear and we continue on our own, with our small communities, discord chats, and telegram channels, in other words, in our little bubbles.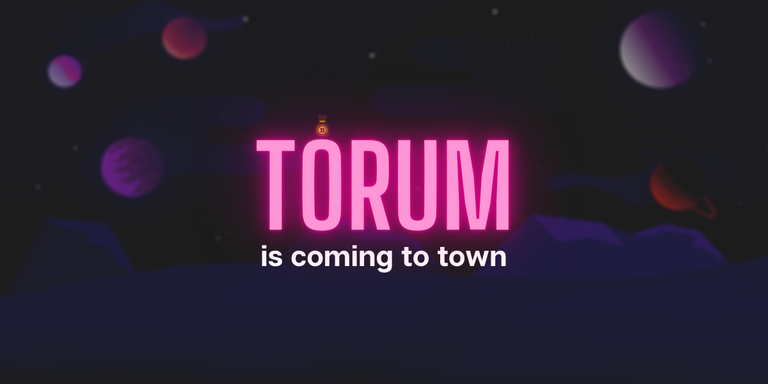 What if we joined our manpower together to create a hub of every crypto project and person there is?
It would be the place where we'd hang out and share everything crypto-related from any source there is. Yeah, many of you will say Leo and HIVE have the potential to do that but I think it is still too hard for an average internet user to get a grasp of HIVE and all of its beautiful layers.
We need the gateway crypto
A place that is easy to use and works similar to what people are using right now. And what people are using the most? It's Facebook! When I first went from Facebook to Steemit back in the days, it felt overwhelming, and although things have become easier with the MetaMask sign-ups and upcoming Twitter implementations, for some people it is still too complicated.
What Torum offers is something everyone will understand
When you start using Torum, it has this friendly feeling like you know the place. It kinda looks similar to Facebook but I don't consider it a bad thing because Facebook is the biggest right now and to take people away, we must give them something they know but with a crypto twist. It's very easy to grasp the basics - likes, comments, spreads (shares, re-blogs), rewards.
I've talked about all of these before so I won't go there today. If you want to know more, I'll leave an article list below this post.
Where Torum shines is bringing people and projects together in one place
What I really like about Torum is the potential it has to bring crypto people together under one roof. Right now, we all have our own Discord channels, Telegram chats, and various other places to exchange information and all of them are good but none of them are there for a simple user who decides to come to crypto. They need something they can easily understand.
On Torum you can scroll down and feed yourself with some crypto stuff:
These are some answers to Torum's community manager's (Jayson Tan) question that I saw on my feed.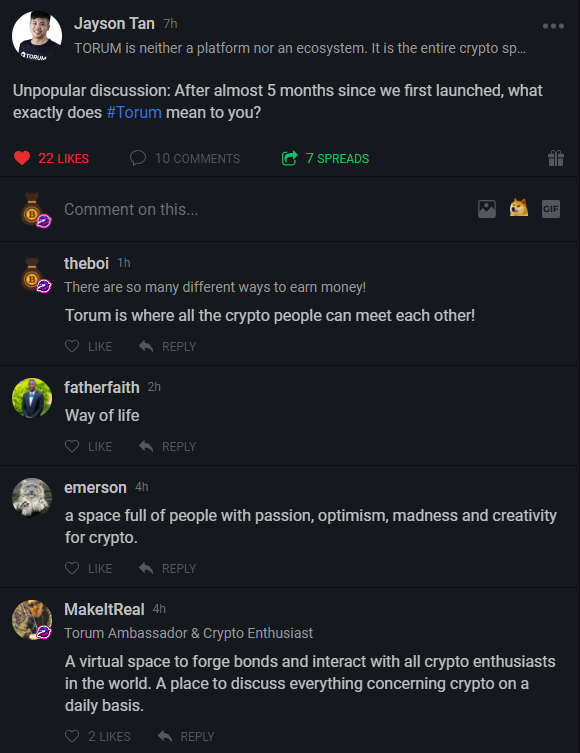 ---
Here's an article I found that I would otherwise miss and it's by one of our own @katerinaramm! You can also see another Leo user in the comment section and it's @behiver - congrats from BOI to these early adopters!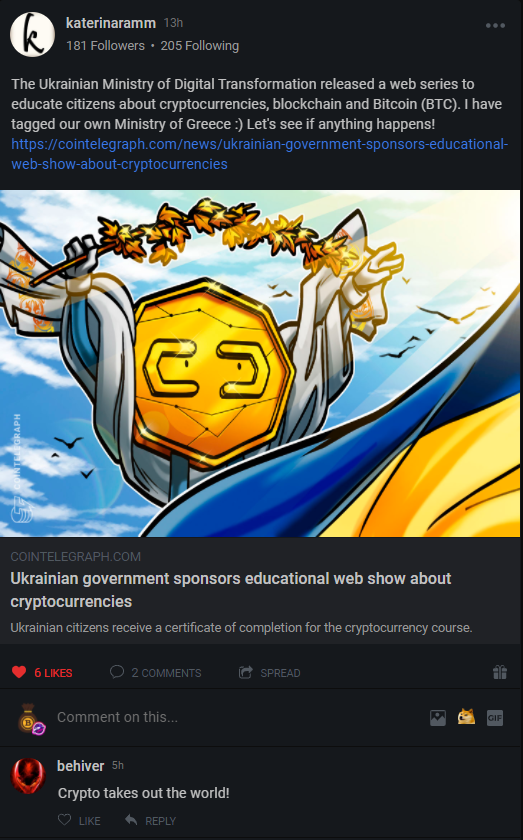 Isn't it lovely when people come together with one goal in mind - get others to join the movement of decentralization and bringing back the power to the people. Together we can achieve anything we set our minds to and if we're consistent, we'll experience something truly unique, I believe in it and I'll keep working on it!
The end word
On Torum you can get information about crypto companies and also connect with users who are sharing valuable information. Yes, there are users who are writing spam comments just to get some of those XTM tokens for completing missions but where there is free money, there will always be those trying to take advantage and Torum is still a baby making its first steps.
Myself, I'm pretty excited about the future because the team behind the project is working really hard to bring new features and initiatives out there! I can't wait until two things come out:
the mobile app
the mining simulator game (where you'll be able to earn more XTM)
With the future that crypto has, there has to be a place like Torum which is easy to use and adapt for the average Joe's out there, in case they want to try themselves out in crypto. We all know that at one point it will eventually happen and those that are skeptical about Bitcoin now will buy it when it's 100K a piece. Crypto is a fantastic beast that we will probably never tame.
Thank you for taking the time to read this! You are wonderful!

My Torum Article Series
Being an early adopter of XTM
Leo Clan on Torum
Synergizing Decentralization with Torum
If you register with this link or by pressing on the banner below, we'll both earn 75 XTM once you verify your e-mail and phone number. If you don't want to give out your phone number, don't worry, you can still use Torum and earn XTM just as a regular user!