Binance Pool has some good offerings from time to time and at the moment they are running few ones for staking you EOS. The locked periods are for 10 Days or 30 Days and the returns and the limits are as following. As I had some EOS laying on an exchange that didn't offered any benefits for holding I have decided to move those tokens to Binance and take part of the locked stacking offer.
10 Days - Stake Between 10 and 1000 EOS @ Est. APY=14.69%
30 Days - Stake Between 10 and 5000 EOS @ Est. APY= 4.69%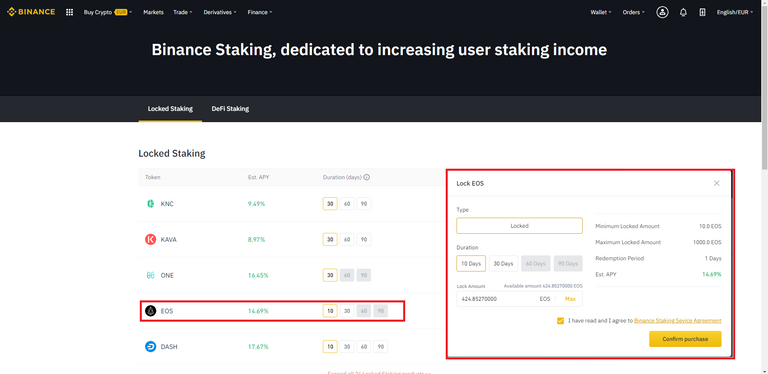 The Locked Staking allows to support the operations on the EOS blockchain just by holding the funds in the Binance cryptocurrency wallet. During the locked period, withdrawing and trading are not supported, but considering the small period of 10 Days it just doesn't affect me in any way. And the return is quite amazing and instead of just letting my EOS stay dormant, at least they will produce some more. Not that the price helps much at the moment, so it is a good period to accumulate and maybe compensate about the current price point.

As you can see I have locked staked 424.8527 EOS @ APY 14.69%. Now doing some math the returns after the 10 Days period should be something like this:
424.8527 * 14.69% = 62.4108 EOS per year
62.4108 / 365 = 0.1709 EOS per day
0.1709 * 10 = 1.709 EOS after 10 days which at the current rate would mean 1.709 * 2.52= 4.29 USD

While this doesn't make you reach over night it is still a good ROI for just doing nothing and putting your crypto at work. Once the 10 days period finished I will need to see if to exchange and maybe stake into a different crypto or stake still on EOS. Even if mostly EOS disappointed me in its lifetime, I still believe that at some point it will turn around. For me an exit price would be of $5 although if I forget about it and wake up one day I might sell it higher. But until that happens, at least let's stake it and put it at work.
Posted Using LeoFinance Beta