Unlike Nigeria, Argentina plans to fight fiat inflation by accepting crypto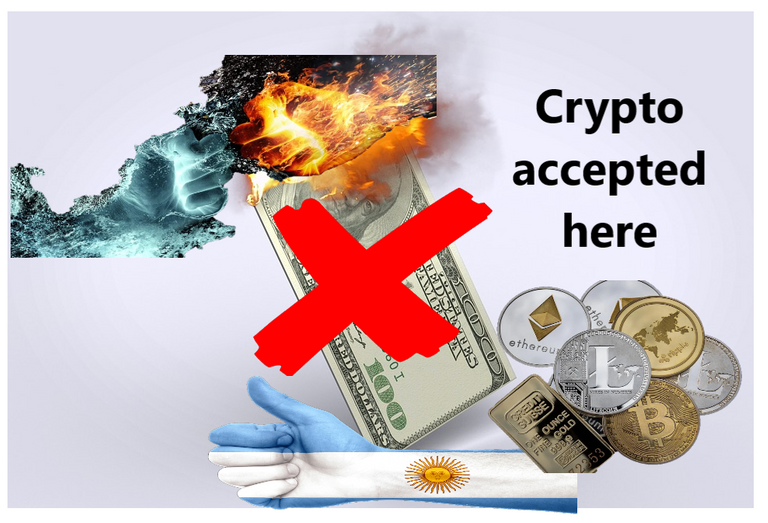 In an unexpected plot twist, a lawmaker for the government doesn't blame cryptocurrencies for the poor performance of their fiat. It comes as a big surprise because we all know that governments believe that cryptocurrencies are the greatest threat to the existence of humanity and they will fight till the very end to prevent the common man from having that level of autonomy.
So it certainly came as a surprise to me when I found out that a lawmaker in Argentine by the name of José Luis Ramón was in support of employees receiving their salary in crypto. In his bill, he suggests that individuals can receive all or part of their earnings in cryptocurrencies.
According to the lawmaker on his Twitter account;
This initiative arises from the need to promote greater autonomy and governance of the salary, without this implying a loss of rights or exposure to situations of abuse within the framework of the employment relationship.
Funny thing though, owing to the wicked inflation that currently sits at 50% per year, the Argentine Government has limited the official purchasing of dollars to $200. I'm assuming that is a daily limit because, in Nigeria, it was something similar, with our limit placed at $100 per day.
The enemy of my enemy
It's always funny when I read how governments act like the dollar is their enemy but still depend on it. However, unlike Nigeria that banned financial institutions from touching crypto, Argentina is looking to embrace it.
If the dollar is the enemy, then accepting cryptocurrencies into your system will improve your system. It won't be instant but it will improve your economy in the long run.
I believe the main issue that governments have is that they still don't see cryptocurrencies beyond the realm of gambling chips and shitcoins for speculation. They don't realize that it is a lot more than that.
Attracting value
The Argentinian lawmaker's view is certainly one that is pro-crypto and very progressive. it does come with a bunch of terms and conditions, as well as tax but I'll take it as the price to pay. However, the government needs to learn that crypto isn't really their enemy, seeing as the dollar IS your enemy.
There are millions of people worldwide who provide services and get paid in cryptocurrencies. I'm one of them, so I know what I'm saying.
In countries like Nigeria, Argentina, and some others that are not advanced in crypto adoption for remittances, the assets will invariably be converted to fiat. So, at the end of the day, cryptocurrencies contribute to increasing the buying pressure of our local currency.
Pick your battle
It is still uncertain how things will go in Argentina, but the proposed bill by the lawmaker has figured out something that was crystal clear. In Nigeria, there's still no word, so we have to circumvent official channels by using the P2P method for exchanging crypto to Naira and vice versa.
Instead of fighting naira inflation by antagonizing crypto, how about making the Naira attractive by improving the quality of the country. The value will always be reflected on your currency and that in turn will in turn determine whether we should hold it or not.
Crypto is not the enemy, it is an unstoppable juggernaut, so you either get with the project or get out of the way. If I were a government official, I'd be trying to leverage it to my country's advantage, and I'll make favourable policies that will suck out value from the crypto industry into the economy.
Please check out my Freelance gigs:
Contact me

Posted Using LeoFinance Beta
---
---