Don't Fight Crypto You'll Lose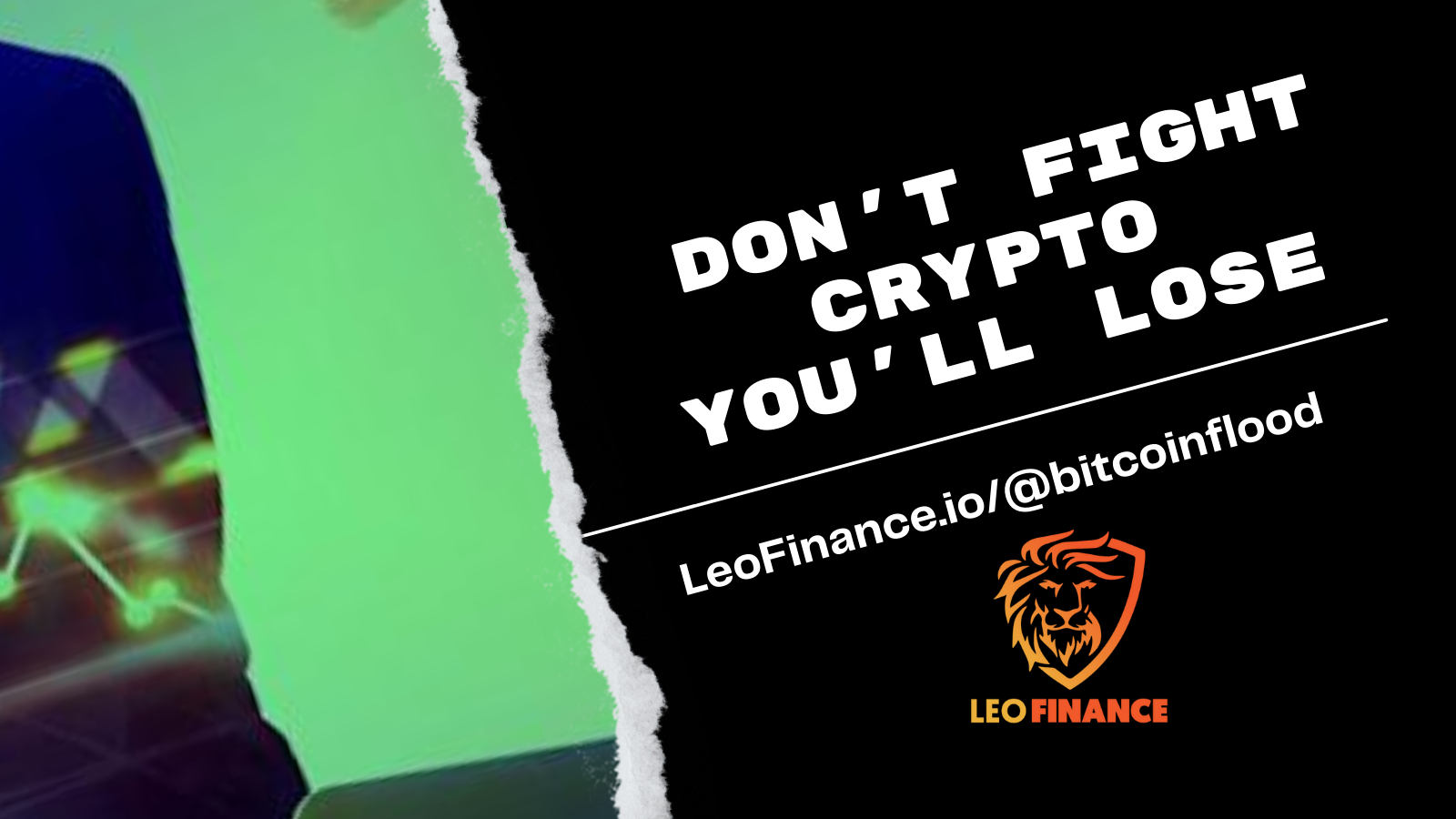 Don't Fight Crypto You'll Lose
A little Background
Since the release of Bitcoin in 2009 in which no one really knew what it was and what was going on didn't start to really grow till 2011 which is the year I initially got started with cryptocurrency. I remember mining from my basement computer with my CPU and GPU and mining about 0.01 bitcoin per day and thinking at the time I have no idea what I'm doing or what this really is.
It wasn't until late 2011-2012 that I really started to research it all as new coins started to roll out. One of my favorite was Gridcoin as I could relate to this one more. A platform where I exchange my processing power to calculate science operations looking for cures or medicine for HIV, Cancer and other things. Or simply help seti find extraterrestrials via radio signals. In exchange you were rewarded with a token/crypto/coin called Gridcoin. To this day it's still one of my fun side projects I run to help out a way to give back. I'm still shocked that the price of Gridcoin is still so low as it's the one crypto project that actually contributes a lot of good in the world.
They Continue To Lose
Anyways a little off track there. The main point of this article is the continued double face tactics that governments, social networks and mega corps keep trying to pull over on us.
You might not be aware of it many people aren't till AFTER it happens but at this very moment in time a critical and pivotal turn of events is taking place and you really should step back and look at the bigger picture and get involved.
It's easy to get caught up in the daily headlines of crypto which often cause radical price swings in the market. In general though crypto has only gone one way over the last 10 years and that's UP!
The Crypto Community Is Smart and Powerful
I'm a huge believe in the crypto community as least the older school community that is now loaded. They are people that care in terms of their freedoms, fighting oppressions and being very vocal about when governments, companies and people try and cross the line. It is exactly this mentality that is needed right now more than ever.
Some of the recent examples of the community fighting back strong and pulling these greedy, self severing, freedom taking a holes in their place.
The government trying to sneak in new laws to regulate cryptocurrency was meet with huge backlash from the crypto community and those supporting crypto. What you need to understand is these are new rules and regulations the government is trying to impose on it's people. THEY DON'T EXISIT YET SO THEY ARE NOT ILLEGAL TILL THEY GET PASSED AS A LAW. Yeah remember the days when weed was illegal and now isn't things change so don't stand for your government telling you what you can and can't do.

Facebook, Twitter and other platforms banned crypto ads and shadow banned anyone talking about them. Soon after they announce they want to launch their own system. Which never happens. Then people get sick of the crap of getting shadow banned and being taken advantage of daily and having their information hacked or sold to the highest bidder so decentralized social networks start growing. What happens next talk about twitter building a so called decentralized social media platform. It's not gonna happen people stop supporting these jerks and realize they are quickly losing power and trying to claw their way back with false promises and a lot of hot air.

The most recent TikTok. Who originally banned saying anything about cryptocurrency would be banned. What happened next people up and left to rival platforms and now TikTok is changing policy yet again saying it's now allowed.
What this all means
What this all shows to me is social media mega corps losing control and governments losing control and power over it's people. The Way It Should Be! People are fighting back and not standing for it anymore and because of that companies and governments are scrambling trying to keep up with it and imposing some wild and crazy rules, laws and regulations that will bite them in the a$$ quickly.
It shows us that crypto is here to stay and that the people who are part of it really believe in a more decentralized world where they are tired of the BS and standing up to these people. This is what needs to be happening now before it gets to late and I have to say I'm proud to be a big part of that movement. It's about time we restore power to the people and less to mega crop a$$ hats and governments who continue to try and impose new rules, laws and regulations on it's people.
Crypto is here to stay and will continue to grow. It's important we take actions now to keep it decentralized and not impose so many rules and regulations. Remember that and remember to continue to focus towards that movement every day as the actions of today will affect us and the industry for years to come.
Posted Using LeoFinance Beta
---
---