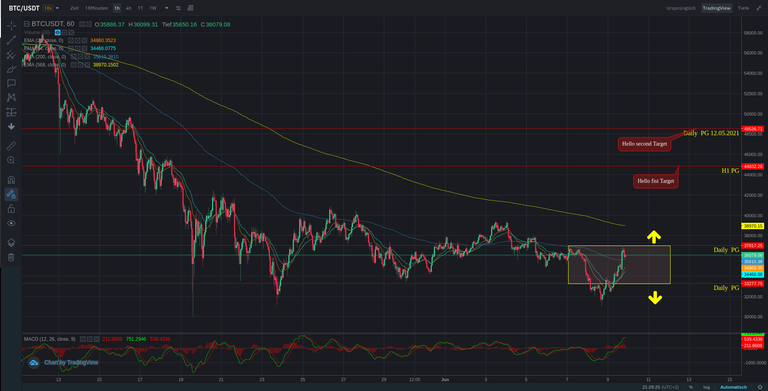 Bitcoin with a strong day
Since the bitcoin has made it into the PG Range and today even touched the zone around the upper trigger at 37K$.
Since some fresh buyers seem to have added today only holds the euphoria?
The upper trigger has not yet been overcome and the bears can strike again in the Asian trading hours.
What a horde of wild bears can do, that we could already observe several times in this special time. However, if we manage to get above the $37K mark today, then the upper targets will become interesting again.
Currently, there are open targets on the upper and lower side, but sooner or later they will all be reached again.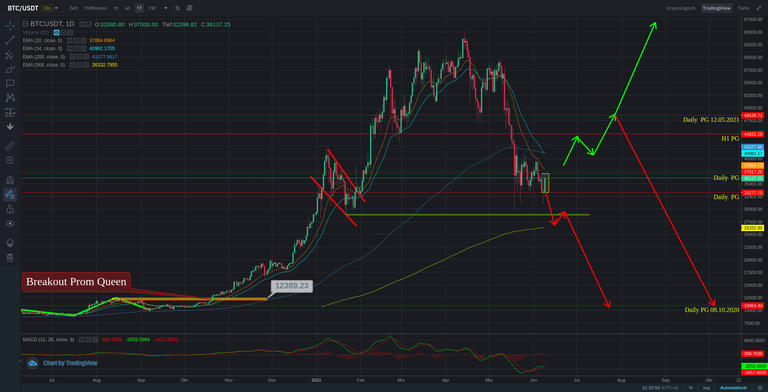 Bitcoin mit einem starken Tag
Da hat es der Bitcoin in die PG Range geschafft und berührte heute sogar die Zone um den oberen Trigger bei 37K$.
Da scheinen heute einige frische Käufer zugelegt zu haben nur hält die Euphorie?
Noch ist der obere Trigger nicht überwunden und die Bären können in der asiatischen Handelszeit noch einmal zuschlagen.
Was eine Horde wilder Bären anstellen kann, dass konnten wir ja schon öfter in dieser speziellen Zeit beobachten. Schaffen wir es allerdings heute noch über die 37K$ Marke, dann werden die oberen Ziele wieder interessant.
Momentan befinden sich ja auf der oberen und unteren Seite offene Ziele aber über kurz oder lang werden sie alle wieder erreicht.
Source/Quelle Charts: (Guidants/Godmode Trader) & JFD Broker & Binance
Für mehr Informationen rund ums Trading empfehle ich meinen
Discord Channel: https://discord.gg/j5A3CUq
Twitter: https://mobile.twitter.com/TraderOut
Gehandelt werden meist KO-Scheine, Futures und Aktien, günstige Broker habe ich hier mal verlinkt.
Werbung wegen Markennennung.
Deutscher Broker für Aktien und Derivate.
Trade Republic: https://ref.trade.re/vwxxl228
Marktplatz für Kryptowährungen mit Spot, Future und Optionsmarkt.
Binance: https://www.binance.cc/en/register?ref=QB18DEMH
Risikohinweis:
Dieser Post stellt keine Anlageberatung oder sonstige Empfehlung dar.
Die dargestellten Analysen, Techniken und Methoden dienen ausschließlich Informationszwecken
und stellen weder eine individuelle Anlageempfehlung noch ein Angebot zum Kauf oder Verkauf
von Finanzinstrumenten dar, sondern spiegeln lediglich die Meinung des Referenten wider.
Eine Haftung ist ausgeschlossen.
Legal Disclaimer:
I am not a financial advisor
nor is any content in this article presented
as financial advice. Never invest more
than what you can afford to lose.
This post is my personal opinion,
do your own research before making any investment decisions.
If you make any trades after reading this post,
it is completely in your responsibility.
I am not responsible for any of your losses.
By reading this post you acknowledge and accept that.
Posted Using LeoFinance Beta